December 15, 2011 by hazemtagiuri · 4 Comments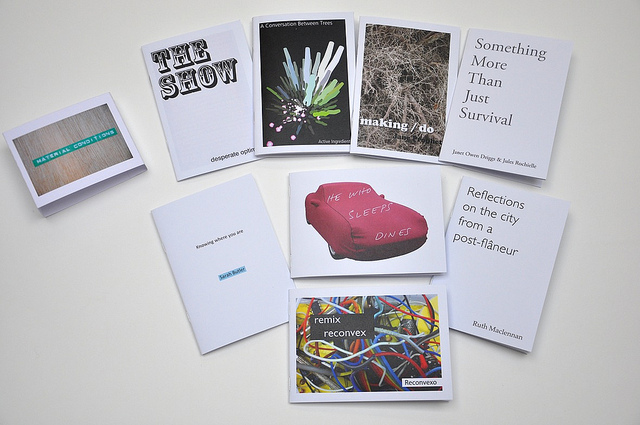 Material Conditions is a new series of eBooks created with bookleteer, asking professional creative practitioners to reflect on what the material conditions for their own practice are, especially now in relation to the climate of change and uncertainty brought about by the recession and public sector cuts.
It aims to explore what it means and takes to be a professional creative practitioner – from the personal to the social and political. How and why do people persist in pursuing such careers? How do they organise their everyday lives to support their practice? What kind of social, political, economic and cultural conditions are necessary to keep being creative? What are the bedrocks of inspiration that enable people to continue piloting their meandering courses through contemporary society and culture?
The first set of 8 commissioned eBooks, in a limited edition run of 50 copies printed via our Short Run Printing Service and bound with handmade wrappers, are as follows:
A Conversation Between Trees by Active Ingredient
The Show by Desperate Optimists
Making Do by Jane Prophet
Something More Than Just Survival by Janet Owen Driggs & Jules Rochielle
Remix Reconvex Reconvexo by Karla Brunet
He Who Sleeps Dines by London Fieldworks
Reflections on the city from a post-flaneur by Ruth Maclennan
Knowing Where You Are by Sarah Butler
Copies are available to order below.
The books are also available online as bookreader versions, as well as downloadable PDFs for readers to assemble into handmade booklets themselves, hosted on our archive of publications Diffusion – view and download the series here.
Material Conditions is part of Proboscis' Public Goods programme – seeking to create a library of responses to these urgent questions that can inspire others in the process of developing their own everyday practices of creativity; that can guide those seeking meaning for their choices; that can set out positions for action around which people can rally.
December 12, 2011 by stefankueppers · Comments Off on Robotville Festival visit
I went to a really fun private view for the Robotville Festival at the London Science Museum the other week. It was robots-galore with a fresh sliced view on the current state of play in European robotics research. Why was it useful and fun? It was not a poster and film session – Oh no! IT was a full blown live set of live demonstrations with researchers presenting there current research prototypes in different challenges around human computer interaction in the filed of robotics.
It was particularly interesting as it gave the public a direct opportunity to not just see  the robot prototypes in action but also to strike up conversations with the researchers behind the work. It was a surprising, charming and sometimes even disconcerting window on what we will see in the near future around us, in the shop, in public venues, even at home for purposes anywhere from servicing, entertainment to commerce. All in all it was a fascinating snapshot  of the current state of play in robotics research in Europe.
Watch a video of the Robotville event at the Lodnon Science Museum