May 1, 2013 by aliceangus · 5 Comments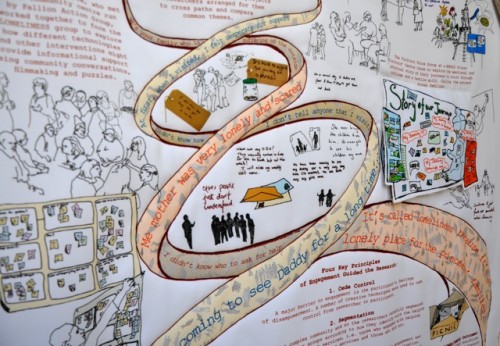 As part of our project Hidden Families with Lizzie Coles-Kemp (from the Information Security Group at Royal Holloway University of London).  Alice illustrated, digitally printed and created a handmade quilted textile 'poster' about the wider project for the 2013 ACM Conference on Human Factors in Computing.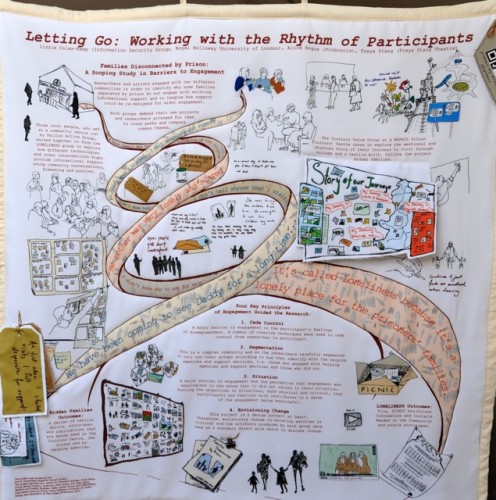 April 11, 2013 by Giles Lane · Leave a Comment
Lifestreams, our collaboration with Philips Research has been shortlisted for an Art & Business Digital Partnership Award this year.
March 25, 2013 by aliceangus · 2 Comments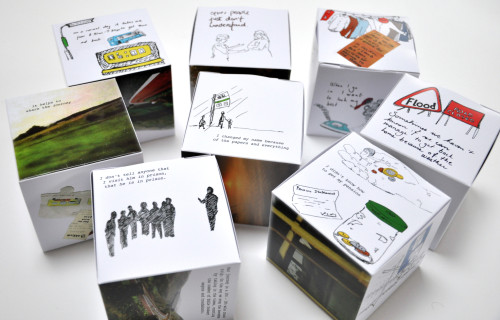 "The visitors who told their stories are very proud of the work and the fact that they can see their work put to good use." Cath Chesterton NEPACS
We were recently asked to create a set of 8 StoryCubes for Hidden Families (part of Royal Holloway University of London's Families Disconnected by Prison project), to be used by Royal Holloway and partners such as Action for Prisoners Families, NEPACS and in training, talking about and raising awareness of the issues faced by families with a relative in prison.
We selected 48 of the images, originally created for the Hidden Families quilt, around the six key themes that had emerged – family, journey, time, finance, loneliness and support. Using a combination of participants' photos, words and sketches with my illustrations, we created a block of 8 cubes that brings together some of people's memories, comments and experiences.
Lizzie Coles-Kemp project lead said;  "The focus of this project was to create a call to action by collecting the voices of families separated by prison and using different techniques to present the collective narrative. StoryCubes help us to develop the call to action by making the collective narrative interactive and providing another means for adding to and developing the story of this particular community. They make interactive and tactile objects from the textile quilt which are even more accessible to families, policy makers, practitioners and academics alike."
NEPACS and Action for Prisoners Families will be using the cubes at training events and conferences, raising awareness of the impact of prison sentences on families.
View the whole Collection of 8 StoryCubes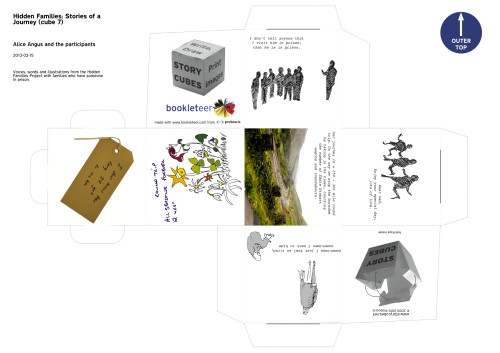 February 27, 2013 by aliceangus · 2 Comments
We have just finished putting together a new publication for the report on Families Disconnected by Prison, of which the Hidden Families project was one part. The project is led by Lizzie Coles-Kemp from the Information Security Group at Royal Holloway University of London and is going to be on show at the AHRC Connected Communities Showcase on the 12 March.
January 31, 2013 by aliceangus · Leave a Comment
A delivery of digitally printed fabric arrived this morning with the work for the Hidden Families project and for my mermaids and monsters work. I'll be spending the next few days sewing up the quilts for Hidden Families partners.
The other fabric that arrived is part of new textile and embroidered work inspired by the traditional knowledge, memories and myths of the sea and water that have come up in Storyweir and Tall Tales Ghosts and Imaginings, In Good Heart and Sutton Grapevine.
January 16, 2013 by aliceangus · 2 Comments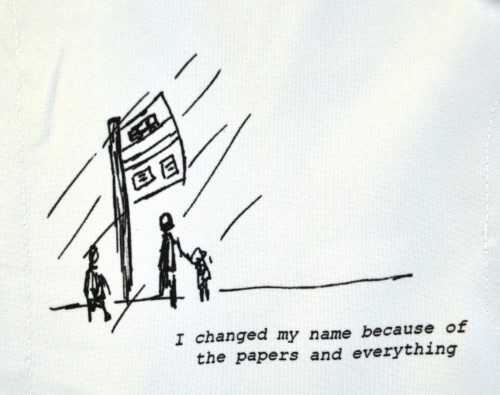 In the last few months I've been working on Hidden Families, a project with families with someone in prison. The project, run by by Lizzie Coles Kemp of the Information Security Group at Royal Holloway University of London, was trying to find out how to improve the way information is made available to families, because people sometimes don't or can't engage with support services. The hardships families experience are diverse;- travel, costs of visiting, the huge distances to visit,the stress of uncertain weather and travel conditions that might cause someone to be late and miss their visit, bringing children, access to pension, welfare and benefits advice, sentence planning, prisoner safety and welfare, being stigmatised and outcast, and not expecting help or having the ability to improve the situation.
The project has several facets and I was involved in working with Action for Prisoners Families, NEPACS (who provide support services for families separated by prison), performer Freya Stang and visitors to a visitors' center in a Category A prison. 
Action for Prisoners' Families (APF),
works for the benefit of prisoners' and offenders' families by representing the views of families and those who work with them and by promoting effective work with families…
A prison or community sentence damages family life.
NEPACS builds bridges between prisoners, families and communities that they will return to, they
believe that investment must be made in resettlement and rehabilitation to ensure that there are fewer crime victims in the future, and less prospect of family life being disrupted and possibly destroyed by a prison sentence… After all, the families haven't committed the crime, but they, especially the children, are greatly affected by the punishment
Lizzie's approach to working with people differs from typical academic studies. Rather than only surveying or asking questions of a community she collaborates with groups to create projects, workshops and events that are independently of value to that group, rather than just to fulfill research ends, she often works with artists, writers and performers to support partners and participants in articulating ideas.
The project partners and visitors contributed to booklets, postcards, conversations and a wall collage gathering experiences of the practical, technical and emotional issues people face.  I brought together the stories, experiences and sketches, with a series of  sketches I made, into a digitally printed textile hanging based on the idea of a patchwork quilt for the NEPACS Visitors' Centre. Participants expressed a wish to produce a version that could hang in the Chapel and Action For Prisoners Families have versions which they will using for their training, education and work raising awareness of the hidden issues families face.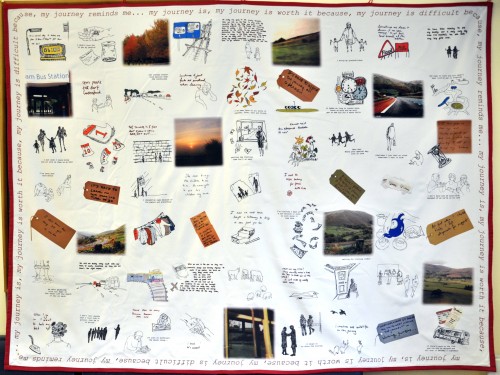 December 2, 2012 by Giles Lane · Leave a Comment
Our 5th special offer to raise funds for new projects and initiatives is an opportunity to buy three special sets of books made and published via bookleteer for our projects, City As Material, Material Conditions and Professor Starling's Expedition.
City As Material : London (10 books, slip bound, 2010) featuring contributions from Tim Wright, Alexandra Deschamps-Sonsino, Simon Pope, Ben Eastop and others.
Material Conditions (8 books, wrapper, 2011) featuring books by London FieldWorks, Active Ingredient, Jane Prophet, Ruth Maclennan, Karla Schuh Brunet, Jules Rochielle & Janet Owen Briggs, Desperate Optimists and Sarah Butler.
Professor Staring's London-Thetford-Oxford Expedition (3 books, ribbon bound 2012) featuring contributions by DodoLab (Andrew Hunter & Lisa Hirmer), Proboscis (Giles Lane & Hazem Tagiuri), Leila Armstrong & Josephine Mills.
We're offering just 7 sets for the bargain price of £24 plus post & packing – 50% off their usual prices.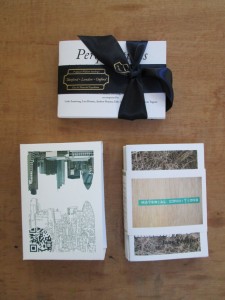 2012 Special Offer 5
Bookleteer Sets: City As Material + Material Conditions + Prof Starling

United Kingdom

European Union

USA & Canada

Rest of the World

£29
(inc p+p)

£31
(inc p+p)

£33
(inc p+p)

£34
(inc p+p)

Pay with Paypal

December 2, 2012 by Giles Lane · Leave a Comment
Our fourth special offer to help raise funds for new projects and initiatives is from my personal archive of publications which I published whilst I was a member of the RCA's Computer Related Design Research Studio. These were produced between 1999 and 2001 and include some rare copies of the original first edition of Tony Dunne's classic, Hertzian Tales and the FLIRT book, a research project led by Fiona Raby.
The Presence Project by Bill Gaver, Ben Hooker et al (2001)
Biotica : Art, Emergence & Artificial Life by Richard Brown (2001)
The Flirt Book, by Fiona Raby et al (2000)
Hertzian Tales by Anthony Dunne (1999)
Technological Landscapes by Richard Rogers (1999)
Sorting through my archive, I found 11 copies of each which will be available per set for just £25 plus post & packing.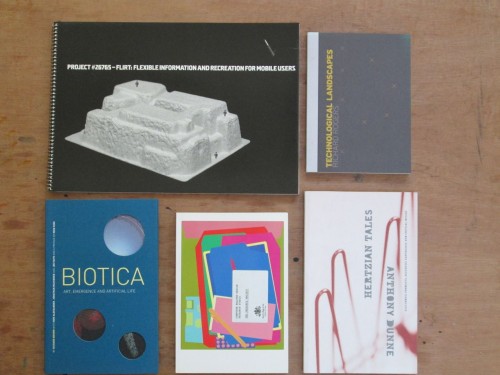 2012 Special Offer 4
RCA Computer Related Design Books Set

United Kingdom

European Union

USA & Canada

Rest of the World

£32.50
(inc p+p)

£35
(inc p+p)

£37.50
(inc p+p)

£40
(inc p+p)

Pay with Paypal

December 2, 2012 by Giles Lane · Leave a Comment
Our third festive offer to help raise funds for new project and initiatives is a set of publications we have collected together under the name Arts of Engagement. We have just 5 sets of these available, as some of the contents are now quite rare. It includes,
All for £20 plus post & packing.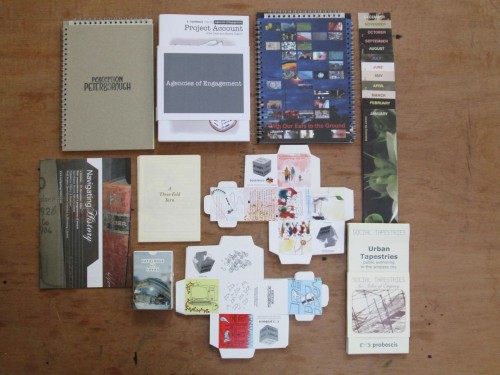 2012 Special Offer 3
Arts of Engagement Set

United Kingdom

European Union

USA & Canada

Rest of the World

£25
(inc p+p)

£27.50
(inc p+p)

£30
(inc p+p)

£32
(inc p+p)

No longer available

December 1, 2012 by Giles Lane · Leave a Comment
Our second special offer (to raise funds for new projects and initiatives) is a great deal on two of our most popular items – Alice's Endless Landscape Magnet set and our (somewhat eccentric) pack of cards, Being in Common : Catalogue of Ideas.
We're offering them together at 50% off their usual price – perfect as gifts for people who like to make up thwir own games and stories!  Get them for just £12.50 plus post and packing.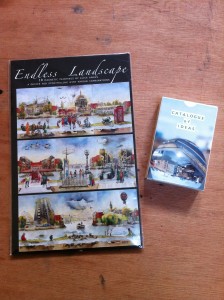 2012 Special Offer 2
Endless Landscape Magnets + Catalogue of Ideas cards

United Kingdom

European Union

USA & Canada

Rest of the World

£15
(inc p+p)

£16
(inc p+p)

£17
(inc p+p)

£18
(inc p+p)

Pay with Paypal

December 1, 2012 by Giles Lane · 1 Comment
This year we're offering some special offers to help raise funds for new projects and initiatives. The first offer is a limited number of packages (15 sets only) of some of our loveliest publications – including :
We're offering all this for £35 plus post & packing – a third of their combined original prices!
*** Hurry – we have only 9 of these available ***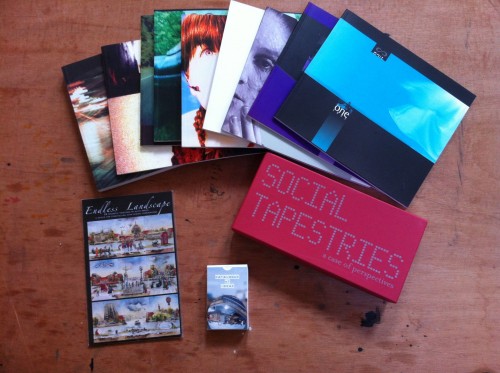 2012 Special Offer 1
COIL journal set + Social Tapestries: Case of Perspectives + Endless Landscape Magnets + Catalogue of Ideas cards

United Kingdom

European Union

USA & Canada

Rest of the World

£40
(inc p+p)

£43
(inc p+p)

£45
(inc p+p)

£47
(inc p+p)

Pay with Paypal

October 23, 2012 by Giles Lane · 2 Comments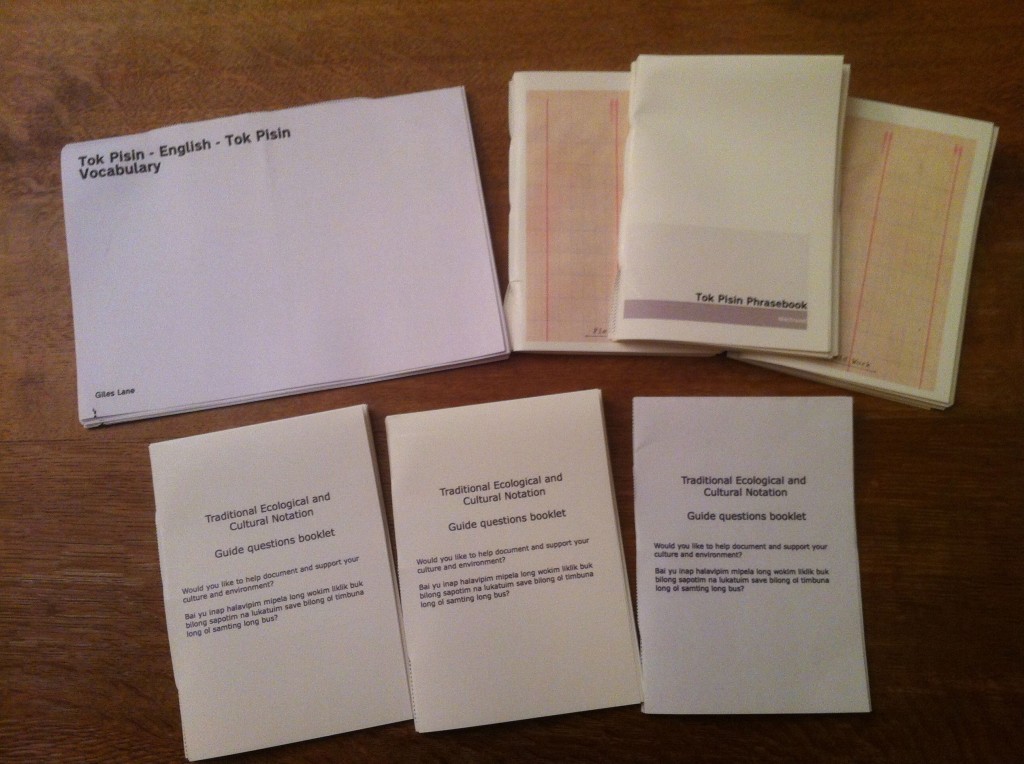 Tomorrow I start my journey to Papua New Guinea where I'm taking part in the Saem Majnep Memorial Symposium on Traditional Environmental Knowledge (TEK), hosted by the University of Goroka (Eastern Highlands Province) and supported by the Christensen Fund. The title and abstract of my talk at the symposium is:
Digital and Physical : simple solutions for documenting and sharing community knowledge
My work is about engaging with people to identify things which they value – for instance knowledge, experiences, skills – and how they can share them with others in ways that are safe, appropriate and inspiring. As an artist and designer I have helped devise simple tools and techniques that can be adopted and adapted by people on their own terms – such as uses of everyday paper, cameras and printers alongside digital technologies such as the internet, archives and databases. I will demonstrate some examples of how these simple physical and digital tools can be used to share community knowledge in freely and easily accessible ways, so that they can also be re-worked and circulated in both paper and digital formats. I hope to offer some examples of how TEK in PNG might be widely documented and circulated as part of commonly available resources.
I wrote a piece about my initial thoughts on what I'll be presenting and doing whilst I'm there on the bookleteer blog last month. My invitation to this event has been through James Leach, Professor of Anthropology at the University of Aberdeen who will be there presenting his collaborative publication, Reite Plants, with Porer Nombo in whose village James has been doing fieldwork for 20 years. I first met Porer three years ago when he visited the UK to assist the British Museum's Melanesia Project in identifying artefacts from the region where he lives in the Ethnographic Collection. At the time James had asked me to help him devise some new ways to document this kind of Traditional Knowledge Exchange that would capture something of the experience of all sharing knowledge that more institutional methods might miss. Consequently we used some Diffusion eNotebooks to capture and record our interactions as much as the stories and information that Porer and Pinbin shared about the artefacts. Alice and I also had the privilege of spending time with Porer and his fellow villager, Pinbin Sisau, inviting them to our home for an evening with James and his family and sharing with them some of the simple delights of central London life that people who don't live here wouldn't experience.
After the symposium James, Porer and myself will travel back to Porer's village of Reite on the Rai Coast in Madang Province where we'll stay for a week or so. There we'll attempt to put some of our ideas into practice – I've designed some simple notebooks for us to use out in the bush, some printed on waterproof paper, others printed on standard papers. I'm very excited to have this unique opportunity to test out ideas I've had for using the Diffusion eBook format and bookleteer in the field for over 10 years now – harking back to conversations I had with anthropologist Genevieve Bell of Intel in 2003. I'm also very excited to have the privilege of visiting Porer and Pinbin in their home and meeting their families and community – joining the loop of one smaller circle of friendship and exchange and hopefully spiralling out into some larger ones that will continue into the future.
October 20, 2012 by Giles Lane · Leave a Comment
Its been 12 years since we published Performance Notations, the first series of Diffusion eBooks, and launched our unique publishing format on an unsuspecting world. In that time, we have commissioned and facilitated hundreds of original eBooks and StoryCubes by an incredibly diverse range of people from all kinds of disciplines and backgrounds. In that time we also began to evolve our own free and online software platform for people without professional design skills to be able to create their own eBooks and StoryCubes. Our first proof of concept prototype was made in the summer of 2003. We then spent a few years building a fully working version – the Diffusion Generator – which was online between 2006 and 2009. In September 2009 we launched bookleteer, a whole new set of ways for making and sharing eBooks and StoryCubes.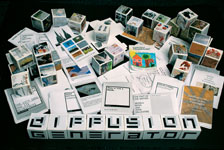 A New Place for Future eBooks & StoryCubes
This summer we made a series of technical changes to bookleteer that allow users to share their own publications directly with others via a Public Library. Each user has their own personal profile page listing all their shared publications (for instance, here's mine) and each publication has its page listing both the downloadable PDFs and the bookreader online version (for example, see Material Conditions: Epilogue). We have further exciting developments in the pipeline too.
To continue our long tradition of commissioning and publishing new work, we have created a new Curated by Proboscis library which will, from now on, be where all new commissions and featured eBooks and StoryCubes will be listed. Our long-serving Diffusion Library website will remain online indefinitely as an archive of more than 12 years of pushing the boundaries of what we think of as publishing and creative practice.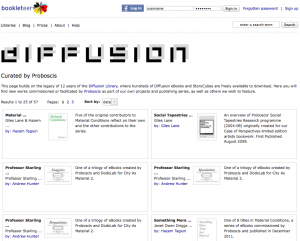 As part of these changes we are also launching a new monthly publication – the Periodical – which will select, print and send out to subscribers some of the most exciting, experimental, imaginative and insipring eBooks created and shared on bookleteer. Anyone can take part – just sign up, make and share something on bookleteer. Each month we'll pick one eBook to print and send out. We are also devising special projects, like Field Work, that will enable people to participate in other ways. And we are developing partnerships and collaborations to commission new series that will also be distributed as part of the Periodical's monthly issues.
Subscribe to the Periodical and get bookleteering!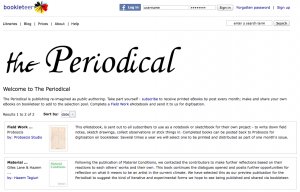 September 26, 2012 by Giles Lane · 1 Comment
Publishing remains at the heart of Proboscis. We began 18 years ago with COIL journal of the moving image and followed this with many series of Diffusion eBooks. Since 1994, we have commissioned and published works by hundreds of different people in many formats.
Our latest publishing venture, the Periodical, aims to re-imagine publishing as public authoring – a phrase we've been using for over 10 years to describe the process by which people actively make and share what they value – knowledge, skills, experiences, observations – those things we characterise as Public Goods. Based on bookleteer, the Periodical is a way for people to participate in publishing as well as reading – in addition to receiving a printed eBook (sometimes more than just one) by post each month subscribers are encouraged to use bookleteer to make and share their own publications, which may then be chosen to be printed and posted out for a future issue.
Our first project being developed as part of this venture is Field Work : subscribers will be sent a custom eNotebook to use as a sketch and note book for a project of their own. Once they've filled it in they can return it to us to be digitised and shared on bookleteer. Several times a year we will select and print someone's Field Work eNotebook to be sent out as part of a monthly issue of the Periodical.
Why are we doing this? We've long used the Diffusion eBook format to make custom notebooks for our projects and digitised them as part of our shareables concept. We think that such new possibilities of sharing our creative and research processes with others is a key strength of what these hybrid digital/physical technologies offer. Creating a vehicle, via the Periodical, for others to take part in an emergent and evolving conversation about how and why we do what we do seems like a natural step forward. If you'd like to take part, subscribe here.
September 18, 2012 by Giles Lane · Leave a Comment
Our collaborator at Philips R&D in Cambridge, David Walker, was generous enough to have some of the Lifecharm shells fabbed in a range of more exotic materials than our initial prototypes using Shapeways (a 3D printing firm spun-out of Royal Philips Electronics). The materials used range from metal/silver, ceramic and frosted and transparent glass.
Many thanks also to Dipak Mistry, our collaborator on Visualise Lifestreams at Arts & Business Cambridge who dropped them by the studio this morning.
September 5, 2012 by Giles Lane · Leave a Comment
Our installation on Hive Beach in Dorset, Storyweir, finishes on Sunday 9th September. Here are some photos taken by photographer Pete Millson. From October 13th we will also be participating in an exhibition about the ExLab commissions in Bridport Arts Centre's Allsop Gallery.
August 27, 2012 by Giles Lane · Leave a Comment
Last week we quietly updated bookleteer to give it a fresh look and to introduce the sharing features we announced previously. We've been tweaking and bug-fixing over the last week or so and are now very excited to let everyone know about it.
New Look Home & About Pages
We've refreshed both home and about pages to make it clearer what bookleteer is and what it can do.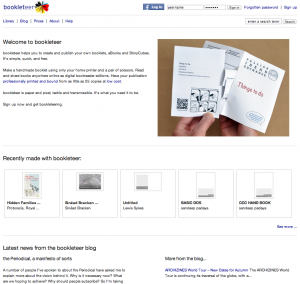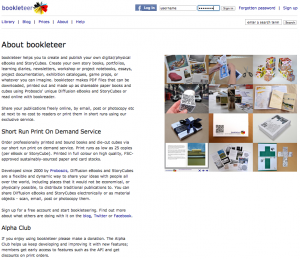 Public Library Page
The new Library Page allows anyone browsing bookleteer to see what eBooks and StoryCubes have been created and shared by members.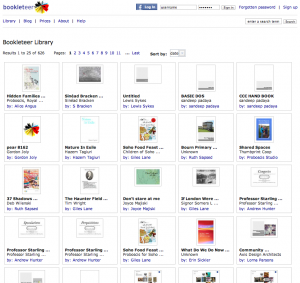 Individual Publication Pages
Each publication that is shared publicly has a unique page created for it which can be linked to and shared via popular social media services (Twitter, Facebook etc). eBooks have an embedded version of the bookreader in the page for previewing as well as download links for the PDFs. StoryCubes also have preview images and download link.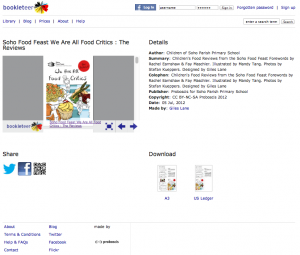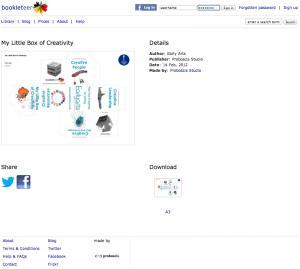 Member Public Profile Page
A new public profile page has been created to list all the shared publications by each member, also displaying a short bio and links to personal blog, website, twitter and facebook pages. These can be added in the member's account page.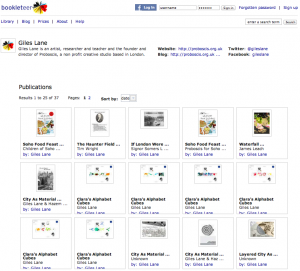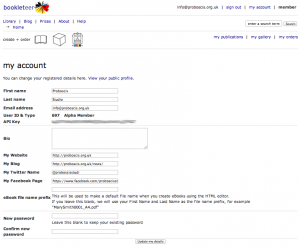 These are just the first in a series of updates and improvements to bookleteer that we're adding over the next few months – stay tuned for further announcements!
July 28, 2012 by admin · Leave a Comment
Its been over a year since we sent out our last newsletter – not that we haven't been busy, in fact we've been absorbed in a whole range of projects and activities :
Storyweir at Exlab, Hive Beach, Dorset
We have been commissioned by Exlab to create a new project at Hive Beach, Dorset as part of the Cultural Olympiad. The work opens on Saturday 28th July and will remain on site until 9th September. We have 3 days of free talks and 2 nighttime events (projections with live cello) on Friday 3rd to Sunday 5th August – all welcome.
http://proboscis.org.uk/tag/storyweir/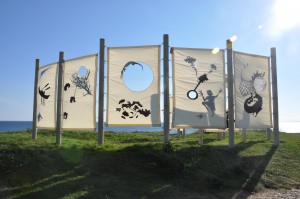 ++++++++++++++++++++

This October sees the launch of our new monthly publication – each month we will crowdsource, print and post out an eBook to subscribers created and shared on http://bookleteer.com sharing the most beautiful, experimental, thought-provoking and inspirational eBooks people have created to inspire and provoke others into creating more of their own.
SUBSCRIBE HERE : http://bookleteer.com/blog/2012/07/introducing-the-periodical/
++++++++++++++++++++


We're also introducing a whole range of new features to http://bookleteer.com this year – public sharing, library pages as well as some exciting new developments later this year. Follow our progress here :
http://bookleteer.com/blog/category/updates-improvements/
We've also dropped the minimum print run for our Short Run printing service to just 25 copies per eBook and the prices for printing A6 eBooks have dropped between 30-50%. Check the prices with our estimator tool here:
http://bookleteer.com/blog/ppod/
++++++++++++++++++++


Proboscis have been collaborating with Royal Holloway's Information Security Group (as part of the their EPSRC/ESRC/TSB research project Vome - http://www.vome.org.uk) to work with a local community in Pallion, Sunderland to create a sustainable knowledge and support network for local people to help each other cope and deal with benefit changes. We have developed a set of simple tools and processes to assist this "Ideas Exchange" – co-designed with the local community and are helping them integrate and adopt them into their ways of getting things done.
http://proboscis.org.uk/tag/pallion/
This Autumn we will be releasing a "Neighbourhood Ideas Exchange" package with versions of the tools that any community will be able to adopt and adapt for their own uses. Look out for announcements in September/October.
++++++++++++++++++++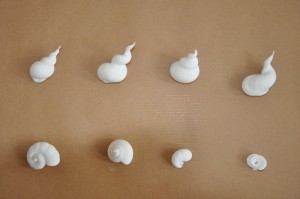 Visualise Lifestreams
Proboscis has been commissioned by Futurecity and Arts&Business Cambridge to collaborate with Philips R&D in Cambridge as part of Anglia Ruskin University's Visualise Public Art programme. We are exploring new forms for motivating people to incorporate health monitoring into their lifestyles by linking personal health data to systems that create tangible outputs. Starting with 3D printed 'shells' whose growth and shape is determined by data sets collected from ourselves, we plan to move on to feeding data to affect the growth of crystals and eventually towards 'growing' a shell organically through tissue engineering.
http://proboscis.org.uk/tag/lifestreams/
++++++++++++++++++++
Recent Publications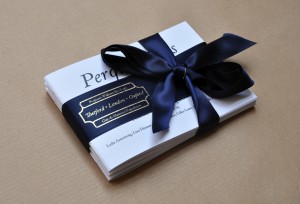 Professor Starling's Thetford-London-Oxford Expedition
by Lisa Hirmer, Andrew Hunter, Josephine Mills, Leila Armstrong, Giles Lane and Hazem Tagiuri
Download Free : http://diffusion.org.uk/?p=2587
Buy a limited edition set :  http://proboscis.org.uk/store.html#profstarling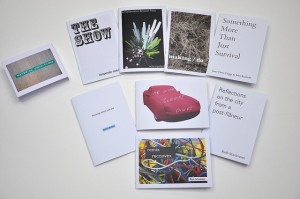 Material Conditions
by Active Ingredient, Desperate Optimists, Jane Prophet, Janet Owen Driggs & Jules Rochielle, Karla Brunet, London Fieldworks, Ruth Maclennan, Sarah Butler
Download Free : http://diffusion.org.uk/?cat=1043
Buy a limited edition set : http://proboscis.org.uk/store.html#materialconditions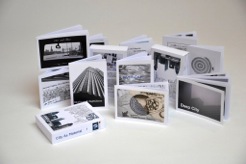 City As Material : London
Contributions by Tim Wright, Simon Pope, Ben Eastop & Alexandra Deschamps-Sonsino
Download Free : http://diffusion.org.uk/?cat=976
Buy a limited edition set : http://proboscis.org.uk/store.html#cityasmaterial1
July 25, 2012 by aliceangus · Leave a Comment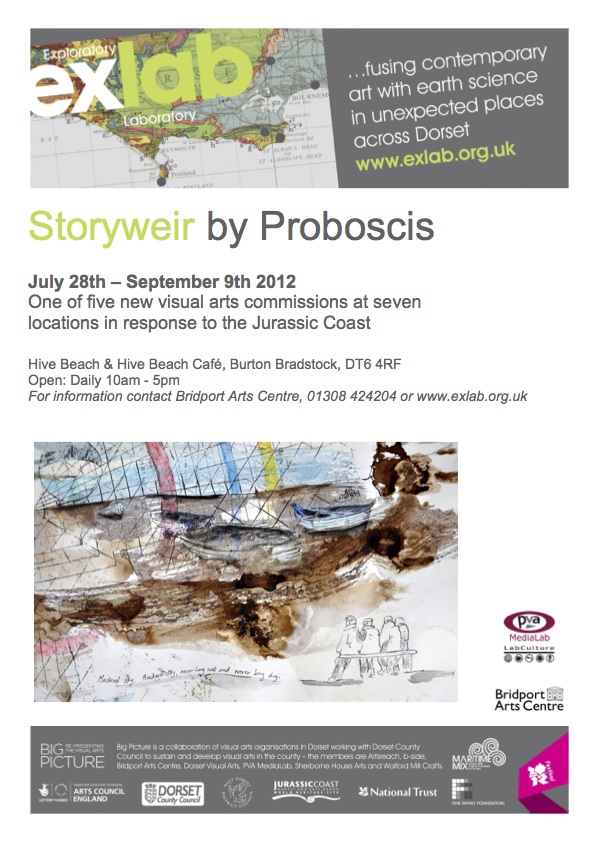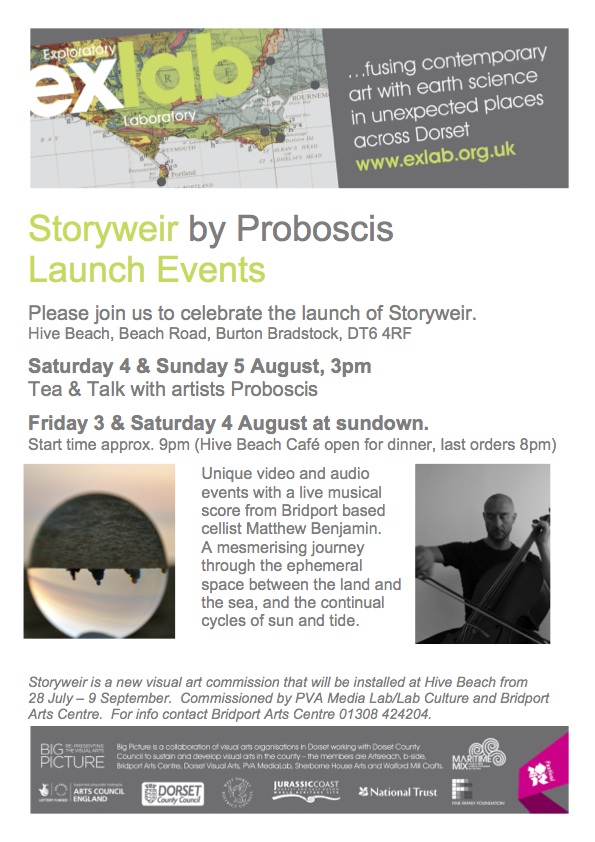 July 6, 2012 by Giles Lane · 1 Comment
One of the most fun things we've done this year has to be the little project we ran as part of the Soho Food Feast : helping some of the children of Soho Parish Primary School produce their own reviews of the amazing foods on offer in specially designed eNotebooks. The children would choose something from one of the many stalls, bring it to be photographed and a Polaroid PoGo photo sticker printed out an stuck into one of the eNotebooks, then they'd write about what the dish looked, smelt, felt, sounded and tasted like. This idea of doing the reviews through the 5 senses, along with the great introduction, was contributed by Fay Maschler, the restaurant critic of the London Evening Standard and one of the Food Feast committee members.
We've now published a compilation of the best reviews which is available via the Diffusion Library as downloadable eBooks and in the bookreader format. We're also printing a short run edition which will go the children themselves (and a few for the school to sell to raise funds – get one while you can!). Thanks to everyone who took part in this project – the children of Soho Parish and Soho Youth, members of the Food Feast Committee (Anita Coppins, Wendy Cope, Clare Lynch), Rachel Earnshaw (Head Teacher) and the team here : Mandy Tang, Haz Tagiuri & Stefan Kueppers.
July 2, 2012 by Giles Lane · Leave a Comment
Last Thursday I visited members of the Pallion Ideas Exchange (PAGPIE) at Pallion Action Group to bring them the latest elements of the toolkit we've been co-designing with them. Since our last trip and series of workshops with them we've refined some of the thinking tools and adapted others to better suit the needs and capabilities of local people.
Using bookleteer's Short Run printing service we printed up a batch of specially designed notebooks for people to use to help them collect notes in meetings and at events; manage their way through a problem with the help of other PAGPIE members; work out how to share ideas and solutions online in a safe and open way; and a simple notebook for keeping a list of important things to do, when they need done by, and what to do next once they've been completed.
We designed a series of large wall posters, or thinksheets,  for the community to use in different ways : one as a simple and open way to collect notes and ideas during public meetings and events; another to enable people to anonymously post problems for others to suggests potential solutions and other comments; another for collaborative problem solving and one for flagging up opportunities, who they're for, what they offer and how to publicise them.
These posters emerged from our last workshop – we had designed several others as part of process of engaging with the people who came along to the earlier meetings and workshops, and they liked the open and collaborative way that the poster format engaged people in working through issues. We all agreed that a special set for use by the members of PAGPIE would be a highly useful addition to their ways of capturing and sharing knowledge and ideas, as well as really simple to photograph and blog about or share online in different ways.
Last time I was up we had helped a couple of the members set up a group email address, a twitter account and a generic blog site – they've not yet been used as people have been away and the full core group haven't quite got to grips with how they've going to use the online tools and spaces. My next trip up in a few weeks will be to help them map out who will take on what roles, what tools they're actually going to start using and how. I'll also be hoping I won't get caught out by flash floods and storms again!
We are also finishing up the designs of the last few thinksheets – a beautiful visualisation of the journey from starting the PAGPIE network and how its various activities feed into the broader aspirations of the community (which Mandy will be blogging about soon); a visual matrix indicating where different online service lie on the read/write:public/private axes; as well as a couple of earlier posters designed to help people map out their home economies and budgets (income and expenditure).
Our next task will be to create a set of StoryCubes which can be used playfully to explore how a community or a neighbourhood group could set up their own Ideas Exchange. It'll be a set of 27 StoryCubes, with three different sets of 9 cubes each – mirroring to some degree Mandy's Outside the Box set for children. We're planning to release a full Neighbourhood Ideas Exchange package later this summer/autumn which will contain generic versions of all the tools we've designed for PAGPIE as well as the complete set of StoryCubes.
May 19, 2012 by Giles Lane · Leave a Comment
This week just passed Alice, Haz and myself have been running some co-design workshops with local community members in Pallion, a neighbourhood in the city of Sunderland, and with Lizzie Coles-Kemp and Elahe Kani-Zabihi of Royal Holloway's Information Security Group, hosted at Pallion Action Group. The workshops, our second round following some others in early April, were focused around visualising the shape, needs and resources available to local people in building their own sustainable knowledge and support network – the Pallion Ideas Exchange. We also worked on testing the various tools and aids which we've designed in response to what we've learned of the issues and concerns facing individuals and the community in general.
The first day was spent making a visualisation of the hopes and aspirations for what PIE could achieve, the various kinds of activities it would do, and all the things they would need to make this happen. Based on previous discussions and workshops we'd drawn up a list of the kinds of activities PIE might do and the kinds of things they'd need and Mandy had done a great job over the past couple of weeks creating lots of simple sketches to help build up the visual map, to which were added lots of other issues, activity ideas, resources and hoped for outcomes.
Visualising PIE this way allowed for wide-ranging discussions about what people want to achieve and what it would need to happen – from building confidence in young people and the community more generally, to being resilient in the face of intimidation by local neer-do-wells. Over the course of the first afternoon the shape changed dramatically as the relationships between outcomes, activities, needs, people and resources began to emerge and the discussion revealed different understandings and interpretations of what people wanted.
On the second day we focused on the tools and aids we've been designing – a series of flow diagrams breaking down into simple steps some methods for problem solving, recording and sharing solutions and tips online, how to promote and share opportunities to people they would benefit and things to consider about safety and privacy before posting information online. We've also designed some simple notebooks with prompts to help do things like take notes during meetings and at events, a notebook for breaking problems down into small chunks that can be addressed more easily alongside place to note what, who and where help from PIE is available, and a notebook for organising and managing information and experiences of PIE members about sharing solutions to common problems that can be safer shared online. As the props for a co-design workshop these were all up for re-design or being left to one side if not relevant or useful. An important factor that emerged during the discussion was that people might feel uncomfortable with notes being written in a notebook during a social event – the solution arrived at was to design a series of 'worksheet posters' which could be put up on the walls and which everyone could see and add notes, ideas or comments to. The issue of respecting anonymity about problems people have also led to the suggestion of a suggestions box where people could post problems anonymously, and an 'Ideas Wall' where the problems could be highlighted and possible solutions proposed. We came away with a list of new things to design and some small tweaks to the notebooks to make them more useful – it was also really helpful to see a few examples of how local people had started using the tools we've designed to get a feel for them: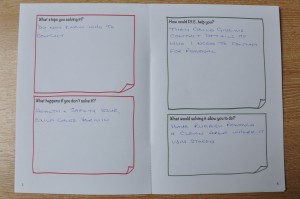 On the afternoon of the second day we also spent a long time discussing the technologies for sharing the community's knowledge and solutions that would be most appropriate and accessible. We looked at a whole range of possibilities, from the most obvious and generic social media platforms and publishing platforms to more targeted tools (such as SMS Gateways for broadcasting to mobiles). As we are working with a highly intergenerational group who are forming the core of PIE (ages range from 16 – 62) there were all kinds of fluencies with different technologies. This project is also part of the wider Vome project addressing issues of privacy awareness so we spent much of the time considering the specific issues of using social media to share knowledge and experiences in a local community where information leakage can have very serious consequences. Ultimately we are aiming towards developing an awareness for sharing that we are calling Informed Disclosure. Only a few days before I had heard about cases of loan sharks now mining Facebook information to identify potential vulnerable targets in local communities, and using the information they can glean from unwitting sharing of personal information to befriend and inveigle themselves into people's trust. The recent grooming cases have also highlighted the issues for vulnerable teenagers in revealing personal information on public networks. Our workshop participants also shared some of their own experiences of private information being accidentally or unknowing leaked out into public networks. At the end of the day we had devised a basic outline for the tools and technologies that PIE could begin to use to get going.
Our final day at Pallion was spent helping the core PIE group set up various online tools : email, a website/blog, a web-based collaboration platform for the core group to organise and manage the network, and a twitter stream to make announcements about upcoming events. Over the summer, as more people in Pallion get involved we're anticipating seeing other tools, such as video sharing, audio sharing and possibly SMS broadcast services being adopted and integrated into this suite of (mainly) free and open tools.
The workshops were great fun, hugely productive but also involved a steep learning curve for all of us. We'd like to thank Pat, Andrea, Ashleigh and Demi (who have taken on the roles of 'community champions' to get PIE up and running) for all their commitment and patience in working with us over the three days, as well as Karen & Doreen at PAG who have facilitated the process and made everything possible. And also to our partners, RHUL's Lizzie and Elahe who have placed great faith and trust in our ability to devise and deliver a co-design process with the community that reflects on the issues at the heart of Vome.
May 11, 2012 by Giles Lane · 1 Comment
Back in February Proboscis was commissioned by Andy Robinson of Futurecity, with the assistance of Dipak Mistry of Arts & Business Cambridge, to undertake an Art+Tech collaboration with a local industry partner in Cambridge as part of Anglia Ruskin University's Visualise programme. This strand seeks to engage "leading Cambridge technology companies to collaborate with contemporary artists on the creative use of technology in public life."
Over the past few months Stefan and I have been meeting with David Walker and Steffen Reymann of Philips R&D (based in the Cambridge Science Park) to establish a creative dialogue. The initial topics for our creative exploration were suggested by Philips based on research subjects being explored in their lab – Near Field Communications and health monitoring technologies. Our discussions quickly began to revolve around personal motivations for monitoring health and lifestyle –
Why do people routinely lose abandon using health monitoring technologies?
What might inspire new habits that actively involve monitoring?
How could we create delightful ways for people to make connections between personal data and Quality of Life?
How could we rethink the nature of data collection away from the purely rational towards the realm of the numinous and speculative?
Our initial thinking suggested that perhaps the problem with data collection is that it is often too crude and reductive – trying to make impossibly simple connections between phenomena in a complex system. Data visualisations are often barely more than pretty graphs – but our lives, our environments and the ways we live are so much more than that. How might we make tangible souvenirs from the data generated by our bodies and habits that could help us discern the longer term, harder to perceive patterns?
As our discussions have continued we have begun to explore how we might generate talismanic objects – lifecharms – from personal monitoring data using 3D fabbing. Things which could act as everyday reminders about patterns the data suggests, which are at once both formed of the data and yet do not offer literal readings of the data. Objects which are allusive, interpretative and perceptible, but still mysterious. What would it feel like to have an object in one's pocket that was generated from data gleaned from one's own body and behaviours? How might this help us maintain a peripheral awareness of the things we eat, how much we exercise, our general state of happiness and perceive the subtle changes and shifts over time?
Stefan is writing elsewhere how we have been inspired by shells – excretions produced by creatures that tell (in a non-literal way) the story of the creature's life – what minerals it ingested, what environmental factors affected it. For the lifecharms we're experimenting with using personal data to drive 3D morphogenetic algorithms that can generate unique shell-like forms which we'll then render into tangible souvenirs.
As a more macro counterpoint to the micro of the personal lifecharms we have also been considering how local public health data could be translated into forms which could be experienced as a group in a  public setting – we're investigating making a 'fly eye' geodesic dome with a light source to throw light upon the patterns in the data.
We'll be continuing our discussions with Philips for another 3 months or so, gathering some test data (from ourselves) then making some prototypes and maquettes of our ideas for an event in Cambridge in the Autumn where we'll present our work.
March 30, 2012 by Giles Lane · Leave a Comment
Today was the last working day of our 2011-12 financial year and, as such, Proboscis' last day as an Arts Council England Regularly Funded Organisation. What has this meant to us and what will our future trajectory be? As we near Proboscis' 18th anniversary in June (with a by no means certain path ahead) I feel I should mark this moment of transition in some way – pausing to reflect back on what being an RFO meant to us and how we mean to forge ahead.
Becoming an RFO in 2004 was a key transformation point for Proboscis, allowing us to concentrate on developing our programme in a way we hadn't had the resources to do before. Specifically it allowed us to engage in longer term developments, such as working in research and social engagement as well as enabling us to cashflow projects where the funding was paid in arrears (such as Technology Strategy Board funds etc). Our attitude to being an RFO was that it provided us with leverage to explore areas and partnerships where artistic practice were not mainstream, where we could slowly build relationships and nurture opportunities to work in other fields than traditional art contexts. To this end, we were able to become recognised by the UK Research Councils as an Independent Research Organisation (the only artist-led organisation to do so), to win funding from diverse sources such as the Ministry of Justice, the Technology Strategy Board and Horizon Digital Economy Research Institute and to create international partnerships that took us to work in Australia, Japan, Brazil and Canada. We were able to support seven young people into creative careers (two of whom are still with us) through our participation in the Future Jobs Fund programme. It also enabled us to develop a specific kind of collaborative practice with partners (such as universities) who were unused to collaboration (being more used to commissioning or consulting) – enabling us to be treated as a peer, not a sub-contractor.
Regular funding provided us with the resources to invest time and energy into smaller projects that were less likely to win funding on their own, but were crucial to developing our presence in critical and creative spheres – such as our 10 year programme of commissions for various series of Diffusion eBooks and the early experiments with the Diffusion Generator, a precursor to our self-publishing platform, bookleteer. The recent experiments with digital fabric printing have also benefitted from being able to take a longer view over what was originally a solution for a single project.
Times change and perhaps we are measured by our ability to respond to them. Over the past year we have been attempting to give Proboscis a new sense of direction – welcoming Gary Stewart and Stefan Kueppers into the fold as key creative associates. We've mapped out a new core conceptual theme, Public Goods, and several strands of practice and research that we're currently exploring through projects and experiments. New partnerships have also begun to emerge with, for instance, Headway East London, Royal Holloway's Information Security Group and Philips R&D (our collaborator in the Art + Tech Commission for ARU's Visualise programme) as well as older ones being re-affirmed.
What does it mean for us to no longer receive regular funding? For sure it means a drop in immediate and reliable income and less short term flexibility to 'follow our noses' as to where interesting creative opportunities may lie in less familiar contexts without seeking funding first. It means we are having to work even harder and look wider than before to locate the kinds of funded and resourced opportunities that will cover the costs of running a studio and paying our team of creative practitioners. We are by no means sure that in the current economic climate we will be able to achieve the level of new investment that Proboscis needs to grow through this change, or how long it might take us. No doubt we will have to adopt a more elastic approach to our own infrastructure and working practices.
But what all this is making clear is that the reason Proboscis will endure, persevere and find new pastures is that it is not driven purely by business goals, by financial ambition or a career path, but by artistic vision, passion, compassion and the desire to learn from others by working with them, sharing what we have discovered along the way. I cannot divine the shape that Proboscis will take on in a year or two or more's time, but the threads of imagination, exploration and experimentation that we are weaving will certainly continue to be woven howsoever we can.
March 20, 2012 by Giles Lane · Leave a Comment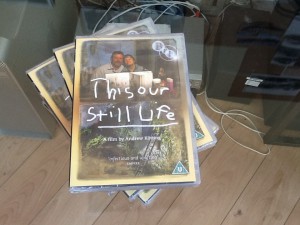 Ten years ago, in 2002, we completed a major 5 year collaboration between myself, filmmaker and artist Andrew Kötting and the neurologist Dr Mark Lythgoe. The project, Mapping Perception, had been an extraordinary journey for us exploring the membrane between our perceptions of ability and disability, through the prism of impaired brain function. Andrew's daughter, Eden, who was born with a congenital syndrome called Joubert's (which causes the cerebellum to remain underdeveloped) was both the inspiration for this project and its heart. For the project we produced a major site-specific installation, a 35mm 37 minute film and a publication and CD-Rom.
On Monday 19th March the BFI is to release a new DVD (which includes the Mapping Perception film as a special feature) of Andrew's latest film, This Our Still Life – a portrait of Eden now grown into a young woman. We're really excited that MP is present on the DVD as it will mean a whole new audience for the work and are teaming up with the BFI to provide 50 free copies of the Mapping Perception Book & CD-Rom for people ordering the DVD (more details / link to come).