March 13, 2018 by Giles Lane · Comments Off on UnBias Fairness Toolkit Preview
Here is the presentation from a workshop held in London yesterday at which I previewed the Fairness Toolkit I've been leading the development of for the UnBias project. It still requires further testing and refining, so feedback and comments are most welcome:
March 13, 2017 by aliceangus · Comments Off on Attentive Geographies
Since we worked together on Storyweir in 2012 I have had an ongoing relationship Exeter University's GEOCAK (the Geographies of Creativity and Knowledge) research group, most recently working on the Attentive Geographies project which began in 2014/15.  I have been commissioned to create new artwork reflecting on the work of the group, following from running a two day workshop and participating in a series of events over the last 2 years with the group.
Attentive Geographies looks at creative practice as research process. GEOCAK are working with artists and writers to better understand; "What happens when you commit to deepening and developing skill? What emerges when methodology becomes the subject of research? How does collaboration emerge through creative methodologies? What does it mean to be a geographer as practitioner?"
There is a strong and deepening relationship between geography and creative practice – art, music, writing and those practices are increasingly shaping Geographers processes. The project will identify new ways geographers can extend their skills through a variety of creative methods, skills and approaches.
Initially I produced a series of drawings based on my interactions and discussions with the group, this is developing into another series of illustrations, contributions to the forthcoming book "Attentive Geographies", and new textile work in response to the research practices of the group.
"The creative turn in Geography has cemented the long-standing relationships between geography and creative practitioners. Creative geographies are no longer studied as a product, instead practices are attentively shaping their learning, doing and knowing, with  geographers working and developing their capacities with a variety of creative methods, skills and approaches.

'Attentive geographies' explores creative practice as research process. What happens when you commit to deepening and developing skill? What emerges when the subject of research, becomes methodology? What is gained by undertaking creative geographies by doing? What difference does the practical doing make? How does collaboration emerge through creative methodologies? What does it mean to be a geographer as practitioner?"

Geographies of Knowledge and Creativity Research Group 2015

September 5, 2016 by Giles Lane · 19 Comments
Just over a week ago the Tupunis Slow Food Festival on Tanna island, Vanuatu concluded. It was the first festival of its kind held in Melanesia – bringing together people from Vanuatu, Papua New Guinea, Bougainville, New Caledonia (Kanaky); the Solomon islands and Fiji to celebrate traditional ways of producing and preparing food as part of a redefinition of "development"; rejecting the simple monetary definitions (dollars per day) and exploitative, extractive industries that characterise what global institutions such as the World Bank and the IMF define as development in favour of alternative criteria that recognise the value of sustainable land and sea tenure, the qualities of organic grown food and traditional methods of preparation, and the richness of lives not governed by the need for money. The festival was organised by a coalition of local organisations (including Vanuatu Slow Food Network, Vanuatu Land Defence Desk, Vanuatu Cultural Centre, Tafea Cultural Centre) and supported by The Christensen Fund as well as the Vanuatu Government.
As part of our TK Reite Notebooks project, James Leach and I travelled to participate in the festival along with three people from Reite village in Papua New Guinea – Porer Nombo, Pinbin Sisau and Urufaf Anip – with whom we have been co-designing the TKRN toolkit since 2012. Our trip was intended to bring the TKRN project and toolkit to a wider audience of Melanesians interested in documenting and preserving traditional culture – with the focus on presentation being led by Reite people themselves (rather than James and myself). Our role was to facilitate and support, with the key exchange of ideas, tools and processes taking place between people indigenous to Melanesia themselves.
This is a key aspect of the project for us – having our co-design collaborators from Reite village be identified and engaged with as cultural leaders in their own right who are actively taking steps to document and transmit their living culture and knowledge traditions to future generations in the face of extreme pressure from "development". For most of our time we were also accompanied by Yat Paol, a PNG man of the Gildipasi community with whom we worked in Tokain village earlier this year (and a representative of The Christensen Fund in PNG). Yat's insight and gentle wisdom concerning the importance of self-documentation of traditional knowledge as a means for indigenous people to empower themselves has been a source of inspiration and a great sounding board for us.
Porer and Pinbin represented Reite on a panel bringing perspectives from various Melanesian communities and spoke about the project and the importance of kastom, land and bush. For many people at the festival the emphasis was on a return to traditional ways of life – having two people who come from a community that maintains its traditional way of life speak about what it means to them and their families truly caught the mood of the audience and their response was fantastic, giving rousing applause.
The festival ran over 5 days and had speakers from across the region, as well as performances by cultural groups, traditional crafts, music and demonstrations of new ideas for food preservation and health initiatives. Moreover, each day traditional foods were prepared and cooked by people from all the provinces and islands of Vanuatu (and New Caledonia) for attendees to sample. Thus we were feasted on a daily basis on everything from (and often in locally specific combinations of) taro, yam, manioc, tapioca, cassava, banana to fish, coconut crab, goat and beef.
The Vanuatu Daily Post's Life & Style section has an article on the festival here, and Sista.com has an article with excellent photos from the festival here.
At the festival we connected with Canadian anthropologist, Jean Mitchell, who is running a project (Tanna Ecologies Gardens & Youth Project) with young people on Tanna documenting and recording kastom gardens and traditional foods. James, Urufaf and I ran a TKRN workshop with a group of them, teaching them to fold and make notebooks, as well as co-designing a new custom notebook for their project. A couple of days later we demonstrated scanning in the first few completed books and printed out copies for the young people who had made them. Our simple bush publishing set up of laptop, scanner and printer meant that we were able to do this quickly and simply – working in basic conditions on site and being able to carry all the equipment we needed in a couple of backpacks. Jean's project is an extension of one she originally developed in 1997, the Vanuatu Young People's Project, with the Vanuatu Cultural Centre. Over the next two years the young people on Tanna will be documenting as much knowledge about traditional kastom gardens as they can, using the TKRN toolkit as their primary tool. Jean has worked with them this summer to develop a questionnaire template which has been adapted for the notebooks:
Once back in Port Vila, Jean also arranged for us to train a couple of young people who will be sharing their skills with the men fieldworkers of the Vanuatu Cultural Centre at the annual fieldworkers' meeting at the end of September. This will complement the work we did in March with the women fieldworkers and hopefully bring the TKRN toolkit to many different communities across Vanuatu.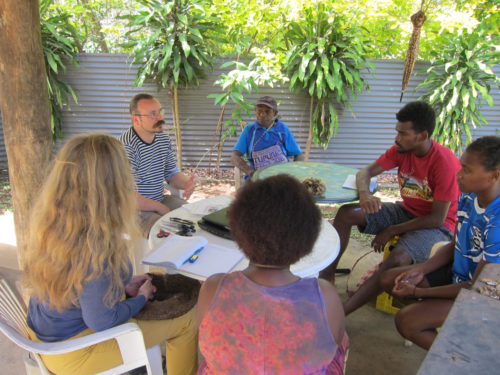 At the festival we also met and had great conversations with Dr Ruth Spriggs and Theonila Roka-Matbob from Bougainville (a semi-autonomous part of PNG), who are setting up an Indigenous Research Centre on the island, and Professor John Waiko of Oro Province PNG and his son, filmmaker and slow food activist Bao Waiko, from Markham Valley PNG (where he lives with his wife, Jennifer Baing-Waiko, also co-director of Save PNG). We're hoping to share the TKRN toolkit with their initiatives as part of our next steps.
A highlight of our trip was a visit to Tanna's famous Mount Yasur volcano, truly awe inspiring: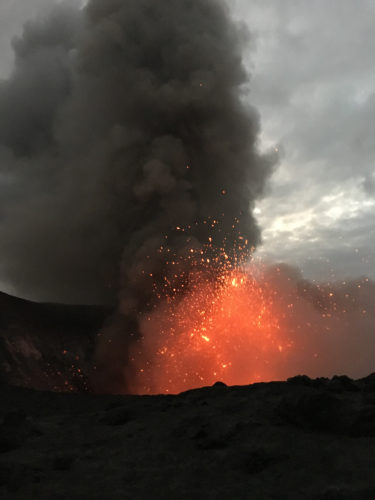 ---
Before attending the Tupunis festival, we took the opportunity to build on a relationship we had initiated with Wan Smolbag Theatre during our previous trip to Vanuatu earlier this year. Through co-founder Jo Dorras we were introduced to researcher Ben Kaurua and digital trainer Cobi Smith with whom we ran a TKRN workshop introducing the books and documentation process to a group of young volunteers who work with various island communities living in and around Port Vila, the capital on Efate island. (I had designed a very simple custom notebook for WSB in advance of travelling). We were also introduced to some local Chiefs from the nearby Lali community and were invited to attend a ceremony that was part of a boys' initiation ritual. We left WSB with some new equipment to assist them in using the TKRN toolkit (a Polaroid Snap camera/printer & Zink sheet packs, as well as a low cost Canon combined inkjet scanner and printer) and are hoping to see some results in the future.
---
Porer speaking at IUCN
After the festival, while I returned to the UK and Pinbin and Uru returned to Madang, James and Porer continued on their travels to participate in the IUCN World Conservation Congress in Hawaii. There they took part in a session on indigenous documentation to demonstrate the TKRN process and toolkit, and to discuss the complex issues facing traditional communities who wish to preserve their culture and values and to transmit them to future generations.
This trip was the final activity of our recent TKRN programme – we are now preparing a new programme of activities that aim to build a lasting legacy for the project and enable the establishment of a network of indigenous groups and local organisations in Melanesia to adopt and adapt the TKRN toolkit for themselves. Huge thanks are owed to Catherine Sparks of The Christensen Fund who made so much of this possible; funding many of the projects, organisations and the festival itself, as well as being the consummate connector introducing people and taking care so that everyone had the most productive time possible. Thanks also go out to Paula Aruhuri, Joel Simo and Jacob Kapere who were instrumental in inviting us, arranging travel and accommodation and making time and space for us on the programme.
March 14, 2016 by Giles Lane · 4 Comments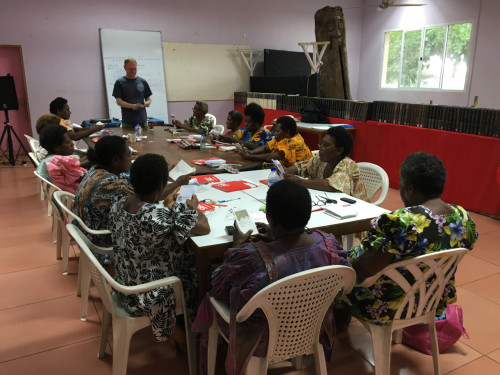 Over the past 2 weeks I have been in Port Vila, Vanuatu in the South Pacific with James Leach and Lissant Bolton (Keeper of Africa, Oceania and the Americas, British Museum) working with the Vanuatu Kaljoral Senta (Bislama for Vanuatu Cultural Centre). Lissant organised and led a special workshop with a group of women fieldworkers on the theme of current changes to kinship systems (supported by the Christensen Fund). The fieldworkers are ni-Vanuatu (local) people representing some of the many different vernacular language groups from across the many islands who do voluntary work to record and preserve traditional culture and knowledge. The fieldworker programme has been established and overseen by the Cultural Centre (VKS) for over 35 years and is a unique initiative where local people gather "cultural knowledges about all the aspects of the customary art of living of Vanuatu". Each year the fieldworkers gather together to share their research with each other and contribute to the documentation held at the VKS.
Lissant had invited James and I to visit Vanuatu with her and introduce the TKRN toolkit and techniques to the fieldworkers participating in the kinship workshop, as well as to meet with others working on different projects at the VKS. The low cost and ease of use of the TKRN booklets – both for collecting documentation in rural settings as well as digitising and archiving (both online and as hard copies) – made it an obvious tool to share. Prior to leaving London, Lissant and I had made some initial examples of Bislama (the local pidgin) notebooks for Vanuatu similar to those created in Tok Pisin for Papua New Guinea. These would be tested with the women fieldworkers during the workshop and we planned to adapt them with their assistance, as we have done in PNG with local people from Reite village.
In Port Vila James and I were also were introduced to Paula Aruhuri of the Vanuatu Indigenous Land Defence Desk, an organisation that promotes awareness of indigenous custom and land rights across Vanuatu and campaigns to stop land alienation from traditional owners. With Paula we co-designed a simple reporting notebook for the fieldworkers who deliver awareness events to local communities that will assist the land desk in documenting local people's concerns and how they might be able to help them. And we met with Edson Willie of the VKS Akioloji Unit (Heritage Unit), with whom we co-designed a notebook for fieldworkers to record heritage sites.
The women fieldworkers experimented with one of the notebook formats and helped us re-design the front cover and write up a more appropriate ethics statement that reflected their different concerns about sharing traditional knowledge. In this case they chose not to share their books online (as we did in Reite), but to have them scanned, re-printed and stored in the 'Tabu Rum' of the VKS, the audio-visual archives. Local concerns about rights to aspects of traditional knowledge in Melanesia are a major theme and extremely important to design for. Developing tactics and a strategy to enable clear documentation and permission for sharing has been at the heart of the TKRN co-design process. Lissant has written about this issue in the context of Vanuatu and it also reflects on James' work with Porer Nombo from Reite on their book Reite Plants in this essay.
We are planning to return to Vanuatu later in the year with some Reite people to participate in a knowledge exchange around the TKRN toolkit and techniques with men and women fieldworkers of the VKS. In this way we hope to develop a model of adoption whereby communities learn from each other how to use and adapt the toolkit for their own purposes, with our role being more one of facilitation than education or training. As a toolkit designed from the grassroots up, I hope to continue expanding on the concept of 'public authoring' that has driven the development of bookleteer and the 'shareables' it enables people to make and share.
In late April James and I will return to Papua New Guinea to work with Reite villagers to introduce the TKRN toolkit to a couple of other villages in Madang Province – this should provide an good indication of the possibilities and limitations of how a model of community knowledge transfer and adaptation can work.
August 29, 2015 by Giles Lane · 1 Comment
Back in July Giles delivered a workshop on "Peeking over the Horizon" for the University of Greenwich's Making London event. Below is a short video of the day:
Making London – Design Workshop from Creative Conversations on Vimeo.
#MakingLondon was a workshop-based event which considered different approaches to how the creative and cultural industries can continue to innovate in an increasingly corporate and financial capital.
For more information on this and other Creative Conversations events go to http://blogs.gre.ac.uk/creativeconversations/
May 19, 2012 by Giles Lane · Comments Off on 3 days in Pallion
This week just passed Alice, Haz and myself have been running some co-design workshops with local community members in Pallion, a neighbourhood in the city of Sunderland, and with Lizzie Coles-Kemp and Elahe Kani-Zabihi of Royal Holloway's Information Security Group, hosted at Pallion Action Group. The workshops, our second round following some others in early April, were focused around visualising the shape, needs and resources available to local people in building their own sustainable knowledge and support network – the Pallion Ideas Exchange. We also worked on testing the various tools and aids which we've designed in response to what we've learned of the issues and concerns facing individuals and the community in general.
The first day was spent making a visualisation of the hopes and aspirations for what PIE could achieve, the various kinds of activities it would do, and all the things they would need to make this happen. Based on previous discussions and workshops we'd drawn up a list of the kinds of activities PIE might do and the kinds of things they'd need and Mandy had done a great job over the past couple of weeks creating lots of simple sketches to help build up the visual map, to which were added lots of other issues, activity ideas, resources and hoped for outcomes.
Visualising PIE this way allowed for wide-ranging discussions about what people want to achieve and what it would need to happen – from building confidence in young people and the community more generally, to being resilient in the face of intimidation by local neer-do-wells. Over the course of the first afternoon the shape changed dramatically as the relationships between outcomes, activities, needs, people and resources began to emerge and the discussion revealed different understandings and interpretations of what people wanted.
On the second day we focused on the tools and aids we've been designing – a series of flow diagrams breaking down into simple steps some methods for problem solving, recording and sharing solutions and tips online, how to promote and share opportunities to people they would benefit and things to consider about safety and privacy before posting information online. We've also designed some simple notebooks with prompts to help do things like take notes during meetings and at events, a notebook for breaking problems down into small chunks that can be addressed more easily alongside place to note what, who and where help from PIE is available, and a notebook for organising and managing information and experiences of PIE members about sharing solutions to common problems that can be safer shared online. As the props for a co-design workshop these were all up for re-design or being left to one side if not relevant or useful. An important factor that emerged during the discussion was that people might feel uncomfortable with notes being written in a notebook during a social event – the solution arrived at was to design a series of 'worksheet posters' which could be put up on the walls and which everyone could see and add notes, ideas or comments to. The issue of respecting anonymity about problems people have also led to the suggestion of a suggestions box where people could post problems anonymously, and an 'Ideas Wall' where the problems could be highlighted and possible solutions proposed. We came away with a list of new things to design and some small tweaks to the notebooks to make them more useful – it was also really helpful to see a few examples of how local people had started using the tools we've designed to get a feel for them: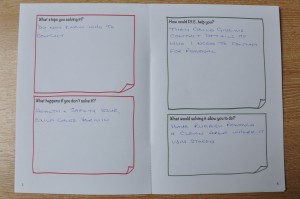 On the afternoon of the second day we also spent a long time discussing the technologies for sharing the community's knowledge and solutions that would be most appropriate and accessible. We looked at a whole range of possibilities, from the most obvious and generic social media platforms and publishing platforms to more targeted tools (such as SMS Gateways for broadcasting to mobiles). As we are working with a highly intergenerational group who are forming the core of PIE (ages range from 16 – 62) there were all kinds of fluencies with different technologies. This project is also part of the wider Vome project addressing issues of privacy awareness so we spent much of the time considering the specific issues of using social media to share knowledge and experiences in a local community where information leakage can have very serious consequences. Ultimately we are aiming towards developing an awareness for sharing that we are calling Informed Disclosure. Only a few days before I had heard about cases of loan sharks now mining Facebook information to identify potential vulnerable targets in local communities, and using the information they can glean from unwitting sharing of personal information to befriend and inveigle themselves into people's trust. The recent grooming cases have also highlighted the issues for vulnerable teenagers in revealing personal information on public networks. Our workshop participants also shared some of their own experiences of private information being accidentally or unknowing leaked out into public networks. At the end of the day we had devised a basic outline for the tools and technologies that PIE could begin to use to get going.
Our final day at Pallion was spent helping the core PIE group set up various online tools : email, a website/blog, a web-based collaboration platform for the core group to organise and manage the network, and a twitter stream to make announcements about upcoming events. Over the summer, as more people in Pallion get involved we're anticipating seeing other tools, such as video sharing, audio sharing and possibly SMS broadcast services being adopted and integrated into this suite of (mainly) free and open tools.
The workshops were great fun, hugely productive but also involved a steep learning curve for all of us. We'd like to thank Pat, Andrea, Ashleigh and Demi (who have taken on the roles of 'community champions' to get PIE up and running) for all their commitment and patience in working with us over the three days, as well as Karen & Doreen at PAG who have facilitated the process and made everything possible. And also to our partners, RHUL's Lizzie and Elahe who have placed great faith and trust in our ability to devise and deliver a co-design process with the community that reflects on the issues at the heart of Vome.
November 3, 2010 by Giles Lane · Comments Off on City As Material Series
We've recently started a new series of events called City As Material. Between October and December 2010 we're running 5 one-day urban exploration and collaborative publishing events which aim to bring diverse groups together around a number of topics to generate some fresh perspectives on urban space and experience. We will be coordinating the creation of a collaboration Diffusion eBook as the outcome of each event, which will be published on diffusion.org.uk and printedin a limited edition using bookleteer's PPOD service. Each event will also have a special guest who will be invited to share their personal interests in the topic and who will also be commissioned to create their own eBook for the series:
Book places for the events here : cityasmaterial.eventbrite.com
Download publications from the series here : diffusion.org.uk/?cat=976
Follow our reports on the events here : bookleteer.com/blog/tag/pitch-in-publish/
August 6, 2010 by aliceangus · 1 Comment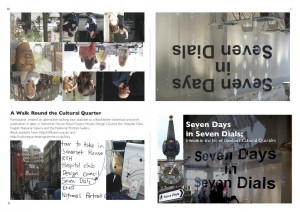 July 28, 2010 by aliceangus · 2 Comments
For a week in early July Proboscis worked on Seven Days in Seven Dials a project by artistsandmakers.com and the West End Cultural Quarter to create an exhibition in one week with 30 young people on the Culture Quarter Programme of placements.
Proboscis currently has a scheme of placements funded by the Future Jobs Fund and the first two in the scheme, Shalene Barnett and Karine Dorset, joined Seven Days in Seven Dials to create download, print and makeup publications using bookleteer.com to accompany the exhibition. Here are their thoughts on the week:
"My role was to put together and produce a publication of the walking tour that took place… First we mapped out the places we were going to go and the route that we were going to take then we set out on the journey. By the end of the day we had taken pictures, collected facts and had most of the content for the eBook. On the Wednesday I spent my time at the shop in Covent Garden, editing photos and text, rearranging the eBook template I had already done and actually start putting in some content.
Friday we were in the studio. I began to finish the book, did some editing and rearranging just to make sure that the eBook was correct., printed off copies and ran them down to the shop in Convent Garden for display for the opening show on the project. It was a great experience and I had great fun working with a big range of different groups of people, I would love to do it again in the near future." KD
"Seven Days in Seven Dials for me was a lovely experience. I spent seven days in an area called Seven Dials which is located in Covent Garden. I spent the seven days documenting different groups of people as they gathered various information about seven dials….All in all I highly enjoyed my time at Seven Dials. It was nice to meet young people that are on the same FJF scheme as myself and are trying something new and out of the box. I think the Empty Shops project is very creative and I would gladly do it again. At times it was hard work but the hard work most definitely paid off." SB
You can see images here
and read more on the artistsandmakers website.
March 17, 2010 by Giles Lane · Comments Off on Empty Shops Pitch Up & Publish
Proboscis is collaborating with Dan Thompson of artistsandmakers.com to run a series of bookleteer Pitch Up & Publish events alongside his Empty Shops Network Tour. Last week we were in Shoreham-by-Sea, Sussex and this week (Friday 19th March) we'll be in Carlisle, Cumbria, with future visits planned for Coventry and Margate.
Join us to get an intro to creating your own eBooks and StoryCubes with bookleteer. Follow bookleteer on twitter or the bookleteer blog for more information.
Browse eBooks and StoryCubes made with bookleteer.com
February 26, 2010 by Giles Lane · Comments Off on Professional Development Commission: Articulating Futures by Niharika Hariharan
Articulating Futures was a 4 day workshop held at Chinmaya Mission Vidyalaya in New Delhi between the 17th – 20th November, 2009. As a collaboration between narrative designer Niharika Hariharan and Proboscis, the workshop investigated how through innovative thinking young students could be mobilized to voice issues that are important to them.
I had the opportunity of working as an intern and project assistant at Proboscis while I was pursuing my Masters at Central Saint Martins, London in 2008-09. Needless to say, the experience at Proboscis was invaluable, giving me important insights into the various processes of design thinking as well as management.
On completing my course, Proboscis offered me a professional development commission. The commission is granted to emerging young artists and designers to help them kick start a project of their own interest giving them an opportunity to showcase their capabilities to the 'real world'.
Giles Lane and the Proboscis team worked with me through the entire process of my project Articulating Futures right from ideation up until the execution. Proboscis was an important member of the think tank that helped shape this commissioned project. They not only provided me with the required materials to execute the project but also a platform to share and discuss my work with creative practitioners at a global level.
Articulating Futures has been an extremely satisfying project to me as a designer and a thinker. It has allowed me to explore and share my ideas as an emerging professional in the field of art and design. And finally, it has given me the confidence to further pursue, lead and manage projects and ideas. Needless to say these are all desired and necessary skills for a future creative practitioner working in the industry.
Post the completion of my education in London, this Professional Development Commission by Proboscis was an ideal platform for me to progress towards a career in the field of art and design.
Niharika Hariharan
February 2010
view/download the Hindi/English eNotebooks
download the Project Report PDF 2.1Mb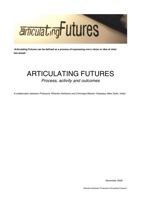 October 30, 2009 by aliceangus · Comments Off on Hertfordshires Many Voices
We have been working on Ears to the Ground for around 3 months now and the phase of being out there talking to people and doing activities is almost over with our energy now being focused into how to condense over 200 voices and quotes into a small publication. We've been roving around Hertfordshire meeting young and old, talking to them in groups, in their homes, at events. As well as the many people and groups we have met we have; set up a stall in Watford Market to talk to market goers,  set up outside Broxbourne Station to speak to commuters, set up a  map outside  Stevenage Job Centre and annotated it with post it notes of comments from Centre users and ran a drawing workshop with a youth group. We've taken our anarchaeology approach of using informal and creative approaches to excavate layers of meaning and understanding. I've enjoyed all the people we met who have been so generous, and as I go through the hours of recorded audio  two of my favourite quotes so far have been from the Meriden Comunity Centre Community Bar on the Meriden estate in north Watford, and the list of what young people saw around their Neighbourhood in the Chells area of Stevenage.
In the Meriden  community bar we asked: How long have you been here?
1962 I moved onto this estate.
I was going to say half past seven.
I've been a member of this club for years since it first opened.
I've been here so long I've worn a hole in the carpet.
You certainly don't get any trouble in here fighting or all that, its just all mates really I suppose
Like a big extended family
We come down here to insult each other
Don't know what we'd do without it, we'd sit indoors and watch telly.
We're all living round here so we don't need to drive.
The atmosphere, you know, you come in and you know you're not going to get into any trouble.

And in Chells Manor Community Center we went for a walk with the youth group and after making a large drawing we asked: What did you see and draw?
I saw a fox
I saw the pub, shops, chip shop
I saw, a cat , a man smoking
I saw a tree and a road and an aeroplane
I saw a red flower, a broken glass
I saw myself
I saw a load of people at the youth club
I saw my house
apparently we saw a train going up a tree
I never saw two men shooting each other
I saw darren
I saw houses, dogs,
I saw the green, football, cricket, cycling down fairlands
nothing else
The book will be published in December.
October 21, 2009 by Giles Lane · Comments Off on Pitch Up & Publish 1 Slideshow
The first event was a fun evening and everyone who attended created at least 1 eBook each, with the exception of Matthew who managed to create two lovely examples. Thanks to everyone who came (Christopher, Fred, Kati, Matthew & Sara), and the team (Karen, John & Stefan).
The next Pitch Up & Publish will be on Thursday 5th November 2009 at our studio in Clerkenwell.
September 23, 2009 by Giles Lane · 1 Comment
Today I'm travelling to San Sebastian, Spain to take part and give a presentation at the workshop, My Map is Not Your Map. The workshop is hosted by Arteleku and coordinated by José Luis Pajares (gelo); the other presenters are Lize Mogel, Fabien Girardin and Julius von Bismarck.
My presentation (Thurs 24th at 19.00) will be an overview of Proboscis' projects exploring place, public authoring and sensing conducted since the 2002 (e.g. Urban Tapestries, Social Tapestries, Feral Robots, Snout, Sutton Grapevine & Sensory Threads. Proboscis' work has always focused less on the technological than on the relational nature of linking human knowledge and experience to place – why and how people tell stories and construct narratives around the places they inhabit and which hold meaning for them.
September 21, 2009 by Giles Lane · Comments Off on bookleteer – Pitch Up & Publish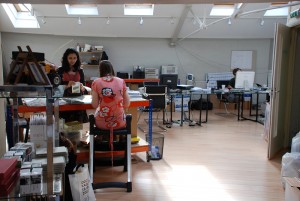 Starting in October we will be running regular informal evening workshops for people to literally pitch up and publish using bookleteer.com. Initially these will be held at our Clerkenwell Studio for up to 15 participants – all you need is a laptop and some content (text /photos/ drawings etc) you'd like to create and share as eBooks or StoryCubes (shareables). We will provide free user accounts to bookleteer and guide you through the steps of preparing and generating your shareables to share online, via email or as physical publications. Once created you can publish them on your own website or, if appropriate, we can publish them on Diffusion.
Update: The first workshop will be held on October 15th 2009 between 6.30-9pm at the Proboscis Studio.
To reserve a place please email us at diffusion (at) proboscis.org.uk Participants will be asked to make small donation to cover materials (paper/printing ink etc) and refreshments (beer).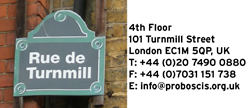 August 28, 2009 by Giles Lane · Comments Off on DodoLab PEI
Alice Angus and Giles Lane are currently participating in the latest DodoLab in Charlottetown, Prince Edward Island, Canada where we are working alongside Andrew Hunter (Chief DodoLabster), Barb Hobot, Laura Knapp and Lisa Hirmer, as well as a group of students from Mount Allison University led by Dr Shauna McCabe.
DodoLab PEI is being hosted by the Confederation Centre Art Gallery and is exploring a number of issues related to green space in the city, notably the Experimental Farm there.
DodoLab eBooks & StoryCubes on Diffusion
July 1, 2009 by Giles Lane · Comments Off on alright!
alright! from Proboscis on Vimeo.
A film made by Sutton Youth group about the qualities that make up Sutton-in-the-Isle, a village in the Fens. Using cut up paper and some pretty low tech processes and a lot of laughing, this was made in under two hours one evening.
June 4, 2009 by aliceangus · Comments Off on Sutton Grapevine
This week we are back in Sutton-in-the-Isle for Sutton Grapevine our  story gathering and sharing project commissioned by ADeC.
From 3rd – 9th of June we'll be roving around the village gathering and recording stories in many ways; from hanging out at the election, the community shop, the pub and the community spaces with a large village map, to visiting local clubs and individuals, to hosting a storytelling dinner with the residents of a street, to running workshops and going for walks. As the village continues to change through growth, movement and migration the initiative aims to let local people explore place and identity.
Alongside this we've integrated storytelling and news sharing (by email and with a WordPress blog);  sound recordings (via the free podbean and AudioBoo podcasting servicees and the low cost Gabcast telephone-to-MP3 podcasting service); photo sharing (via the Flickr group pool); social connections (via the Facebook Group) and news feeds (via Twitter). We will also be adding in some of our own inventions like StoryCubes and Diffusion eBooks to make tangible things that can be passed around, as well as the digital media.
Should you find yourself in the area please come and find us in Sutton to add a story to the Grapevine or  join in remotely.
We will be back during Sutton Feast Week from the 1st – 5th July with an exhibition and audio broadcasts at St Andrews Church and around the village.
See you in Sutton!
May 1, 2009 by Giles Lane · Comments Off on Jump In workshop
As part of our contribution to the Creator Research Cluster, Giles Lane, Sarah Thelwall (mycake) and Tim Jones (Solar Associates) organised a 1 day workshop at The Rookery in Clerkenwell to explore how small arts organisations could explore working with research departments in universities, and develop the case for becoming Independent Research Organisations. The workshop brought together around 20 participants from a wide group of artists and creative professionals, many of whom are already in collaborations with universities, to share experiences and insights into collaborative practices.
The workshop was partly inspired by Sarah's Troubadour study for the Creator Cluster (due to be published in June 2009 by Proboscis), the executive summary of which was circulated to all the participants. It drew on the experiences of Proboscis (already an IRO since 2005), Blast Theory and Scan who have all maintained long term partnerships and collaborations with universities stretching back a decade or more. The AHRC was also represented at the workshop and was helpful in identifying the probable routes needed to be taken to achieve IRO status in the current climate.
The participants agreed to set up an informal cluster of interested parties who wanted to take the process further.
Participants: Giles Lane (Proboscis); Sarah Thelwall (mycake); Tim Jones (Solar Associates); Ruth Catlow (Furtherfield); Helen Sloan (Scan); Julianne Pierce (Blast Theory); Rob La Frenais (Arts Catalyst); Tassos Stevens (Coney); Ruth & Bruno (Igloo); Glenn Davidson (Artstation); Rachel Jacob (Active Ingredient); Evelyn Wilson (LCACE); Gini Simpson (Queen Mary); Annamaria Wills (cida); Carien Meier (Drake); Ben Cook (LUX); Tim Harrison (ACE London); Isabel Lilly (Stream); Joanna Pollock (AHRC); Nick? (A Foundation).
Absent Friends: Bronac Ferran (boundaryobject); Julie Taylor (Goldsmiths); Lorraine Warren (Southampton); Ted Fuller (Lincoln)
Funded by the CREATOR Cluster, part of the EPSRC's Digital Economy programme.
November 6, 2008 by karenmartin · Comments Off on UrbanSense08 Workshop
The third in a series of workshop on the theme of urban sensing, UrbanSense 08 took place in Raleigh, North Carolina in November 2008. The workshop explored ideas, prototypes and realised projects around participatory sensing. Karen Martin made a presentation of 'Participatory Sensing for Urban Communities' which described the Robotic Feral Public Authoring and Snout projects which Proboscis had created in collaboration with Birkbeck College, University of London.
Read the paper 'Participatory Sensing for Urban Communities' (PDF 650Kb) by Demetrios Airantzis (Birkbeck College, University of London); Alice Angus (Proboscis), Giles Lane (Proboscis), Karen Martin (Proboscis), George Roussos (Birkbeck College, University of London), Jenson Taylor (Birkbeck College, University of London)
Here is the workshop abstract:
Sensing is going mobile and people-centric. Sensors for activity recognition and GPS for location are now being shipped in millions of top end mobile phones. This complements other sensors already on mobile phones such as high-quality cameras and microphones. At the same time we are seeing sensors installed in urban environments in support of more classic environmental sensing applications, such as, real-time feeds for air-quality, pollutants, weather conditions, and congestion conditions around the city. Collaborative data gathering of sensed data for people by people, facilitated by sensing systems comprised of everyday mobile devices and their interaction with static sensor webs, present a new frontier at the intersection between pervasive computing and sensor networking.
This workshop promotes exchange among sensing system researchers involved in areas, such as, mobile sensing, people-centric and participatory sensing, urban sensing, public health, community development, and cultural expression. It focuses on how mobile phones and other everyday devices can be employed as network- connected, location-aware, human-in-the-loop sensors that enable data collection, geo-tagged documentation, mapping, modeling, and other case-making capabilities.
http://sensorlab.cs.dartmouth.edu/urbansensing/
October 20, 2008 by Giles Lane · Comments Off on Constructing Conversations

Constructing Conversations from Proboscis on Vimeo.
A film for the Perception Peterborough project, documenting the creation of a 3 dimensional 'map' of creative visions overlaid over the city. The film was shot during workshops facilitated by Proboscis in Peterborough Museum in September 2008.
September 25, 2008 by Giles Lane · Comments Off on Perception Peterborough – Workshops
As part of Perception Peterborough three creative transdisciplinary workshops were led by Proboscis (alongside consultants Haring Woods Associates) at Peterborough Museum over three days in September 2008. The workshops were the culmination of Perception Peterborough and were designed to reflect on Peterboroughs's vision for the future around the three themes;
Green Infrastructure and Environmental Technologies
Social Cohesion within a Climate of Migration
Growth: Development of the Built Environment.
Over three days each workshop explored the notion of 'Environmental Capital' and both discussed and built ideas for the features of an environmental capital. Creativity underpinned our process for the workshops where a playful but intensive period of activity involved social mapping, StoryCubes and 3D mapbuilding.
The workshops involved:
Social Mapping to explore participants' connections to each other and Peterborough using brown paper and crayons. StoryCubes to explore relationships of ideas to each other and focus the conversation, with
a physical landscape of cubes building up over the days. StoryCubes are a tactile thinking tool for exploring relationships and narratives, each face of the cube is illustrated or annotated to graphically convey an idea, a thing or an action. A 3D Map of a Future Peterborough to make manifest participants ideas for the features of an environmental capital and go beyond the big ideas such as 'a carbon zero economy' to look at how that might be achieved on the ground. Participants added both new ideas, suggestions and existing or planned buildings, structures or initiatives.
View a film of the collaborative map created over the first three days.
September 23, 2008 by Giles Lane · Comments Off on Dislocate08 workshop & symposium
Proboscis devised a creative workshop on September 18th at ZAIM, Yokohama as part of the Dislocate08 festival. The workshop is the initial stage of our research for Sensory Threads, engaging artists, urbanists, designers, technologists, musicians and dancers in an active investigation into the sensorial patterns and rhythms to be found in our environment. The area around ZAIM in Yokohama became our research field as we sought out and evidenced the recurring, overlapping and intersecting sounds and movements that take place as we act in, and react to, our environment.
Sensory Threads is a work-in-progress to develop an instrument enabling a group of people to create a soundscape reflecting their collaborative experiences in the environment. For this interactive sensory experience, we are designing sensors for detecting environmental phenomena at the periphery of human perception as well as the movement and proximity of the wearers themselves. Possible targets for the sensors may be electro-magnetic radiation, hi/lo sound frequencies, heart rate etc). The sensors' datastreams will feed into generative audio software, creating a multi-layered and multi-dimensional soundscape feeding back the players' journey through their environment. Variations in the soundscape reflect changes in the wearers interactions with each other and the environment around them. We aim to premiere the work in 2009.
We also took part in the Dislocate symposium on September 20-21st, presenting our film Play to Invent and giving an overview of our work in public authoring, sensing, mapping and mobile technologies.
September 1, 2008 by Giles Lane · Comments Off on Perception Peterborough Briefing Book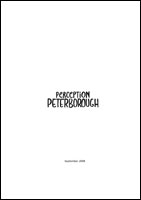 Produced by Haring Woods Associates 
Editor: Celia Makin-Bell 
Concept and design: Proboscis 
Illustration: Matt Huynh 
Graphic Design: Carmen Vela Maldonado 
July 16, 2008 by Orlagh · Comments Off on StoryCubes Workshop – Cardiff University
Proboscis were commissioned by Cardiff University's Human Resources Division to run a StoryCubes Workshop as part of their internal Leadership Programme.
Workshop Facilitation: Karen Martin & Orlagh Woods