February 29, 2012 by mandytang · 1 Comment
As part of my explorations into the notion of Public Goods for the Compendium, I've been creating some sketch maps that explore how to define public goods. What are they? Public goods come in many forms and their meaning and values vary among different groups of people.
Whilst preparing to have lunch with the team, Stefan began telling us a story about his family feast during the holiday season. The social transactions he had during the reunion, the reminiscing of traditional dishes. It sparked the thought that it wasn't just the act of sharing food that was a public good, but everything that evolved around it. Where and how we get our food; the agricultural skills and knowledge needed to grow our food; the market place in which people come together not just to buy goods but for social interactions and where communities share stories; the history and culture, our traditions and sociology behind food, and 'Foodways' – a term used to describe any piece of food culture which once existed in a time and place that tells a story about who we are.
February 28, 2012 by Giles Lane · 3 Comments
Once again we have been collaborating with our esteemed colleagues Andrew Hunter and Lisa Hirmer at DodoLab on a discursive exploration of place and knowledge as part of our ongoing investigations and collaborative publishing project, City As Material. This time we have been undertaking a research expedition with Professor William Starling into the decline of the European Starling in Britain, seeking stories and evidence to explain their rapid disappearance in three towns : Thetford (in Norfolk), London and Oxford. Alongside Proboscis and DodoLab, we were accompanied by expedition members Dr Josie Mills, Curator of the Art Gallery at the University of Lethbridge, Canada and artist Leila Armstrong.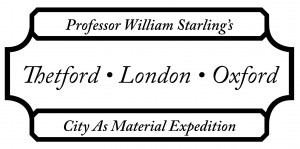 Haz has posted reports for each of the journeys and visitations which we undertook in Thetford, London and Oxford over on our bookleteer blog and we are now collaborating to produce a series of eBooks charting the expedition's activities and findings – blending together questions, observations, musings, photos, drawings, rubbings and other things collected. As before, we'll print up a limited edition of the books as well as placing downloadable PDFs in the online Diffusion Library for handmade versions and enabling bookreader versions for reading online.
February 27, 2012 by aliceangus · 6 Comments
One of the definitions of Public Goods in economics terms describes them as goods that are not diminished by a persons consumption of them. The air is cited as an example, sometimes the beach, street lighting, free broadcast television and so on (though in the 'real world' perhaps nothing really fits this description).  Are there other interactions we value that might be called public goods?  Things that people feel are precious about the places and communities they belong to – stories, skills, games, songs and so on. Maybe they are more intangible than a place, or element or thing, like the way people use local markets as places to meet, converse or share knowledge.
The notion of  Public Goods comes up often in our work; common space and 'the commons' as a public good for Being in Common; the role of markets and independent traders in Lancaster for As It Comes, and in Hertfordshire for With Our Ears to the Ground and the social impact of technologies for Urban Tapestries, Snout and Social Tapestries. I can't quite pinpoint what these public goods are and I want to try and make a bit more sense of them for our Public Goods programme so I'm working with Mandy to create a Compendium of Public Goods  – a series of short animations inspired by many of the conversations and interviews we have had with people about their lives and communities. We are starting with a look back over conversations I had with the March History Group in Lancaster about jumble sales, hand me downs and knitted swimming suits… remember knitted swimming suits anyone?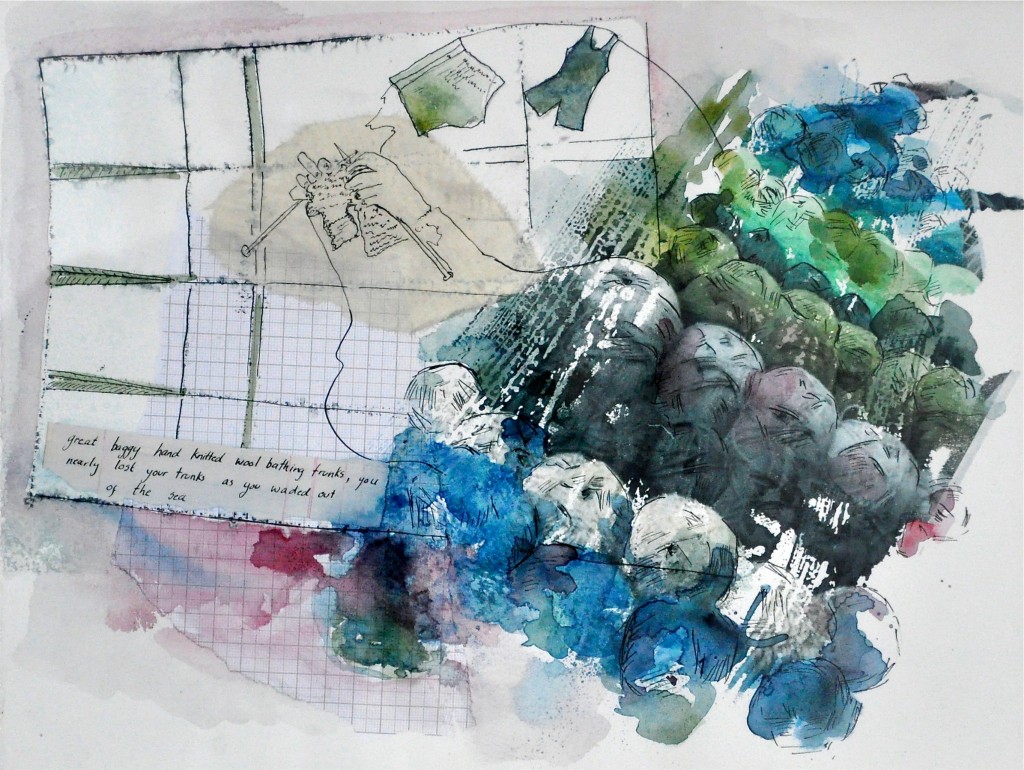 February 8, 2012 by Giles Lane · Comments Off on COIL journal – last few sets special offer
Over the past few weeks we've been re-arranging the studio to create new work spaces (such as the fabbing corner for the Public Goods Lab) and have been sifting through our archive to make space. We've been culling the number of archive copies we keep of various publications, especially of our older works which means we can release them for sale. As such, we are now making the last 15 complete sets of COIL journal of the moving image available for sale at the super low price of £25 plus shipping.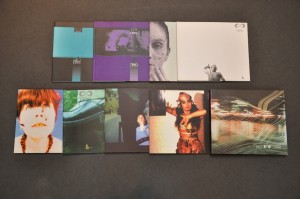 COIL journal was a 10 issue part-work commissioning new writing, critique as well as artists projects about experimental film, video and the emerging electronic/digital art field between 1995 and 2000. Over 130 filmmakers, artists, writers, critics and others were commissioned for the series – each one invited to make their own intervention in the journal about moving image culture (rather than respond to editorial themes). The journal deliberately eschewed featuring the then-current 'YBA' group of artists, focusing on a mix of younger emerging talent with older mid-career artists – many of whom we're less visible at the time. COIL is thus a snapshot of a fecund period during which the shift from analogue to digital technologies gathered pace and the changes in creative practices associated with these became more pronounced.
February 7, 2012 by stefankueppers · Comments Off on A few months in..
Wow, how time flies:
Starting my Proboscis experience began only in October and already it seems like a distant past as so many things are happening at the same time here:
The Proboscis team, Giles, Alice, Hazem and Mandy have been really warmly welcoming me into their fold and I have been getting to know all the many friends and collaborators in the various projects we are working on. It is a great experience getting into a totally different scale (much smaller!) and horizontal way of working; a big change from my previous Higher Education job! I have come needing to juggle wearing many hats: design, research, technology development, etc. and I am really relishing it. It is really great when you can mix up the strategic and the practical and a few things in-between.
All this took some time getting used to but what is great is that a lot of excitement in this involvement is already showing: There is the new thinking about the technology stack that we are evolving for our Public Goods Lab work, the authoring and (successfully!) bidding for new commissioned work (e.g. Exlab) with other exciting work in the pipeline.  Then we have been rearranging our studio space to accommodate more fabrication space for our various projects. Now there is a corner for electronics prototyping with a kit bench that is slowly expanding for our circuit design and production.
We are slowly growing more capacity not just to fabricate electronics but in fact a wider range of components in house. At the moment we are adding ideas around 3d printing (rapid fabrication) and textiles to embedded electronics. We are also exploring motion capture technologies and the production of data landscapes using sound environments! This is very exciting also as we are re-interpreting ideas and processes previous Proboscis work to expand our exploration and play with notions around physical knowledge artefacts. We are looking to experiment in our various projects where we can take the ideas around them and what they could spark for different uses..
All the above is tied in with ongoing conversations with friends and colleagues I had made in my various previous places of work in an HE context (UCL & The Bartlett Faculty of the Environment & Central Saint Martins, The University of The Arts) where I was for example involved in projects around
Co-Presence & collaboration technologies with digital artefacts in virtual environment visualisations
Mapping, understanding factors and strategies producing higher quality urban/city spaces
Digital archives for architecture student works & new means of portfolio building, sharing and learning
Collaborative research knowledge spaces and archives
3D printing in architecture design
Parametric modelling and Arduino  / Embedded electronics driven installations
Platforming of shared work spaces and collaboration environments
Being here as part of Proboscis is an exciting way for me to bring a lot of this experience of setting up and operating  Learning & Knowledge Spaces in the public realm. Watch out for our new works!