September 16, 2018 by Giles Lane · Leave a Comment
In memoriam Dudley Sutton:
MAPPING PERCEPTION from andrew kotting on Vimeo.
MAPPING PERCEPTION was a four year collaboration between Giles Lane, curator and producer (Proboscis), Andrew Kötting, the acclaimed director of Gallivant, This Filthy Earth and Ivul and Dr Mark Lythgoe, neurophysiologist at the Institute of Child Health, London.
MAPPING PERCEPTION examines the limits of human perception through an investigation of impaired brain function, making visible the connections between scientific and artistic explorations of the human condition, probing the thin membrane between the able and the disabled.
At the heart of the project is Eden, Andrew's daughter. She was born at Guy's Hospital, London, in 1988 with a rare genetic disorder – Joubert Syndrome – causing cereberal vermis hypoplasia and several other neurological complications. Eden thus participates in the project as both a catalyst and a cypher for a more general investigation into how we see the world and perceive difference.
MAPPING PERCEPTION had four main outcomes:
a 37 minute 35mm film
an immersive & environmental sensory installation
a book & CD-ROM
a website
September 12, 2018 by Giles Lane · Leave a Comment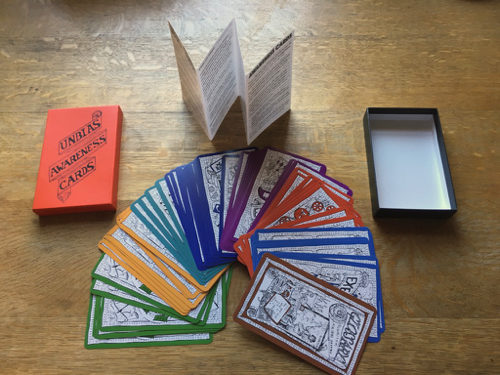 I will be running four workshops with Alex Murdoch exploring the UnBias Fairness Toolkit at the V&A's Digital Design Weekend on Saturday 22nd and Sunday 23rd September. Each workshop is intended for different audiences and contexts in which the toolkit could be used.
UnBias Fairness Toolkit Educators Workshop
Seminar Room 1, Sackler Centre for arts education
Saturday 22, 11.30-13.30
Algorithms, bias, trust and fairness: how do you engage young people is understanding and discussing these issues? How do you stimulate critical thinking skills to analyse decision- making in online and automated systems? Explore practical ideas for using the UnBias Fairness Toolkit with young people to frame conversations about how we want our future internet to be fair and free for all.
UnBias Fairness Toolkit Industry Stakeholders Workshop
Seminar Room 1, Sackler Centre for arts education
Saturday 22, 14.30-16.30
The UnBias project is initiating a "public civic dialogue" on trust, fairness and bias in algorithmic systems. This session is for people in the tech industry, activists, researchers, policymakers and regulators to explore how the Fairness Toolkit can inform them about young people's and others' perceptions of these issues, and how it can facilitate their responses as contributions to the dialogue.
DESIGN TAKEOVER ON EXHIBITION ROAD
Sunday 23, 10.00-17.00
Celebrate ten years of London Design Festival at the V&A with a special event on Exhibition Road. Bringing together events by the Brompton Design District, Imperial College, the Natural History Museum, the Science Museum and the V&A, this fun-filled day of design, workshops and talks will offer something for everyone, and a unique way into the many marvels of Albertopolis.
UnBias Fairness Toolkit Workshops
Young people (12-22 yrs) 12.00-13.30
Open Sessions 15.30-17.00
What is algorithmic bias and how does it affect you? How far do you trust the apps and services you use in your daily life with your data and privacy? How can we judge when an automated decision is fair or not? Take part in group activities exploring these questions using the UnBias Fairness Toolkit to stimulate and inspire your own investigations.
Colleagues from Oxford University and Horizon Digital Economy Institute will also be running UnBias activities as part of the event:
UnBias
The Raphael Cartoons, Room 48a
Drop-in from 12.00-16.00
How do you feel about fake news, filter bubbles, unfair or discriminatory search results and other types of online bias? How are decisions made online? What types of personal data do you share with online companies and services? Do you trust them? Explore these through a range of activities, from Being the Algorithm to Creating a Data Garden, and from Public Voting to making a TrustScape of how you feel about these issues. Suitable for families.
September 7, 2018 by Giles Lane · Comments Off on UnBias Fairness Toolkit
This slideshow requires JavaScript.
The UnBias Fairness Toolkit is now available to download and use. It aims to promote awareness and to stimulate a public civic dialogue about algorithms, trust, bias and fairness. In particular, on how algorithms shape online experiences, influencing our everyday lives, and to reflect on how we want our future internet to be fair and free for all.
The tools not only encourage critical thinking, but civic thinking – supporting a more collective approach to imagining the future as a contrast to the individual atomising effect that such technologies often cause. The toolkit has been developed by Giles Lane, with illustrations by Alice Angus and Exercises devised by Alex Murdoch; alongside contributions from the UnBias team members and the input of young people and stakeholders.
The toolkit contains the following elements:
Handbook
Awareness Cards
TrustScape
MetaMap
Value Perception Worksheets
All components of Toolkit are freely available to download and print under Creative Commons license (CC BY-NC-SA 4.0).
---
July 16, 2018 by Giles Lane · Comments Off on Cities of Refuge
Proboscis is one of the partners in a new project, Resilient Communities, Resilient Cities? Digital makings of the city of refuge, led by Professor Myria Georgiou of the Media & Communications Dept at London School of Economics. The project seeks to:
examine the role of digital communication in the making of cities of refuge. More particularly, it focusses on urban communities' digital responses to sudden, unplanned and/or unwelcome change resulting from irregular migration into the city. The project zooms into urban neighbourhoods that receive large number of refugees and migrants. It examines how urban communities mobilise digital communication to respond to disruption and develop capacities to manage change. From the development of local networks in support of refugees, to local training into digital skills, cities' resilience is tested in the capacity to sustain inclusive, integrated and prospering communities.
Our role is to design the engagement activities and direct workshop facilitation with the various groups taking part. The project will work with communities in 3 sites: London, Athens & Berlin over the next 6 months.
On Saturday we delivered the first workshop and engagement activities at the Chesnuts Community Centre in Harringay, working with a group of Syrian and Iraqi refugees to explore their needs, the resources they have access to as well as the barriers and obstacles they face in their new situation here in London. Drawing upon our previous experience of working with vulnerable communities in challenging circumstances we created a simple way for participants to discuss these issues and to begin mapping out and exploring connections between services, places, people, technologies and systems. We also provided ways for participants to reflect on how they perceive the relative values (in terms of safety and utility) of these things and some measure of where the things they value most sit in terms of emotional and physical proximity or distance.
The workshop was conducted in Arabic and the participants split into two groups, each with an Arabic speaking co-facilitator – Dr Deena Dajani & Haneen Naamneh – from the LSE. We used worksheets and stickers with familiar symbols, from app icons to common services, features and resources, to help make the process fun and visual as well as dynamic and open. It was particularly gratifying to see how enthusiastic the participants were to engage in these ways, and to observe how this kind of 'asset mapping' across individual experiences enables people to identify key areas of confidence as well as the gaps where things don't work so well, don't feel safe or where trust is uncertain. At the end of what became a long session, it was also great to hear how much the participants had valued this opportunity to come together and discuss things collaboratively. Despite having faced many challenges and obstacles on their respective journeys to this point, there was a palpable energy in the room of optimism and determination to make a new sense of home.
We will be working next with local Harringay residents who have been part of the community welcoming these new arrivals to explore these issues from their perspectives too, and a following workshop will happen later in the summer bring together a mixed group of different locals and new arrivals. In the Autumn we will adapt the process to deliver to similar groups in Berlin (Neuköln) and then Athens (Victoria).
June 30, 2018 by Giles Lane · Comments Off on TKRN: reaching another milestone
Recently a very exciting development has taken place which confirms our confidence in the usefulness of the TKRN project, and its potential to persist beyond the lifetime of the project itself. This milestone is the scanning and uploading of over 40 new TKRN notebooks created by people on the Rai Coast to the Reite village online library by Urufaf Anip, one of the Reite villagers, using the TKRN publishing kit we left in Madang for this purpose.
At the end of our last visit to Papua New Guinea, I spent two days in intensive media training with Urufaf and his sister, Pasen Anip. Neither has used a computer before, although both very familiar with smartphones. We started from basic introduction to the computer and how to switch it on, to exploring the file system and then to setting up email accounts. From there we progressed to using the web, and creating accounts for them both in WordPress so they could post material on the Reite online library site, and how to scan in completed notebooks as multi-page PDFs, name the files and generate images of the front covers.
As we were about to leave PNG, James and I put together a document (in both English & Tok Pisin versions) to remind them of the various steps involved in each process that they could refer to next time – knowing that a one-off intensive training session would never be enough to embed the learning required. Fortunately, the project has been supported by Banak Gamui of the Karawari Cave Arts Project based in Madang, who are hosting the TKRN publishing kit, providing internet access and help with using the technology. Banak's assistance has been invaluable both in hosting the kit and supporting Reite people such as Urufaf to come into town and help with familiarising them with how to use the computer and the internet to scan in and store online versions of the books they make.
It has been a long journey since our first notebook experiment in 2012, but we have now arrived at a point where Reite people are able not only to complete the physical paper notebooks, but have the capability and competency to digitise them and upload them to the internet for long term preservation. Our trip to the village last month also bore witness to a resurgence in people's desire to teach and learn their traditional local language, Negkini, as a crucial factor in cultural and social cohesion. There was lots of interest in using the TKRN books to begin writing in Negkini (something only first attempted a few years ago) – both by individuals in the community as well as from teachers at the local school. This suggests so much possibility for cultural renewal and enrichment, especially when combined with the digital skills and capabilities being demonstrated by Urufaf – indigenous public authoring is becoming a practical reality, much more than a vision for what might be possible, or a dream.
May 21, 2018 by Giles Lane · Comments Off on TKRN: Groundwork for Legacy
It is now more than five years since my first visit to Papua New Guinea and Reite village, on Madang Province's Rai Coast. I've just completed my fourth field trip there with anthropologist, James Leach, where we have been conducting the first stage of a 2 year legacy and handover phase for TK Reite Notebooks, supported again by The Christensen Fund. Our aim is to establish a firm base for Reite people to have control over the tools and techniques we have co-developed with them, and for them to have both the confidence, capability and capacity to share not only their own Traditional Knowledge with others, but to train other communities, who wish to adopt it, in the TKRN Toolkit's use too.
Over the years we have been exploring potential partnerships with local organisations both in PNG and in Vanuatu, hoping to build a network of support for TKRN and those using it. Last year James met with Banak Gamui of the Karawari Cave Arts Fund – an NGO based in Madang – who is active in supporting traditional cultural preservation and regeneration initiatives in Madang Province, including the Madang-Maror Network. Banak agreed to help support Reite people continue to use the Toolkit beyond the project's end, by hosting the basic publishing kit (laptop, printer & scanner) at KCAF's office and strengthening Reite's connections with other communities in the area also active in practising, documenting and preserving Kastom culture. In addition, Yat Paol, of Gildipasi/Madang-Maror, was also able to broker a connection with Bismarck Ramu Group, another local NGO which supports communities retain their land and water rights against extractive development. BRG agreed to host a 3 day workshop and 18 participants from Reite and its neighbouring villages, Marpungae, Asang, Soriang and Sarangama, travelled up to Madang to take part, along with Banak Gamui, Yat Paol and Catherine Sparks – formerly Melanesia Program Officer of The Christensen Fund.
Over these days, we increased the core group we had been working with from the village and undertook refresher training in making and using the notebooks co-developed previously. Much time was also spent in discussions about what exactly TK (Traditional Knowledge) means to people for whom it is still an everyday practice – rather than a 'heritage' practice as many Western traditions are often relegated to. One of our key Reite collaborators, Urufaf Anip of Marpungae, came up with a popular transliteration – Timbuna Kastom – which seems to capture much of what is both special and at risk about their way of life. Timbuna could be understood as the ancestor spirits which animate the bush, as well as descendants and those to come. Kastom is the traditional way of life that communities in PNG followed for countless generations before the arrival of missionaries and colonialism. As both Christianity, the money economy and industrial development (mining, logging, monocultural farming, factory fishing and other extractive processes) have supplanted traditional beliefs and ways of living, so more and more Papuans have found their connection to land, bush and water have been severed, and their lives made more precarious.
This connection is at the heart of what makes this project such a timely opportunity to revitalize social cohesion and knowledge transmission around the importance of those communities which have retained a strong traditional culture. The workshops also underlined the crucial importance of Tok Ples – local language – which is the blood of Timbuna Kastom/Traditional Knowledge's beating heart. PNG has over 800 individual languages (not dialects) – with some ranging from just a few tens to thousands of speakers. Until very recently, communities across PNG were almost exclusively oral in culture, writing and literacy being a product of interaction with traders, missionaries and then colonial administration. But there is an intensely rich visual culture – each community creating unique designs reflected in their crafting of objects and decorations as well as styles of house building. Designs are often deeply symbolic, communicating specific stories and meanings, or relating to particular locations. Language and visual design are thus deeply intertwined with the particular geographies and environments which PNG's many and diverse communities inhabit and steward. Maintaining and strengthening this diversity is as crucial as maintaining the diversity of plants and seed banks for genetic variety. PNG's school system still teaches predominantly in English, and over the years Pidgin, Tok Pisin, has become the main national language, to the point now where children in many communities are not being brought up to speak their local Tok Ples first, but Pisin instead. As the unique relationships to place are loosened in this way, the connection to land slackens and people are persuaded to register and sell their land to outsiders. For a country where around 80% of people are still reliant on subsistence food production (through their gardens) this is clearly catastrophic.
On the wall of the BRG Community Room where we held the workshop, there is an inspiring quotation from PNG's 1975 Constitutional Planning Committee: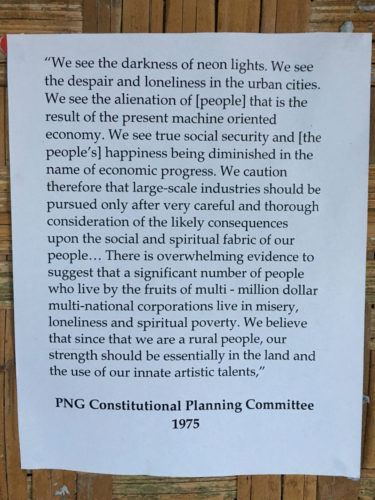 This is placed next to a copy of the PNG National Goals and Directive Principles: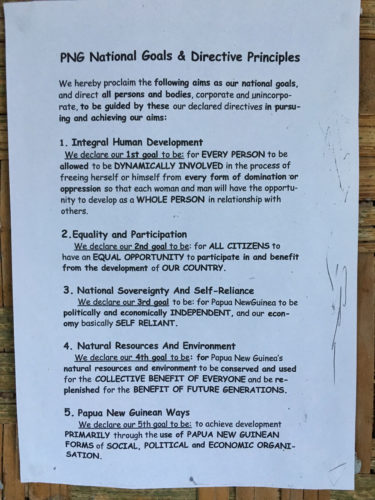 The workshop provided us with a space and place to collectively retread the ideas and experiments of the past 5 years, and to reiterate the aspirations and ambitions for what the tools and the continued practice of kastom means to traditional communities. Being held in a less isolated and rural setting it also gave us the opportunity to demonstrate the digital aspects that are harder to achieve in the bush: scanning in notebooks and uploading to the online library which we created for Reite. Although almost all the villagers have never used a computer before, are completely unused to keyboards and have only a slim grasp of the workings of file systems and structures, windows and desktop metaphors – they acknowledge the potential benefits that this form of recording and sharing can offer them and are quick to learn it use. Two people (Urufaf and his sister Pasen) were chosen to be the leaders of this activity and to receive additional training later in our visit.
The workshop had been programmed to precede and important ceremony in the village, and on its conclusion the villagers, James, myself, Banak, Catherine and Yat's wife and son made the day-long journey in two small dinghies across Astrolabe Bay and down the Rai Coast, then up 400m above sea level and 10km inland to Reite village, where we would be staying. Over the next days a series of ceremonies and events took place that demonstrated Reite's strong hold on kastom, the richness of their culture, and just how keenly people wish to continue this way of life into the future and for the benefits of future generations. We took part in a night-time Tamburan event (a performance of secret, sacred instruments) that began in the bush before moving into a Haus Tamburan itself. This was followed the following day by a large kastom food distribution between one village and families of another, followed the next day by a reconciliation payment ceremony and the all-night Singsing to conclude the festivities. In amongst these ceremonies, James, Banak, Catherine and I were invited to address the local school (which James and I worked with back in 2015) about our respective projects and the importance of traditional culture, tok ples and caring for the environment.
The ceremonies over, we rested for a day then returned to Madang for a final couple of days intensive media training with Urufaf and Pasen. This involved introducing them both to the computer from first principles, getting them used to using it for scanning documents, file management, email and using the internet. With the assistance of Banak & KCAF in Madang, and from me remotely from the UK, we will be supporting them gradually take over the maintenance of the Reite Online Library – scanning and uploading completed TKRN notebooks and expanding the resource. As their confidence and fluency with digital technologies grow, there is the potential to increase their skills to include designing their own notebooks and using bookleteer to generate their own publications.
The success of the workshop at BRG and the excitement generated in the village during the ceremonies, has had a significant effect in making the longer term aspirations of the project begin to see light. Reite people are growing in confidence and desire to share this method of practicing and documenting culture and kastom to other interested communities in the region and, in so doing, to establish a name and reputation for themselves. Plans are already underway for a Reite to host a group of representatives from other Madang Province communities next year to demonstrate this and share the TKRN Toolkit and training.
May 21, 2018 by Giles Lane · Comments Off on UnBias: Our Future Internet video
March 13, 2018 by Giles Lane · Comments Off on UnBias Fairness Toolkit Preview
Here is the presentation from a workshop held in London yesterday at which I previewed the Fairness Toolkit I've been leading the development of for the UnBias project. It still requires further testing and refining, so feedback and comments are most welcome:
June 29, 2017 by Giles Lane · Comments Off on The New Observatory: installation images
May 15, 2017 by Giles Lane · Comments Off on Lifestreams at the New Observatory
A selection of the data objects created for our 2012 project, Lifestreams, (and our film) will be exhibited as part of The New Observatory show at FACT from 22nd June to 1st October. Curated by Hannah Redler and Sam Skinner, the show "brings together an international group of artists whose work explores new and alternative modes of measuring, predicting, and sensing the world today through data, imagination and other observational methods."
December 21, 2016 by Giles Lane · Comments Off on Data Manifestation Talk at Open Data Institute
Back in June I gave a talk on data manifestation and our Lifestreams project at the Open Data Institute :
Read Giles' post, How Do We Know? for more details on the project.
December 2, 2016 by Giles Lane · Comments Off on TREsPASS Exploring Risk
This Autumn Giles has been working with Professor Lizzie Coles-Kemp and her team in the Information Security Group at Royal Holloway University of London to produce a publication as a deliverable for their part of the TREsPASS project.
TREsPASS : Technology-supported Risk Estimation by Predictive Assessment of Socio-technical Security was a 4 year European Commission funded project spanning many countries and partners. Lizzie's team were engaged in developing a "creative security engagement" process, using paper prototyping and tools such as Lego to articulate a user-centred approach to understanding risk scenarios from multiple perspectives. The three books and the poster which comprise TREsPASS: Exploring Risk, describe this process in context with the visualisation techniques developed by other partners, as well as a visual record of the presentations given by colleagues and partners at a Summer School held at Royal Holloway during summer 2016.
The publication has been produced in an edition of 400, but all 3 books included in the package are also available to read online via bookleteer, or to download, print out and hand-make:
Exploring Risk collection on bookleteer:
We are now starting a follow on project to develop a creative security engagement toolkit – with case studies, practical activities and templates – which will be released in early 2017.
September 5, 2016 by Giles Lane · 19 Comments
Just over a week ago the Tupunis Slow Food Festival on Tanna island, Vanuatu concluded. It was the first festival of its kind held in Melanesia – bringing together people from Vanuatu, Papua New Guinea, Bougainville, New Caledonia (Kanaky); the Solomon islands and Fiji to celebrate traditional ways of producing and preparing food as part of a redefinition of "development"; rejecting the simple monetary definitions (dollars per day) and exploitative, extractive industries that characterise what global institutions such as the World Bank and the IMF define as development in favour of alternative criteria that recognise the value of sustainable land and sea tenure, the qualities of organic grown food and traditional methods of preparation, and the richness of lives not governed by the need for money. The festival was organised by a coalition of local organisations (including Vanuatu Slow Food Network, Vanuatu Land Defence Desk, Vanuatu Cultural Centre, Tafea Cultural Centre) and supported by The Christensen Fund as well as the Vanuatu Government.
As part of our TK Reite Notebooks project, James Leach and I travelled to participate in the festival along with three people from Reite village in Papua New Guinea – Porer Nombo, Pinbin Sisau and Urufaf Anip – with whom we have been co-designing the TKRN toolkit since 2012. Our trip was intended to bring the TKRN project and toolkit to a wider audience of Melanesians interested in documenting and preserving traditional culture – with the focus on presentation being led by Reite people themselves (rather than James and myself). Our role was to facilitate and support, with the key exchange of ideas, tools and processes taking place between people indigenous to Melanesia themselves.
This is a key aspect of the project for us – having our co-design collaborators from Reite village be identified and engaged with as cultural leaders in their own right who are actively taking steps to document and transmit their living culture and knowledge traditions to future generations in the face of extreme pressure from "development". For most of our time we were also accompanied by Yat Paol, a PNG man of the Gildipasi community with whom we worked in Tokain village earlier this year (and a representative of The Christensen Fund in PNG). Yat's insight and gentle wisdom concerning the importance of self-documentation of traditional knowledge as a means for indigenous people to empower themselves has been a source of inspiration and a great sounding board for us.
Porer and Pinbin represented Reite on a panel bringing perspectives from various Melanesian communities and spoke about the project and the importance of kastom, land and bush. For many people at the festival the emphasis was on a return to traditional ways of life – having two people who come from a community that maintains its traditional way of life speak about what it means to them and their families truly caught the mood of the audience and their response was fantastic, giving rousing applause.
The festival ran over 5 days and had speakers from across the region, as well as performances by cultural groups, traditional crafts, music and demonstrations of new ideas for food preservation and health initiatives. Moreover, each day traditional foods were prepared and cooked by people from all the provinces and islands of Vanuatu (and New Caledonia) for attendees to sample. Thus we were feasted on a daily basis on everything from (and often in locally specific combinations of) taro, yam, manioc, tapioca, cassava, banana to fish, coconut crab, goat and beef.
The Vanuatu Daily Post's Life & Style section has an article on the festival here, and Sista.com has an article with excellent photos from the festival here.
At the festival we connected with Canadian anthropologist, Jean Mitchell, who is running a project (Tanna Ecologies Gardens & Youth Project) with young people on Tanna documenting and recording kastom gardens and traditional foods. James, Urufaf and I ran a TKRN workshop with a group of them, teaching them to fold and make notebooks, as well as co-designing a new custom notebook for their project. A couple of days later we demonstrated scanning in the first few completed books and printed out copies for the young people who had made them. Our simple bush publishing set up of laptop, scanner and printer meant that we were able to do this quickly and simply – working in basic conditions on site and being able to carry all the equipment we needed in a couple of backpacks. Jean's project is an extension of one she originally developed in 1997, the Vanuatu Young People's Project, with the Vanuatu Cultural Centre. Over the next two years the young people on Tanna will be documenting as much knowledge about traditional kastom gardens as they can, using the TKRN toolkit as their primary tool. Jean has worked with them this summer to develop a questionnaire template which has been adapted for the notebooks:
Once back in Port Vila, Jean also arranged for us to train a couple of young people who will be sharing their skills with the men fieldworkers of the Vanuatu Cultural Centre at the annual fieldworkers' meeting at the end of September. This will complement the work we did in March with the women fieldworkers and hopefully bring the TKRN toolkit to many different communities across Vanuatu.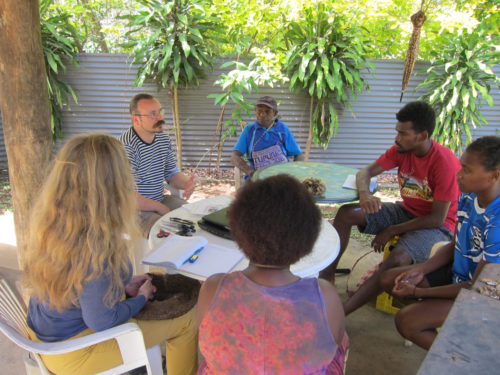 At the festival we also met and had great conversations with Dr Ruth Spriggs and Theonila Roka-Matbob from Bougainville (a semi-autonomous part of PNG), who are setting up an Indigenous Research Centre on the island, and Professor John Waiko of Oro Province PNG and his son, filmmaker and slow food activist Bao Waiko, from Markham Valley PNG (where he lives with his wife, Jennifer Baing-Waiko, also co-director of Save PNG). We're hoping to share the TKRN toolkit with their initiatives as part of our next steps.
A highlight of our trip was a visit to Tanna's famous Mount Yasur volcano, truly awe inspiring: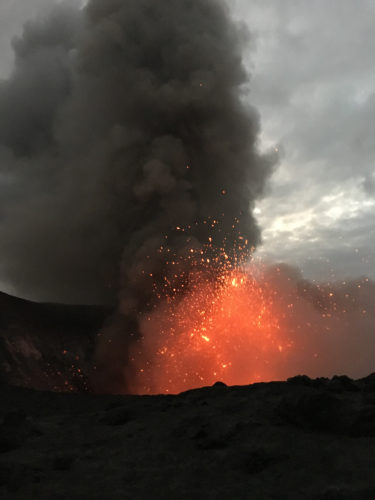 ---
Before attending the Tupunis festival, we took the opportunity to build on a relationship we had initiated with Wan Smolbag Theatre during our previous trip to Vanuatu earlier this year. Through co-founder Jo Dorras we were introduced to researcher Ben Kaurua and digital trainer Cobi Smith with whom we ran a TKRN workshop introducing the books and documentation process to a group of young volunteers who work with various island communities living in and around Port Vila, the capital on Efate island. (I had designed a very simple custom notebook for WSB in advance of travelling). We were also introduced to some local Chiefs from the nearby Lali community and were invited to attend a ceremony that was part of a boys' initiation ritual. We left WSB with some new equipment to assist them in using the TKRN toolkit (a Polaroid Snap camera/printer & Zink sheet packs, as well as a low cost Canon combined inkjet scanner and printer) and are hoping to see some results in the future.
---
Porer speaking at IUCN
After the festival, while I returned to the UK and Pinbin and Uru returned to Madang, James and Porer continued on their travels to participate in the IUCN World Conservation Congress in Hawaii. There they took part in a session on indigenous documentation to demonstrate the TKRN process and toolkit, and to discuss the complex issues facing traditional communities who wish to preserve their culture and values and to transmit them to future generations.
This trip was the final activity of our recent TKRN programme – we are now preparing a new programme of activities that aim to build a lasting legacy for the project and enable the establishment of a network of indigenous groups and local organisations in Melanesia to adopt and adapt the TKRN toolkit for themselves. Huge thanks are owed to Catherine Sparks of The Christensen Fund who made so much of this possible; funding many of the projects, organisations and the festival itself, as well as being the consummate connector introducing people and taking care so that everyone had the most productive time possible. Thanks also go out to Paula Aruhuri, Joel Simo and Jacob Kapere who were instrumental in inviting us, arranging travel and accommodation and making time and space for us on the programme.
May 27, 2016 by Giles Lane · 3 Comments
I've recently returned from Papua New Guinea where, with James Leach, I have been doing field work for our TK Reite Notebooks (TKRN) project. This follows on from our work last year in Reite village on Madang's Rai Coast, and also from our trip to Vanuatu in February, where we worked with a group of women fieldworkers and the Vanuatu Cultural Centre.
Having established the model of working with the notebooks with Reite villagers last year, the focus of our trip in this second year of the project was not to produce more books, but to explore how and if the model would work with other communities and, to find other local partners for whom the tools and techniques we have developed could be useful additions to their own methods and practices of documenting traditional knowledge.
Through our close discussions with Catherine Sparks and Yat Paol of The Christensen Fund (our project's main sponsor), we identified some possibilities – the Research + Conservation Foundation (RCF) of Papua New Guinea (in Goroka, Eastern Highland Province); and Tokain village, Bogia District (Madang Province). Having arrived in Madang and met up with two of our key collaborators from Reite – Porer Nombo and Pinbin Sisau – we made plans to travel up the coast to the village of Tokain and stay a few days to introduce our model to local people. James and I then travelled to Goroka to spend a day at RCF meeting with their director, Sangion Tiu, education programme manager, Emmie Betabete, and resource officer, Milan Korarome. We learnt about RCF's work in communities and in teacher training, and presented our TKRN approach. This resonated strongly with RCF whose staff spoke of the problem of documenting traditional knowledge in both school and village settings. It was a lovely moment when their enthusiasm for the books spilled over and we decided on the spot to co-design a new template with them. We then spent a while devising questions about climate change for elementary schoolchildren, which RCF will pilot this summer.
We returned to Madang after this highly successful meeting and the next day set out for Tokain with Porer, Pinbin and another young man from Reite, Urufaf, who has become a key proponent of using the TKRN books in his own community. Piling aboard a PMV (an open back truck with benches and a tarpaulin for sun/rain cover) we bumped along the highway following the coast north for about 4 hours before arriving. Many people from the village turned out to meet us and hear Porer, Pinbin and James introduce what the Reite villagers had done with the TKRN books and why it was important to them to preserve and transmit their culture and knowledge to future generations this way. The following morning we walked around different parts of the village meeting people going to market and in the community office, where they have a laptop and printer/scanner of their own, giving us an opportunity to demonstrate the whole cycle of printing off a PDF booklet, filling it in, scanning and storing it as a PDF on the computer and printing out another copy of the scanned book.
Then we addressed all the students from the elementary and primary schools, their teachers and some of the village elders – again, the focus being on the Reite villagers explaining their use of the books and how the school in Reite had adopted the books as part of their own curriculum activities on environmental science and cultural heritage. This indigenous or local exchange of documentation practices (with James and myself taking a secondary role as facilitators rather than teachers) is very much the beginning of where we see the TKRN model developing in the future. The afternoon was spent workshopping ideas for the booklets and getting people used to the cutting and folding process for making up the books, as well as taking their photos to stick onto their books – always a popular aspect of the process. This continued well into the night with the convivial atmosphere of a house party surrounding the guesthouse where we stayed.
We left Tokain having agreed to meet up in a week or so's time with a representative from the village who would bring us the first batch of completed books to scan and for me to build a simple website for – as I did last year for Reite (Reite Online Library).
From Madang we set off across Astrolabe Bay and down the Rai Coast to return to Reite for a few days and discuss with the community what had happened since our last field trip and what we proposed to do next. A meeting was organised and many people also came from neighbouring villages and hamlets: Sarangama, Asang, Marpungae and Serieng. Porer, Pinbin and Urufaf all spoke about the project, what was achieved last year, what we had just done at Tokain and how important it is for knowledge to continue to thrive and be passed on to future generations despite all the changes happening to the world around them. James also spoke of our visit to Vanuatu, how we had shared some of the Reite books with the indigenous fieldworkers there and we showed them some of the books made by the ni-Vanuatu people we met.
The response was dramatically positive, with people calling for a revival of teaching and learning in their traditional local language, Nekgini, alongside using Tok Pisin to document stories and practices. A core group of people interested in taking the lead to build up a library of traditional knowledge also emerged, a group who were also prepared to go 'on patrol' to other local villages to share with them the TKRN methods. We left over 250 blank books in the village, as well as a simple to operate Polaroid Snap camera (and several hundred sheets of Zink photo paper) to take and print out photos of people to stick on the front covers. By shifting the focus from the familiar and everyday towards the more esoteric, and perhaps endangered, types of knowledge of their environment that Reite people have, we are hoping they will be able to develop a truly unique and exemplary library that could inspire others across PNG, Melanesia and perhaps even farther afield to document their traditional knowledge before it is lost. We also took the opportunity to improve the design of the books, redesigning the front covers to allow for more contextual information about the author and the books contents, and rewriting the engaged consent statement on the front for better clarity.
Returning again to Madang we met with Ernest Kaket from Tokain and scanned in the books he'd brought with him from the village. These now form the foundation of their own online library which we hope to expand in due course.
Our next steps are to make a return visit to Vanuatu with a couple of Reite villagers to introduce their use of the TKRN model themselves; and to continue to develop the basis of a partnership with RCF as a means of extending the reach across PNG of the tools and methods we've co-created with Reite people.
March 24, 2016 by Giles Lane · 4 Comments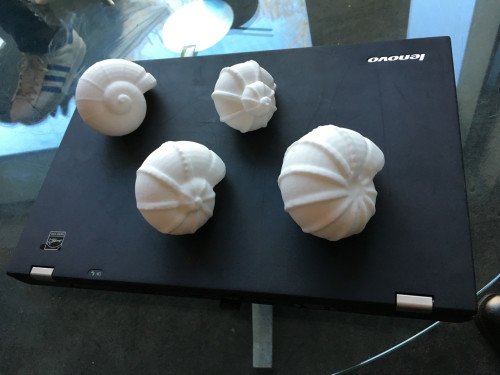 This week I presented a new generation of lifecharm data shells at a symposium on ethics in data science for the Alan Turing Institute. The shells were created by Stefan Kueppers using the Lifestreams process for data manifestation, and used data from a research project led by Professor George Roussos at Birkbeck University of London which records symptoms of Parkinson's Disease as experienced by sufferers.
These shells are an initial experiment flowing just 3 data sources into the shell growth parameters, which we hope to expand with further data sources and increase the complexity of the model in future generations. The aim is to capture the high variation in symptoms experienced by those with Parkinson's as an alternative to the way in which patients' complex symptoms are collapsed into the single summary statistic of the Universal Parkinson's Disease Rating Scale.
Read my provocation piece for the ATI symposium for more information.
March 14, 2016 by Giles Lane · 4 Comments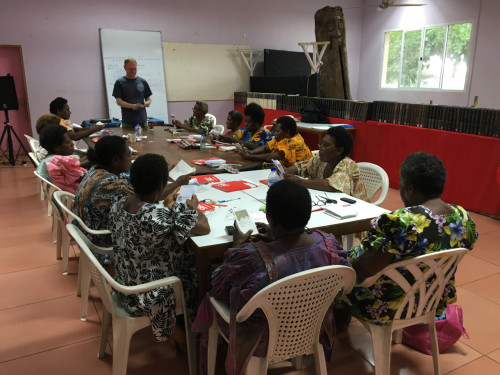 Over the past 2 weeks I have been in Port Vila, Vanuatu in the South Pacific with James Leach and Lissant Bolton (Keeper of Africa, Oceania and the Americas, British Museum) working with the Vanuatu Kaljoral Senta (Bislama for Vanuatu Cultural Centre). Lissant organised and led a special workshop with a group of women fieldworkers on the theme of current changes to kinship systems (supported by the Christensen Fund). The fieldworkers are ni-Vanuatu (local) people representing some of the many different vernacular language groups from across the many islands who do voluntary work to record and preserve traditional culture and knowledge. The fieldworker programme has been established and overseen by the Cultural Centre (VKS) for over 35 years and is a unique initiative where local people gather "cultural knowledges about all the aspects of the customary art of living of Vanuatu". Each year the fieldworkers gather together to share their research with each other and contribute to the documentation held at the VKS.
Lissant had invited James and I to visit Vanuatu with her and introduce the TKRN toolkit and techniques to the fieldworkers participating in the kinship workshop, as well as to meet with others working on different projects at the VKS. The low cost and ease of use of the TKRN booklets – both for collecting documentation in rural settings as well as digitising and archiving (both online and as hard copies) – made it an obvious tool to share. Prior to leaving London, Lissant and I had made some initial examples of Bislama (the local pidgin) notebooks for Vanuatu similar to those created in Tok Pisin for Papua New Guinea. These would be tested with the women fieldworkers during the workshop and we planned to adapt them with their assistance, as we have done in PNG with local people from Reite village.
In Port Vila James and I were also were introduced to Paula Aruhuri of the Vanuatu Indigenous Land Defence Desk, an organisation that promotes awareness of indigenous custom and land rights across Vanuatu and campaigns to stop land alienation from traditional owners. With Paula we co-designed a simple reporting notebook for the fieldworkers who deliver awareness events to local communities that will assist the land desk in documenting local people's concerns and how they might be able to help them. And we met with Edson Willie of the VKS Akioloji Unit (Heritage Unit), with whom we co-designed a notebook for fieldworkers to record heritage sites.
The women fieldworkers experimented with one of the notebook formats and helped us re-design the front cover and write up a more appropriate ethics statement that reflected their different concerns about sharing traditional knowledge. In this case they chose not to share their books online (as we did in Reite), but to have them scanned, re-printed and stored in the 'Tabu Rum' of the VKS, the audio-visual archives. Local concerns about rights to aspects of traditional knowledge in Melanesia are a major theme and extremely important to design for. Developing tactics and a strategy to enable clear documentation and permission for sharing has been at the heart of the TKRN co-design process. Lissant has written about this issue in the context of Vanuatu and it also reflects on James' work with Porer Nombo from Reite on their book Reite Plants in this essay.
We are planning to return to Vanuatu later in the year with some Reite people to participate in a knowledge exchange around the TKRN toolkit and techniques with men and women fieldworkers of the VKS. In this way we hope to develop a model of adoption whereby communities learn from each other how to use and adapt the toolkit for their own purposes, with our role being more one of facilitation than education or training. As a toolkit designed from the grassroots up, I hope to continue expanding on the concept of 'public authoring' that has driven the development of bookleteer and the 'shareables' it enables people to make and share.
In late April James and I will return to Papua New Guinea to work with Reite villagers to introduce the TKRN toolkit to a couple of other villages in Madang Province – this should provide an good indication of the possibilities and limitations of how a model of community knowledge transfer and adaptation can work.
September 21, 2015 by Giles Lane · 4 Comments
This website has been created as an online library of TKRN notebooks made by the villagers of Reite and its neighbours in Papua New Guinea's Madang Province. These books were created during a field trip in March 2015 and we hope to add many more in the future. We aim to transfer management of the site to the villagers themselves in due course, so that they can continue growing the library for future generations. As 4G mobile internet service penetrates into the jungle where they live and more local people own smartphones and connected devices, this is an increasingly likely possibility.
Mixing the physical and digital in this way means that traditional knowledge and customs may be preserved and transmitted forwards by embracing some of the changes that industrialisation and urbanisation bring to traditional rural communities. By working alongside the existing relationships of knowledge exchange it offers new opportunities for inter-generational collaboration on self-documentation of stories, experiences, history and practical knowledge of working with and sustaining the local ecology and environment.
The site itself is extremely simple and uses only free services: a free WordPress.com blog as the primary interface for organising and sharing the books; and a free Dropbox account as the primary repository of the PDF files of the scanned books. It is a key component in our TKRN Toolkit, and closes the loop in our use of hybrid digital and physical tools and techniques.
The villagers themselves developed their own categories and taxonomies for cataloguing the books, which have all been tagged accordingly. The books are thus searcheable by title, author and subject(s). Many of the books include an author photo on the cover page; a thumbnail image of the scanned book was included in each post, and a blog theme chosen that presents the main page as a mosaic of images from the posts. For communities with highly varied literacies, it also enables visual recognition both of the author's faces, and in many cases their handwriting or drawing style.
September 17, 2015 by Giles Lane · 4 Comments


These notebooks have been co-designed with villagers of Reite in Madang Province, Papua New Guinea by Giles Lane and James Leach as part of the TK Reite Notebooks project and Toolkit. They can be downloaded, printed out and made up into physical notebooks for recording traditional knowledge. Then they can be scanned and shared online or as physical objects.
The books have been created using bookleteer – Proboscis' free self-publishing platform. Each link is to an A4 PDF file. The "view options" links open each notebook's page in bookleteer with US Letter PDF and a web readable version.
16 page Standard Notebook with Questions – Tok Pisin • view options
16 page Standard Notebook with Questions – English • view options
16 page Teaching & Learning Notebook with Questions – Tok Pisin • view options
20 page Multi-stage Processes Notebook with Questions – Tok Pisin • view options
16 page Story Notebook with Questions – Tok Pisin • view options
12 page Initiation Notebook with Questions – Tok Pisin • view options
16 page General Purpose Notebook (No Questions) – Tok Pisin • view options
16 page Structured Notebook with Question – Bilingual Tok Pisin/English • view options
View the TKRN Notebooks collection on bookleteer.
We also have created this guide to folding and making up the notebooks (in English/Tok Pisin) :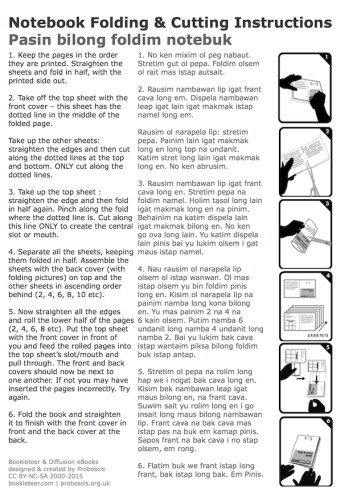 August 29, 2015 by Giles Lane · 1 Comment
Back in July Giles delivered a workshop on "Peeking over the Horizon" for the University of Greenwich's Making London event. Below is a short video of the day:
Making London – Design Workshop from Creative Conversations on Vimeo.
#MakingLondon was a workshop-based event which considered different approaches to how the creative and cultural industries can continue to innovate in an increasingly corporate and financial capital.
For more information on this and other Creative Conversations events go to http://blogs.gre.ac.uk/creativeconversations/
July 6, 2015 by Giles Lane · 7 Comments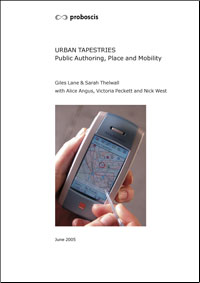 Ten years ago we published Public Authoring, Place and Mobility – a report on the Urban Tapestries project (2002-04) which brought together all that we had learned, described our methodologies and activities, evaluated our achievements and presented a series of policy proposals. I have been re-reading it to see how well our ideas have held up over the past decade, and to what extent they have been borne out by the development of social media, the mass adoption of smartphones and connected devices, and by social and cultural behaviours.
Urban Tapestries was conceived in June 2002, just after we had completed another project, Private Reveries, Public Spaces (2001-02), which explored the social and cultural impact of the emerging mobile communications revolution. We started to imagine what the effects would be on how people inhabit urban space once the physical topography of the city could be overlaid with an invisible data landscape accessible via mobile devices. Such "location based services" were then only in their infancy (in places like Japan via DoCoMo's i-mode service) and nearly all the academic and industry research projects of the time focused on their potential use as tourist guides.
Urban Tapestries set out to imagine and investigate the everyday – how might people use them in everyday life: on the way to work or school, going to the supermarket, visiting the doctor, socialising or playing in a park. Funded through an unusual public/private mix, the project set out to peer into the future ten years or so ahead. We sought to articulate a vision that was grounded in actual social situations and cultural behaviours, and not just to rely on imagined scenarios and invented personas.
The report contains a wealth of observations and insights gained from our iterative and participatory process. We combined paper prototyping with social engagement, user trials of functioning systems in public settings as well as numerous public workshops and events where we shared and discussed our ideas as the project progressed. Below are some of the policy proposals which we made back in 2005 along with some comments on how the ideas behind them fare in 2015.
We followed UT with a 5 year programme of projects called Social Tapestries (2004-09), where we sought even further to embed our research in actual communities and situations. Through a series of discrete projects we explored our concepts of public authoring and social knowledge in ways that prefigured many of today's familiar tropes : wearable sensors and citizen science, civic engagement and participation, big urban data and environmental mapping, hybrid digital/physical interfaces, robotics and hacking, to name a few. In these we sought extend and deepen the insights, working with real communities in actual places to explore what opportunities could become realities.
Innovation from the margins to the centre
Governments, researchers and businesses need to pay greater attention to the needs of actual people in real contexts and situations rather than relying on marketing scenarios and user profiles.
Co-design and co-creation techniques along with iterative and agile development processes have become commonplace, especially through the concept of minimum viable product as a means of fast and iterative development of new products and services. Although not ubiquitous, they are far more likely to be present in the development of services that engage people, from the grassroots to industry, commerce and government. If this trend continues it bodes well for the role of the actual people in the design, testing and implementation processes of services intended for them.
Open Networks for Mobile Data
Telecom network operators need to recognise the desires of people to communicate (by voice or data) with each other irrespective of the company they purchase their service from.
Its hard to think back to a time when mobile data was restricted to the network operators own "walled gardens", but it was actually not so long ago. With recent changes to EU data roaming laws bringing down national barriers by 2018, a whole new wave of data mobility will be realised. 'Net neutrality' remains a contested standard though, as all kinds of network and service providers (not just mobile) increasingly converge their offers and seek to maximise revenues for high value content.
Open Geo Data
There is a clear and pressing need for free public access to GIS data to make public authoring and a host of other useful geo-specific services possible.
The growth of open mapping platforms like Openstreetmap as well as services like Google Maps and Google Earth made possible the rapid growth of user-created georeferenced projects and services in a short space of time. Yet the major owners of GIS data (such as Ordnance Survey) have only slowly and partially opened up their systems for free use by the public. The planned release of the UK's entire LIDAR data in 2015 by Defra may be a signal moment in the shift from the proprietary model of mapping by the state towards a more democratic understanding of mapping a a civil process in its own right.
Reinvigoration of the Public Domain
Public authoring has the potential to be a powerful force in enriching the public domain through the sharing of information, knowledge and experiences by ordinary people about the places they live, work and play in.
Social media has exploded into the public realm and has arguably taken a significant role in facilitating entirely new ways for people to share what they know and experience, as well as to organise all manner of movements for action and change. People's willingness to share with unknown others underlines the essential human quality that seeks to build new relationships, new communities wherever we go. In counterpoint, the Snowden revelations have given weight to concerns about the extent of state surveillance that circulated since the late 1990s (cf the Echelon network) and the degree to which free speech is inevitably curtailed by self-censorship when people are aware that their every utterance and communication may be intercepted at will, now or in the future. Nevertheless, our abilities to form new communities around ideas, campaigns, issues and passions have been continually advanced by the depth and speed that these forms of social media have enabled.
Public Services Engaging with People
Public authoring could be employed to create new relationships of trust and engagement between public services and the people they serve. Public authoring proposes a reciprocity of engagement whereby public services would not just provide information but benefit directly from information contributed by citizens.
Our ideal of new trusted, reciprocal engagement between citizens and public services has not quite emerged as we may have hoped, however there have been indications that such change is afoot, not least in the expanding area of open (public) data. That more public organisations are allowing others to access and use their data for their own purposes suggests hope for the future. There is much more that could be done to both increase transparency and to increase the role of citizens in the management of our communities. State surveillance is also a factor affecting people's sense of agency and trust in governmental mechanisms that will have to be continually addressed as we shape the future of our democracies.
Market Opportunities
The wealth of public data created by public authoring will provide many market opportunities for business people and entrepreneurs. The not-for-profit sector needs to embrace the energy and creativity this engenders as much as the commercial sector needs to embrace the need for people to be more than just consumers.
The dividing lines between "public" and "private" have become ever more blurred in recent years. The impacts of austerities imposed since the 2008 banking collapse and subsequent ongoing economic turmoil have seen areas previously the preserve of the "public sector" outsourced to private enterprise under the guise of "efficiency" and profit. This was certainly not what we envisaged as it has imposed a narrow financial interpretation of value and excised almost all considerations other than the purely monetary from decision making. By transferring more and more of our public services in this way, the scope and legitimacy of democracy are undermined. We need to reaffirm other measures of value that have been pushed aside and stand firm for their re-adoption as standards to aim for so that we can indeed create diverse new opportunities in both "public" and "private" sectors.
Location Sensing & Positioning
The technological imperative for defining a person's position needs to be dropped in favour of an approach that incorporates the rich nature of the physical world's location information – street signs, shop signage etc.
Our insistence on not becoming entirely beholden to GPS, Glonass & Gallileo was perhaps a little brusque. However, there has also been a growing sense of discomfort with the purely digital. More and more people have become involved in making things: learning old manual skills that can be intertwined with newer digital ones. This hybrid digital/physical approach seems more and more plausible with each year.
Including Everyone
The drive to use the latest technologies and services must not exclude those who choose not to adopt them, or cannot, for whatever reason.
As with recent critiques of the Smart City concept, our emphasis in the report rested on active citizenship being at the heart of the potential opportunities being offered by these mobile, location enabled services. This necessitates including everyone in benefiting from the opportunities offered, not just restricting access to those able to afford to pay. There has been much debate over the intervening years about access to the internet having become effectively a utility needing the same statutory regulation as access to fixed-line telephones. If a government wants to engage its citizens on a "digital-first" basis, it must make sure that there is provision for others not able, for any reason, to access via other means – setting a standard that other services can emulate or aspire to.
Time and Relevance to Everyday Life
These new forms of communicating will not appear overnight but will need careful cultivation and time to flower. To realise their fullest potential they will need more than just grass roots enthusiasm and activism. They will require regulatory nurturing and calculated risks on the part of business people.
Whilst the integrated vision of UT as we imagined it has not yet come to fruition, the social media services which have flourished in the past 10 years have ended up straddling multiple spheres of life in surprising and unpredictable ways. Who would have foreseen the speed and depth to which services like Google Maps, Facebook and Twitter have penetrated into the daily lives of hundreds of millions of people, necessitating that government, education and business have all had to incorporate them into their standard procedures as well? What kinds of services and platforms will emerge over the next 10 years and how might we shape them beyond the rubrics and dictates of the marketplace?
Looking back I'm immensely proud of the scope and scale of our vision as well as what we achieved both in the original Urban Tapestries project, and how we carried it forward into the Social Tapestries programme. A core strength was our insistence on a social and cultural focus for the project, not placing the emphasis on the technology. It identified that the heart of these systems and services is ultimately about connecting us, enabling us to communicate in new and different ways: building and maintaining relationships to each other, to places and the things we encounter in them.
Our projects since have continued to explore these trajectories – enabling and encouraging people to have agency for themselves; to make and share their own stories, not simply to be cast in the role of the audience or consumer. Public Authoring remains a key concept that underpins our continuing work with communities as diverse as Pallion (Sunderland) and Reite (Papua New Guinea).
Download the report (PDF 2Mb)
June 2, 2015 by Giles Lane · 2 Comments
Packed house for Wearable Superheroes at #smlates. Spot the odd ones out? pic.twitter.com/oeVkakNV3e

— David Robertson (@Davesci) April 29, 2015
A few weeks ago our Snout project costumes – Mr Punch and the Plague Doctor – had a rare outing to take part in a Late at the Science Museum in London. They were presented by students on UCL's MA in Museum Studies as part of their group final show, We Need to Talk: Connecting Through Technology. We are told they were voted the audience favourite!

This slideshow requires JavaScript.

Thanks to Professor George Roussos at Birkbeck (for arranging and supporting) and to electronics engineer Demetrios Airantzis for building new power supplies for the wearable sensors, processor boards and LED displays – still working perfectly after 8 years.
May 26, 2015 by Giles Lane · 6 Comments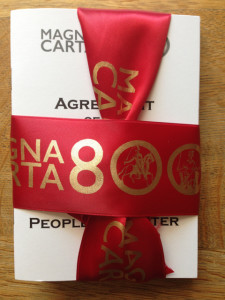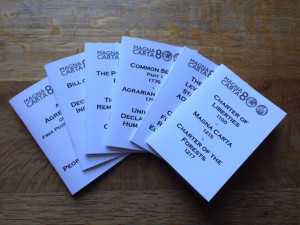 June 2015 is the 800th anniversary of the signing of the Magna Carta – considered by many to be the keystone to Britain's constitutional and democracy. Over the past six months I have been publishing a series of books – 6 in all – to celebrate the Magna Carta. Each book contains several texts from across the centuries that have been inspired by the Magna Carta: from the English Civil War era, to the French and American Bills of Rights in the late 1700s, the Chartists of the 1830s though to the Universal Declaration of Human Rights, Charter88 and the Charter of Fundamental Rights of the European Union of 2000. The final book in series contains Henry I's Charter of Liberties (1100) on which the Magna Carta itself is based, the original 1215 Magna Carta and the Charter of the Forests of 1217.
What the series shows is a lineage stretching back to Saxon times of the struggle to assert and protect the inherent rights and dignities of ordinary people against the attempts by the wealthy and powerful to control and corral resources, assets and power for themselves, at the expense of everyone else.
These books have all been distributed as part of bookleteer's monthly subscription service, the Periodical, with the final book being distributed in June 2015. I have saved 40 copies of each which have been bound together with red satin ribbon in a special edition, which are now available to pre-order from our online store.
Each set costs £20 plus postage and packing: buy your's here.
View the whole collection here – free to read online or download, print out and make up yourself.
May 21, 2015 by Giles Lane · 13 Comments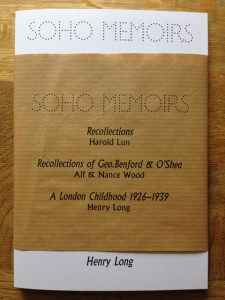 Last year we collaborated with The Museum of Soho to publish three memoirs by Soho residents from their archives. Each is a poignant recollection of Soho's yesteryear, of lives lived and worked there. The books were originally distributed as part of bookleteer's monthly subscription service, the Periodical, and at a special MoSoho event host by the House of St Barnabas. We've put a small number aside and created a special edition of 32, each set wrapped in traditional brown paper reminiscent of a naughtier age, when Soho was a byword for difference and danger.
The sets cost £20 each plus postage & packing. Visit our online store and buy your's here.
March 22, 2015 by Giles Lane · 12 Comments
Today is the last day of our fieldwork in Papua New Guinea. I've been here for the past 3 weeks or so with anthropologist James Leach piloting the first stage of a new kind of toolkit designed to help remote indigenous communities document and record – in their own hand and forms of expression – the kinds of traditional cultural, environmental, ecological and social knowledge ("TEK") that are in danger of gradually fading away as development, resource extraction, industrialisation and the money economy erode their ability to live sustainably in the bush/jungle.
I flew to Perth in late February to spend a week with James preparing for our trip : gathering the gear we'd need to be able to co-design booklets using bookleteer offline in the bush, print them out and scan them back in, as well as documenting all these processes. James is currently on an ARC Future Fellowship at the University of Western Australia, as well as Professor and Director of Research for the French Pacific Research Institute, CREDO in Marseille. He has been working with the people of Reite village on Papua New Guinea's Rai Coast (Madang Province) since 1993 and his 2003 book, Creative Land (Berghahn Books), is a major anthropological study of their culture and society. James and I have been collaborating on ideas of self-documentation of traditional knowledge and "indigenous science" ever since I introduced him to the Diffusion eBook format and bookleteer back in 2008. When two Reite people, Porer Nombo and Pinbin Sisau, came to the UK in 2009 to take part in a project at the British Museum's Ethnographic Dept telling stories and giving information about hundreds of objects from PNG in the collection, we first used the notebooks together to create a parallel series of documents about this encounter and what was revealed.
In 2012 I was invited to share my thoughts on how bookleteer and the books format could be used by indigenous people themselves at the Saem Majnep Memorial Symposium on TEK at the University of Goroka in PNG. We followed this up with a trip to Reite village where we spent a week testing out our ideas with people from the village, and developing a simple co-design process for creating notebooks with prompts to help people (whose literacy varies dramatically) record and share things of value to them. The focus was to understand how far this idea could really deliver something of use and value to people who live a largely traditional way of life in the bush, and why they might want to do this. It became clear early on that the enormous enthusiasm was driven by concerns about how all the knowledge that has allowed their society to thrive in the bush for countless generations could easily vanish in the face of money, cash cropping and the speed of communications and change that factors like mobile phones are bringing – leading some young people to turn away from traditional life for the dubious advantages of a precarious life in the shanty towns on the edge of PNG's growing cities. The notebooks offer a new kind of way to preserve and transmit such knowledge for future generations, especially as they combine the physical and the digital, meaning the loss of a physical copy of a book doesn't matter when it has been digitised and stored online. The success of this first experiment enabled us to write a proposal for funding a 2 year pilot to the Christensen Fund (a US-based foundation) which awarded us funding in 2014.
After a brief stopover in Canberra to consult and share ideas with Colin Filer and Robin Hide of Australian National University (both PNG experts of longstanding), we headed straight to Madang to meet with James' friend Pinbin Sisau (at whose home we would be staying in Reite village) and gather all the necessary stores to sustain us in the field for several weeks. After a day in Madang we took a dinghy, skippered by the ever-reliable Alfus, across Astrolabe Bay and South-East 60km or so along the Rai Coast to the black sand beach where we landed and were met by some villagers who'd help portage all our cargo the 10km inland we'd have to walk, up into the foothills of the Finisterre Mountains where Reite village is located (at about 300m above sea level).
James had visited Reite again recently, in October 2014, to discuss the upcoming field work and to gather more feedback on our original experiment so we could plan how, in practice, we could co-design notebook templates with the villagers and what we could prepare in advance to help this. A few small tweaks to prompts used in our 2012 co-designed notebook were made, as well as creating a simple printed version (I had handwritten all the notebooks we used before) on bookleteer and a new book for collective writing. To have the capability to design, generate and print out bookleteer books in the field, I commissioned Joe Flintham (Fathom Point Ltd) – who is bookleteer's chief consultant programmer – to adapt a version of bookleteer to run offline (i.e. with no need for internet connectivity) on my Apple MacBook Air laptop. Joe created an Ubuntu Virtual Machine image of bookleteer (minus various online services) that runs on Oracle's Virtual Box application. Combining this with a portable inkjet printer (a Canon Pixma iP110 with battery), a portable scanner (an EPSON DS-30) and the Polaroid PoGo & LG Pocket Photo PD239 Zink printers would give us a fully-fledged 'bush publishing" capability. For paper we brought with us a supply of Aquascribe waterproof paper (a Tyvek-type product) and pre-printed and shipped some 170 copies of different book templates. The waterproof paper is a highly useful technology to use in the damp and humid environment, where ordinary pulp-based paper becomes fibrous very swiftly and disintegrates in a short time. Books printed and made on this paper (as we used before) have a much longer lifespan – possibly decades.
Reite is made up of several hamlets, being the name applied not just to one village but an administrative district from the colonial period. As such the people who took part in our project come not just from Reite itself, but from Sarangama, Yasing, Marpungae and Serieng. For the next two weeks of our fieldwork we were constantly engaged in discussions with local people about the books, what they might include in them and how they could help reinforce the importance of the knowledge of the land, plants, animals and environment that people here have developed over generations. Once again, James' long-term collaborator and informant, Porer Nombo, was the hub around which much of the necessary energy to bring people together and discuss the ideas was focused. In addition to the 3 templates we had prepared before coming, we co-designed with Porer, Pinbin and several others with a keen interest (such as Peter Nombo and Katak Pulu) another 4 different styles of notebook for a range of different themes and types of 'stori' that people wanted to record. Overall, 63 books were completed by around 42 people during the fortnight we stayed in the village. The major difference in this project was that, rather than taking the books away to scan and return, the portable scanner meant that we could scan everyone's book in the village itself. Thus we could store a digital copy (and print out another if needed) and leave the original in its author's hands in the village. This was an important step, partly to underscore that the books were by and for people in the village, not for us, and also to counter ideas that we might be taking knowledge away from the village to profit from selling it. For us, the digitisation of the books is a critical component for transmission to the future as it means that the unique books, which are hand written and drawn in by their authors, can be retrieved and printed again if lost or damaged. We explained this to everyone in several meetings – both smaller ones within the house we stayed in, and a larger public meeting about halfway through the project.
As in our previous experiment, we designed the front cover of each book to include a photograph of the author (which we took using digital cameras and our smartphones and printed out on the sticky-backed photo paper of the PoGo & LG Zink printers). As well as describing the general themes of the prompts inside each book, the cover also includes the simple statement that the author has been told about and understands the project, as well as statements (which they can cross out if they don't agree to) that the book can be scanned onto computer, and shared online. As it turned out, the excitement that people's work would appear on the internet was palpable and a significant impetus behind participation. Having something they had made, with their picture on it, on the internet had real value – suggesting that the knowledge they have could both be seen by others around the world and known about across PNG too.
What became one of the most important aspects of the fieldwork was the way that the local primary school (St Monica's Reite) adopted the books wholesale and wove them directly into the curriculum around social science and environmental studies. We met up with Mr Jonathan Zorro, the school headmaster, in the first days of our trip (I had met him on my previous trip and James again last October) and he confirmed that he was very keen for the school to become involved. It turned out that the school has a desktop PC with a laser printer and scanner, so it became clear that not only could the school print out copies of the books on standard A4 paper, but they could scan them in and store them locally on the school computer. We agreed to spend a day at the school to introduce the project to all the students and then to do some practical book-making demonstrations and workshops with each class. James also agreed to give each of the Upper school classes (years 5-8) a short lecture on the importance of traditional knowledge and how it relates to environmental studies and preserving the community's way of life. Mr Zorro organised for 290 books to be printed at the school, with one of the key emphases being that the students should use both the Tok Pisin versions and the English versions to improve their language and descriptive skills. Mr Zorro kindly shared with us the assessment criteria which he also developed for the students' work : assessing their English language skills, their artwork (drawing), narrative ability, use of social science and environmental studies knowledge. Within a week of our first presentation at the school many of the students had submitted books of their own and we ended up digitising 55 of the best ones.
We had planned for a visit by to Reite by Catherine Sparks (who is based in Vanuatu) and Yat Paol (based in PNG) from the Christensen Fund's Melanesian programme, but Cyclone Pam intervened and our own visit to the village was cut short by a few days (due to some health and security issues) so we have ended up completing our fieldwork from a base in Madang. There we presented the work completed to Yat Paol and were also able to arrange a meeting for him with the school headmaster plus Porer Nombo and Pinbin Sisau who have been our steadfast colleagues in this project. Now we have scanned the 118 books we have been indexing their contents and details of the authors to prepare a specially designed website to act as an online repository of library for Reite, and beginning to analyse and work with Porer and Pinbin on some indigenous classifications for the kinds of knowledge and experience that they contain. As our time here draws to a close we find that we have a wealth of stories to develop new parts of the toolkit from, and a clear sense of direction for the project's second stage.
May 20, 2014 by Giles Lane · 4 Comments
Over the past six months or so we have been developing some new partnerships and working on several collaborative projects:
Alice is collaborating with Dr Katrina Jungnickel of Goldsmiths College's Department of Sociology (and a former Proboscis associate from earlier days) on the Bikes and Bloomers project. She has been creating a series of illustrations – inspired by Katrina's research into early women's cycling clothes and the "rational dress" movement – which are being digitally printed on fabrics as part of recreations of some of the early designs for freedom of movement in clothing.
Alice has also received an Artist in Residence award to collaborate with the Mixed Reality Lab at the University of Nottingham on their Aestheticodes project, embedding smart codes for visual recognition into drawings and exploring the properties of working with printed fabrics for physical and digital storytelling.
Giles has been continuing to select works from bookleteer for our monthly subscription service, the Periodical – ranging this year from a tactile history of an ancient Scottish kingdom, to works of new poetry and fiction, memoirs of growing up in Soho in the 1920 and 30s, to a republication of John Milton's 1644 call for unlicensed printing (and a free press), Areopagitica. He is also running a series of Pop Up Publishing workshops in May for the LibraryPress project, introducing new people to bookleteer and self-publishing in public libraries in Hounslow, Islington & Wembley.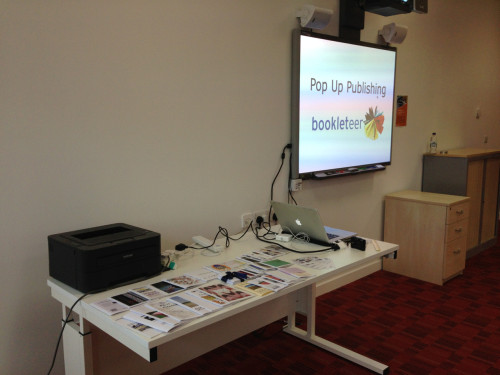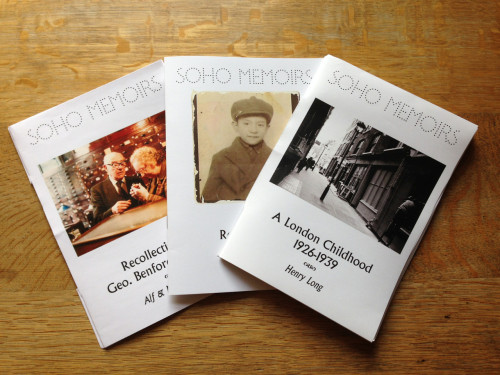 Giles has recently been collaborating with the Movement Science Group at Oxford Brookes University who are leading on the development of a Rehabilitation Tool for survivors of traumatic brain injury (TBI), which is being funded by the EU as part of the CENTER-TBI project.
Giles has also been developing a new collaboration with the ExCiteS (Extreme Citizen Science) research group at UCL to bring together the work he has been doing with Professor James Leach and the community of Reite in Papua New Guinea on Traditional Environmental and Cultural Knowledge (TEK), with ExCiteS work with forest-dwelling communities in Congo and elsewhere. We aim to develop a prototype for indigenous people to be able to digitally record and share knowledge using a combination of machine learning software, mobile devices and their own traditional craft and cultural practices. This is being developed alongside our planning for further field work in PNG to expand upon our pilot TEK toolkit experiments using hybrid digital/physical notebooks formats.