July 28, 2011 by elenafesta · Comments Off on Visual Essay – Mapping Perception
Mapping is not only about exploring and depicting a portion of territory but it can also entail travelling into, investigating and representing some unfamiliar trails inside people's mind: setting the boundaries and drawing the many trajectories collective consciousness can cover. "The human landscape can be read as a landscape of exclusion", starts David Sibley in Geographies of Exclusion, and the same organization and orchestration of space follows the construction and position of the self related to the category of the other and the wider context of society. If we look at our surroundings as the phenomenal embodiment of our shared imagination, then we will decipher not only the imprint of power in its many forms but also the scattered marks left by individual imageries. Alternative, subaltern stories, all those visions that are thought not to fit in, because they belong to the other side of the fence, where all that is not pure enough, according to a set of ready-made prerequisites, is dropped off.
July 15, 2011 by aliceangus · Comments Off on Back and Beyond
The new Lancashire based publication  Back&Beyond, out this week, have published a feature on As It Comes. The team behind this arts, culture and heritage publication have a long-term goal of creating a regular, high quality arts publication for the area.  It combines fiction and non-fiction writing together with profiles of local artists, projects and organisations. The publication is  created by a group of artists, designers and writers and this first issue is free,  if you would like a copy they can be found around Lancaster or contact Back&Beyond directly.
You can also download the entire publication from the Back&Beyond website or the As It Comes spread here.
July 14, 2011 by elenafesta · Comments Off on Visual Essay – Mapping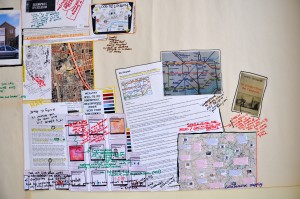 "Space is a part of an ever-shifting social geometry of power and signification", this is an inspiring  quotation    drawn from Doreen Massey's Space, Place and Gender and immediately it puts light on two  major ideas  underpinning the understanding of space: its non-neutral and non semantically univocal  essence, and its intrinsic  conflict. Space harbours a wide spectrum of semantic nuances and potential  political definitions and thus produces  continual challenges in terms of interpretation and agency. "The  map is not the territory", even if it is thought to be  so, but an interpretation, a graphic and linguistic  exposition of a portion of territory and how ever it strains to be  scientifically irrefutable, the discursive  component shines through mainly in the very moment such codes are disrupted. The elaboration of  alternative maps make overt that "maps, like art, far from being a transparent opening to the world, are but a particular human way of looking at the world". The idea of embracing alternative tube maps came to my mind because I was already familiar with Alex Roggero's Underground to Everywhere map where he replaced the tube stations with the immigrants' city according to the main ethnic minority living in a specific area. This travel book is in every aspect an homage to the author's wanderings across the city and a sincere admiration to the vibrant, Babylonic and multicultural London. The author himself mentions several alternative tube maps which have been produced during the years. The tube map itself is not scientifically accurate but it was designed in such a way, so readable and clear, that has become hugely popular and iconic. Moreover, a recent visit to the Museum of London gave me the idea to insert in my visual essay some samples of hand-drawn maps which are displayed at the museum entrance in order to further underline the discursive, subjective aspect of the act of mapping. In partnership with Londonist, readers were encouraged to submit hand-drawn maps, focussing on their own experiences and connections with certain areas of London and obviously the aim was not to provide a factual representation of the city but to capture the different and variegated personal projections on the cityscape. The galleries themselves, which go through London's history from when London was just a piece of desert land to the very present, are full of fascinating maps, each revealing a peculiar sphere of London according to the point of view and the intention of the composer. Booth's poverty maps, based on his survey into life and labour in London from 1886 to 1903, assess varying levels of indigence and criminality in different districts across London, graphically accessible through a colour code, so for example, dark blue stands for 'Very poor. Casual, chronic want', while black stands for 'Lowest class. Vicious, semi criminal.' The textual level of the mapping process discloses diverse perspectives on the emotional and biased degree involved in any act of representation and this leads us to think that the entity represented, in this case the city of London or at least a portion of it, is to be found where more or less codified and official discourses and a multitude of singular experiences meet. Regarding this, it is very illuminating to address Proboscis' Urban Tapestries project which, combining mobile and internet technologies with geographic information systems, looked at how people could actively map the environment around them and earnestly share this ever-evolving body of knowledge. This kind of collaborative mapping hints at another aspect implicit in the mapping process: its blatant lack of innocence suggests a potential political use, either as a tool of coercion and possession – unequivocal, for instance, is the case of Imperialism as Edward Said suggests – and as an instrument to reclaim and re-conquer one's own right to the city and to build an alternative organic mutuality.
I see mapping as a central issue in Proboscis' work not only because several projects have focussed on contemporary perceptions of the human, social and natural landscape around us – see for example the Liquid Geography ebooks series – as well as on fertile and rewarding ways to affect it, but their general conceptualization follows the mapping procedure. Proboscis' approach simulates an unexpected plot, a thorough exploration, rich in ramifications, bends and junctions, sudden and unpredictable directions.
July 6, 2011 by elenafesta · 2 Comments
This is my third week here at Proboscis, still pleasantly stunned as I found myself catapulted in such a fertile and constructive milieu. My name is Elena and I come from Italy, and although I lived in London before, this new dimension I am going through here has an inspiring as well as touching nuance. A little more than two months ago I eventually got an European Phd in Comparative Literature and Culture  from Università Roma Tre including a semester spent at the School of English and Humanities at Birkbeck College. My dissertation was about the representation of London in postcolonial and contemporary European Literature and my analysis basically started from the assumption that urban space is not an inactive and semantically univocal dimension, but a text marked by conflict and personal memories which requires different readings, interpretations and models of literary and political
agency. This in part explains how keen I am on Proboscis' approach on certain issues such as geography and identity, the relationship between private and public spaces and public authoring. And then this Spring I was lucky enough to be awarded a 4 month internship grant under the EU Leonardo da Vinci scheme and, especially, lucky enough to have a positive response by Proboscis. So here I am, reading and taking notes – I feel quite at ease with this kind of task actually – about the astounding story of Proboscis, running through their brilliant projects, trying to compose a coherent idea in my mind of their peculiar work. Before coming here, peeking at their immense website, I was thrilled to find words and concepts, the harsh terminology of academia simplified and brightly expressed in concrete projects. The more I read and the more I observe the activity going on in the studio – something is still shifty for me to tell the truth – the more the ability to combine thoughts and facts, art and society, the beautiful and the functional strikes me. I am particularly interested in their work and reflection about people's emotional geography and the individual potential of positively and confidently affecting the texture of urban space so that a more equal society could emerge. I tried to outline the fundamental design underpinning Proboscis' long journey – according to me obviously – in a concise mind map (see picture below).. yes I know there is a childish tone in it, hopefully I will improve. In fact, one thing I am sure I would be invited to do during my time here is to explore other ways – creative, artistic, 'technological' – to translate intangible ideas and make them real and touchable (and hence more effective).
For the time being, this is just a kind of vague proposal from my part to read Proboscis' work along a trajectory that departs from the individual, who belongs to a society which is always and inevitably locally specific and geographically defined, and comes full circle to the very place we inhabit. In between – what I think Proboscis' aim is mainly about – the subject is warmly invited to expand his/her creative potential in order to develop personal agency, to challenge monolithic received notions of space and time and collectively exert a positive, autonomous influence on culture and society. This basic map is just the core of a so-called work in progress which will be spreading out unexpectedly and, hopefully, entertainingly as well, with multiple suggestions and influences – I'll keep you posted about any progression!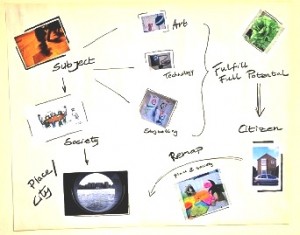 Finally, I'd love to thank Giles and Alice for giving me the opportunity in the first place to live this challenging experience and I thank as well my fellow colleagues at Proboscis for the warm welcome. The atmosphere here is unique, calm and relaxing with an electrifying vein streaming underneath.