November 27, 2008 by Giles Lane · Comments Off on Diffusion Residency – Stewart Home
Artist and writer Stewart Home will be in residence at Proboscis in December and January 2008 creating a series of eBooks using the Diffusion Generator.
Read more here.
The eBooks
November 27, 2008 by Giles Lane · Comments Off on Diffusion Residency – Alex Murdoch
Alex Murdoch, founder and director of Cartoon de Salvo, one of the UK's most dynamic improvised theatre company's, is in residency at Proboscis in Autumn 2008. Alex is creating a series of eBooks inspired by the stories Cartoon de Salvo created during their UK tour of Hard Hearted Hannah in Spring 2008. The show was a ground-breaking long-form inprovisation where, each night, the audience provided the cast with the title of the night's show which was then improvised. Over 50 shows and stories were created, which are being collated and illustrated by Alex as part of her Diffusion Residency.
Follow Alex's publications in the Residencies Series.
November 17, 2008 by Giles Lane · Comments Off on Digital Cities: London's Future
Proboscis is exhibiting works from Snout, Feral Robots and Social Tapestries and our film, Play to Invent in a group show curated by architect and masterplanner, Sir Terry Farrell,
"Digital Cities looks at how digital technology helps us understand and improve the planning and experience of our city. It will look at the impact on movement in cities: how communication and information technologies enhance a persons experience of place; how people interpret cities with the use of technology; and how mapping influences the design and planning of cities. It will also discuss some of 'the big brother' issues such as privacy and security. "
Digital Cities: London's Future is on from November 21st 2008 to January 24th 2009 at The Building Centre, Store Street, London WC1E 7BT.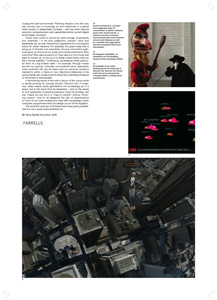 Download the Exhibition Leaflet (PDF 6.9Mb)
November 6, 2008 by karenmartin · Comments Off on UrbanSense08 Workshop
The third in a series of workshop on the theme of urban sensing, UrbanSense 08 took place in Raleigh, North Carolina in November 2008. The workshop explored ideas, prototypes and realised projects around participatory sensing. Karen Martin made a presentation of 'Participatory Sensing for Urban Communities' which described the Robotic Feral Public Authoring and Snout projects which Proboscis had created in collaboration with Birkbeck College, University of London.
Read the paper 'Participatory Sensing for Urban Communities' (PDF 650Kb) by Demetrios Airantzis (Birkbeck College, University of London); Alice Angus (Proboscis), Giles Lane (Proboscis), Karen Martin (Proboscis), George Roussos (Birkbeck College, University of London), Jenson Taylor (Birkbeck College, University of London)
Here is the workshop abstract:
Sensing is going mobile and people-centric. Sensors for activity recognition and GPS for location are now being shipped in millions of top end mobile phones. This complements other sensors already on mobile phones such as high-quality cameras and microphones. At the same time we are seeing sensors installed in urban environments in support of more classic environmental sensing applications, such as, real-time feeds for air-quality, pollutants, weather conditions, and congestion conditions around the city. Collaborative data gathering of sensed data for people by people, facilitated by sensing systems comprised of everyday mobile devices and their interaction with static sensor webs, present a new frontier at the intersection between pervasive computing and sensor networking.
This workshop promotes exchange among sensing system researchers involved in areas, such as, mobile sensing, people-centric and participatory sensing, urban sensing, public health, community development, and cultural expression. It focuses on how mobile phones and other everyday devices can be employed as network- connected, location-aware, human-in-the-loop sensors that enable data collection, geo-tagged documentation, mapping, modeling, and other case-making capabilities.