March 27, 2009 by Giles Lane · 6 Comments
As part of our commission, Being in Common, for the Art of Common Space project at Gunpowder Park we created a pack of cards containing our catalogue of ideas. The catalogue is a playful exploration of 'common space' drawing together fragments and ideas from across the project, to be played with, read individually or assembled into narratives and stories making unexpected connections and perspectives.
The Catalogue is inspired by the collective nature of playing cards. It includes writing, photographs, imagery and ephemera created and collected during the project, and includes material from the Exploration Packs that Proboscis sent to people around the world to investigate their perspectives on 'common space'.
The Catalogue of Ideas is one of several works made for Being in Common. Proboscis also created three site specific works in the Park using optics, mirrors and viewmasters, to reveal different perspectives of the site.
Buy Online for £10 including post & packing
A Flash Viewer of the Being in Common Catalogue of Ideas Cards, created by Niharika Hariharan: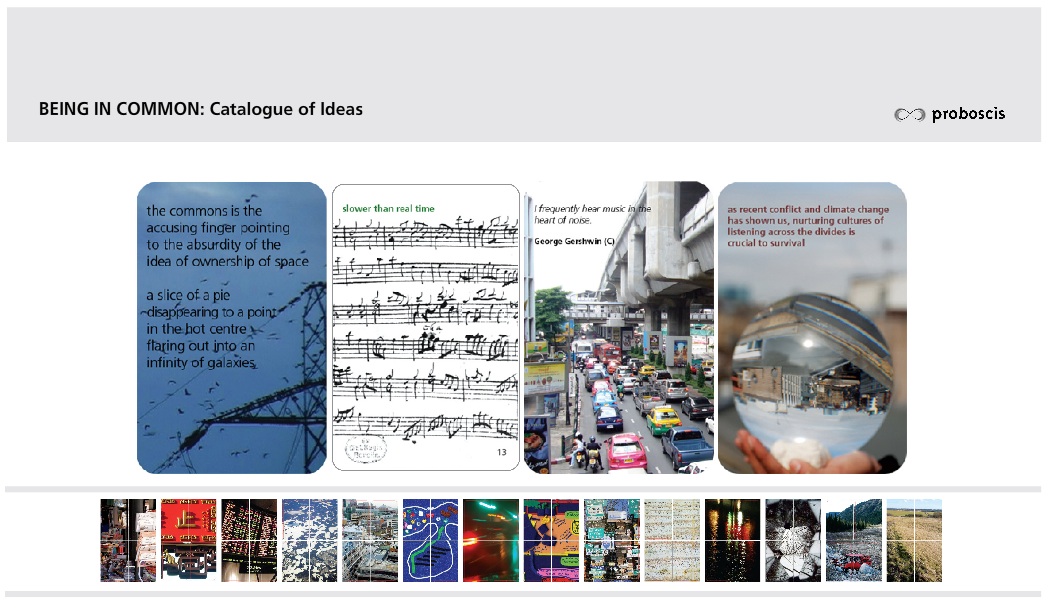 Being in Common: Catalogue of Ideas (20Mb)
March 2, 2009 by Giles Lane · 3 Comments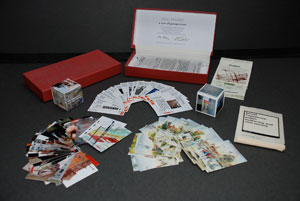 Proboscis is proud to announce the publication of A Case of Perspectives – a limited edition artists bookwork by Alice Angus and Giles Lane, created as part of Social Tapestries. The bookwork contains a series of designed as well as handmade artefacts inspired by and responding to our experiences in the Social Tapestries programme of projects. 63 Tapestry cards are organised into 3 groups – 21 Endless Landscapes, 21 project photos and 21 Urban Tapestries mobile phone interface screenshots – the reverse sides printed with sections from a map of Urban Tapestries threads and pockets. Also enclosed are 2 StoryCubes, 1 containing images upload by UT trial participants and the other representing 6 principles of public authoring. A copy of the Atlas of Enquiry and a handmade eBook presenting an overview of the Social Tapestries research programme complete the box.
Numbers 1-21 will be sold complete with an unframed original watercolour painting of one of the Endless Landscape panels by Alice Angus. Price – £200 + shipping. Please contact us for more details.
Numbers 22-190 are available to buy online price – £40 + shipping.