November 29, 2011 by Giles Lane · 2 Comments

On December 15th 2011 we will be launching a new series of Diffusion commissions called Material Conditions. This series asks professional creative practitioners to reflect on what the material conditions for their own practice are, especially now in relation to the climate of change and uncertainty brought about by the recession and public sector cuts.
The contributors are : Active Ingredient (Rachel Jacobs et al); Karla Brunet; Sarah Butler, Desperate Optimists (Jo Lawlor & Christine Molloy); London Fieldworks (Bruce Gilchrist & Jo Joelson); Ruth Maclennan; Jules Rochielle & Janet Owen Driggs; and Jane Prophet.
The first set of 8 contributions will be published as Diffusion eBooks (made with bookleteer) and available as downloadable PDFs for handmade books, online via bookreader versions and in a limited edition (50) of professionally printed and bound copies which will be available for sale (at £20 per set plus P&P).
Material Conditions is part of Proboscis' Public Goods programme – seeking to create a library of responses to these urgent questions that can inspire others in the process of developing their own everyday practices of creativity; that can guide those seeking meaning for their choices; that can set out positions for action around which people can rally.
November 24, 2011 by aliceangus · Comments Off on Into Deep Time on the Jurassic Coast
After reading about the Jurassic Coast several years ago I'm really excited that we now have the chance to work there on a new commission at Hive Beach and Burton Bradstock, for our project Storyweir. Its been commissioned by PVA medialab and Bridport Arts Centre working with Hive Beach Cafe and the National Trust as part of ExLab 2012.
The commission will be developed over the next few months as we research and collaborate with geographers, earth scientists, the cafe and communities on the coast at Hive Beach and around the village of Burton Bradstock. We'll be exploring how the human story of the Jurassic coast and the physical geography influence each other. The final works will be staged on the coast during the 2012 Olympic/Paralympic sailing events.
We will be popping up on Hive Beach with a temporary lab to work with local communities recording stories of amateur geology, scientific fact, folklore and tall tales alongside looking at scientific data and mapping of erosion, gathering local sounds and working with geologists and cultural geographers.
Hive Beach runs along the other-wordly Bridport Sands cliffs where it is possible to see Jurassic Strata and where there is a thin upper layer of  limestone, the Inferior Oolite which is rich in fossils such as ammonites, belemnites, shells and sponges. Its a place both steeped in ancient geological time and is a rich mix of more recent physical and social history, folklore, scientific knowledge (amateur and professional) and contemporary stories.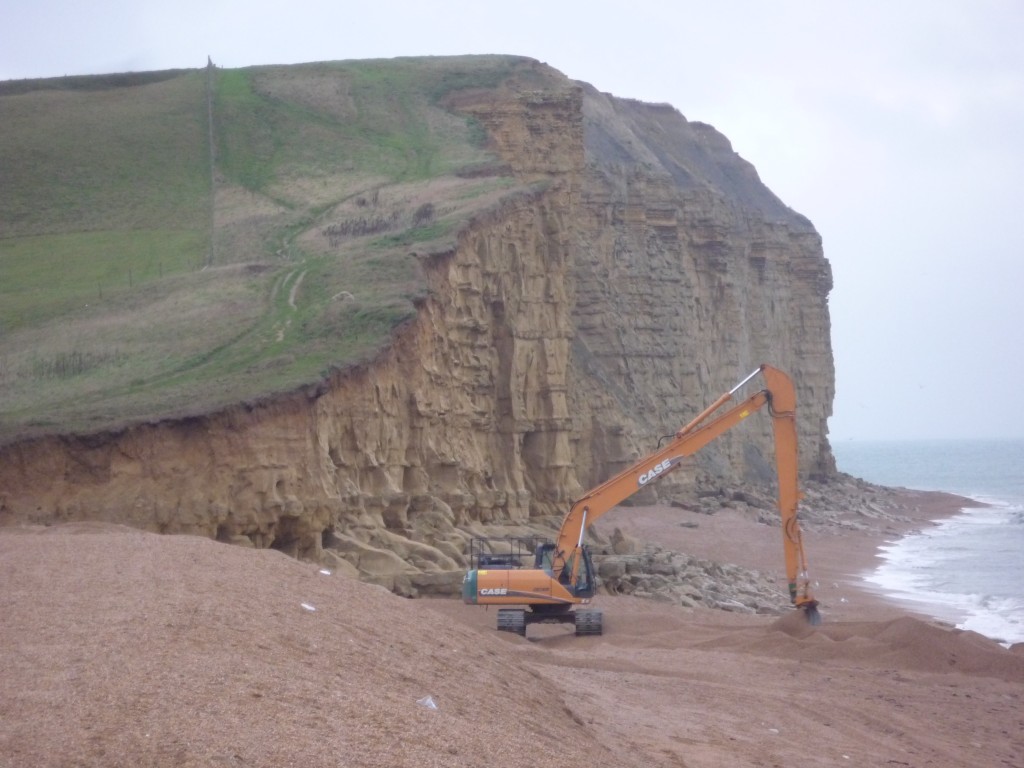 November 21, 2011 by mandytang · Comments Off on Drawing for Agencies of Engagement
Recently the Proboscis team have been working with the Centre for Applied Research in Educational Technologies (CARET) and Crucible at the University of Cambridge on a collaborative research project. As the artist for this project, my responsibility ranged from creating visual notations during discussion and brainstorming sessions to illustrating the outcomes of the teams' reflections in the form of insights and observations. My work was incorporated into a set of books known as Agencies of Engagement.
Each book required a different approach to create a series of illustrations, to accompany the written narrative.
The very first being, visual notation. I used this in the early stages of the project to capture the different ideas discussed during brainstorming sessions. The challenge here was that the discussion was live, it was vital to listen carefully; picking out words to sketch as fast as possible and trying not to fall behind. The idea to this approach was to allow others to see the dialogue visually, the illustrations represented words, topics and how it connected with each other.
The next series of illustrations was aimed to capture the moment of an activity, it was placed in the book describing the project's progress (Project Account). The sketches consisted of members taking part in a workshop, it was illustrated by using the photographs taken during the session as the foundation and creating a detailed line drawing on top to accompany the detailed nature of the Project Account book.
The most challenging of them all was for the book, Drawing Insight, this book consisted of the teams' insights and observations. The illustrations were quite conceptual, and although accompanied with captions the representations of these illustrations needed to be obvious to the reader. Thus being a very iterative process and required a lot of patience, I would often talk to the team to define the meaning behind captions to develop sketches to reflect it and then after a thorough review sketches would be tweaked, polished and re-polished until we felt that they had captured the right feeling.
The illustrations used in the Method Stack book, took on the same principle as the Project Account but with less detail. The aim to this approach was to simply suggest and spark ideas in relation to the thorough explanation to each engagement method, by keeping it as simple line drawings it becomes easier for the reader to fill in the blanks with their own creativity.
Finally, Catalysing Agency had a combination of both visual notations from an audio recording from the Catalyst Reflection Meeting and conceptual illustrations like those used in Drawing Insight.
This was my first research project with Proboscis, it was a very intricate one and no doubt the experience I gained from this will be invaluable. Learning about the different methods of engaging with participants of this project and putting them into practice, and deciphering complex findings into a visual to give an insight to others were the main lessons learnt throughout this project, it emphasised the importance of dialogue and communication.
Agencies of Engagement has enabled me to explore and refine my skills in terms of the different approaches to creative thinking. It wasn't as simple as sketch what you see; there were multiple layers of things to consider – meanings, perception and how the illustrations were to be perceived. Not only was I able to hone my artistic skills in my comfort zone of conceptual illustrations, I was able to explore new techniques such as visual notations in a live situation and both styles of line art for Project Account and Method Stack.
I've received my own copy of the finished publication and am overwhelmed with pride, the team did an amazing job and I look forward to participating in more projects like this.
November 17, 2011 by Giles Lane · 2 Comments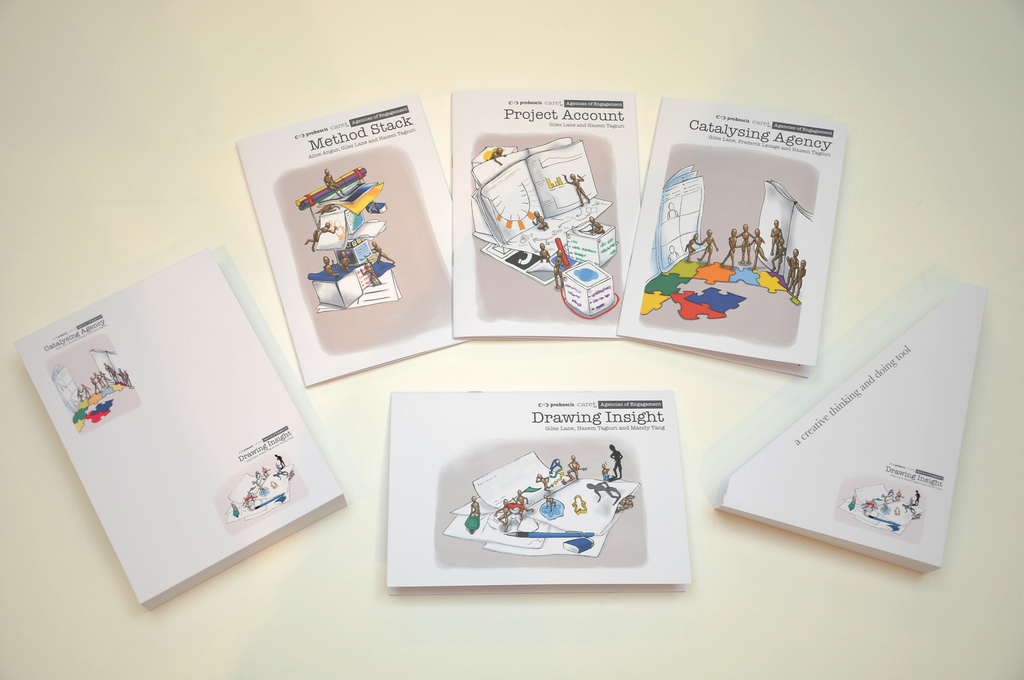 Agencies of Engagement is a new 4 volume publication created by Proboscis as part of a research collaboration with the Centre for Applied Research in Educational Technology and the Crucible Network at the University of Cambridge. The project explored the nature of groups and group behaviours within the context of the university's communities and the design of software platforms for collaboration.
The books are designed to act as a creative thinking and doing tool – documenting and sharing the processes, tools, methods, insights, observations and recommendations from the project. They are offered as a 'public good' for others to learn from, adopt and adapt.
Download, print out and make up the set for yourself on Diffusion or read the online versions.
November 7, 2011 by Giles Lane · Comments Off on Xmas 2011 Special Offers
This year we have 3 special offers for the festive season :
We're clearing space in the studio for new projects, and sales will go to supporting new initiatives in our
Public Goods
programme.