September 26, 2012 by Giles Lane · 1 Comment
Publishing remains at the heart of Proboscis. We began 18 years ago with COIL journal of the moving image and followed this with many series of Diffusion eBooks. Since 1994, we have commissioned and published works by hundreds of different people in many formats.
Our latest publishing venture, the Periodical, aims to re-imagine publishing as public authoring – a phrase we've been using for over 10 years to describe the process by which people actively make and share what they value – knowledge, skills, experiences, observations – those things we characterise as Public Goods. Based on bookleteer, the Periodical is a way for people to participate in publishing as well as reading – in addition to receiving a printed eBook (sometimes more than just one) by post each month subscribers are encouraged to use bookleteer to make and share their own publications, which may then be chosen to be printed and posted out for a future issue.
Our first project being developed as part of this venture is Field Work : subscribers will be sent a custom eNotebook to use as a sketch and note book for a project of their own. Once they've filled it in they can return it to us to be digitised and shared on bookleteer. Several times a year we will select and print someone's Field Work eNotebook to be sent out as part of a monthly issue of the Periodical.
Why are we doing this? We've long used the Diffusion eBook format to make custom notebooks for our projects and digitised them as part of our shareables concept. We think that such new possibilities of sharing our creative and research processes with others is a key strength of what these hybrid digital/physical technologies offer. Creating a vehicle, via the Periodical, for others to take part in an emergent and evolving conversation about how and why we do what we do seems like a natural step forward. If you'd like to take part, subscribe here.
September 25, 2012 by stefankueppers · Comments Off on Shell drawings
This post is one of several exploring the research and creative processes Giles and I have undertaken for our project Lifestreams, an Art+Tech collaboration with industry partner, Philips R&D in Cambridge as part of Anglia Ruskin University's Visualise programme.
I have talked in a previous post on lifecharms to shells about talismanic, engaging and tangible transfigurations of lifestyle and health data in the form of sea shells. I now  needed to explore the real thing. Off I went on another little spree of discovery both on-line and the real world, picking up a variety of 'snails' trails if you will.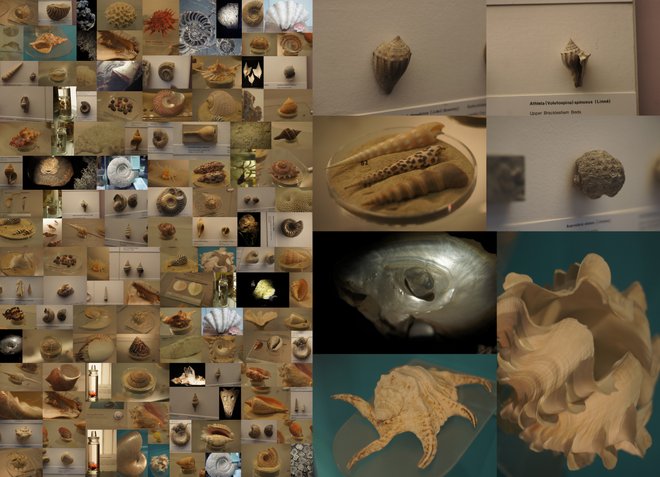 I had been making some initial sketches of shells whilst looking at some of the mathematical models that have been around for shells (more of this in a later post) and got deeper into the strange and wonderful world of  shell forms to pick p ideas for forms and processes that I could draw on in the making of our own shells.
Aside from producing a large haul of images from various  on-line searches I wanted to make sure I would see a broad variety of the 'real thing'. So being in London I went on to do take some pictures of ancient and contemporary shells in the wonderful and inspiring  Natural History Museum within its fossil and invertebrate collections.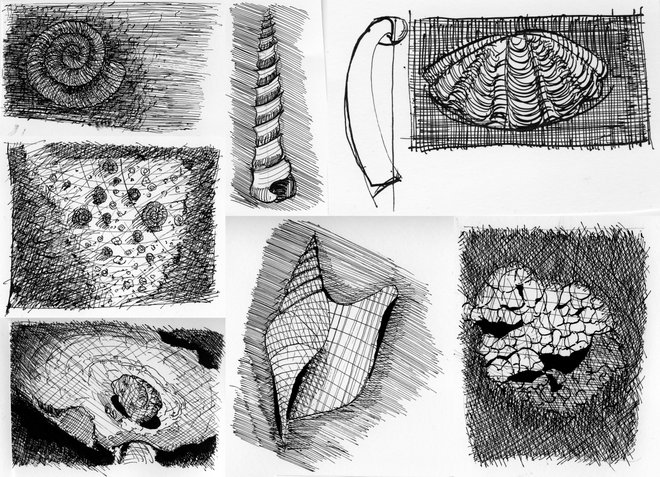 From these I made a lot of sketches for our life-streams shells so that I could get a deeper taste and sense of the kind of shell shape variations that exist. To me these sketches helped me to gain a clearer more visual understanding of some of the various archetypes and key differences in different shell structures that I came across. It got me to think about routes for the shell modelling process I have been evolving alongside on the computer and the 3d printers.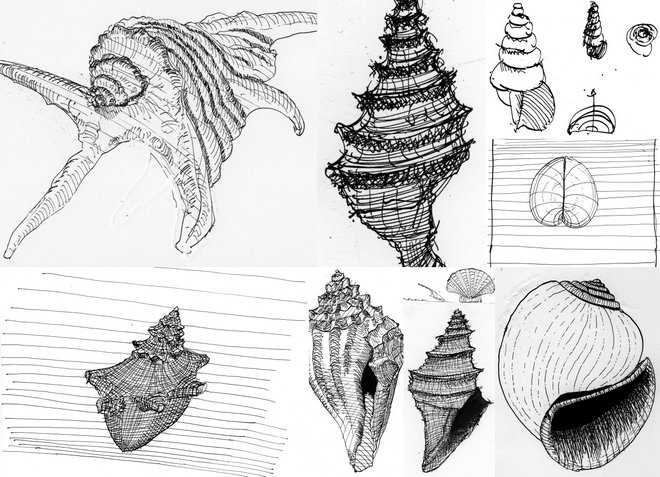 I had looked at both ancient fossils which had lost any of their external pigmentation as well as contemporary shells that still retained all their wonderful colour and detail. I am continuously amazed at the range and expressiveness of shapes and colours pigmentation of shells that are out there.
September 19, 2012 by stefankueppers · 1 Comment
This post is one of several exploring the research and creative processes Giles and I have undertaken for our project Lifestreams, an Art+Tech collaboration with industry partner, Philips R&D in Cambridge as part of Anglia Ruskin University's Visualise programme.
From its beginning our collaboration with Philips R&D had a focus on lifestyle and health as the two key subject areas so they have formed an integral part of our dialogue and explorations. We've spent time in our discussions making and reflecting on the cross-connections between the two; how they intersect and influence each other. As our discussions evolved, we became more interested in some of the challenges for expressing and documenting personal and collective lifestyle choices visibly or invisibly affecting personal health and quality of life.
Stimulating personal motivation for change or reinforcement of positive activities through new means of reflection emerged as goal worth exploring further. Our primary purpose has been driven by thinking of ways and means to make lifestyle choices visible as a means for reflection and possible behaviour change.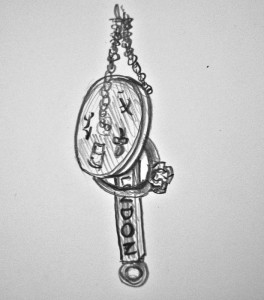 We debated what the possible scale and scope of factors affecting our lifestyles were that could be points of reflection; what the nature is of the need for both individuals and groups to see and reflect on the impact of their own and collective choices on health, well-being and quality of life. Our enquiry ranged from evolving ways to make visible and re-enforce positive patterns to  ways of making bigger changes to negative patterns. Our aim is to be able to engage people both through individual and collective reflection and debate.
For instance, what could be vehicles for change that have broad reach spanning young and old without requiring great depth of knowledge to 'read' complex information? What could be more emotive, accessible, tangible and shareable? That could indeed inspire a visceral and instinctual form of personal and public reflection? What would form could this take?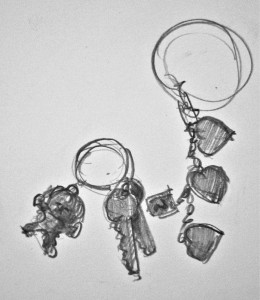 Our response to these questions was to take totemic objects as emotive points of reference – iconic and tactile tools for ongoing reflection. We began planning to evolve talismans of self-health, personal pieces that could be carried around on a keyring or as jewelery to remind ourselves of what matters to us. The might be like the charms of old, bracelets embellished with objects, tracing key events and people in our lives but extended to become markers for health and quality of life.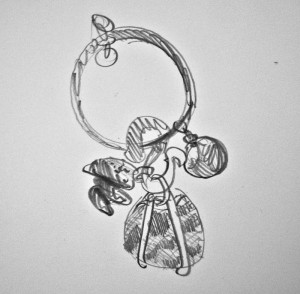 From these ideas of the charm we searched for physical forms that could act as personal objects attached to life, as symbols that are already in the public mind. We arrived at the seashell.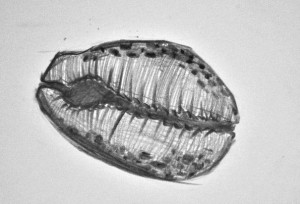 September 18, 2012 by Giles Lane · Comments Off on Lifecharm Shells Redux
Our collaborator at Philips R&D in Cambridge, David Walker, was generous enough to have some of the Lifecharm shells fabbed in a range of more exotic materials than our initial prototypes using Shapeways (a 3D printing firm spun-out of Royal Philips Electronics). The materials used range from metal/silver, ceramic and frosted and transparent glass.
Many thanks also to Dipak Mistry, our collaborator on Visualise Lifestreams at Arts & Business Cambridge who dropped them by the studio this morning.
September 8, 2012 by Giles Lane · Comments Off on Storyweir at Hive Beach video
Saturday 8th and Sunday 9th are the final two days of Storyweir on Hive Beach. This video documents the two evenings of projections and live cello performances, by Matthew Benjamin, on August 3rd & 4th.
Proboscis at Burton v3 from David Rogers on Vimeo.
September 5, 2012 by Giles Lane · Comments Off on Storyweir – last few days to see
Our installation on Hive Beach in Dorset, Storyweir, finishes on Sunday 9th September. Here are some photos taken by photographer Pete Millson. From October 13th we will also be participating in an exhibition about the ExLab commissions in Bridport Arts Centre's Allsop Gallery.