April 27, 2008 by Giles Lane · Comments Off on CREATOR Research Cluster
Proboscis is a founder member of the CREATOR Research Cluster, funded by EPSRC as part of the "Connecting Communities for the Digital Economy" initiative. The cluster brings together practitioners from the creative industries with researchers from varied traditions that span ICT, the arts and humanities, the social sciences, and business studies.
The cluster seeks to establish a close connection between ICT researchers, those with an interest in business and innovation, and practising members of the creative industries and seeks to answer 4 main questions:
What key challenges face the creative industries due to the emergence of a new generation of social, pervasive and affective ICT?
And conversely, what long term challenges must be tackled by ICT research in order to support future creative industries?
How can we better engage small creative companies in research and knowledge transfer?
And especially, how can we establish new interdisciplinary approaches across ICT, the arts and humanities and the social sciences that support "practice-led" approaches to research?
 
Members include:
Blast Theory, University of Reading, Storey Gallery, AmaK, University of Nottingham, University of Cambridge, Queen Mary, University of London, University of Technology, Sydney, University of Sheffield, University of Lincoln, Goldsmiths College, University of London, Exeter University, Decoda, The Creative Media Centre, Lancaster University, Brunel University, University Of Chichester, Birkbeck College, University of London, Proboscis, Newcastle University, University of Glasgow, iShed, Watershed, SCAN/Bournemouth University, University of Bath, University of Worcester, University of Southampton, University of Sussex.
A series of Pilot projects and 'Troubadour' studies will be conducted over the year 2008-09.
April 6, 2008 by Giles Lane · 1 Comment
Giles Lane and Orlagh Woods ran a StoryCube Workshop for street youth in partnership with the University of Alberta and iHuman Youth Society in Edmonton, Alberta Canada on April 4th. 
April 5, 2008 by Giles Lane · Comments Off on Lattice::Sydney

Lattice::Sydney from Proboscis on Vimeo.
A short film made by participants in the Lattice::Sydney project led by Proboscis and ICE (March 2008).
April 5, 2008 by Giles Lane · Comments Off on Diffusion Shareables

Diffusion Shareables from Proboscis on Vimeo.
An excerpt about the Diffusion Shareables from Proboscis' 'Play to Invent' film (April 2008).
April 5, 2008 by Giles Lane · Comments Off on Play to Invent

Play to Invent from Proboscis on Vimeo.
A playful exploration of Proboscis and some of its projects, tools and techniques.
Created by Alice Angus, Giles Lane, Orlagh Woods and Karen Martin (April 2008). 
Music by Peoplelikeus.
April 5, 2008 by Giles Lane · Comments Off on Experiencing Democracy Report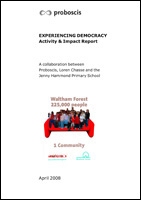 Experiencing Democracy Report (April 2008)
April 1, 2008 by Giles Lane · 1 Comment
Collecting, Curating and Communicating Culture
Proboscis co-designed (with Andrew Hunter of Render) a studio/seminar course introducing 3rd & 4th year undergraduate and post-graduate students to contemporary approaches to collecting and curating through learning by doing. Students were introduced to techniques (anarchaeology, public authoring) and tools (Diffusion eBooks, StoryCubes, podcasting) used and developed by Proboscis. The goal of the course was to work both individually and collectively in excavating narratives of people, places, events and artefacts and creating new artefacts (using new and old media tools).
Render continued its collaboration with Proboscis on the Anarchaeology programme in May-July 2008, running a lab out of the Artery Gallery in downtown Kitchener. As part of this Render hosted a workshop with Collision, a group of students from Preston Highschool who have formed an independent collective to initiate and create performative art projects. Collision is mentored by artist and teacher Kyle Brown. For the May 17 workshop, Collision became selected buildings in downtown Kitchener and then ventured out into the street to engage the public.

Collision Workshop Photos on Flickr
Team: Alice Angus, Giles Lane & Orlagh Woods
Partner: Render at University of Waterloo (Andrew Hunter, Barbara Hobot & Amos Latteier)
Funded by the J.W. Graham Trust