July 20, 2009 by aliceangus · 1 Comment
A Flash Viewer of the Being in Common Catalogue of Ideas Cards, created by Niharika Hariharan: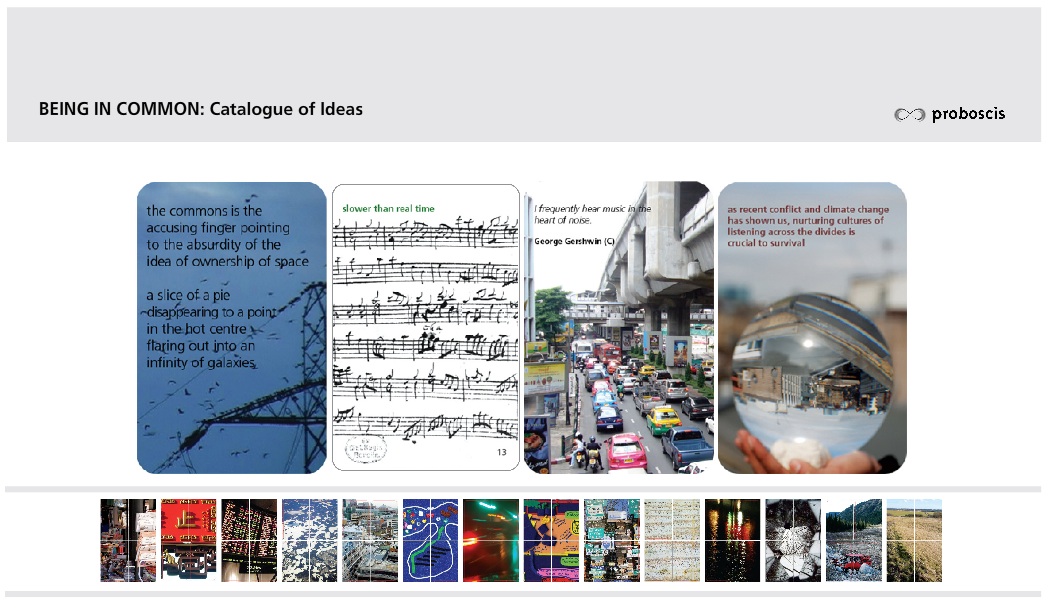 Being in Common: Catalogue of Ideas (20Mb)
July 6, 2009 by Giles Lane · Comments Off on Sensing the Imperceptible
The environment around us is a mass of sensory information, some of it easy to detect, playing on our visual, aural, olfactory, gustatory and tactile senses, while others are less perceptible – electro-magnetic radiation, hi-lo sound frequencies, infra-red light etc – and yet these imperceptible streams interact with us regularly as we go about our everyday lives.
Back in September 2008 Proboscis devised a one day workshop for Dislocate08 in Yokohama, Japan to "engage artists, urbanists, designers, technologists, musicians and dancers in an active investigation into the sensorial patterns and rhythms to be found in our environment". The workshop was one of our first research activities for Sensory Threads, which we hoped would inspire some critical reflection on the project's aim to create a playful instrument for exploring imperceptible phenomena in the world around – translating them into sound and touch.
The 'foreigness' of Japan to the team of 3 who went to run the workshop (Giles Lane, Karen Martin & Frederik Lesage) was an important consideration in deciding its location. We felt that such an unfamiliar place, people, culture and language might present interesting challenges that would mean we would have to be keenly aware of the environment all the time. Once there it reminded us how easily we become de-sensitised to our surroundings through habit and familiarity: the smells of places, air pressure, humidity etc. Those things which pervade us constantly so that we rarely notice them, except when they change or are absent. In Japan we noticed the extraordinary cultural emphasis on paying attention to the details, the small pleasures and experiences of everyday life, which appears to be preserved in mainstream culture and society there through rituals, practice and patience at so many levels, from seasonal food to street decorations.
Returning to London and discussing the event and our experiences in Japan with the rest of the Sensory Threads team it helped shape our conception of the soundscape that the wearables would create – that it would be designed to act as a means of alerting the wearers to subtle changes in ourselves and the environment so that they could experience a sensitivity to their relationship with it. The choice of sensors would be ones that could be tuned just beyond or at the fringes of human perception, giving us a new means of 'listening' to the world and how we are part of it – acting with and acted on. The Rumbler too was shaped by these considerations – making imperceptible phenomena tangible through the media of touch, translating sensor data into vibration as well as sound.
Taking the project forward after our prototype demo at the Dana Centre last month, we plan to explore new levels of participatory and collective sensing, richer sonification and making tangible souvenirs for participants more seamless with the experience.
July 1, 2009 by Giles Lane · Comments Off on alright!
alright! from Proboscis on Vimeo.
A film made by Sutton Youth group about the qualities that make up Sutton-in-the-Isle, a village in the Fens. Using cut up paper and some pretty low tech processes and a lot of laughing, this was made in under two hours one evening.