September 30, 2009 by Giles Lane · 1 Comment
Urban Tapestries Cuts from Proboscis on Vimeo.
A film made in 2006 which demonstrates several of the interfaces – PDA, mobile, web and Google Earth – that were made for various tests and trial of Urban Tapestries. Also contains footage of participants in the trials and bodystorming experiences.
September 23, 2009 by Giles Lane · 1 Comment
Today I'm travelling to San Sebastian, Spain to take part and give a presentation at the workshop, My Map is Not Your Map. The workshop is hosted by Arteleku and coordinated by José Luis Pajares (gelo); the other presenters are Lize Mogel, Fabien Girardin and Julius von Bismarck.
My presentation (Thurs 24th at 19.00) will be an overview of Proboscis' projects exploring place, public authoring and sensing conducted since the 2002 (e.g. Urban Tapestries, Social Tapestries, Feral Robots, Snout, Sutton Grapevine & Sensory Threads. Proboscis' work has always focused less on the technological than on the relational nature of linking human knowledge and experience to place – why and how people tell stories and construct narratives around the places they inhabit and which hold meaning for them.
September 21, 2009 by Giles Lane · Comments Off on bookleteer – Pitch Up & Publish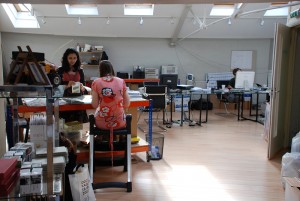 Starting in October we will be running regular informal evening workshops for people to literally pitch up and publish using bookleteer.com. Initially these will be held at our Clerkenwell Studio for up to 15 participants – all you need is a laptop and some content (text /photos/ drawings etc) you'd like to create and share as eBooks or StoryCubes (shareables). We will provide free user accounts to bookleteer and guide you through the steps of preparing and generating your shareables to share online, via email or as physical publications. Once created you can publish them on your own website or, if appropriate, we can publish them on Diffusion.
Update: The first workshop will be held on October 15th 2009 between 6.30-9pm at the Proboscis Studio.
To reserve a place please email us at diffusion (at) proboscis.org.uk Participants will be asked to make small donation to cover materials (paper/printing ink etc) and refreshments (beer).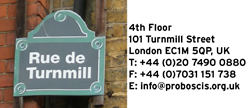 September 9, 2009 by Giles Lane · Comments Off on Autumn Special Offer
Until September 30th 2009 all orders of the Social Tapestries Case of Perspectives will come with a free Being in Common Catalogue of Ideas and Endless Landscape Magnets.
When ordering please make sure you select the correct option for your location (UK, European Union or Rest of World) otherwise you may incur additional shipping costs.
September 7, 2009 by Giles Lane · 7 Comments
This week we begin teaching a course on the city as material for artistic practice with students from Vassar College's International Program in London. We've planned it as a co-creative course, intending to act as facilitators and guides to the students in devising and conducting their own investigations of the city and creating their own interventions. The students will be creating a blog to document their activities, as well as publishing eBooks about their individual projects.
The course is fortnightly (from early September to the beginning of December 2009), based in our studio in Clerkenwell, from where we'll engage in walks, watching, making, drawing, discussing and eating.
From our course introduction (eBook A4 | US Letter PDF 240Kb),
The focus for this class will be in considering the role of the city as material for artistic experimentation and creation. Only inadequately understood as "public art," urban interventions produce public space where it does not exist, foster new modes of urban citizenship and participation, render legible the force of political and financial power shaping the global city, expose the mutability of "public" and "private" entailed by new media transformations of social space, create alliances between varied urban stakeholders, challenge the zero-tolerance policies of the increasingly securitized city, and broaden the repertoire of political resistance and direct action. In addition to contemporary practice the course will consider the rich histories of urban intervention by artists in London and elsewhere.
September 3, 2009 by Giles Lane · Comments Off on introducing bookleteer.com

Proboscis is very excited to announce bookleteer.com – our forthcoming service for creating eBooks and StoryCubes which uses the latest version of the Diffusion Generator. We are planning a private beta test of the service in early October, with a public version launching in 2010.
Bookleteer will allow individuals and organisations to create personalised eBooks and StoryCubes under their own identity (the front covers of Bookleteer-made eBooks can contain a logo image) and with a cover image to make each publication more distinctive and recognisable. Bookleteer supports all 4 types of eBooks (classic/book ; portrait/landscape) as well as single and double-sided StoryCubes. It will additionally support eBooks created in many other languages and non-Roman alphabets (Hindi, Chinese, Greek, Russian etc) and will enable Right-to-Left eBooks to be created for Right-to-Left languages (Arabic, Urdu etc).
We'll be developing some pilot projects over the next 6 months to demonstrate Bookleteer's uses and capabilities, especially around its new API which will allow other websites and systems to call its services to generate eBooks and StoryCubes from external content and datasets.
We'll be posting regular progress updates on Twitter and on diffusion.org.uk.