May 30, 2012 by stefankueppers · Comments Off on Shells for our Visualise commission
In one of our current (and I feel, pretty exciting) commissioned projects that is part of the Visualise Programme, we are looking at new ways of making accessible interpretations and translations of information in a physical series of objects instead of another classic information visualization.
Although there are many beautiful data visualisation examples out there, the big challenge they often face is that they are very frequently inaccessible to larger audiences. We are really interested in finding ways of creating something very emotive and tactile, giving a more intuitive insightful access to understanding content such as personal health information which really matters to people. We want to overcome it often being hard to decipher with current approaches and tools without being a health expert.
Some interesting ideas are swirling around and en route I could reconnect with some 'old friends' that I got to know while still an architecture student many years ago: I have been revisiting D'Arcy Thompson's On Growth and Form and his in depth study of shell formation as an inspiration of how we might produce our own little evolving artefacts out of re-interpreted data spaces.
We have just been in the process of carrying out our own personal health data-capture with some off-the shelf kit (e.g. pedometer, blood-pressure, temperature) as well as environmental sensing via a couple of custom build Arduino data-loggers; the results of which we are now using for  sketching out a variety of generative models for our new artefacts.
Watch this space for our first sketches of growing data!
May 25, 2012 by mandytang · 1 Comment
The Soho Food Feast is just around the corner and I am so excited that the bookleteer notebook specially designed for this event will be used by the children of Soho Parish Primary School as they become food critics for the day.
I had a lot of fun illustrating the front cover for this notebook, though browsing through various mouth-watering photographs of dishes to illustrate before lunch wasn't a good idea.
At first the initial sketch was rather unhealthy. It had more pastry, which seemed appealing to illustrate at the time because of its fancy presentation.But of course healthy eating is very important; especially for children, so the cover design was altered to a healthier version.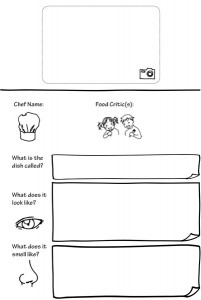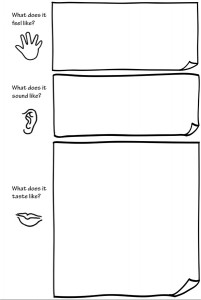 Inside the book in a very simple layout are spaces for children to scribble in and the blank pages at the back are for them to get creative and sketch their own feasts.
May 19, 2012 by Giles Lane · Comments Off on 3 days in Pallion
This week just passed Alice, Haz and myself have been running some co-design workshops with local community members in Pallion, a neighbourhood in the city of Sunderland, and with Lizzie Coles-Kemp and Elahe Kani-Zabihi of Royal Holloway's Information Security Group, hosted at Pallion Action Group. The workshops, our second round following some others in early April, were focused around visualising the shape, needs and resources available to local people in building their own sustainable knowledge and support network – the Pallion Ideas Exchange. We also worked on testing the various tools and aids which we've designed in response to what we've learned of the issues and concerns facing individuals and the community in general.
The first day was spent making a visualisation of the hopes and aspirations for what PIE could achieve, the various kinds of activities it would do, and all the things they would need to make this happen. Based on previous discussions and workshops we'd drawn up a list of the kinds of activities PIE might do and the kinds of things they'd need and Mandy had done a great job over the past couple of weeks creating lots of simple sketches to help build up the visual map, to which were added lots of other issues, activity ideas, resources and hoped for outcomes.
Visualising PIE this way allowed for wide-ranging discussions about what people want to achieve and what it would need to happen – from building confidence in young people and the community more generally, to being resilient in the face of intimidation by local neer-do-wells. Over the course of the first afternoon the shape changed dramatically as the relationships between outcomes, activities, needs, people and resources began to emerge and the discussion revealed different understandings and interpretations of what people wanted.
On the second day we focused on the tools and aids we've been designing – a series of flow diagrams breaking down into simple steps some methods for problem solving, recording and sharing solutions and tips online, how to promote and share opportunities to people they would benefit and things to consider about safety and privacy before posting information online. We've also designed some simple notebooks with prompts to help do things like take notes during meetings and at events, a notebook for breaking problems down into small chunks that can be addressed more easily alongside place to note what, who and where help from PIE is available, and a notebook for organising and managing information and experiences of PIE members about sharing solutions to common problems that can be safer shared online. As the props for a co-design workshop these were all up for re-design or being left to one side if not relevant or useful. An important factor that emerged during the discussion was that people might feel uncomfortable with notes being written in a notebook during a social event – the solution arrived at was to design a series of 'worksheet posters' which could be put up on the walls and which everyone could see and add notes, ideas or comments to. The issue of respecting anonymity about problems people have also led to the suggestion of a suggestions box where people could post problems anonymously, and an 'Ideas Wall' where the problems could be highlighted and possible solutions proposed. We came away with a list of new things to design and some small tweaks to the notebooks to make them more useful – it was also really helpful to see a few examples of how local people had started using the tools we've designed to get a feel for them: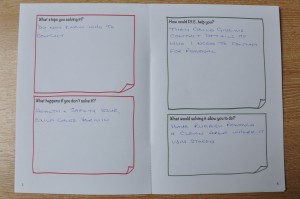 On the afternoon of the second day we also spent a long time discussing the technologies for sharing the community's knowledge and solutions that would be most appropriate and accessible. We looked at a whole range of possibilities, from the most obvious and generic social media platforms and publishing platforms to more targeted tools (such as SMS Gateways for broadcasting to mobiles). As we are working with a highly intergenerational group who are forming the core of PIE (ages range from 16 – 62) there were all kinds of fluencies with different technologies. This project is also part of the wider Vome project addressing issues of privacy awareness so we spent much of the time considering the specific issues of using social media to share knowledge and experiences in a local community where information leakage can have very serious consequences. Ultimately we are aiming towards developing an awareness for sharing that we are calling Informed Disclosure. Only a few days before I had heard about cases of loan sharks now mining Facebook information to identify potential vulnerable targets in local communities, and using the information they can glean from unwitting sharing of personal information to befriend and inveigle themselves into people's trust. The recent grooming cases have also highlighted the issues for vulnerable teenagers in revealing personal information on public networks. Our workshop participants also shared some of their own experiences of private information being accidentally or unknowing leaked out into public networks. At the end of the day we had devised a basic outline for the tools and technologies that PIE could begin to use to get going.
Our final day at Pallion was spent helping the core PIE group set up various online tools : email, a website/blog, a web-based collaboration platform for the core group to organise and manage the network, and a twitter stream to make announcements about upcoming events. Over the summer, as more people in Pallion get involved we're anticipating seeing other tools, such as video sharing, audio sharing and possibly SMS broadcast services being adopted and integrated into this suite of (mainly) free and open tools.
The workshops were great fun, hugely productive but also involved a steep learning curve for all of us. We'd like to thank Pat, Andrea, Ashleigh and Demi (who have taken on the roles of 'community champions' to get PIE up and running) for all their commitment and patience in working with us over the three days, as well as Karen & Doreen at PAG who have facilitated the process and made everything possible. And also to our partners, RHUL's Lizzie and Elahe who have placed great faith and trust in our ability to devise and deliver a co-design process with the community that reflects on the issues at the heart of Vome.
May 18, 2012 by stefankueppers · 1 Comment
This week I have been putting together a little Arduino data logger for our current research collaboration with Philips in our Art & Tech commission project.
We are exploring the translation of health and lifestyle data into new forms of tangible artefacts and for this we revisited mobile data-capture using Arduino boards to inform our early prototypes.
Alongside some Arduino boards we still had in the office I picked up a current crop of useful bits and pieces from Cool Components  and RS  (OpenLog SD logger + TGS2620 gas sensor) to make a quick, small and simple data-logger  for simple capture of volatile gas proximity and  basic galvanic skin response indicating anxiety levels.
We need to capture long time periods of this sort of data on the move and thus were looking for a non-PC based data-logging set-up we could build ourselves. The Openlog board from Sparkfun is pretty convenient as it hooks up directly to the Arduino and can take micro-flash cards of large sizes so I got some 8GB cards for our logging exercises which will last for some good amount of data-capture time.
The Openlog board is tiny (literally a bit smaller than a 50 pence coin) and pretty straight forward to work with: It just hooks to the Arduino board in soft-serial mode. The galvanic skin response is better to be redone with an op-amp but a rudimentary approach will do for now for initial sketch-testing as we can always improve on the circuit later.
I will post some more feedback when I have played around with it some more.
Resources:
OpenLog github site documentation and code
Arduino Gas detection Fritzing sketch
May 14, 2012 by stefankueppers · Comments Off on Citizen Science in action: NASA Space Apps Challenge
Taking part in the 2012 NASA Space Apps Challenge
 Within the Public Goods Lab  here at Proboscis we have been exploring a number of themes we are tying together, one of which is a strong interest in the practice and production of 'citizen science'. We like getting hands on and are always keen to learn from exitisting models and projects to understand the issues and possible modes and obstacles to production and  delivery and so it makes a lot of sense for us to participate in projects that we can learn from.
To this end in late April I spent a fun weekend with my friend James from Imaginals and other space-fanatics at ISIC, the International Space Innovation Centre in Harwell, Oxford which played host to an extraordinary and fun challenge:
We joined the Oxford group of the NASA Space Apps Challenge; a brilliant event that was hosted in 25 cities around the globe (e.g. San Francisco, Tokyo, Melbourne, Canberra, Jakarta, Exeter; Nairobi, Sao Paulo, Santo Domingo and McMurdo Station, Antarctica….) drawing a crowd of 2000+ participants interested in creating 'Apps' relating to NASA space science under a number of possible themes; e.g. Software, Open Hardware, Citizen Science and Data Visualization.
The NASA Space Apps challenge was conceived as part of a much larger  and very interesting ongoing US and global agenda in open government via the  Open Government Partnership. The US Open Government Initiative is translating directly into Open Government activities at NASA; a programme to generate more interest in, access to and popularise ideas around NASA's space science programme and enhance public visibility.
Our impromptu team (primarily assembled on the workshop weekend itself) consisted  -Emal, Peter, James and myself – joined up because of our mutual interest in the theme of "Mobile Environment Capture". We clubbed together with a hope of coming up with something that would relate it to citizen science and in particular exploring participatory models and ideas.
With lots of ideas being thrown around the table on the Saturday – for while we were  joined by from ESA scientists  who gave us some great insights – we decided to produce an idea that is looking to capture the excitement of engaging with space science from the ground by connecting citizen scientists through to the professional science community via our concept 'StrangeDesk'. It's our way to capture, share and aggregate odd, out of the ordinary and potentially  important environmental events and connect them through the social web with the wider world including the professional science community to use and elaborate upon.
Excitingly, in the weekend competition we must have hit some kind of nerve with the concept as we were lucky enough to win second prize in the local Oxford selections and are now moving into the second round with our idea.
Please check out our promo video we produced with the great help from Izzy Way at Imaginals for the second round of the competition on vimeo: StrangeDesk Promo
Support us by voting for it on the Talenthouse competion web site! and watch this space for any further news on this initiative!
You can also check out the twitter feed on the SpaceApps challlenge on twitter under #SpaceApps…
May 11, 2012 by Giles Lane · 1 Comment
Back in February Proboscis was commissioned by Andy Robinson of Futurecity, with the assistance of Dipak Mistry of Arts & Business Cambridge, to undertake an Art+Tech collaboration with a local industry partner in Cambridge as part of Anglia Ruskin University's Visualise programme. This strand seeks to engage "leading Cambridge technology companies to collaborate with contemporary artists on the creative use of technology in public life."
Over the past few months Stefan and I have been meeting with David Walker and Steffen Reymann of Philips R&D (based in the Cambridge Science Park) to establish a creative dialogue. The initial topics for our creative exploration were suggested by Philips based on research subjects being explored in their lab – Near Field Communications and health monitoring technologies. Our discussions quickly began to revolve around personal motivations for monitoring health and lifestyle –
Why do people routinely lose abandon using health monitoring technologies?
What might inspire new habits that actively involve monitoring?
How could we create delightful ways for people to make connections between personal data and Quality of Life?
How could we rethink the nature of data collection away from the purely rational towards the realm of the numinous and speculative?
Our initial thinking suggested that perhaps the problem with data collection is that it is often too crude and reductive – trying to make impossibly simple connections between phenomena in a complex system. Data visualisations are often barely more than pretty graphs – but our lives, our environments and the ways we live are so much more than that. How might we make tangible souvenirs from the data generated by our bodies and habits that could help us discern the longer term, harder to perceive patterns?
As our discussions have continued we have begun to explore how we might generate talismanic objects – lifecharms – from personal monitoring data using 3D fabbing. Things which could act as everyday reminders about patterns the data suggests, which are at once both formed of the data and yet do not offer literal readings of the data. Objects which are allusive, interpretative and perceptible, but still mysterious. What would it feel like to have an object in one's pocket that was generated from data gleaned from one's own body and behaviours? How might this help us maintain a peripheral awareness of the things we eat, how much we exercise, our general state of happiness and perceive the subtle changes and shifts over time?
Stefan is writing elsewhere how we have been inspired by shells – excretions produced by creatures that tell (in a non-literal way) the story of the creature's life – what minerals it ingested, what environmental factors affected it. For the lifecharms we're experimenting with using personal data to drive 3D morphogenetic algorithms that can generate unique shell-like forms which we'll then render into tangible souvenirs.
As a more macro counterpoint to the micro of the personal lifecharms we have also been considering how local public health data could be translated into forms which could be experienced as a group in a  public setting – we're investigating making a 'fly eye' geodesic dome with a light source to throw light upon the patterns in the data.
We'll be continuing our discussions with Philips for another 3 months or so, gathering some test data (from ourselves) then making some prototypes and maquettes of our ideas for an event in Cambridge in the Autumn where we'll present our work.