August 27, 2012 by Giles Lane · Comments Off on bookleteer – a fresh look and new features
Last week we quietly updated bookleteer to give it a fresh look and to introduce the sharing features we announced previously. We've been tweaking and bug-fixing over the last week or so and are now very excited to let everyone know about it.
New Look Home & About Pages
We've refreshed both home and about pages to make it clearer what bookleteer is and what it can do.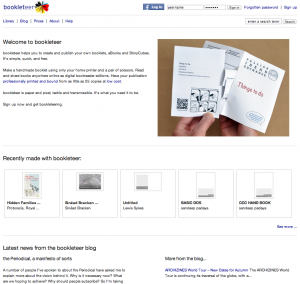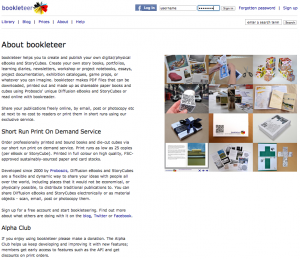 Public Library Page
The new Library Page allows anyone browsing bookleteer to see what eBooks and StoryCubes have been created and shared by members.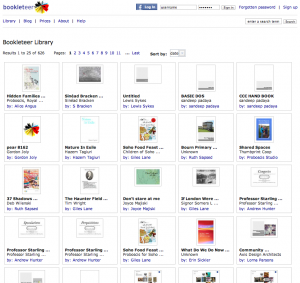 Individual Publication Pages
Each publication that is shared publicly has a unique page created for it which can be linked to and shared via popular social media services (Twitter, Facebook etc). eBooks have an embedded version of the bookreader in the page for previewing as well as download links for the PDFs. StoryCubes also have preview images and download link.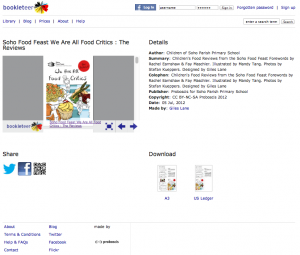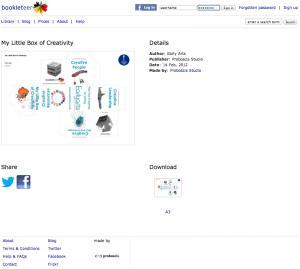 Member Public Profile Page
A new public profile page has been created to list all the shared publications by each member, also displaying a short bio and links to personal blog, website, twitter and facebook pages. These can be added in the member's account page.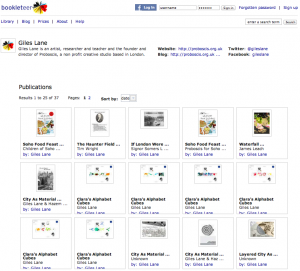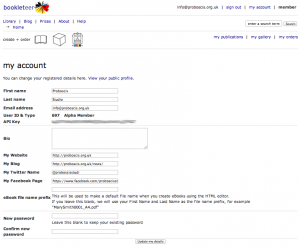 These are just the first in a series of updates and improvements to bookleteer that we're adding over the next few months – stay tuned for further announcements!
August 9, 2012 by stefankueppers · Comments Off on Presenting the Lifecharm shells
This morning we are off to Cambridge for our final meeting with our collaboration partners at Philips R&D, where we will be presenting the lifecharm shells we have generated from our health data and talking about where we will be taking the project next.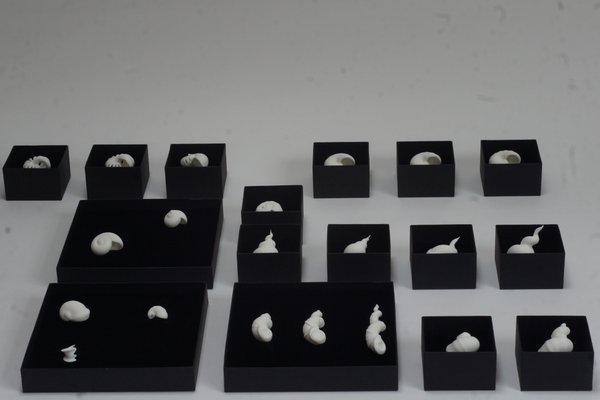 August 8, 2012 by stefankueppers · Comments Off on Of fly-eye domes and public health data sets
This post is one of several exploring the research and creative processes Giles and I have undertaken for our project Lifestreams, an Art+Tech collaboration with industry partner, Philips R&D in Cambridge as part of Anglia Ruskin University's Visualise programme.
As part of our quest to explore making health data tangible we began to research means of experiencing larger volumes of collective health data as a complementary experience to the 'lifecharms' illustrating individual data streams. We imagined these different strands operating in tandem to provide micro and macro perspectives on how we can forge new relationships to health and wellbeing.
The question immediately arose of how we could achieve meaningful translations of complex health data. Our initial solution was to turn public health data (derived from Network of Public Health Observatories) into varied surface expressions on a larger installation work, allowing a degree of participation from direct public interaction to inform manipulations of the public data sets. To achieve this we thought about the production of manipulated stacking surfaces that would aggregate into a communal structure.
Our idea for manifesting this health data was to take each data set, determine its dimensions (i.e. which and how many data ranges does it have, what do they represent? e.g. mortality rates, obesity, etc.) and take each of these to be the driving parameters of a set number of ways to cut, punch, emboss or bend thin sheets of material, either paper, card or metal. We would then create one layer of material for each data dimension, apply the parameter controlled action for it (ie, print, cut, punch, bend; where and by how much) and do this for each of the data dimensions.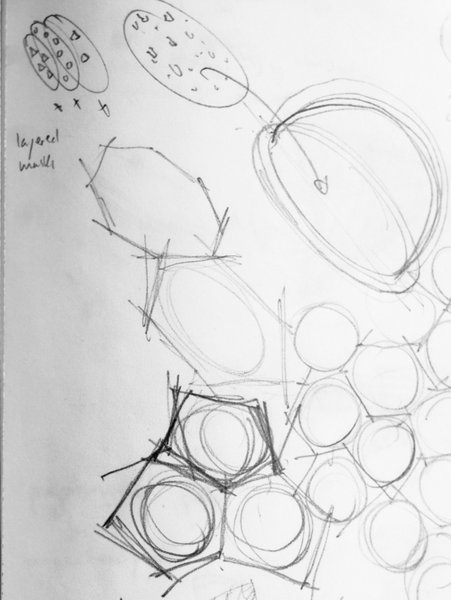 For each dataset (by ward or time span) we would end up with a stack of screens which together would define a unique surface or mask that would be specific in both tactile and visual effect. These stacked screens would make up the facets to be collated into a larger physical structure that would evolve out of the geometry of the base shape and be assembled by members of the audience to 'collectively grow' the public health data installation piece.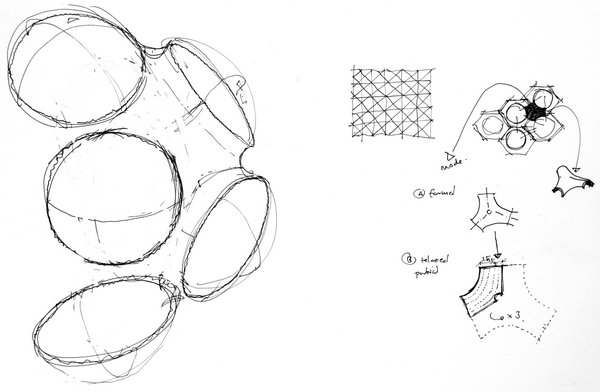 We proposed to use Buckminster Fuller's fly-eye dome as the base for a slightly larger than human size dome structure which would rest on a tripod-like support structure under which visitors could move to look up and in. The fly-eye dome is a design variation on Bucky's earlier geodesic dome structures lending itself well as a projection structure. We planned to use it to present transformed public health datasets which become layered and patterned masks to produce alternating light and shadows from within the dome surface. Each facet, or mask, would be representative of a specific grouping of public health data, either by time interval or by geographic proximity.
In thinking about how this would work as an installation, we  came up with two different projection approaches creating two types of experiences:
Outward facing masks with switch-able internal illumination creating projections that are cast on the gallery wall interiors and,
Inward facing masks with with external illumination where the audience steps inside the dome structure manipulating an exterior light source (or  'sun') around the dome structure by hand.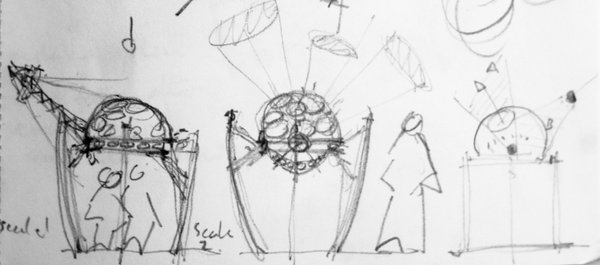 A very attractive benefit of collaborating with Philips is their expertise and product range in professional lighting. In particular, Philips has developed a product series and related technologies called LivingColours which we considered to be a good option for the illumination in our fly-eye domes.
Despite developing this concept quite far, we eventually moved away from it as we felt it didn't encompass enough of a sense of the living and organic processes which we want to engage people in. In many ways we felt it was moving back towards static data visualisations that are too readily 'readable' and which soon cease to have the power to engage people in an ongoing and reflective relationship with how public data can be seen as part of the environment in which we exist.
August 8, 2012 by Giles Lane · Comments Off on Video clip of Storyweir Performance at Hive Beach

A short video clip from the Storyweir performance at Hive Beach, Dorset on Friday 3rd August 2012. Video projections by Proboscis (Gary Stewart & Alice Angus) with live cello by Matthew Benjamin.
August 2, 2012 by stefankueppers · 1 Comment
Our third round of shells fresh out of fabrication is here!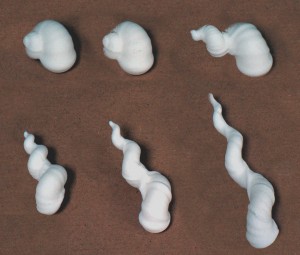 I am excited that we now have shells that are more organic and life-like coming through. To drive this additional complexity I've been experimenting with mixing the combinations of data and exploring how these generate more 'organic' forms as they are fed into different parameters of the growth grammar.
In my last post I described how I've developed a bespoke shell model by programming in JAVA with growth grammars which start out with mathematical principles. These project a spiral onto the surface of a cone in 3D for the primary growth curve. Then I begin to tweak and subvert the surface shape as it grows, adjusting the rhythms and patterning of the data to add a degree of interpretation.
This is very interpretive and not hard science; it is not classic data-visualisation or information graphics. I take sets of health and lifestyle data and make deliberate decisions in how I interpret what kind of 'expression' they generate. It is highly designed and crafted process which I am evolving to achieve both an aesthetic outcome, but also one where the data plays a key role that may not be transparent or simply 'readable' like a graph, but rather becomes emotive.
This is important and different in that we are trying to produce a sense of meaning that is not read through classic symbols but rather through a tactile and visual experience. The tangible form of the shells embodies rhythm, resonance or dissonance; attraction or repulsion.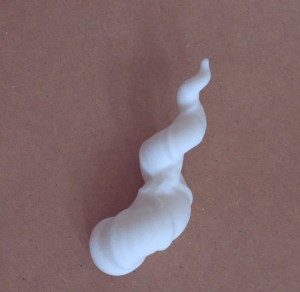 What we are attempting is not just a 'transduction' of health data into physical form, but a transformation of how we develop relationships with that data and what it means for us. The data is captured and transfigured into the physical form of the shells – producing something which is magical, transformative and which cannot be easily read but is heavy with the potential for meaning. The shells become more like talismans than just static instantiations of data.
This is very different to a technique that just takes data and processes it into a visual or physical form. It is not about numbers but about a model of generating shells that are qualitative, meaning producing and change making. It is about how a person could pick up a shell and begin to read their own meanings into it, knowing that it is generated from their own health data. Knowing that the subtle but strange variations in each shell indicate something to be explored in our lifestyles and behaviours.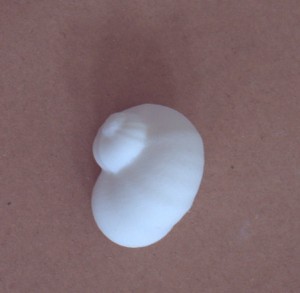 This third generation of shells are moving further towards acquiring a 'life' of their own, becoming objects of meaning in the world. They are shaped by 'lived constraints' in the growth model and are getting expressions that go beyond pure mathematics.
I'm now working on a fourth generation of shells, this time using data posted on the internet using social media.