March 24, 2016 by Giles Lane · 4 Comments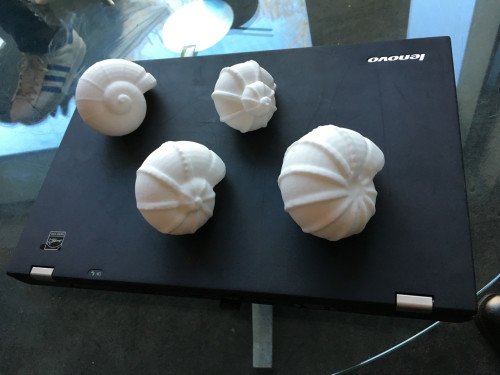 This week I presented a new generation of lifecharm data shells at a symposium on ethics in data science for the Alan Turing Institute. The shells were created by Stefan Kueppers using the Lifestreams process for data manifestation, and used data from a research project led by Professor George Roussos at Birkbeck University of London which records symptoms of Parkinson's Disease as experienced by sufferers.
These shells are an initial experiment flowing just 3 data sources into the shell growth parameters, which we hope to expand with further data sources and increase the complexity of the model in future generations. The aim is to capture the high variation in symptoms experienced by those with Parkinson's as an alternative to the way in which patients' complex symptoms are collapsed into the single summary statistic of the Universal Parkinson's Disease Rating Scale.
Read my provocation piece for the ATI symposium for more information.
March 16, 2016 by aliceangus · Comments Off on Artcodes and smart textiles at the Mixed Reality Lab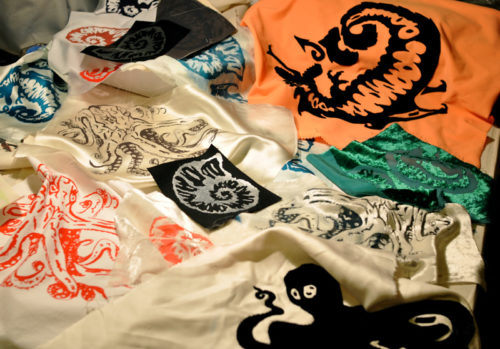 Since 2015 I've been working with the Mixed Reality Lab  and Horizon Digital Economy Research at Nottingham University on their Artcodes/Aesthetocides . I have been part of the Artcodes research team and my work involves helping to research and develop the system through trialing and using it in public situations and testing out artcodes as part of public artworks, in social situatuions, working with groups and members of the public and experimenting with with textiles.
In my textiles reaearch I have been looking at how fabrics and drawings might 'come alive' in different ways with the stories that inspired them. My interest is in how the codes can be used materially with fabric, and socially, how they might work in different public situations, in the heritage sector and on costumes in theatre/performance.
The Artcodes app recognises visual codes (artcodes) within sophisticated patterns and illustrations. It allows you to create codes that can be made part of patterns and designs on everyday objects and in artworks. In contrast to image recognition the Artcodes system does not 'recognise' a specific image but it scans for a number of solid and blank spaces which can be in any configuration. This means that the shape can change but the code will still be recognised, the code can be shared between different images or patterns, or there can be multiple different drawings that contain the different codes.
I am looking at how codes and be used with different fabrics; as part of artworks, workshops and projects and in garments as part of performances with codes embedded into garments and costumes.
March 14, 2016 by Giles Lane · 4 Comments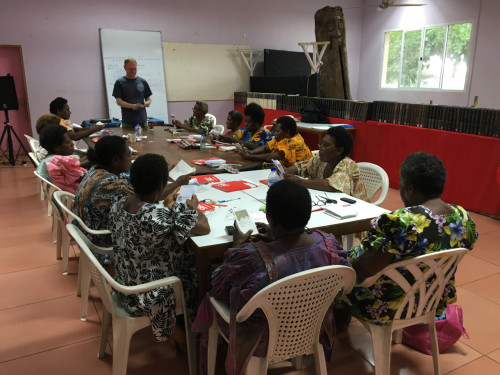 Over the past 2 weeks I have been in Port Vila, Vanuatu in the South Pacific with James Leach and Lissant Bolton (Keeper of Africa, Oceania and the Americas, British Museum) working with the Vanuatu Kaljoral Senta (Bislama for Vanuatu Cultural Centre). Lissant organised and led a special workshop with a group of women fieldworkers on the theme of current changes to kinship systems (supported by the Christensen Fund). The fieldworkers are ni-Vanuatu (local) people representing some of the many different vernacular language groups from across the many islands who do voluntary work to record and preserve traditional culture and knowledge. The fieldworker programme has been established and overseen by the Cultural Centre (VKS) for over 35 years and is a unique initiative where local people gather "cultural knowledges about all the aspects of the customary art of living of Vanuatu". Each year the fieldworkers gather together to share their research with each other and contribute to the documentation held at the VKS.
Lissant had invited James and I to visit Vanuatu with her and introduce the TKRN toolkit and techniques to the fieldworkers participating in the kinship workshop, as well as to meet with others working on different projects at the VKS. The low cost and ease of use of the TKRN booklets – both for collecting documentation in rural settings as well as digitising and archiving (both online and as hard copies) – made it an obvious tool to share. Prior to leaving London, Lissant and I had made some initial examples of Bislama (the local pidgin) notebooks for Vanuatu similar to those created in Tok Pisin for Papua New Guinea. These would be tested with the women fieldworkers during the workshop and we planned to adapt them with their assistance, as we have done in PNG with local people from Reite village.
In Port Vila James and I were also were introduced to Paula Aruhuri of the Vanuatu Indigenous Land Defence Desk, an organisation that promotes awareness of indigenous custom and land rights across Vanuatu and campaigns to stop land alienation from traditional owners. With Paula we co-designed a simple reporting notebook for the fieldworkers who deliver awareness events to local communities that will assist the land desk in documenting local people's concerns and how they might be able to help them. And we met with Edson Willie of the VKS Akioloji Unit (Heritage Unit), with whom we co-designed a notebook for fieldworkers to record heritage sites.
The women fieldworkers experimented with one of the notebook formats and helped us re-design the front cover and write up a more appropriate ethics statement that reflected their different concerns about sharing traditional knowledge. In this case they chose not to share their books online (as we did in Reite), but to have them scanned, re-printed and stored in the 'Tabu Rum' of the VKS, the audio-visual archives. Local concerns about rights to aspects of traditional knowledge in Melanesia are a major theme and extremely important to design for. Developing tactics and a strategy to enable clear documentation and permission for sharing has been at the heart of the TKRN co-design process. Lissant has written about this issue in the context of Vanuatu and it also reflects on James' work with Porer Nombo from Reite on their book Reite Plants in this essay.
We are planning to return to Vanuatu later in the year with some Reite people to participate in a knowledge exchange around the TKRN toolkit and techniques with men and women fieldworkers of the VKS. In this way we hope to develop a model of adoption whereby communities learn from each other how to use and adapt the toolkit for their own purposes, with our role being more one of facilitation than education or training. As a toolkit designed from the grassroots up, I hope to continue expanding on the concept of 'public authoring' that has driven the development of bookleteer and the 'shareables' it enables people to make and share.
In late April James and I will return to Papua New Guinea to work with Reite villagers to introduce the TKRN toolkit to a couple of other villages in Madang Province – this should provide an good indication of the possibilities and limitations of how a model of community knowledge transfer and adaptation can work.