June 10, 2013 by aliceangus · 5 Comments
During our open days  Friday 21st June and Saturday 22nd June  between 12noon and 8pm we will also be selling some work from recent years including framed and unframed works on paper and textiles as well as publications including:
Works on paper  from the Storyweir  series Things I Have Found, Learned and Imagined on Burton Beach; the series  In Good Heart ,  Pinning Our Hopes, and the original drawings for 100 Views of Worthing Pier Tall Tales Ghosts and Imaginings and As It Comes as well as other works on paper and textiles. You can see some more of some of the series of the drawings here
June 4, 2013 by Giles Lane · 7 Comments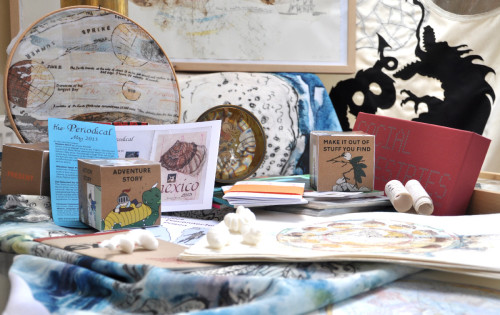 On Friday 21st June and Saturday 22nd June  between 12noon and 8pm Alice and I will host two days of open studios to which we invite people to come and view work made by Proboscis in recent years – to have a chat and enjoy some tea and cake. We will have work on display from projects such as Hidden Families, StoryWeir, Pallion Ideas Exchange, Lifestreams, the Periodical, StoryCubes, bookleteer, Perception Peterborough, Snout, Feral Robots, Urban Tapestries, Mapping Perception, Social Tapestries, Fifties Fashion, As It Comes, In Good Heart and others.
Many of the works will be available for purchase (details to come), including paintings and drawings by Alice Angus, a unique Large StoryCube set made for an exhibition about cyberneticist Gordon Pask, as well as many of our publications.
For those interested in signing up to our monthly participatory publishing project, the Periodical, there will be extra special gifts to take away for subscribing on the day. To find out more about subscribing see here.
We will also have lots of freebies to give away to reward those plucky enough to ascend the infamous stairs to our 4th floor garret!
Please email us to let us know you're planning to come.