November 3, 2008 by Giles Lane · 1 Comment
In February 2008 Proboscis were resident with ICE (Information and Cultural Exchange) in Western Sydney, Australia. We collaborated with ICE and the British Council Australia to run a workshop and exchange labs over 3 weeks with a group of 15 creative practitioners from local communities. The project grew out of connections we made with ICE during the Coding Cultures project by d/Lux/MediaArts in Australia in 2007.
Through a series of intensive workshops, Proboscis explored approaches to creatively transforming cities and shared techniques with the Western Sydney artists, who in turn had the opportunity to develop projects. Members of the wider arts community participated in half-day Exchange Labs and a public symposium. Lattice addressed the ways culturally diverse communities engage with their environment and considered; what happens when people come to a city? What knowledge is lost, or gained? What are the impacts of emerging new identities on cities?
Team: Alice Angus, Giles Lane & Orlagh Woods
Participants: David Capra, Ali Kadhim, Sanez Fatouhi and Amin Palagni, Ben Hoh, Tiffany Lee-Shoy, Fatima Mawas, Ben Nitiva, Matt Huynh, Tak Tran and Tina Tran of Popperbox, Denis Asif Sado, Trey Thomas, Maria Tran, Todd Williams and Kasama Yamtree.
Partners: ICE (Information & Communication Exchange)
Funded by the British Council as part of the Council's Creative Cities East Asia initiative
with additional support from Foundation for Young Australians (Youth Digital Cultures Project) and support from the AMWU.
November 3, 2008 by Giles Lane · 1 Comment
A week long workshop exploring children's relationship to the environment with Year 4 students at Jenny Hammond Primary School in July 2006. Part of Social Tapestries research programme.
Activity Report (PDF 1.6Mb)
Team: Loren Chasse, Giles Lane & Orlagh Woods.
Partner: Jenny Hammond Primary School
October 20, 2008 by Giles Lane · Comments Off on Constructing Conversations

Constructing Conversations from Proboscis on Vimeo.
A film for the Perception Peterborough project, documenting the creation of a 3 dimensional 'map' of creative visions overlaid over the city. The film was shot during workshops facilitated by Proboscis in Peterborough Museum in September 2008.
August 25, 2008 by Giles Lane · Comments Off on Diffusion Residency – Matt Huynh
Comic artist and illustrator Matt Huynh from Sydney Australia was resident at Proboscis studio in August 2008, playing with the Diffusion formats and creating several eBooks. Matt won the inaugural Design NSW Travelling Scholarship in 2008.
Read more about Matt's Residency here.
August 5, 2008 by Giles Lane · Comments Off on Diffusion Residency – Lisa Hunter
Curator Lisa Hunter of Dundas Museum and Archive spent a week at Proboscis studio in July 2008 exploring uses of the Diffusion eBooks and StoryCubes in a museum context.
Read Lisa's comments on her residency here.
August 1, 2008 by Giles Lane · Comments Off on bTWEEN08 StoryCubes
A short video of StoryCubes in use at bTWEEN08, Musem of Science and Industry, Manchester. 1 min, July 2008
Our StoryCubes installation was voted Best Interactive Exhibit by the delegates and public at bTWEEN08.
July 16, 2008 by Orlagh · Comments Off on StoryCubes Workshop – Cardiff University
Proboscis were commissioned by Cardiff University's Human Resources Division to run a StoryCubes Workshop as part of their internal Leadership Programme.
Workshop Facilitation: Karen Martin & Orlagh Woods
June 20, 2008 by Giles Lane · Comments Off on StoryCubes Installation – bTWEEN08
Following the Manchester Beacon workshop, Proboscis facilitated a StoryCubes 'landscape of ideas' to help Just b. Productions and the Manchester Beacon Project define the brief for a new commission to create an online public engagement service that maps connections between people, places, knowledge and creative activity in Manchester. Starting with a series of questions derived from the initial day-long workshop, delegates of b.TWEEN were asked to add their comments, ideas and suggestions to scope out wider issues, aspirations and challenges for the design brief of a new online 'public engagement tool'.
The StoryCubes Installation was subsequently voted Best Interactive Gallery Installation by the delegates of b.TWEEN.
Team: Giles Lane and Karen Martin.
June 20, 2008 by Giles Lane · 1 Comment
Proboscis were commissioned by the Manchester Beacon Project and Just-b Productions to design and facilitate a StoryCubes Workshop as part of developing a brief for commissioning an online 'public engagement tool'.
Read more about the workshop and view it outcomes here.
Participants:
Katz Kiely, Giles Lane, Karen Martin, Erinma Ochu, Rob Annable, Geoff Laycock, Constance Fleuriot, Lewis Sykes, Maria Stukoff, John Wetheral, Dom Raban, David Fernandez-Dias, Tim Riches, Martyn Amos, Marjahan Begum, Toby Howard, Andrew Wilson, Onno Baudouin and Dwayne Brandy.
Team: Giles Lane and Karen Martin
May 9, 2008 by Giles Lane · 9 Comments
*** Buy Packs of Blank StoryCubes ***
What Are StoryCubes?
StoryCubes are a tactile tool for thinking, storymaking and telling that are fantastic for exploring relationships and narratives. Each of the six sides can illustrate or describe an idea, a thing or an action – placed together it is possible to build up multiple narratives or explore the relationships between them in three-dimensions. StoryCubes can be folded in two different ways, giving each cube twelve possible faces – and thus two different ways of telling a story, interior and exterior, to reveal different perspectives and make new connections and associations.
Visit our new website for more ideas, uses and case studies: storycubes.net or read our handy guide below :
Multiple sizes : Proboscis has recently introduced a new medium size StoryCube (82x82x82mm) to complement the original size (55x55x55mm) and our custom exhibition size (228x228x228mm). The small and medium sizes are available both a blank cubes to buy and as templates in bookleteer for creating personalised cubes. The exhibition size cubes can be ordered as custom items – please contact us for more information.
Buy Packs of Blank StoryCubes
You can buy packs of blank StoryCubes from our online store from £19.99 (Original size 48 cubes, UK delivery) and £24.99 (Medium size 27cubes, UK delivery). The cubes are professionally manufactured using FSC-approved sustainable card stocks.
Personalised StoryCubes
*** design your own Print On Demand StoryCubes with bookleteer ***
Users of Proboscis' free bookleteer service can design their own StoryCubes and print them out at home (or work) on standard paper or card. Alternatively you can use our Short Run printing service to order professionally printed and die-cut cubes on 300 micron FSC-approved card. Minimum print run of 50 copies per StoryCube design and minimum order of 250 printed cubes. Join bookleteer today for free and create your own StoryCubes (and Diffusion eBooks).
Some ideas for using StoryCubes
StoryCube Design Services
Proboscis offers several design services for StoryCubes. Please contact us for pricing options.
Download our Design Services Leaflet (PDF 1Mb) or visit our Online Store
StoryCubes Resources
April 6, 2008 by Giles Lane · 1 Comment
Giles Lane and Orlagh Woods ran a StoryCube Workshop for street youth in partnership with the University of Alberta and iHuman Youth Society in Edmonton, Alberta Canada on April 4th. 
April 5, 2008 by Giles Lane · Comments Off on Diffusion Shareables

Diffusion Shareables from Proboscis on Vimeo.
An excerpt about the Diffusion Shareables from Proboscis' 'Play to Invent' film (April 2008).
April 5, 2008 by Giles Lane · Comments Off on Play to Invent

Play to Invent from Proboscis on Vimeo.
A playful exploration of Proboscis and some of its projects, tools and techniques.
Created by Alice Angus, Giles Lane, Orlagh Woods and Karen Martin (April 2008). 
Music by Peoplelikeus.
February 5, 2008 by Giles Lane · Comments Off on Art & Cartography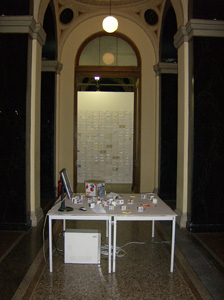 Proboscis was invited to take part in the Art & Cartography symposium exhibition, zoom and scale, at the Academy of Fine Arts and Kunsthalle Wien project space, Vienna in January 2008. We exhibited a set of 27 StoryCubes exploring the Social Tapestries research programme, a set of 8 StoryCubes reflecting our creative practices and process and two films, Social Tapestries and Play to Invent.
September 15, 2006 by Giles Lane · Comments Off on Everyday Archaeology Report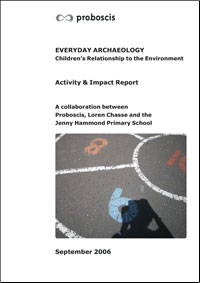 Social Tapestries Everyday Archaeology Report (September 2006)