August 3, 2009 by Giles Lane · 1 Comment
Dodolab Wants To Know by Dodolab
The Lunar House 'Re-enactment' by Tony White
Estado de presencia por Cristina Luna
The Octuplet: Story of Our Lives by Babette Wagenvoort
Le Corbeau / The Raven by Edgar Allan Poe tr. Stéphane Mallarmé
More Diffusion Shareable Notebooks by Giles Lane
Blakewalking by Tim Wright
Sutton Grapevine: Youth Group Storyboard by Alice Angus & Orlagh Woods
June 16, 2009 by Giles Lane · Comments Off on June 2009 newsletter
NOW & UPCOMING
New Website & Twitter
Proboscis is pleased to announce that we have a new website where we will be posting much more regular updates on projects as well as our creative process. We will continue sending occasional email newsletters, but in future we recommend bookmarking the news page or subscribing to the RSS feed.
http://proboscis.org.uk/news/
http://proboscis.org.uk/feed/rss/
http://twitter.com/proboscisstudio
Sutton Grapevine
Proboscis has been working this spring and summer in Sutton-in-the-Isle on Sutton Grapevine, a story sharing project which will be shown at Sutton Feast Week from the 1st – 5th July at St Andrews Church and around the village. We've been exploring various different on and offline processes around local storytelling. We roved around the village gathering and recording stories – both past, present and future; hanging out at the community shop, visiting local clubs and individuals, hosting a storytelling barbecue and a workshop with young people.
http://suttongrapevine.org
http://twitter.com/suttongrapevine
Sensory Threads : demo at Dana Centre 23/06/09 & National Physical Lab 02/07/09
We will be giving the first public demo of our Sensory Threads prototype at the Dana Centre on Tuesday June 23rd. The event, Surface Tension, is free to attend (no booking required). Sensory Threads is a new experiment in mobile participatory sensing and sonification – making imperceptible things in our environments tangible and tactile.
http://proboscis.org.uk/1207/dana-centre-demo/
We will also be demoing ST at the National Physical Laboratory on Tuesday July 2nd as part of the Wireless Sensing Showcase 2009:
http://www.wisig.org/showcase2009
Artemov, Mobilefest and Arteleku
Proboscis has been invited to participate in several festivals and workshops this year – from Mobilefest in Sao Paolo (Brasil) and at the 'Your Map is Not My Map' workshop at Arteleku, San Sebastian (Spain) in September, to the Artemov festival in Belo Horizonte (Brasil) in November.
http://www.mobilefest.org
http://www.artemov.net
http://www.arteleku.net
~~~~~~~~~~~~~~~~~~~~~~~~~
RECENT ACTIVITIES
New Cultural Snapshot: Cultivating Research
Sarah Thelwall's Troubadour Study for the Creator Research Cluster, "Cultivating Research : articulating value in arts and academic collaborations" is now available to download:
http://proboscis.org.uk/1245/cultural-snapshot-16/
Jump In Workshop, The Rookery, London
Proboscis, Sarah Thelwall and Tim Jon (Solar Associates) hosted a one day workshop with about 20 participants from small arts organisations exploring possible routes to, and reasons for, acquiring Independent Research Organisation status. The workshop was the final activity of the Creator Research Cluster (funded by the EPSRC as part of the Digital Economy programme), of which Proboscis was a founder member
http://proboscis.org.uk/1005/jump-in-workshop/
Being in Common : Catalogue of Ideas
Proboscis has published a special artists bookwork to accompany our Being in Common commission for Gunpowder Park. The catalogue, a deck of cards, is a playful exploration of 'common space' drawing together fragments and ideas from across the project, to be played with, read individually or assembled into narratives and stories making unexpected connections and perspectives. The catalogue is available to buy for £10 (inc. shipping) from our online shop.
http://proboscis.org.uk/987/catalogue-of-ideas/
StoryCube prices 25% lower than 2008
StoryCube packs are now an average 25% lower than in 2008 – making them an even more delectable a tool for workshops and storytelling projects:
http://proboscis.org.uk/store.html#storycubes
Diffusion Generator – update on progress
As part of our Technology Strategy Board Feasibility Study, we have completely re-engineered the Diffusion Generator. Thanks to our development team (technical advisor Stefan Kueppers and coders Simon Whiteside & Yasir Assam) the new Generator supports offline content creation; landscape as well as portrait eBooks; both long and short edge version of the Diffusion eBook binding; double and single sided StoryCubes; multiple languages (including many non-Roman alphabets); right-to-left languages (Arabic etc); and can accept CSS-styled XHTML as content. We are building a new website to access it this summer and hope to invite individuals and organisations to test it out as the year progresses. Please contact us for more details.
http://diffusion.org.uk/?page_id=4
Paralelo, Sao Paulo, Brasil
Proboscis took part in the Paralelo event hosted by the British Council Brasil, MIS-Museum of Image and Sound and Centro Cultural de Sao Paulo. We helped with the event facilitation, running two social mapping workshops and designing a special Paralelo Diffusion eNotebook for participants to capture and share ideas, reflections and information.
http://paralelo.wikidot.com/
New Diffusion Titles
Dope smuggling, LSD, organised crime & the law in 1960s London by Stewart Home – http://diffusion.org.uk/?p=1205
The 36 Stratagems by anonymous – http://diffusion.org.uk/?p=1192
Would be Disciplined by Tony White – http://diffusion.org.uk/?p=1178
iStreetLab by mongrelStreet – http://diffusion.org.uk/?p=1148
Dodolab StoryCube by Giles Lane – http://diffusion.org.uk/?p=1118
Hard Hearted Hannah: Classics from Nowhere by Cartoon de Salvo – http://diffusion.org.uk/?p=1104
Hard Hearted Hannah: the world of the Strange and Bizarre by Cartoon de Salvo – http://diffusion.org.uk/?p=1107
On The Death Of Julia Callan-Thompson by Stewart Home – http://diffusion.org.uk/?p=1083
H2O by Alejandra Canales, Anne Ransquin and Juan F. Salazar – http://diffusion.org.uk/?p=1070
The Anatomy of the Horse by George Stubbs – http://diffusion.org.uk/?p=1062
Measure Once, Cut Twice : a case study of Snout by Frederik Lesage – http://diffusion.org.uk/?p=1054
Bourriaud's 'Altermodern' – an eclectic mix of bullshit and bad taste by Stewart Home – http://diffusion.org.uk/?p=1049
Tweetomes : some epithets on practices of pithy exchange by Giles Lane – http://diffusion.org.uk/?p=1025
The minimal compact by Adam Greenfield – http://diffusion.org.uk/?p=1012
The Tongue Conceals Time by Shae Davidson – http://diffusion.org.uk/?p=1000
Click This? MySpace & the Pornography of Corporately Controlled Virtual Life by Stewart Home – http://diffusion.org.uk/?p=993
March 2, 2009 by Giles Lane · 3 Comments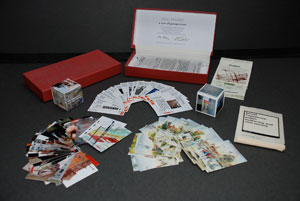 Proboscis is proud to announce the publication of A Case of Perspectives – a limited edition artists bookwork by Alice Angus and Giles Lane, created as part of Social Tapestries. The bookwork contains a series of designed as well as handmade artefacts inspired by and responding to our experiences in the Social Tapestries programme of projects. 63 Tapestry cards are organised into 3 groups – 21 Endless Landscapes, 21 project photos and 21 Urban Tapestries mobile phone interface screenshots – the reverse sides printed with sections from a map of Urban Tapestries threads and pockets. Also enclosed are 2 StoryCubes, 1 containing images upload by UT trial participants and the other representing 6 principles of public authoring. A copy of the Atlas of Enquiry and a handmade eBook presenting an overview of the Social Tapestries research programme complete the box.
Numbers 1-21 will be sold complete with an unframed original watercolour painting of one of the Endless Landscape panels by Alice Angus. Price – £200 + shipping. Please contact us for more details.
Numbers 22-190 are available to buy online price – £40 + shipping.
January 19, 2009 by Giles Lane · Comments Off on Diffusion Residency – Marie-Anne Mancio
Writer and academic Marie-Anne Mancio is one of our Spring 2009 Diffusion Residents. She will be creating an 'encyclopedia' of eBooks about the 1970s performance group, The Theatre of Mistakes.
Follow Marie-Anne's publications in the Residencies Series.
November 27, 2008 by Giles Lane · Comments Off on Diffusion Residency – Stewart Home
Artist and writer Stewart Home will be in residence at Proboscis in December and January 2008 creating a series of eBooks using the Diffusion Generator.
Read more here.
The eBooks
November 27, 2008 by Giles Lane · Comments Off on Diffusion Residency – Alex Murdoch
Alex Murdoch, founder and director of Cartoon de Salvo, one of the UK's most dynamic improvised theatre company's, is in residency at Proboscis in Autumn 2008. Alex is creating a series of eBooks inspired by the stories Cartoon de Salvo created during their UK tour of Hard Hearted Hannah in Spring 2008. The show was a ground-breaking long-form inprovisation where, each night, the audience provided the cast with the title of the night's show which was then improvised. Over 50 shows and stories were created, which are being collated and illustrated by Alex as part of her Diffusion Residency.
Follow Alex's publications in the Residencies Series.
November 3, 2008 by Giles Lane · 1 Comment
In February 2008 Proboscis were resident with ICE (Information and Cultural Exchange) in Western Sydney, Australia. We collaborated with ICE and the British Council Australia to run a workshop and exchange labs over 3 weeks with a group of 15 creative practitioners from local communities. The project grew out of connections we made with ICE during the Coding Cultures project by d/Lux/MediaArts in Australia in 2007.
Through a series of intensive workshops, Proboscis explored approaches to creatively transforming cities and shared techniques with the Western Sydney artists, who in turn had the opportunity to develop projects. Members of the wider arts community participated in half-day Exchange Labs and a public symposium. Lattice addressed the ways culturally diverse communities engage with their environment and considered; what happens when people come to a city? What knowledge is lost, or gained? What are the impacts of emerging new identities on cities?
Team: Alice Angus, Giles Lane & Orlagh Woods
Participants: David Capra, Ali Kadhim, Sanez Fatouhi and Amin Palagni, Ben Hoh, Tiffany Lee-Shoy, Fatima Mawas, Ben Nitiva, Matt Huynh, Tak Tran and Tina Tran of Popperbox, Denis Asif Sado, Trey Thomas, Maria Tran, Todd Williams and Kasama Yamtree.
Partners: ICE (Information & Communication Exchange)
Funded by the British Council as part of the Council's Creative Cities East Asia initiative
with additional support from Foundation for Young Australians (Youth Digital Cultures Project) and support from the AMWU.
November 3, 2008 by Giles Lane · 2 Comments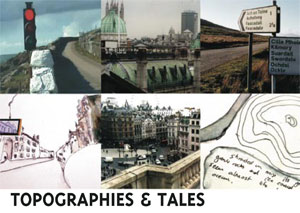 Topographies & Tales is about the relationship between people, language, identity and place, revealing personal stories against the larger picture of how our concept of space and environment is shaped by "belonging" and "nationhood", and how boundaries, barriers and borders come to be formed.
It has included short films, essays, nine Diffusion eBooks, a Creative Lab in London and events in Dawson City, Canada and is underpinning a new body of work exploring peoples relationship to water called At The Waters Edge.
Topographies and Tales is based around a body of work that Alice Angus has been creating in collaboration with Joyce Majiski exploring the perceptions of landscape and of the North.  It is driven by interests in ideas of proximity and remoteness, technology and presence, and the concept of 'wilderness' against the lived experience of a place. The works are a personal exploration of the intimate way people form relationships with their environments. They are underpinned by an exploration of how the technologies of travel and communication impact on a sense of time, from the coming of the railroad to the 'new' world of data and communications: our perceptions of geography are affected not just by knowledge, but by the way it is mediated. Beginning in the winter of 2001 Alice took the railroad across Canada, from east to west, against the historic flow, creating the film, Near Real Time. Then, in 2003, Alice participated in the first Parks Canada residency in Ivvavik National Park in the Northern Yukon. She began a collaboration there with guide Joyce Majiski which took them to Glenmore Lodge in the Cairngorms, Scotland in 2004 and Klondike Institute for Art and Culture in Dawson City, Canada in 2005 for their short film Topographies and Tales 2009.
Films:
Topographies and Tales 2009 (12.52 min)
Topographies and Tales, 2009 (excerpts 5.30min)
Using music, oral recordings, drawing, animation and storytelling to playfully unearth local and personal stories, memories and myths against a picture of how concepts of space and environment are shaped by ideas of belonging and home. A personal exploration of the intimate way people form relationships with their environments combining animation and live documentary footage, Topographies and Tales takes a meandering journey through the myths and perceptions the filmmakers encountered on their journeys in the west of Scotland and the Yukon.
Near Real Time: Sketch of a Journey, 2002 (4min)
In the winter of 2001 Alice took the railroad across Canada, from east to west, against the historic flow.
Writings:
Near Real Time By Alice Angus, following the railroad East to West across Canada
Landscapes in Dialogue by Alice Angus, thoughts inspired by the Artists in the Park residency, Ivvavik National Park, Yukon
A Diffusion eBook series, Topographies and Tales, contains nine eBooks by Alice Angus and Joyce Majiski created as a result of the project.
At The Waters Edge with Joyce Majiski and Alice Angus
The first in a new a series of eBooks growing out of Topographies and Tales. At The Waters Edge are water based investigations exploring different perspectives of what it means to care for the environment and how it can affect the way in which water environments are managed and cared for.
Topographies and Tales website.
Team: Alice Angus, Giles Lane, Orlagh Woods (2004-09).
November 3, 2008 by Giles Lane · Leave a Comment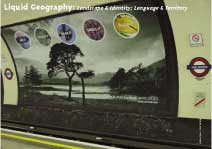 A series of workshops and artists eBook commissions held in 2002 at Iniva.
LILT resulted in a Diffusion eBook series, Liquid Geography, commissioned and edited by Alice Angus between 2002-06. Contributors included: Mohini Chandra, Gair Dunlop, Roshini Kempadoo, Andy Pratt, Joyce Majiski, Kate Foster & Hayden Lorimer, Loren Chasse, Louise K Wilson, Jim Harold, David Key, Kathryn Yusoff and John Schofield.
Team: Alice Angus & Giles Lane
Partners: Iniva
November 3, 2008 by Giles Lane · 3 Comments
Diffusion is the downloadable book format developed by Proboscis in 1999. Since then it has become one of our key tools for research and public engagement, as well as a platform for commissioning new writing and artists books. The design schematics were published in 2001 for anyone to use for their own purposes.
In 2003 Proboscis began developing an online web application, Diffusion Generator, to enable people without graphic design skills or access to professional DTP software to create their own eBooks and StoryCubes. The Generator was operational from November 2006 until August 2009 and used for a programme of Case Studies and Residencies at Proboscis for artists, writers, curators and community development workers.
In late 2008 Proboscis received funding from the Technology Strategy Board to develop an API for third party websites to use its services. In September 2009 we subsequently launched the bookleteer public authoring/self-publishing platform.
The Diffusion website hosts hundreds of published eBooks and StoryCubes – from September 2012 it is maintained as an archive site with all new publications being shared directly through bookleteer's public library and curated by Proboscis pages.
Team :
Funded by Collaborative Arts Unit, Arts Council England; Technology Strategy Board
August 25, 2008 by Giles Lane · Comments Off on Diffusion Residency – Matt Huynh
Comic artist and illustrator Matt Huynh from Sydney Australia was resident at Proboscis studio in August 2008, playing with the Diffusion formats and creating several eBooks. Matt won the inaugural Design NSW Travelling Scholarship in 2008.
Read more about Matt's Residency here.
August 5, 2008 by Giles Lane · Comments Off on Diffusion Residency – Lisa Hunter
Curator Lisa Hunter of Dundas Museum and Archive spent a week at Proboscis studio in July 2008 exploring uses of the Diffusion eBooks and StoryCubes in a museum context.
Read Lisa's comments on her residency here.
June 20, 2008 by Giles Lane · 1 Comment
Proboscis were commissioned by the Manchester Beacon Project and Just-b Productions to design and facilitate a StoryCubes Workshop as part of developing a brief for commissioning an online 'public engagement tool'.
Read more about the workshop and view it outcomes here.
Participants:
Katz Kiely, Giles Lane, Karen Martin, Erinma Ochu, Rob Annable, Geoff Laycock, Constance Fleuriot, Lewis Sykes, Maria Stukoff, John Wetheral, Dom Raban, David Fernandez-Dias, Tim Riches, Martyn Amos, Marjahan Begum, Toby Howard, Andrew Wilson, Onno Baudouin and Dwayne Brandy.
Team: Giles Lane and Karen Martin
April 5, 2008 by Giles Lane · Comments Off on Diffusion Shareables

Diffusion Shareables from Proboscis on Vimeo.
An excerpt about the Diffusion Shareables from Proboscis' 'Play to Invent' film (April 2008).
April 5, 2008 by Giles Lane · Comments Off on Play to Invent

Play to Invent from Proboscis on Vimeo.
A playful exploration of Proboscis and some of its projects, tools and techniques.
Created by Alice Angus, Giles Lane, Orlagh Woods and Karen Martin (April 2008). 
Music by Peoplelikeus.
September 15, 2006 by Giles Lane · Comments Off on Everyday Archaeology Report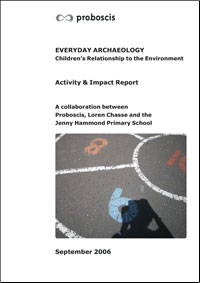 Social Tapestries Everyday Archaeology Report (September 2006)