August 25, 2010 by hazemtagiuri · Comments Off on Graffito at Vintage Festival
Last week, I got a chance to help out the Graffito crew with their installation at the Vintage at Goodwood festival, in Chichester. This was the festivals first year, set up by Wayne and Geraldine Hemingway, along with other curators, to celebrate five decades of British music and culture. The Graffito installation was in the 80s Warehouse area, a mock abandoned industrial Warehouse; an ode to the 80s rave and acid house scene. A huge digital LED screen was linked to a handful of iPhones with the Graffito app installed, (the app was also available to download for free from the Apple apps store, the first taker being a very persistent and enthusiastic kid) which we handed out to various people to try out, their collaborative doodles instantly appearing on the screen.
The effect was amazing, and it took me a while to actually surrender the iPhones in my care to eager festival goers. When night beckoned, and the music from the amazing sound-system became more intense, the screen became trance inducing, and people got really involved. After capturing some of the more interesting screen shots, we compiled them in a blank eBook sketchbook, handily designed and provided by Giles, to chronicle the event. We also made StoryCubes with the Graffito logo and instructions on how to download the app, and left them around the arena. The Graffito crew are looking to do similar events in the future, so keep an eye out – hopefully I'll be there hogging the iPhones once again.
Gallery: (click to enlarge)
August 13, 2010 by Giles Lane · Comments Off on Karine Dorset : Placement Report 2010
Communications Assistant, bookleteer
(5 Month Placement, Future Jobs Fund March-August 2010)
I first heard about Proboscis through the Islington Council. It was part of a job search placement by the Job Centre called FJF (Future Jobs Fund). I believed I was applying for an admin position and was happy to get a Communications Assistant position instead. I previously went to college to study for Professional Chef Certificates and left with the NVQs. Generally I worked in that field for a while.
Originally my interests in Proboscis was to try a change of career choice, but quickly it became about being creative, wanting to work on projects and workshops and generally communicating with the public. Working at Proboscis I was involved in a workshop once a week for a period of 8 weeks with a women named Sally Labern on a project called the drawing shed. I was asked to take part in this workshop to show the community of Walthamstow's YMCA how to use Proboscis' Bookleteer website and create their own eBooks. There was a project I worked on called 7 Dials in 7 Days, based in the heart of Covent Garden. I spent 5 days researching, collecting and observing the main area. At the end of the project, I produces an eBook called 'The Alternative Whistle-stop West End Culture Quarter Tour' on the experience and the cultural attractions. I also brainstormed, designed and created my own series of eBooks and StoryCubes.
Working at Proboscis, I have learned how to use new types of software and applications like NeoOffice and a Sketch light. I have gained more experience in communicating and designing. After six months at Proboscis I have got in touch with my creative side. Throughout this placement I've always felt comfortable and able to express my self, which made the job easier and more inviting. Working here has made me realise that I want to pursue a career that involves working more with people, mainly children/teenagers. I now have more confidence in myself and my abilities to learn new things and follow my own initiative.
Karine Dorset, August 2010
August 6, 2010 by aliceangus · 1 Comment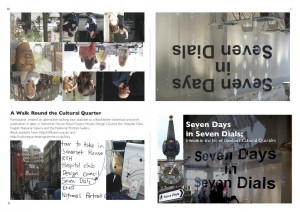 August 5, 2010 by mandytang · Comments Off on Mandy Tang : Working At Proboscis – First Impressions
Hi all! I am Mandy, one of the creative assistants who just joined recently. I am a junior concept artist who have previously worked on iPhone games and is seeking new challenges in the field of creative arts as I work on my portfolio. With my artistic background, I've been assisting in the Sensory Threads project so far and have had a go at creating my own storycube and ebook with Bookleteer.
From the first two weeks of working with Proboscis I can confidently say that it has been very enjoyable. When I first stepped into the building I questioned the dark lighting and the long flights of stairs, but the studio proved otherwise. As a junior artist, being surrounded by art equipment and technology can easily be compared to taking a child to the toy store.
The studio located in the attic of the building had great lighting, the angled ceilings and structure of the room gave off a unique feeling. Everywhere you look you will find assets used for previous projects and interesting objects hidden away to save space. It may look like organised mess to others, but I find that each object no matter the size has a story – what it was used for, where did it come from, how long its been there. Every day I find myself noticing something new and just wonder about the story behind it.
The working environment in Proboscis is very laid back and comfortable, I get to do what I enjoy most and with people who are very friendly and are creative themselves. I am particularly inspired by the work in which Giles and Alice do, and admire them in creating an organisation which keeps growing and reaching out to others. The number of clients that come to the studio for meetings makes me realise how much they take part in various projects and it makes me nervous thinking I will be assisting Giles and Alice with these projects.
Giles and Alice as my boss give good guidance and I believe working with them will really help me to define myself as a junior artist, I hope after this placement I will gain valuable experience and participated in various projects. I hope to have explored a different side to creative arts and use this knowledge to refine my own work and portfolio.
I also discovered the source of everyone's energy in the studio is alot of coffee… or tea *grin* I look forward to the upcoming projects in which I will be assisting with, and will do my best to be a team player.
August 4, 2010 by hazemtagiuri · 1 Comment
Hello, Haz here. I've been asked by Giles and Alice to write about my first impressions of Proboscis and my experience of working here as a Creative Assistant for the last fortnight, under the Future Job Funds placement scheme. I was fortunate enough to get a placement just as the scheme was ending, and it's a welcome opportunity after an otherwise unproductive year for me, an opportunity where creativity is a crucial part of my role, and something to be celebrated, rather than suppressed, as in previous job experiences.
As would be the case for many other young people in Future Job Fund placements like this, I have no prior education or experience in the arts, only a recreational passion. Any initial trepidation has been eased by the focus on existing strengths and interests (for me, literary) and a comfortable, relaxed environment to get familiar with Bookleteer, by creating eBooks and StoryCubes of my own. The studio, and the surrounding architecture of Clerkenwell, with its rich history, is inspiring. This was the basis for my first StoryCube, a simple photocube of historic buildings. Simple, because my initial idea, a 3D model of Smithfield market made using multiple StoryCubes, was a tad too ambitious for my first attempt, alas.
My eBook was a very slight portfolio of poems, which led me to start thinking about how Bookleteer could be a useful tool when creating zines (small circulation publications) and inspiring people to create their own through its simplicity. I'll be exploring this during my time at Proboscis and sharing any interesting ideas and creations I've found from the zine scene on the Bookleteer blog, hopefully even attending some zine fair's with a on-site Bookleteer workshop and writing about the experience.