June 23, 2011 by radhikapatel · Comments Off on Final impressions – Radhika Patel
Marketing Assistant
(6 Month Placement, Future Jobs Fund November 2010-April 2011)
The past six months have absolutely flown by! Now that I have come to the end of my placement here at Proboscis, I thought I'd take a look back at my time here.
I have been fortunate enough to be involved in quite a few projects in the past six months. As I mentioned in my previous posts, I started off by launching the StoryCube website and have continued to blog weekly on different uses for the StoryCubes as well as including a feature post series about selected StoryCube sets. As I became a more confident blogger, I also started to blog on the Bookleteer blog about the different uses and recently moved onto blogging about my love of fashion and photography with publishing.
Taking part in Mandy's Outside the Box project was great fun as all the team members got involved. I was mainly involved in the brainstorming part, thinking of different suggestions of ways the game can be played, as well as coming up with numerous words for one of the layers of the game.
I also got to do some photography (unexpectedly) in the studio, usually for documentation purposes. This led onto doing the photography for Alice at the 50's Fashion Exhibition, which was a great experience, as I have not done something like that before, but would love to continue doing it. The teaching I got from Alice and Giles about using the SLR and photography has been much more effective than any class I have attended. Thank you!
Alongside this, I have been involved in the 're-vamp' of the Pitch Up & Publish sessions; trying to attract a younger demographic on a frequent basis. This is where I was really able to let me creative side run wild, creating slogans and writing copy, which I love doing. This is something I also want to pursue in the future – copywriting.
The placement has been helpful on a personal development level as well as career wise. This was a totally different sector for me to work in, and was quite challenging being put in an unfamiliar environment. However it enabled me to experience and learn new things, which I would not have if I wasn't offered the, placement, such as the arts and culture sector.
My time at Proboscis has been great and have been lucky enough to be kept on for a few more months.
December 16, 2010 by hazemtagiuri · Comments Off on Second Impressions – Hazem Tagiuri
Hello again. Since writing about my initial experiences of working at Proboscis, I've been working on various projects, primarily with bookleteer and the blog. Contributing regularly since Karen Martin sadly left us, I've been continuing to look at zine culture, and recently highlighting interesting uses of bookleteer in the Diffusion archive. Blogging several times a week has helped me develop a work ethic in regards to writing, something I was struggling with before joining Proboscis.
Giles and I also launched a new platform for collaborative publishing – our Pitch In & Publish: City As Material series of events. The fifth, and final, event "Sonic Geographies" was last Friday, having being held fortnightly since the 15th of October. Developing the format and planning the entire series was an exciting process, and having an integral role in the creation and running of it was a prestige. Being able to trace it's inspiration from my early work with zines (the idea born from one day zine-making events), to what we plan to accomplish with future Pitch In & Publish series, gives me confidence to be able to create new long term projects.
A definite highlight of my role is having the chance to sit in on creative meetings, listening to established figure's ideas whilst observing their ways of working, as well as giving input myself. The enthusiasm that results from open-minded thinking and the visualisation of possible concepts, is hard to match.
Several new team members have also joined us – Radhika, Christina and Moin. Their arrival has certainly brought a surge of activity into the studio, enabling us to work together on projects and gain new insights from other backgrounds.
Lastly, I have to thank Giles and Alice for giving me to opportunity to be here (particularly in this turbulent employment climate), as well as New Deal Of The Mind, whose work to find roles for young people in creative industries is invaluable.
December 15, 2010 by mandytang · Comments Off on Second Impressions – Mandy Tang
Wow, it's already time for me to write about my second impressions huh? If you're wondering, it's Mandy here! I started in July as a Creative Assistant for Proboscis, it's been five months already!! Where did all the time go?! (laughs)
It's been pretty busy during these five months, Giles and Alice have been cracking the whip to keep me busy working (T_T). Just kidding haha. They've been great fun, and most generous when offering advice and enlightening me with their knowledge, it always leaves me in awe with the amount of things they know.
Also, there has been more placements on board! Christina and Radhika are such lovely people, they both have a great sense of humour, easy to talk to and are always offering to help when it seems like I have too much going on (laughs). Oh and Moin; our programmer, joined just recently too! As for Haz… he's been picking on me since day one!! that aside, he offers me assistance and I've enjoyed his blog posts and look forward to his future posts. Thanks guys for your help and support!
During the past few months I have been working on various projects. The first being Tangled Threads, then my current project Outside The Box and offering assistance here and there with City As Material.
Throughout these projects I sincerely thank Giles and Alice for trusting me with creating work without any pressure and just allowing me to carry out the projects to the best of my ability whilst offering kind encouragements. I tend to get carried away with trying to perfect everything so I thank you both for your patience and apologise for the delays!
If you remember reading my first impressions, I mentioned the many different assets in the studio either tucked away or on display and wondering about the story behind them… well… I've joined in with my own clutter! I've made so many Story Cubes I can build a fortress! Soon I'll have enough to make a draw bridge to go with it (laughs).
It's been really fun so far and I've learnt a great deal from Giles and Alice. I'll do my best to fulfil my role and create work which others will enjoy! Have a great Christmas everyone!
December 13, 2010 by christinawanambwa · Comments Off on Christina Wanambwa – First Impressions of Working at Proboscis
Hi! My name is Christina and I've been asked to write a blog about my first impressions of working here at Proboscis. I joined the team last month as an Education Assistant and will be working on various projects, but mainly on education based projects, such as our new partnership with Soho Parish Primary school. Though I've previously worked with children in schools, refugee and immigration centres in the past, I've never worked with children on creative projects that combine art with publishing, and jumped at the opportunity to do so.
The Proboscis studio is located in Central London's Clerkenwell, surrounded by shops, cafe's, markets, and great transport links. The studio itself is spacious, bright, colourful, and filled with eBooks, StoryCubes, and a range of different artistic pieces from previous projects, which all help to create a laid back and inspirational work environment. The people at Proboscis have also been very friendly and easy to get along with, and have helped me to feel relaxed and settled here in the studio – (it's also worth mentioning that there is a very interesting looking fake head that sits at the back of the studio, keeping watch over all – a source of inspiration if you ask me!)
For the very short time that I've been working here at Proboscis, I can honestly say that I've already learnt a lot. From how to use different types of software, to writing and making my own eBooks, and contributing to StoryCubes, my time at Proboscis so far has definitely been productive. Working on education projects that include regular visits to schools, site visits to museums and other venues, and a self directed outreach work project, are all parts of this role that I believe with will be just as much educational as they will be enjoyable.
I'm genuinely looking forward to being involved in all aspects of work here at Proboscis, but I'm especially interested in learning as much about the field of education as possible. Working at Proboscis so far has definitely been a fun learning experience, and I'm looking forward to seeing what the rest of my placement brings.
December 13, 2010 by radhikapatel · Comments Off on Radhika Patel – 1st impressions post
Hey, Radhika here, Proboscis's new Marketing and Business Development Assistant. It has been 2 years since I graduated and I felt like landing a job in marketing which I craved so much, was not going to happen any time soon, until I came across Proboscis through the Future Jobs Fund placement. I applied to the role straight away, which I knew was perfect for me and when I got the call saying I had been offered the job, I was over the moon.
I have been at Proboscis just over a month now and really feel apart of the team. Giles and Alice are both welcoming as well as the other placements. As this is my first time working in the arts, which is proving to be an enjoyable experience, I have had the opportunity to learn about new and interesting topics. I find Alice and Giles to be really knowledgeable which is quite inspiring at times, as I have explored areas which I wouldn't have if I wasn't here.
Take the City as Material (Skyline) walk, which occur fortnightly, as an example. This walk has been my favourite so far as I simply love walking around a city (in any country) looking at the architecture. It made me look at London from a whole new perspective, as well as learning interesting facts throughout the day from Giles and the special guest speaker Simon.
I spent my first week getting to know Proboscis, their projects and how to use Bookleteer. Along with Christina, Proboscis's Education Assistant, we both created eBooks (shown below) using Bookleteer – 'Eye Make Up Tips' and 'My London.'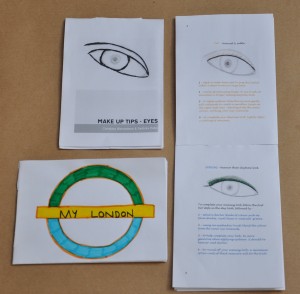 I am still getting the hang of assembling the eBooks, but I am getting quicker and better each time I put one together. 🙂
Currently, I am working on the new StoryCubes website (launching soon), writing posts for various uses of a StoryCube. I've never been a blogger of any sort, so when it came to writing posts I found it difficult to get my head around. However after some guidance from Giles and Alice, I've now got the hang of it and am excited to carry on and write more posts for you all to read and enjoy.
What I like most about working at Proboscis is being able to work on my own projects as well as working with the other placements, helping them with their projects and working as a team. We all get along really well and the atmosphere is really relaxed and laid back which makes working in the studio more fun!
This is just the beginning for my time at Proboscis and even though the four flights of stairs takes it out of me every morning, I am looking forward to see what my forthcoming days here will bring.
December 6, 2010 by Giles Lane · Comments Off on Mandy's guest post on NDotM blog
Mandy recently had a guest post published on New Deal of the Mind's blog where she discusses her experiences of the first few months and the GOALS programme which is offered as part of the placements run through NDotM.
November 4, 2010 by Giles Lane · Comments Off on Welcoming our two new placements
We're delighted to welcome Radhika Patel and Christina Wanambwa to Proboscis who have both joined us this week on six month placements, funded through the government's Future Jobs Fund, in partnership with New Deal of the Mind.
Radhika is joining us as Marketing/Business Development Assistant and will be helping plan and deliver new approaches to marketing our projects, activities and products as well as growing our audiences.
Christina is joining us as Education Assistant and will be working on education and learning projects and partnerships, such as our new collaboration with Soho Parish Primary School.
August 5, 2010 by mandytang · Comments Off on Mandy Tang : Working At Proboscis – First Impressions
Hi all! I am Mandy, one of the creative assistants who just joined recently. I am a junior concept artist who have previously worked on iPhone games and is seeking new challenges in the field of creative arts as I work on my portfolio. With my artistic background, I've been assisting in the Sensory Threads project so far and have had a go at creating my own storycube and ebook with Bookleteer.
From the first two weeks of working with Proboscis I can confidently say that it has been very enjoyable. When I first stepped into the building I questioned the dark lighting and the long flights of stairs, but the studio proved otherwise. As a junior artist, being surrounded by art equipment and technology can easily be compared to taking a child to the toy store.
The studio located in the attic of the building had great lighting, the angled ceilings and structure of the room gave off a unique feeling. Everywhere you look you will find assets used for previous projects and interesting objects hidden away to save space. It may look like organised mess to others, but I find that each object no matter the size has a story – what it was used for, where did it come from, how long its been there. Every day I find myself noticing something new and just wonder about the story behind it.
The working environment in Proboscis is very laid back and comfortable, I get to do what I enjoy most and with people who are very friendly and are creative themselves. I am particularly inspired by the work in which Giles and Alice do, and admire them in creating an organisation which keeps growing and reaching out to others. The number of clients that come to the studio for meetings makes me realise how much they take part in various projects and it makes me nervous thinking I will be assisting Giles and Alice with these projects.
Giles and Alice as my boss give good guidance and I believe working with them will really help me to define myself as a junior artist, I hope after this placement I will gain valuable experience and participated in various projects. I hope to have explored a different side to creative arts and use this knowledge to refine my own work and portfolio.
I also discovered the source of everyone's energy in the studio is alot of coffee… or tea *grin* I look forward to the upcoming projects in which I will be assisting with, and will do my best to be a team player.
August 4, 2010 by hazemtagiuri · 1 Comment
Hello, Haz here. I've been asked by Giles and Alice to write about my first impressions of Proboscis and my experience of working here as a Creative Assistant for the last fortnight, under the Future Job Funds placement scheme. I was fortunate enough to get a placement just as the scheme was ending, and it's a welcome opportunity after an otherwise unproductive year for me, an opportunity where creativity is a crucial part of my role, and something to be celebrated, rather than suppressed, as in previous job experiences.
As would be the case for many other young people in Future Job Fund placements like this, I have no prior education or experience in the arts, only a recreational passion. Any initial trepidation has been eased by the focus on existing strengths and interests (for me, literary) and a comfortable, relaxed environment to get familiar with Bookleteer, by creating eBooks and StoryCubes of my own. The studio, and the surrounding architecture of Clerkenwell, with its rich history, is inspiring. This was the basis for my first StoryCube, a simple photocube of historic buildings. Simple, because my initial idea, a 3D model of Smithfield market made using multiple StoryCubes, was a tad too ambitious for my first attempt, alas.
My eBook was a very slight portfolio of poems, which led me to start thinking about how Bookleteer could be a useful tool when creating zines (small circulation publications) and inspiring people to create their own through its simplicity. I'll be exploring this during my time at Proboscis and sharing any interesting ideas and creations I've found from the zine scene on the Bookleteer blog, hopefully even attending some zine fair's with a on-site Bookleteer workshop and writing about the experience.