February 26, 2010 by Giles Lane · Comments Off on Professional Development Commission: Articulating Futures by Niharika Hariharan
Articulating Futures was a 4 day workshop held at Chinmaya Mission Vidyalaya in New Delhi between the 17th – 20th November, 2009. As a collaboration between narrative designer Niharika Hariharan and Proboscis, the workshop investigated how through innovative thinking young students could be mobilized to voice issues that are important to them.
I had the opportunity of working as an intern and project assistant at Proboscis while I was pursuing my Masters at Central Saint Martins, London in 2008-09. Needless to say, the experience at Proboscis was invaluable, giving me important insights into the various processes of design thinking as well as management.
On completing my course, Proboscis offered me a professional development commission. The commission is granted to emerging young artists and designers to help them kick start a project of their own interest giving them an opportunity to showcase their capabilities to the 'real world'.
Giles Lane and the Proboscis team worked with me through the entire process of my project Articulating Futures right from ideation up until the execution. Proboscis was an important member of the think tank that helped shape this commissioned project. They not only provided me with the required materials to execute the project but also a platform to share and discuss my work with creative practitioners at a global level.
Articulating Futures has been an extremely satisfying project to me as a designer and a thinker. It has allowed me to explore and share my ideas as an emerging professional in the field of art and design. And finally, it has given me the confidence to further pursue, lead and manage projects and ideas. Needless to say these are all desired and necessary skills for a future creative practitioner working in the industry.
Post the completion of my education in London, this Professional Development Commission by Proboscis was an ideal platform for me to progress towards a career in the field of art and design.
Niharika Hariharan
February 2010
view/download the Hindi/English eNotebooks
download the Project Report PDF 2.1Mb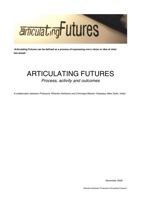 February 25, 2010 by aliceangus · 3 Comments
There are no fences here … when you go out of town there are no fences, but I wouldn't call this a wilderness because peoples homes are here, people live here.
This week I've been packing up a set of drawings to send out to the Canadian arctic town of Inuvik for the first leg of a touring show during the the 25 year anniversary of Ivvavik National Park in Canada which was created by a historic Aboriginal land claim settlement The Inuvialuit Final Agreement, signed in 1984. In it the Inuvialuit agreed to give up exclusive use of their ancestral lands in exchange for guaranteed rights from the Government of Canada. The rights came in three forms: land, wildlife management and money. (read more on the Inuvaliuit Regional Corporation). As a result Parks Canada and the Inuvialuit co-operatively manage Ivvavik National Park with the Inuvaluit Wisdom that the "The land will protect the people who support the protect the land". Parks Canada has organised a touring exhibition of work from their Artist in The Park programme which I was invited to be part of by artist Joyce Majiski, in 2003 with whom Ive been working with since them on projects such as  Topographies and Tales.
Middle of Nowhere?
Bordered on the north by the Beaufort Sea and Alaska on the West, Ivvavik  sits at the north western tip of Canada. A highly biodiverse region of the Western Arctic, its Inuvaluktun name 'Ivvavik' means nursery or place of giving birth. It is a portion of the calving grounds and migration route of the Porcupine caribou herd and forms a part of the Beringia Refugium; an area untouched by the last glaciation where an ice-free bridge allowed humans and animals to migrate from Asia into North America over twenty thousand years ago.
In summer 2003 I met up with artists Joyce Majiski  Ron Felix, Audrea Wulf and James Ruben, guide Mervyn Joe and elder Sarah Dillon and flew out of Inuvik, across the Mackenzie Delta towards Sheep Creek. From the air (and in the imaginations of the temperate zone) the arctic taiga and tundra, is a frozen desert. But landing at the junction of Sheep Creek and the Firth River we saw tussocks of wild flowers, embroidered cushions with succulent jewel like plants, luminescent mosses and ferns; miniature gardens of Babylon. Out on the land there were larger traces of life and stories of trappers, miners, hunters and travelers. The language of the north I grew up with paints an image of bleakness, but there the myths of desolation fell away.
"Have good time miles from nowhere!" someone had said before I set off. In the world's 'wildernesses' like Ivvavik it is easy for a visitor to be lost in such a reverie of wonder at landscape that you miss the lives and culture that are part of it. There is a disjuncture between the notion of wilderness as barren, by definition disconnected from the social, and the view of land as homeland, a social place of culture, food and everyday life. To many outside the north the Arctic is still shrouded in an aura of romanticism portrayed, as it has been through the history of polar exploration, as a landscape of sublime desolation. To some, I expect, it's not a place but an imaginary landscape far away from their everyday lives.  I wonder what is the global consequence of this enduring vision of the land?
One day we see five caribou. Pregnant cows lead the herd from Ivvavik into the calving grounds in the Alaska National Wildlife Refuge (ANWR); an area rich in oil reserves. So important are the grounds the Gwitchin people refer to them as the "sacred place where life begins". If the ANWR is opened for drilling many people believe it will result in untold damage to the herd and the people whose lives and traditions depend on it.
You can read more in Landscapes in Dialogue and in the Diffusion eBook series, Topographies and Tales.
February 15, 2010 by Giles Lane · Comments Off on Sensory Threads: new developments
Over the past few months we have been developing new wearables and improvements to the Rumbler for Sensory Threads, which we successfully tested working together last week. The new wearables are based on Arduino and use XBee for communication, and the Rumbler now has multiple map selection, replay and printing (on the Rumbler's attached micro-printer) of specific expeditions.
In the coming months we are planning to conduct a series of experimental expeditions through London to test the platform and build up a repertoire of expeditions for the Rumbler to replay. We will also be exploring building more portable versions of the Rumbler to make it easier to present at conferences and festivals.
February 9, 2010 by aliceangus · 3 Comments
I went to the Birmingham Total Place summit last week with the specially commissioned cubes and illustrations Orlagh and I had made for the Early Intervention Project, in response to conversations with parents, carers and workers. They revealed some of the difficulties faced by children and their families and the often very intense frustrations they have in accessing support or working with local services. Proboscis was commissioned through educator and organisational consultant Lesley Cramman, who was facilitating the strand on Early Intervention and we were all driven, in making these, to bring the everyday voices of families, parents and carers into the event. Total Place is a government initiative to look at how a 'whole area' approach to public services can lead to better services at less cost.
The event, hosted by BeBirmingham drew a much more varied crowd than I had expected and most people I spoke to expressed real concern and care about their communities and neighbourhoods. However its hard not to be just a little bit skeptical about the ability of Local Government to open up to new ways of thinking and working, despite the obvious commitment, imagination, skills and passions of many of the people I met who work in it. I had some moving and inspiring conversations with a group discussing how to make meaningful connections between the Local Authority and neighbourhoods and how to improve democratic engagement. I hope that the ideas of these people are present in the decisions that come out of Total Place and that the "better services"  can lead before the "reduced costs". I'd love to see  staff being allowed to take risks to effect changes and be supported to have more time to talk with and listen to the people and communities they work with and for.
February 8, 2010 by aliceangus · 2 Comments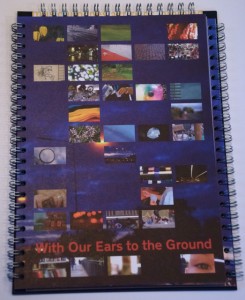 We have just received the first bound copy of our publication for With Our Ears to the Ground; a project by Proboscis commissioned by Green Heart Partnership with Hertfordshire County Council to explore peoples ideas about community. The project focused on four very different types of community in order to get a broad range of opinions across the county.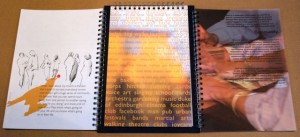 I'm really excited to see the final version and especially happy with the middle tracing paper insert of scenes and people Orlagh and I encountered during the project. The book draws together the multiple layers of ideas and experiences we found across the different communities we met in Watford, Stevenage, North Herts and  Broxbourne and it is designed to reflect the many ideas and voices we encountered. It is organised in the six themes of Transport, Movement, Listening, Community, Getting Involved and Perceptions the emerged during the project. The book contains drawings, photographs, quotes and writings. It can be read in any direction and you can interweave the pages of the three sections  as you read, to find new perspectives.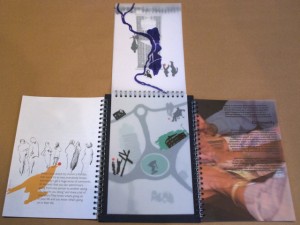 The With Our Ears to the Ground book, will go to selected libraries in Hertfordshire. The publication draws together the multiple layers of ideas and experiences we found across different communities and it is designed to reflect those ideas and voices.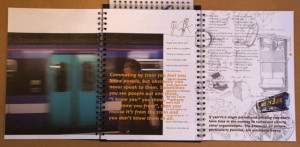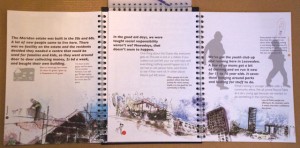 We have a small number of copies please contact us if you would like to acquire one.
We have also published the main chapters as Diffusion eBooks –  books to download print and make up published using Bookleteer.  Booklets to make, carry in your pocket, browse in your own time, rather than read on screen. You can download them here.
February 7, 2010 by aliceangus · 4 Comments
Last week I was lucky enough to be asked to spend a few days drawing Granville Arcade/Brixton Village, on the first leg of artistsandmakers.com Empty Shops Network Tour to six towns across England, created by artist Dan Thompson.
I joined Dan, Jan Williams (Caravan Gallery),  Steve Bomford and podcaster Richard Vobes, for lively discussion and to create new work on site for an all day event on the Saturday, you can hear Richard Vobes podcasts of about the project here.
Its been a while since I had the chance to stay in one place for a few days drawing, talking to stallholders and getting to scratch a little below the surface, seeing the flows of life. This year we've (Proboscis) been involved in several projects that have looked at the issue of common space and how its changing alongside the implications of huge shopping malls, department stores and the privatisation of public space.  It was a real pleasure to be in a place where the character of it is created by the people using it to trade and to socialise. There was an almost constant sound of conversation, laughter and music and the smells of all the food being cooked or sold.
Exploring empty shops is about celebrating local distinctiveness and the project will also show local communities how to use empty shops for meanwhile projects. Each project will last less than a week from start to finish and Dan makes a very open space for artists to follow their interests. Each week will involve public meetings, informal training for local artists, and showcase the tools needed to run empty shops projects.
The tour has been organised by the Empty Shops Network, with the first event happening just a week after the project was conceived at a meeting of organisations involved in bringing empty shops and spaces into meanwhile use.
The tour is supported by the Meanwhile Project, and the Brixton event is using a space provided by the Space Makers Agency. After Brixton, the Empty Shops Network project will visit five further towns, with dates in Shoreham by Sea, Coventry, Cumbria and Durham to be confirmed in coming weeks. See artistandmakers.com for details.
You can see more images from the Brixton week here.
Jan, Dan and Steve.
Steve and Terry – the butcher – in front of the pictures Steve and Jan took during the week.