September 21, 2010 by aliceangus · 5 Comments
Earlier this year I was asked by artist Dan Thompson of Revolutionary Arts Group and www.artistsandmakers.com to create new work inspired by Worthing Pier for the tremendous Worthing Pier Day and the Made in Worthing Festival.
I recommend a visit to Worthing Pier, its not the longest or the oldest but in its fabulous streamlined charm it has all the hope of the future. When the wind blows you feel it might break loose and sail off, past the kite surfers, windsurfers and yachts, beyond the lifeboat men and fishing boats and way on out over the misty horizon and over the high seas.
I think Dan just wanted a couple of drawings but after getting the chance to explore the Pier and get to know it better I got carried away by the stories I discovered and set out to make a new series of works on paper and an animation. I'm interested in our relationship to water and how it is changing;- the life above and below the pier, in and out of the water, the characters of seaside entertainment, the ghosts of past fishermen, sailors and boatmen, all the tall tales of the sea, the lore of tides and weather, the survival of coastal communities and the feat of the engineering of the pier.
I made some visits to the Pier to explore it above and below, at low tide and high tide, walking, swimming, in a kayak… I thought very much about the icon of the pier and its visibility all along the coast. I found so many intertwined stories of lives lived, and lives imagined around the pier and decided to make a series of 100 views of the pier, partly inspired by  Tsukioka Yoshitoshi's legendary 100 Views of the Moon published in 1885.  The views incorporated characters from legends as well as real life.
Around 40 of my 100 Views of the Pier were installed temporarily on the Pier in September for Pier Day and the festival the remaining ones will eventually be published via Bookleteer.com and launched alongside a short film I'm working on of my explorations above and below deck.
September 20, 2010 by mandytang · 2 Comments
Tangled Threads consists of a storyboard in the form of a Diffusion eBook, that reflects upon the different projects and aspects to which Proboscis has delved into. You can download a copy of the eBook here: http://diffusion.org.uk/?p=2171
My task was to create a storyboard using only the text Karen had scripted. With her words I had to create a series of fast sketches within a short time frame, jotting down the first visual that came to mind. It was later decided that the finished storyboard was to be presented in the form of an eBook, as a counterpart for a new Proboscis film that will be presented as part of a Leonardo/MIT mobile digital exhibition curated by Jeremy Hight.
This was my first time creating a full scale storyboard, but it was also my first time adjusting it to an eBook format. It encouraged me to use different panels and discard frames which can be reduced to one panel. I am also glad it became an eBook because it would have been a real shame if others could not see the impressive text Karen had written.
The most challenging part of this project was the initial sketches: being asked to do fast speed sketching within a time limit. This method made me stay focused and avoid swaying off into different artistic directions and just sketching the first thing that came to mind, then only further developing that idea. Although this method sounds like rushing, the results were pretty interesting!
Overall, it was a great challenging project which allowed me to experiment with a different technique to spark my imagination and creativity. It gave me a chance to use some of my own knowledge about storyboarding and panelling, and Alice had given me a lot of freedom with the concepts. It was also a great opportunity to practice artistic techniques and being aware of areas that may need more improvements.
Here are a few samples from the eBook and initial sketches, the first stage as I mentioned earlier was creating the quick rough sketches of what popped up in my mind. Then I condensed frames to a set of panels on a single page, with this it is scanned in and cleaned up. The final stage was digitally painting the images and resizing them according to the Bookleteer guidelines.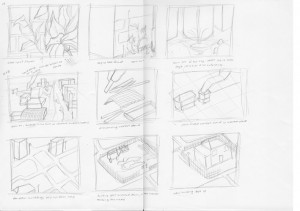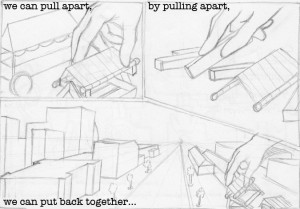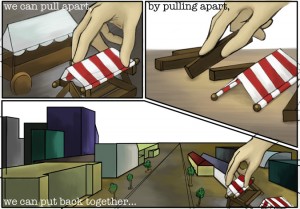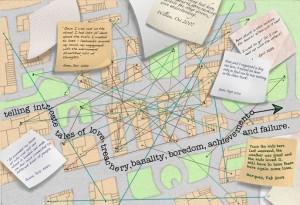 September 18, 2010 by Giles Lane · Comments Off on 10 Years of Diffusion
Its 10 years since we published the very first series of Diffusion eBooks – how time flies! Over on diffusion.org.uk we've written a short recap of what we've achieved with this project in the last decade and look ahead to what we're planning to kick-off the next one. You can also read a more in depth post from 2007 on the history of Diffusion.
September 17, 2010 by Giles Lane · Comments Off on Graffito at London Design Festival
Next week (Thursday 23rd to Sunday 26th September) Graffito will be exhibited at the Tent Digital in the Truman Brewery, Brick Lane as part of the London Design Festival. Around 19,000 visitors are expected at the venue over the four days, and we will also be presenting the project at a special event for UK Trade & Investment.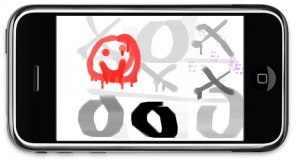 We've created a special Diffusion eBook about the project for the event – where we'll have some PPOD printed copies to give away. We've also done some early analysis of the server logs. To date we've had over 8,000 downloads of the App from the iTunes App Store and 18,000 connections since August 10th (that's about 500 people a day playing with it). The map below shows where people have been connecting from (based on their iPhone/iPad GPS).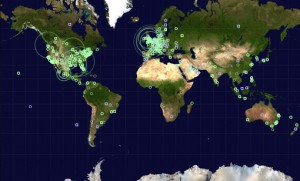 Come along and take part.
September 10, 2010 by admin · Comments Off on Shalene Barnett : Placement Report 2010
Communications & Coordination Assistant
(6 Month Placement Future Jobs Fund, March-September 2010)
When I first started working for Proboscis in March 2010, I was unsure about what my role would be or even what Proboscis was really about.
My first month was spent learning about what Proboscis is about. I learnt that they are an art organisation who work on a variety of projects within the art sector, I also learnt that they create and publish eBooks and story-cubes using a programme called Bookleteer which was created by Proboscis.
In my first month I was introduced to tender searching. This was something I had not heard of before. I learnt that tenders are like projects, so I learnt how to project search on various art websites.
Once the first month had passed, and I fully understood what Proboscis was about I was asked to try and think of a way that the eBooks could be used to connect with young people. Over the next couple of months I went about creating a variety of eBooks and story cubes using Bookleteer. I came up with many different ideas such as a calendar, lyrics pad, diary etc. All of these were brilliant ideas but we still could not find a way to make them into a project so as to connect young people to Bookleteer.
One day I was sitting having lunch with my boss and a colleague and we were discussing things we do in our spare time. My boss discovered that I create music and said he would of liked to have known that in the interview. This sparked an amazing idea which was called the MeBook and this MeBook was going to be the connection between young people and Bookleteer.
The MeBook is an informal curriculum vitae. It is a little booklet that would have everything that you would not think about telling an employer in an interview. Its all about what interest you, what makes you tick. We did a trial run making MeBooks but discovered that it was difficult to lose the formalness so because of this another idea was born it was called MeSketch. The MeSketch was another eBook which we created with questions about you, what your ambitions are, what drives you etc. We also structured a workshop as we thought this could be the easiest way for people to understand what the MeBook and its contents were really about.
I had now arrived at the fifth month of working for Proboscis, preparations for the mEbook were going well, and Proboscis had another project for myself and a colleague to work on. It was called Seven Days in Seven Dials. Seven Dials is an area in Covent Garden. A colleague of Giles and Alice (Proboscis directors) had found an empty shop off one of the streets leading of Seven dials and decided to turn it into an exhibition with the help of several FJF placements. We were split into different groups over the time we was there. I was documenting the work of each group so I got to work with different groups everyday.
The first day in seven dials I spent following the film group. They were creating short videos about the seven streets in the Seven Dials. This was interesting as I got to know what each street had to offer weather it be a shoe shop or an interesting piece of history.
Over the next couple of days I followed the photography group and the podcast group. The photography group produced some amazing pictures which I later made into a photography book. The podcast group made podcast about the surrounding area of the Seven Dials, and also some history about the area of Covent Garden. The exhibition was a success.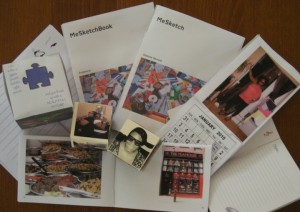 I am now in my final month at Proboscis and have enjoyed each step of my journey here. I would like to thank Proboscis for showing me my creative side and giving me this opportunity.
Shalene Barnett, September 2010
September 8, 2010 by Giles Lane · 1 Comment
Some videos from Graffito in use at the Vintage@Goodwood festival
September 1, 2010 by Giles Lane · 1 Comment
***** Update 11/11/2010 : this vacancy has now been filled *****
Are you aged between 18-24 and receiving Job Seekers Allowance?
Want to gain experience working alongside artists in a creative environment?
Do you love building things with HTML, CSS, Javascript & PHP?
Proboscis is recruiting for a new Future Jobs Fund Placement (6 months at 25 hours per week) to join our team. We're looking for someone who loves developing with CSS, PHP and Javascript (among other things) and wants to get involved in working on creative applications such as bookleteer.com and working mobile apps for iPhone etc.
To Apply : contact/visit JobCentrePlus quoting reference CTE/154454
This placement is offered through our partnership with Islington Council, details of the post are held at the 3 Islington JCPs : Highgate (contact Robert Tomlinson), Barnsbury (contact Yvonne Loong) and Finsbury Park (contact Vanessa Lazarus) as well as Denmark Street JCP.
Coder/Web Development Assistant Placement (Islington FJF)
Role:             Coder / Web Development Assistant
Location:     Central London (Clerkenwell)
Salary:          £7.60 per hour
Job Type:     Part-time 25 hours per week, 6 month placement
Person Specification
This role is for a highly motivated individual with good skills working with HTML, CSS, Javascript & PHP who is interested in creativity and culture to assist us on our creative web and mobile projects.
Duties
– be part of a creative team working on Proboscis projects and activities
– work directly developing web projects (primarily HTML, CSS, Javascript & PHP-based) and mobile apps (iPhone/Android)
– be part of a team to researching & identifying creative opportunities for engaging young people with our web and digital media projects
Requirements
– ability to work in a small team
– interest in arts, film, social media, design, culture and people
– experience coding HTML/CSS/Javascript/PHP/Python for web development
– interest/experience in developing apps for iPhone/Android
– self-motivation & responsibility
– willingness to learn new skills and take on personal challenges
Applications
All candidates should submit an up to date CV, with two references and examples of your programming ability (i.e. web/mobile projects you have made).
Eligibility
You must be aged 18-24, be unemployed and claiming Jobseekers Allowance for 6-12 months. Other JSA claimants aged 18-24 may also be eligible regardless of how long they've been claiming the benefit (please check with your Adviser).