July 28, 2012 by admin · Comments Off on Newsletter July 2012
Its been over a year since we sent out our last newsletter – not that we haven't been busy, in fact we've been absorbed in a whole range of projects and activities :
Storyweir at Exlab, Hive Beach, Dorset
We have been commissioned by Exlab to create a new project at Hive Beach, Dorset as part of the Cultural Olympiad. The work opens on Saturday 28th July and will remain on site until 9th September. We have 3 days of free talks and 2 nighttime events (projections with live cello) on Friday 3rd to Sunday 5th August – all welcome.
http://proboscis.org.uk/tag/storyweir/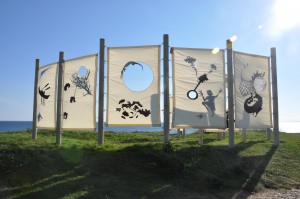 ++++++++++++++++++++

This October sees the launch of our new monthly publication – each month we will crowdsource, print and post out an eBook to subscribers created and shared on http://bookleteer.com sharing the most beautiful, experimental, thought-provoking and inspirational eBooks people have created to inspire and provoke others into creating more of their own.
SUBSCRIBE HERE : http://bookleteer.com/blog/2012/07/introducing-the-periodical/
++++++++++++++++++++


We're also introducing a whole range of new features to http://bookleteer.com this year – public sharing, library pages as well as some exciting new developments later this year. Follow our progress here :
http://bookleteer.com/blog/category/updates-improvements/
We've also dropped the minimum print run for our Short Run printing service to just 25 copies per eBook and the prices for printing A6 eBooks have dropped between 30-50%. Check the prices with our estimator tool here:
http://bookleteer.com/blog/ppod/
++++++++++++++++++++


Proboscis have been collaborating with Royal Holloway's Information Security Group (as part of the their EPSRC/ESRC/TSB research project Vome – http://www.vome.org.uk) to work with a local community in Pallion, Sunderland to create a sustainable knowledge and support network for local people to help each other cope and deal with benefit changes. We have developed a set of simple tools and processes to assist this "Ideas Exchange" – co-designed with the local community and are helping them integrate and adopt them into their ways of getting things done.
http://proboscis.org.uk/tag/pallion/
This Autumn we will be releasing a "Neighbourhood Ideas Exchange" package with versions of the tools that any community will be able to adopt and adapt for their own uses. Look out for announcements in September/October.
++++++++++++++++++++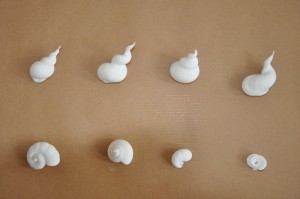 Visualise Lifestreams
Proboscis has been commissioned by Futurecity and Arts&Business Cambridge to collaborate with Philips R&D in Cambridge as part of Anglia Ruskin University's Visualise Public Art programme. We are exploring new forms for motivating people to incorporate health monitoring into their lifestyles by linking personal health data to systems that create tangible outputs. Starting with 3D printed 'shells' whose growth and shape is determined by data sets collected from ourselves, we plan to move on to feeding data to affect the growth of crystals and eventually towards 'growing' a shell organically through tissue engineering.
http://proboscis.org.uk/tag/lifestreams/
++++++++++++++++++++
Recent Publications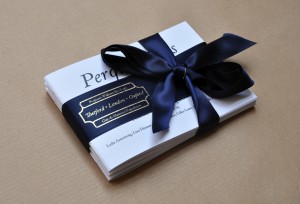 Professor Starling's Thetford-London-Oxford Expedition
by Lisa Hirmer, Andrew Hunter, Josephine Mills, Leila Armstrong, Giles Lane and Hazem Tagiuri
Download Free : http://diffusion.org.uk/?p=2587
Buy a limited edition set :  http://proboscis.org.uk/store.html#profstarling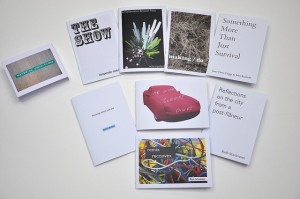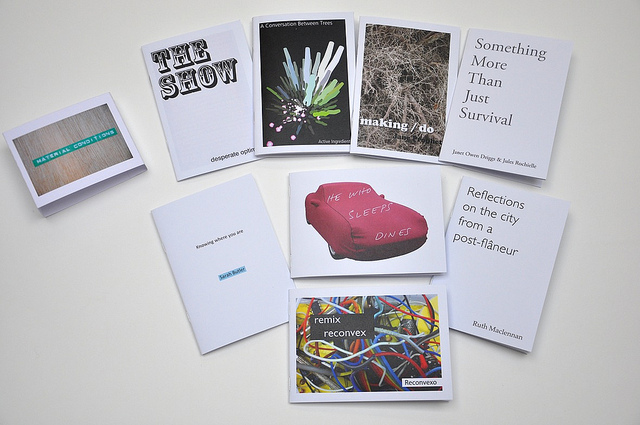 Material Conditions
by Active Ingredient, Desperate Optimists, Jane Prophet, Janet Owen Driggs & Jules Rochielle, Karla Brunet, London Fieldworks, Ruth Maclennan, Sarah Butler
Download Free : http://diffusion.org.uk/?cat=1043
Buy a limited edition set : http://proboscis.org.uk/store.html#materialconditions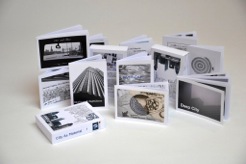 City As Material : London
Contributions by Tim Wright, Simon Pope, Ben Eastop & Alexandra Deschamps-Sonsino
Download Free : http://diffusion.org.uk/?cat=976
Buy a limited edition set : http://proboscis.org.uk/store.html#cityasmaterial1
July 25, 2012 by aliceangus · Comments Off on Storyweir at Hive Beach, Dorset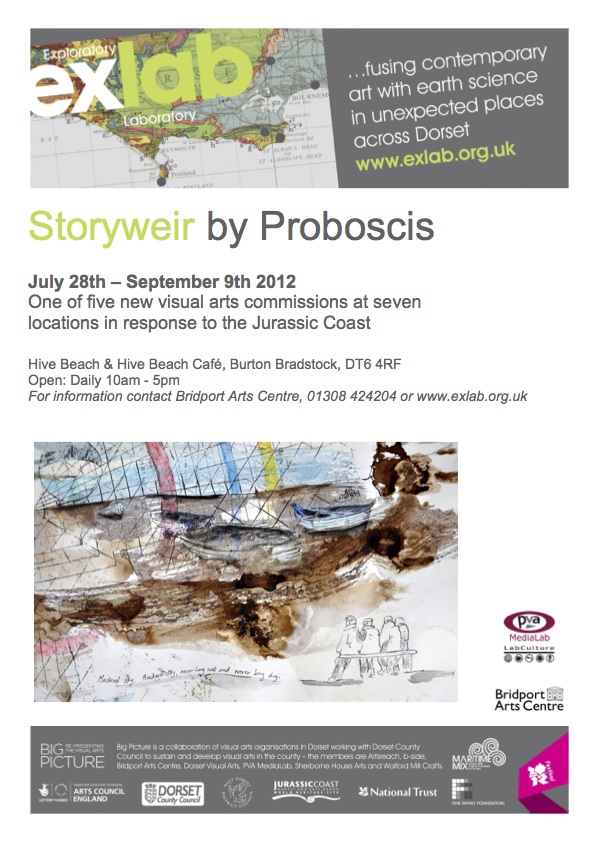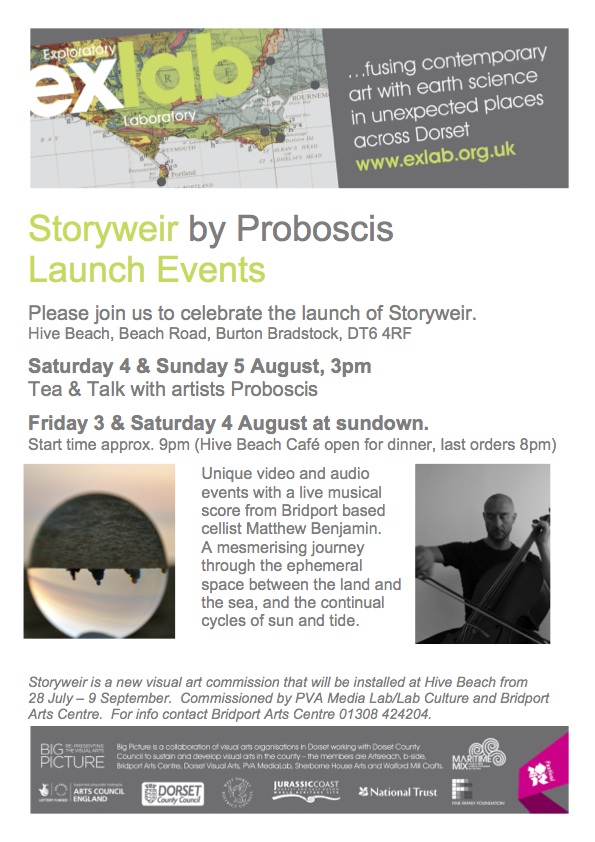 July 25, 2012 by stefankueppers · Comments Off on 2nd generation of 3D printed Shells for Visualise
I have just come back from the Digital Manufacturing Centre 3D printing lab at UCL where we just had our second round of shells made for us.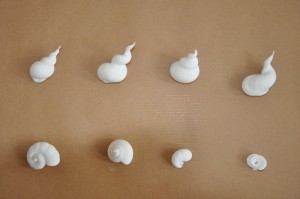 This time around you can see shells which are beginning to have some life (or data to be exact) put in to them. They are 'grown' by using the health data we have previously collected from the body sensors and data logger which we are beginning to use to evolve different types, shapes and sizes of shell.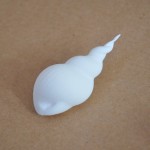 We captured the initial data over a week back in May which consisted of blood pressure, step counts, length of sleep, body temperature, exposure to air pollution and alcohol intake. These were gathered to provide a range of values we could use  to make the shells change the way they are evolved over time.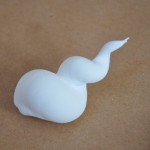 These different dimensions of data are used in our growth model as parameters that influence where and how much the shell grows and in which particular way. Each set of data values contribute to determining how much it grows, how smooth or jagged the surfaces are and whether or not there are other outgrowths. All together this results in a very personalised and specific shape that is unique to each data set.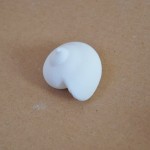 We are planning to fabricate two further sets of shells, one with more extensive data sets informing the shell growth pattern, and the second experimenting with different data sources. More posts to come!
Our growth model as mentioned before is using variants of 'parametric design' via L-Systems and Growth Grammars. Here is a very quick explanation of what these do in principle:
Parametric Design
In a parametric design different numerical values – called parameters – are put into a set of related mathematical formulas or rules. These are able to generate variations of shapes or objects based on different input values. It is for example possible to create a parametric definition of a basic chair that  when combining the height and leg length of a person – can generate a chair with proportions that make it comfortable for that person to sit on. So a parametric design in this case captures the idea of a chair that can be made to fit different bodies – i.e. how many legs the chair has, the way the legs are connected to the seat area, the seat sitting area and the height position of the backrest.
L-Systems
These were invented by a man called Aristid Lindenmayer and are type of formal language that uses sequences of letters that define how something grows over several time periods. They can for example express how a tree expands from its trunk into branches and then into leaves or how a flower's petals are arranged.
Growth Grammars
These are more complicated variations on L-Systems that have a richer set of features that can be used to describe growth models such as plant models. Growth Grammars are used in not just modelling the structure of plants i.e. how it is put together and its parts but also how it functions and its parts interact with each other.
July 16, 2012 by stefankueppers · Comments Off on 1st generation of 3D printed Shells for Visualise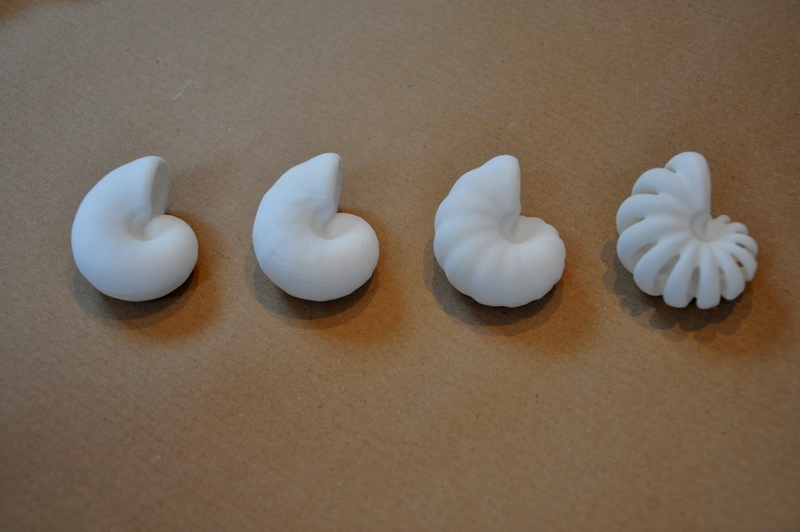 After what has been a broad exploratory research and foraging phase into shell morphology and modelling systems for our Visualise project, I have just picked up the first round of 3d printed shells which we had done at the Digital Manufacturing Centre @  UCL. Thanks to Martin and Richard for their assistance with the 3d printing process!
What you see here is a twist on classic plain formula driven generative shells that you may have seen before. We are experimenting with ways of adapting shell formation of our 3d shells based on data capture we have started in previous experiments in lifestyle and health data monitoring. I have been looking into a variety of generative modelling systems anywhere from those originating in the CAD world to those for plant modelling in the bio and agricultural sciences.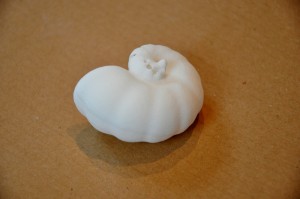 Now I have settled on using a growth grammar platform called XL (it builds on ideas of l-systems but with much more flexibility and dynamic rewriting of growth rules). The XL grammar is interesting as its been developed for plant morphological and systemic modelling, allowing the generative growth rules to be switched based on time variant environmental factors throughout growth cycles.
This offers some exciting possibilities of mimicking real-world feedback patterns of environmental constraints on living entities such as plants or other living systems giving rise to different possible 'expressions' based on the 'quality of life' over time they experience in their environment (e.g. through droughts, wet seasons, sparse or rich nutrition, pollution factors, over-shading, etc.).
The shells you see here are a variations of an evolving shell model that can be infused with our previous and ongoing environmental and personal data capture data sets (e.g. with readings such as daily step-count, blood pressure, sleep pattern regularity) to determine the evolving form.
Look out for further variations on these shells shortly!
July 15, 2012 by aliceangus · 3 Comments
With under 2 weeks to go till the opening of Exlab I'm rushing to finish some parts of our commission and am working on outputting an image of the seafloor of the area by Hive Beach to then lasercut. Ive finally managed to get some workable images from the 2008 Bathymetric surveys (a kind of sonar scanning) of the geology of the seabed available on the Channel Coastal Observatory website and this image shows the Burton Beach area. Its an area swimmers have described as being difficult to swim through – the waves are unpredictable and you get stuck in it. I'm reliably informed by many people who live and work here that his part of the coast is pretty dangerous because the shingle slopes very steeply into the sea causing powerfull undertow under the waves.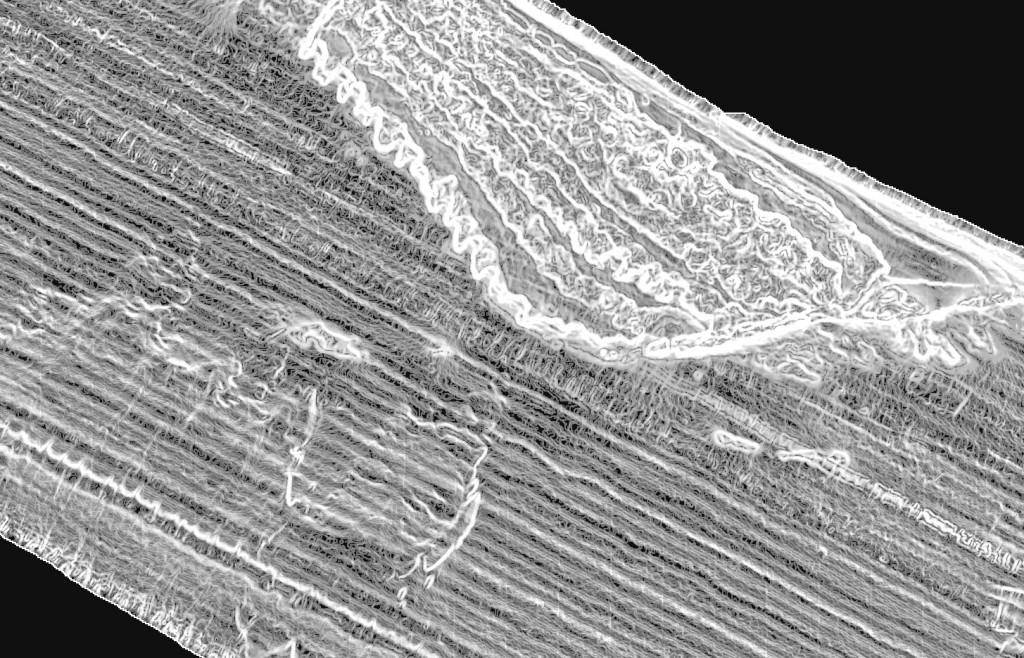 July 6, 2012 by Giles Lane · 1 Comment
One of the most fun things we've done this year has to be the little project we ran as part of the Soho Food Feast : helping some of the children of Soho Parish Primary School produce their own reviews of the amazing foods on offer in specially designed eNotebooks. The children would choose something from one of the many stalls, bring it to be photographed and a Polaroid PoGo photo sticker printed out an stuck into one of the eNotebooks, then they'd write about what the dish looked, smelt, felt, sounded and tasted like. This idea of doing the reviews through the 5 senses, along with the great introduction, was contributed by Fay Maschler, the restaurant critic of the London Evening Standard and one of the Food Feast committee members.
We've now published a compilation of the best reviews which is available via the Diffusion Library as downloadable eBooks and in the bookreader format. We're also printing a short run edition which will go the children themselves (and a few for the school to sell to raise funds – get one while you can!). Thanks to everyone who took part in this project – the children of Soho Parish and Soho Youth, members of the Food Feast Committee (Anita Coppins, Wendy Cope, Clare Lynch), Rachel Earnshaw (Head Teacher) and the team here : Mandy Tang, Haz Tagiuri & Stefan Kueppers.
July 2, 2012 by Giles Lane · Comments Off on Neighbourhood knowledge in Pallion
Last Thursday I visited members of the Pallion Ideas Exchange (PAGPIE) at Pallion Action Group to bring them the latest elements of the toolkit we've been co-designing with them. Since our last trip and series of workshops with them we've refined some of the thinking tools and adapted others to better suit the needs and capabilities of local people.
Using bookleteer's Short Run printing service we printed up a batch of specially designed notebooks for people to use to help them collect notes in meetings and at events; manage their way through a problem with the help of other PAGPIE members; work out how to share ideas and solutions online in a safe and open way; and a simple notebook for keeping a list of important things to do, when they need done by, and what to do next once they've been completed.
We designed a series of large wall posters, or thinksheets,  for the community to use in different ways : one as a simple and open way to collect notes and ideas during public meetings and events; another to enable people to anonymously post problems for others to suggests potential solutions and other comments; another for collaborative problem solving and one for flagging up opportunities, who they're for, what they offer and how to publicise them.
These posters emerged from our last workshop – we had designed several others as part of process of engaging with the people who came along to the earlier meetings and workshops, and they liked the open and collaborative way that the poster format engaged people in working through issues. We all agreed that a special set for use by the members of PAGPIE would be a highly useful addition to their ways of capturing and sharing knowledge and ideas, as well as really simple to photograph and blog about or share online in different ways.
Last time I was up we had helped a couple of the members set up a group email address, a twitter account and a generic blog site – they've not yet been used as people have been away and the full core group haven't quite got to grips with how they've going to use the online tools and spaces. My next trip up in a few weeks will be to help them map out who will take on what roles, what tools they're actually going to start using and how. I'll also be hoping I won't get caught out by flash floods and storms again!
We are also finishing up the designs of the last few thinksheets – a beautiful visualisation of the journey from starting the PAGPIE network and how its various activities feed into the broader aspirations of the community (which Mandy will be blogging about soon); a visual matrix indicating where different online service lie on the read/write:public/private axes; as well as a couple of earlier posters designed to help people map out their home economies and budgets (income and expenditure).
Our next task will be to create a set of StoryCubes which can be used playfully to explore how a community or a neighbourhood group could set up their own Ideas Exchange. It'll be a set of 27 StoryCubes, with three different sets of 9 cubes each – mirroring to some degree Mandy's Outside the Box set for children. We're planning to release a full Neighbourhood Ideas Exchange package later this summer/autumn which will contain generic versions of all the tools we've designed for PAGPIE as well as the complete set of StoryCubes.