March 12, 2013 by aliceangus · 1 Comment
Some films made as part of the Hidden Families project :
"The Loneliness Group" by John, Donna and Jonny from StoryWorks on Vimeo.
"Hidden Families" by Cath Chesterton from StoryWorks on Vimeo.
January 16, 2013 by aliceangus · 2 Comments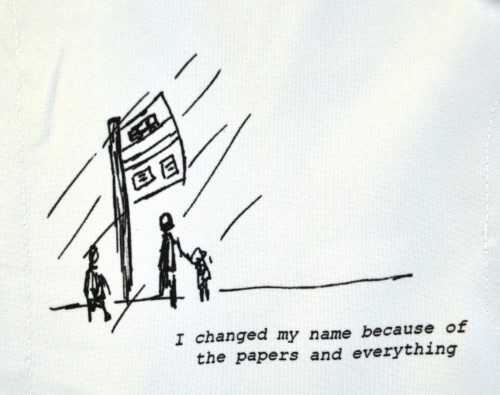 In the last few months I've been working on Hidden Families, a project with families with someone in prison. The project, run by by Lizzie Coles Kemp of the Information Security Group at Royal Holloway University of London, was trying to find out how to improve the way information is made available to families, because people sometimes don't or can't engage with support services. The hardships families experience are diverse;- travel, costs of visiting, the huge distances to visit,the stress of uncertain weather and travel conditions that might cause someone to be late and miss their visit, bringing children, access to pension, welfare and benefits advice, sentence planning, prisoner safety and welfare, being stigmatised and outcast, and not expecting help or having the ability to improve the situation.
The project has several facets and I was involved in working with Action for Prisoners Families, NEPACS (who provide support services for families separated by prison), performer Freya Stang and visitors to a visitors' center in a Category A prison. 
Action for Prisoners' Families (APF),
works for the benefit of prisoners' and offenders' families by representing the views of families and those who work with them and by promoting effective work with families…
A prison or community sentence damages family life.
NEPACS builds bridges between prisoners, families and communities that they will return to, they
believe that investment must be made in resettlement and rehabilitation to ensure that there are fewer crime victims in the future, and less prospect of family life being disrupted and possibly destroyed by a prison sentence… After all, the families haven't committed the crime, but they, especially the children, are greatly affected by the punishment
Lizzie's approach to working with people differs from typical academic studies. Rather than only surveying or asking questions of a community she collaborates with groups to create projects, workshops and events that are independently of value to that group, rather than just to fulfill research ends, she often works with artists, writers and performers to support partners and participants in articulating ideas.
The project partners and visitors contributed to booklets, postcards, conversations and a wall collage gathering experiences of the practical, technical and emotional issues people face.  I brought together the stories, experiences and sketches, with a series of  sketches I made, into a digitally printed textile hanging based on the idea of a patchwork quilt for the NEPACS Visitors' Centre. Participants expressed a wish to produce a version that could hang in the Chapel and Action For Prisoners Families have versions which they will using for their training, education and work raising awareness of the hidden issues families face.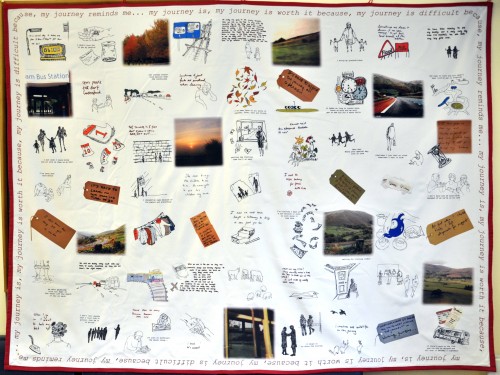 October 23, 2012 by Giles Lane · 2 Comments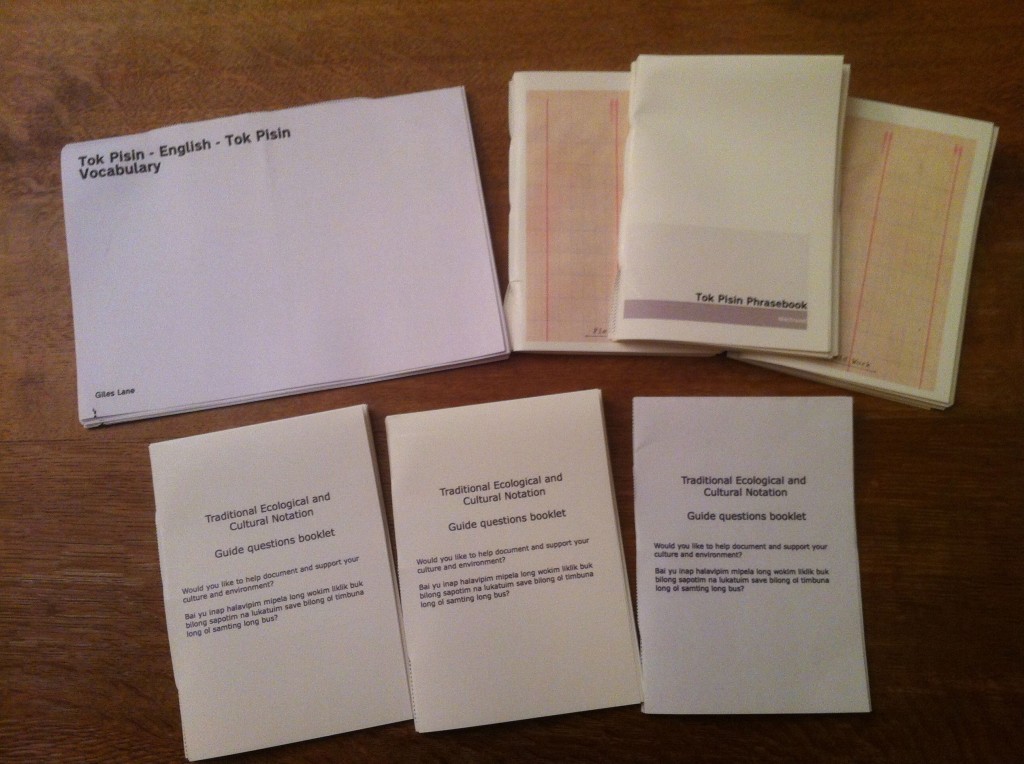 Tomorrow I start my journey to Papua New Guinea where I'm taking part in the Saem Majnep Memorial Symposium on Traditional Environmental Knowledge (TEK), hosted by the University of Goroka (Eastern Highlands Province) and supported by the Christensen Fund. The title and abstract of my talk at the symposium is:
Digital and Physical : simple solutions for documenting and sharing community knowledge
My work is about engaging with people to identify things which they value – for instance knowledge, experiences, skills – and how they can share them with others in ways that are safe, appropriate and inspiring. As an artist and designer I have helped devise simple tools and techniques that can be adopted and adapted by people on their own terms – such as uses of everyday paper, cameras and printers alongside digital technologies such as the internet, archives and databases. I will demonstrate some examples of how these simple physical and digital tools can be used to share community knowledge in freely and easily accessible ways, so that they can also be re-worked and circulated in both paper and digital formats. I hope to offer some examples of how TEK in PNG might be widely documented and circulated as part of commonly available resources.
I wrote a piece about my initial thoughts on what I'll be presenting and doing whilst I'm there on the bookleteer blog last month. My invitation to this event has been through James Leach, Professor of Anthropology at the University of Aberdeen who will be there presenting his collaborative publication, Reite Plants, with Porer Nombo in whose village James has been doing fieldwork for 20 years. I first met Porer three years ago when he visited the UK to assist the British Museum's Melanesia Project in identifying artefacts from the region where he lives in the Ethnographic Collection. At the time James had asked me to help him devise some new ways to document this kind of Traditional Knowledge Exchange that would capture something of the experience of all sharing knowledge that more institutional methods might miss. Consequently we used some Diffusion eNotebooks to capture and record our interactions as much as the stories and information that Porer and Pinbin shared about the artefacts. Alice and I also had the privilege of spending time with Porer and his fellow villager, Pinbin Sisau, inviting them to our home for an evening with James and his family and sharing with them some of the simple delights of central London life that people who don't live here wouldn't experience.
After the symposium James, Porer and myself will travel back to Porer's village of Reite on the Rai Coast in Madang Province where we'll stay for a week or so. There we'll attempt to put some of our ideas into practice – I've designed some simple notebooks for us to use out in the bush, some printed on waterproof paper, others printed on standard papers. I'm very excited to have this unique opportunity to test out ideas I've had for using the Diffusion eBook format and bookleteer in the field for over 10 years now – harking back to conversations I had with anthropologist Genevieve Bell of Intel in 2003. I'm also very excited to have the privilege of visiting Porer and Pinbin in their home and meeting their families and community – joining the loop of one smaller circle of friendship and exchange and hopefully spiralling out into some larger ones that will continue into the future.
October 2, 2012 by mandytang · Comments Off on Designing for the Pallion Ideas Exchange
To support the Pallion Ideas Exchange, we have created numerous printed materials including posters, worksheets, postcards, work flow diagrams and eBooks. These have been designed to help record concerns, hopes and aspirations, which could then lead to further discussions and point to the right person who may have had the same experience.
The design ideas behind these printed materials relied on the feedback and conversations the team had gathered with the members of the community in Pallion. It became a highly iterative process of adapting earlier work though co-design and initiating and making new pieces such as the workflow sheets as a response to ideas and suggestions that had been gathered in our workshops.
The main consideration when designing, was the importance to keeping it visually simple and informal. One example being in the eBooks, we didn't want to create pages that may put people off by making it look too similar to application forms, but we wanted the eBooks to have a familiar structure for people to fill in with ease. To overcome this, I simply drew the boxes by hand; adding a folded corner and colour coded the outline to indicate the page sets. We agreed that the hand drawn method seemed more approachable and was implemented on all the other printed materials.
The illustrated scenarios had to be within an informal environment and drawn simply, but most importantly; approachable. So instead of my usual mannequins which you may have seen in previous projects, these illustrations of people had a very simple outline. The props and environment were kept minimal, with only flat colours highlighting the activity. With this a library of illustrations were created for the team to use.
The most challenging part of the project when illustrating was creating the three "Aspirations" images that are used in the "Visualising the network" map to reflect what the community hope to achieve in terms of "social cohesion", "a better local environment" and "better life opportunities". Each had to reflect various aspects in a single image, most of which were easy to explain in words but to frame it in one image required a lot of conversations amongst the team and just thinking about situations which we ourselves may have experienced or seen. The process for this particular part of the project was to think of how each aspect would be illustrated individually and gradually piece them together and tweaking it to make it work as one whole image.
Although at first we weren't sure how the "Visualising the network" map should look like we used these three aspiration images as a starting point and the rest was straightforward. Having created a library of illustrations for activities and resources for PIE that we've used across the project, I re-used many of the images so that they will become easily recognisable.
These image files will become part of Proboscis' forthcoming Neighbourhood Ideas Exchange Toolkit along with generic versions of the posters, worksheets, work flow diagrams, eBooks and postcards we have developed for the Pallion Ideas Exchange project. With this toolkit we hope to inspire others to adopt and adapt the parts for their own local social innovations.
July 2, 2012 by Giles Lane · Comments Off on Neighbourhood knowledge in Pallion
Last Thursday I visited members of the Pallion Ideas Exchange (PAGPIE) at Pallion Action Group to bring them the latest elements of the toolkit we've been co-designing with them. Since our last trip and series of workshops with them we've refined some of the thinking tools and adapted others to better suit the needs and capabilities of local people.
Using bookleteer's Short Run printing service we printed up a batch of specially designed notebooks for people to use to help them collect notes in meetings and at events; manage their way through a problem with the help of other PAGPIE members; work out how to share ideas and solutions online in a safe and open way; and a simple notebook for keeping a list of important things to do, when they need done by, and what to do next once they've been completed.
We designed a series of large wall posters, or thinksheets,  for the community to use in different ways : one as a simple and open way to collect notes and ideas during public meetings and events; another to enable people to anonymously post problems for others to suggests potential solutions and other comments; another for collaborative problem solving and one for flagging up opportunities, who they're for, what they offer and how to publicise them.
These posters emerged from our last workshop – we had designed several others as part of process of engaging with the people who came along to the earlier meetings and workshops, and they liked the open and collaborative way that the poster format engaged people in working through issues. We all agreed that a special set for use by the members of PAGPIE would be a highly useful addition to their ways of capturing and sharing knowledge and ideas, as well as really simple to photograph and blog about or share online in different ways.
Last time I was up we had helped a couple of the members set up a group email address, a twitter account and a generic blog site – they've not yet been used as people have been away and the full core group haven't quite got to grips with how they've going to use the online tools and spaces. My next trip up in a few weeks will be to help them map out who will take on what roles, what tools they're actually going to start using and how. I'll also be hoping I won't get caught out by flash floods and storms again!
We are also finishing up the designs of the last few thinksheets – a beautiful visualisation of the journey from starting the PAGPIE network and how its various activities feed into the broader aspirations of the community (which Mandy will be blogging about soon); a visual matrix indicating where different online service lie on the read/write:public/private axes; as well as a couple of earlier posters designed to help people map out their home economies and budgets (income and expenditure).
Our next task will be to create a set of StoryCubes which can be used playfully to explore how a community or a neighbourhood group could set up their own Ideas Exchange. It'll be a set of 27 StoryCubes, with three different sets of 9 cubes each – mirroring to some degree Mandy's Outside the Box set for children. We're planning to release a full Neighbourhood Ideas Exchange package later this summer/autumn which will contain generic versions of all the tools we've designed for PAGPIE as well as the complete set of StoryCubes.
May 19, 2012 by Giles Lane · Comments Off on 3 days in Pallion
This week just passed Alice, Haz and myself have been running some co-design workshops with local community members in Pallion, a neighbourhood in the city of Sunderland, and with Lizzie Coles-Kemp and Elahe Kani-Zabihi of Royal Holloway's Information Security Group, hosted at Pallion Action Group. The workshops, our second round following some others in early April, were focused around visualising the shape, needs and resources available to local people in building their own sustainable knowledge and support network – the Pallion Ideas Exchange. We also worked on testing the various tools and aids which we've designed in response to what we've learned of the issues and concerns facing individuals and the community in general.
The first day was spent making a visualisation of the hopes and aspirations for what PIE could achieve, the various kinds of activities it would do, and all the things they would need to make this happen. Based on previous discussions and workshops we'd drawn up a list of the kinds of activities PIE might do and the kinds of things they'd need and Mandy had done a great job over the past couple of weeks creating lots of simple sketches to help build up the visual map, to which were added lots of other issues, activity ideas, resources and hoped for outcomes.
Visualising PIE this way allowed for wide-ranging discussions about what people want to achieve and what it would need to happen – from building confidence in young people and the community more generally, to being resilient in the face of intimidation by local neer-do-wells. Over the course of the first afternoon the shape changed dramatically as the relationships between outcomes, activities, needs, people and resources began to emerge and the discussion revealed different understandings and interpretations of what people wanted.
On the second day we focused on the tools and aids we've been designing – a series of flow diagrams breaking down into simple steps some methods for problem solving, recording and sharing solutions and tips online, how to promote and share opportunities to people they would benefit and things to consider about safety and privacy before posting information online. We've also designed some simple notebooks with prompts to help do things like take notes during meetings and at events, a notebook for breaking problems down into small chunks that can be addressed more easily alongside place to note what, who and where help from PIE is available, and a notebook for organising and managing information and experiences of PIE members about sharing solutions to common problems that can be safer shared online. As the props for a co-design workshop these were all up for re-design or being left to one side if not relevant or useful. An important factor that emerged during the discussion was that people might feel uncomfortable with notes being written in a notebook during a social event – the solution arrived at was to design a series of 'worksheet posters' which could be put up on the walls and which everyone could see and add notes, ideas or comments to. The issue of respecting anonymity about problems people have also led to the suggestion of a suggestions box where people could post problems anonymously, and an 'Ideas Wall' where the problems could be highlighted and possible solutions proposed. We came away with a list of new things to design and some small tweaks to the notebooks to make them more useful – it was also really helpful to see a few examples of how local people had started using the tools we've designed to get a feel for them: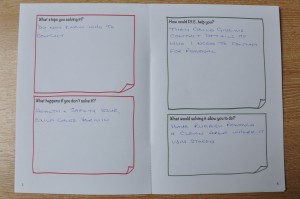 On the afternoon of the second day we also spent a long time discussing the technologies for sharing the community's knowledge and solutions that would be most appropriate and accessible. We looked at a whole range of possibilities, from the most obvious and generic social media platforms and publishing platforms to more targeted tools (such as SMS Gateways for broadcasting to mobiles). As we are working with a highly intergenerational group who are forming the core of PIE (ages range from 16 – 62) there were all kinds of fluencies with different technologies. This project is also part of the wider Vome project addressing issues of privacy awareness so we spent much of the time considering the specific issues of using social media to share knowledge and experiences in a local community where information leakage can have very serious consequences. Ultimately we are aiming towards developing an awareness for sharing that we are calling Informed Disclosure. Only a few days before I had heard about cases of loan sharks now mining Facebook information to identify potential vulnerable targets in local communities, and using the information they can glean from unwitting sharing of personal information to befriend and inveigle themselves into people's trust. The recent grooming cases have also highlighted the issues for vulnerable teenagers in revealing personal information on public networks. Our workshop participants also shared some of their own experiences of private information being accidentally or unknowing leaked out into public networks. At the end of the day we had devised a basic outline for the tools and technologies that PIE could begin to use to get going.
Our final day at Pallion was spent helping the core PIE group set up various online tools : email, a website/blog, a web-based collaboration platform for the core group to organise and manage the network, and a twitter stream to make announcements about upcoming events. Over the summer, as more people in Pallion get involved we're anticipating seeing other tools, such as video sharing, audio sharing and possibly SMS broadcast services being adopted and integrated into this suite of (mainly) free and open tools.
The workshops were great fun, hugely productive but also involved a steep learning curve for all of us. We'd like to thank Pat, Andrea, Ashleigh and Demi (who have taken on the roles of 'community champions' to get PIE up and running) for all their commitment and patience in working with us over the three days, as well as Karen & Doreen at PAG who have facilitated the process and made everything possible. And also to our partners, RHUL's Lizzie and Elahe who have placed great faith and trust in our ability to devise and deliver a co-design process with the community that reflects on the issues at the heart of Vome.
May 11, 2012 by Giles Lane · 1 Comment
Back in February Proboscis was commissioned by Andy Robinson of Futurecity, with the assistance of Dipak Mistry of Arts & Business Cambridge, to undertake an Art+Tech collaboration with a local industry partner in Cambridge as part of Anglia Ruskin University's Visualise programme. This strand seeks to engage "leading Cambridge technology companies to collaborate with contemporary artists on the creative use of technology in public life."
Over the past few months Stefan and I have been meeting with David Walker and Steffen Reymann of Philips R&D (based in the Cambridge Science Park) to establish a creative dialogue. The initial topics for our creative exploration were suggested by Philips based on research subjects being explored in their lab – Near Field Communications and health monitoring technologies. Our discussions quickly began to revolve around personal motivations for monitoring health and lifestyle –
Why do people routinely lose abandon using health monitoring technologies?
What might inspire new habits that actively involve monitoring?
How could we create delightful ways for people to make connections between personal data and Quality of Life?
How could we rethink the nature of data collection away from the purely rational towards the realm of the numinous and speculative?
Our initial thinking suggested that perhaps the problem with data collection is that it is often too crude and reductive – trying to make impossibly simple connections between phenomena in a complex system. Data visualisations are often barely more than pretty graphs – but our lives, our environments and the ways we live are so much more than that. How might we make tangible souvenirs from the data generated by our bodies and habits that could help us discern the longer term, harder to perceive patterns?
As our discussions have continued we have begun to explore how we might generate talismanic objects – lifecharms – from personal monitoring data using 3D fabbing. Things which could act as everyday reminders about patterns the data suggests, which are at once both formed of the data and yet do not offer literal readings of the data. Objects which are allusive, interpretative and perceptible, but still mysterious. What would it feel like to have an object in one's pocket that was generated from data gleaned from one's own body and behaviours? How might this help us maintain a peripheral awareness of the things we eat, how much we exercise, our general state of happiness and perceive the subtle changes and shifts over time?
Stefan is writing elsewhere how we have been inspired by shells – excretions produced by creatures that tell (in a non-literal way) the story of the creature's life – what minerals it ingested, what environmental factors affected it. For the lifecharms we're experimenting with using personal data to drive 3D morphogenetic algorithms that can generate unique shell-like forms which we'll then render into tangible souvenirs.
As a more macro counterpoint to the micro of the personal lifecharms we have also been considering how local public health data could be translated into forms which could be experienced as a group in a  public setting – we're investigating making a 'fly eye' geodesic dome with a light source to throw light upon the patterns in the data.
We'll be continuing our discussions with Philips for another 3 months or so, gathering some test data (from ourselves) then making some prototypes and maquettes of our ideas for an event in Cambridge in the Autumn where we'll present our work.
April 23, 2012 by aliceangus · Comments Off on Ideas exchange with Pallion
Just before Easter we were back in Sunderland working with Pallion Action Group and Royal Holloway, University of London's Information Security Group  on the project to help build a community network for people to share ideas about money, spend and budgets in ways that help them cope with the massive changes in the benefits system and reduction of the public sector's contribution to the local economy.
I'm finding each time I visit PAG I'm more and more amazed at their ability to bring people together and invent solutions to tackle serious problems through creative thinking and activity. Their projects range from street dance, to pre-employment confidence building, mentoring of young people and projects to engage older people with technology. Although PAG are not an arts organisation their approach does remind me of two media arts orgs – Information and Cultural Exchange (ICE) in Western Sydney Australia and Knowle West Media Centre in Bristol. ICE  open their doors to all sections of the diverse western Sydney community to join in a program of activities that enable communities and artists to tell the stories of this extraordinary place. Knowle West Media Centre is a media arts charity that aims to develop and support cultural, social and economic regeneration supporting communities to engage with, and benefit from, digital technologies and the arts.
These places have a commitment to valuing everyone's voice in a democratic space. They've created environments that, because they are trusted and run by the community, encourage people to come to them they need an answer or a problem solved or just want to be involved. They all use creative processes, arts, music and film in their projects and through it are able to connect up people, ideas and communities to find solutions, support initiatives and 'make things happen' that are both practical and transformative.
PAG "was formed in 1993 by a small group of local residents who intended to take action relating to some of the problems that their community was facing." Its mission is "To work to improve the living conditions, community facilities, social, educational and economic opportunities available to the residents of Pallion and surrounding areas of the City of Sunderland."
Spending a few days in the building you get to see the way that PAG subtly makes opportunities for people to work together, to help each other as well as themselves. They are adept in seeing people's passions, capabilities and capacities and supporting them. It doesn't take long being there to be struck by the perceptive, resourceful and intelligent people who are involved in Pallion Action Group. People of all ages from many walks of life who have found themselves facing degrees of difficulty over lack of employment and a complex confusing benefits system.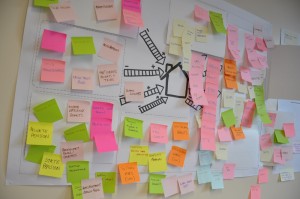 On this last visit we were working with PAG on a shared design approach to mapping the broad themes, areas and issues and began to collect sample stories and experiences. We started with some basic explorations of resources in the home; what comes in and what goes out. It led onto more in-depth explorations of people's perceptions : where did these things sit in relation to one another; what things people can rely on and what are unreliable; what is fixed, what changes? Finally we moved onto mapping what people's aspirations are and the barriers that get in the way of achieving those. After these sessions we collaborated with members of PAG on scoping the next stages of the project and how it will intersect with current PAG activities and be supported by people involved in PAG. The discussion concluded that for this network to be of value it will have to enable people to improve their situation and not reinforce fears. Our focus for the project now rests on how what Proboscis does or brings to the process can connect with and supports PAG's own work; how we can build on and exploit PAG's skills and enhances (rather than adding more work) their efforts to build on their positive approach.
April 4, 2012 by mandytang · Comments Off on Preparations for Pallion
As part of our work on the VOME project with researchers at Royal Holloway, University of London's Information Security Group we are working with Pallion Action Group in Pallion in Sunderland on a community engagement project to co-design a process with the local community in Pallion, Sunderland to create a knowledge network around money, spend and budgets. We are collaborating with PAG to identify the areas and issues challenging people around  household economies.  The project feeds into VOME's  aim of "exploring how people engage with concepts of information privacy and consent in online interactions".
We've have been co-designing designing a set of huge posters with people at PAG to help gather knowledge and find the right language to use. We took a first set up recently for the first exploration session, and  based on peoples' comments revised and changed them and will be heading off to do a two day series of activities with local people to dig deeper into peoples concerns about costs, spend, what we can rely on and what is unreliable. I think the project is going to involve some very interesting cycles of creating, discussing, revising, changing and re-producing materials until we can collaboratively come up with the right materials.
March 19, 2012 by stefankueppers · Comments Off on Turntable Hack
The other week Alice and Mandy started evolving ideas around the use of Zoetropes. Mandy produced some wonderful origami birds and Alice sketched out a series of cardboard mock-ups on a wooden 'cheese board' turning platter. These worked nicely for some very initial sketches but would not allow filming well and the rotation speed would vary.
Alice found some great turntable hacks for Zoetrope out on the web that got us thinking: Our Zoetrope experiments needed more control and flexibility in the electronic and mechanical design aspects so rotation speed could be controlled more precisely in future design iterations.
Ok: The Public Goods Lab (i.e. myself and the kit…) got involved in its technical capacity to support this. Alice brought in her old Technics turntable and I had a go at making our own motor driven Zoetrope as a hack from it: As it turned out with her turntable the real issue was that it it did not allow placing arbitrary size objects on the platter as the Technics model was designed as a slide-out chassis so we needed to do something with it before we could use it for Zoetrope testing.
I got onto disassembling the chassis getting the rotating platter out of it with its motor. The electronics were so tied to the chassis that I decided to just fix a stepper motor on the side of the platter base and made a little Arduino controller and breadboard motor driver circuit to go with it. The driver circuit is just suing a ULN2003A chip for a quick and simple test ( That chip is a multi-transistor package so I did not have to roll my own H-bridge).
I first used a unipolar stepper  [4 connections] but the circuit [I used this post from eLABZ blog ] was getting a bit hot with a floating voltage across the driver chip so I ended up reverting to a bi-polar stepper motor (still using the same circuit as above but dropping the floating voltage and this works just fine without the driver chip overheating. There are two poer supplies, one driving 5V for the Arduino board and another 12V supply for the stepper motor driver. Both were taken from an old hard disk power supply and wired into a breadboard. The circuit used has a tow small switches that let you change the stepper direction which is a nice convenience.
More code hints for Arduino stepper control see the
introductory Arduino stepper control tutorials
The code can be tuned to change the speed of the stepper a little bit but this could alaso be extended with more control buttons in the circuit which we may do if we really need it.
February 27, 2012 by aliceangus · 6 Comments
One of the definitions of Public Goods in economics terms describes them as goods that are not diminished by a persons consumption of them. The air is cited as an example, sometimes the beach, street lighting, free broadcast television and so on (though in the 'real world' perhaps nothing really fits this description).  Are there other interactions we value that might be called public goods?  Things that people feel are precious about the places and communities they belong to – stories, skills, games, songs and so on. Maybe they are more intangible than a place, or element or thing, like the way people use local markets as places to meet, converse or share knowledge.
The notion of  Public Goods comes up often in our work; common space and 'the commons' as a public good for Being in Common; the role of markets and independent traders in Lancaster for As It Comes, and in Hertfordshire for With Our Ears to the Ground and the social impact of technologies for Urban Tapestries, Snout and Social Tapestries. I can't quite pinpoint what these public goods are and I want to try and make a bit more sense of them for our Public Goods programme so I'm working with Mandy to create a Compendium of Public Goods  – a series of short animations inspired by many of the conversations and interviews we have had with people about their lives and communities. We are starting with a look back over conversations I had with the March History Group in Lancaster about jumble sales, hand me downs and knitted swimming suits… remember knitted swimming suits anyone?