March 28, 2011 by Giles Lane · 2 Comments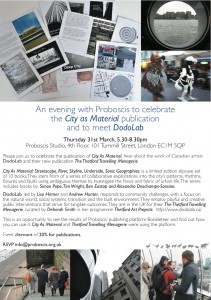 This Thursday 31st March 2011 we're hosting an evening at our studio in Clerkenwell to launch our first limited edition slipcase set of books published and printed using bookleteer's Short Run Printing Service. The set in question contains the 10 books commissioned and produced as part of last Autumn's City As Material series of urban explorations and collaborative bookmaking.
We will also have a special guest, Andrew Hunter of DodoLab who'll be introducing their recent project The Thetford Travelling Menagerie, which was staged last week in Thetford, Norfolk.
If you'd like to come please email us info at proboscis.org.uk – we'll have drinks as well as offering a 20% discount off all publications. Or sign up on the Facebook event page.
March 15, 2011 by mandytang · 1 Comment
(Drum rolls) Ladies and Gentlemen, I proudly present the finished eBooks!
The eBooks are part of Outside The Box and were created to accompany the play sets, they act as props to help stimulate game play.
I've created a total of six eBooks that fit with the role playing set, each eBook corresponds to the six roles available. Once roles have been assigned, players can take their eBooks with them to carry out missions. They can use it to take notes, draw maps, sketch images or even stick things into, they can do whatever they like with these eBooks that will assist their game experience.
But what's inside you ask? (sniggers). Each book is themed to each role, not just on the cover, but the inside pages too. All pages inside are hand drawn with blank spaces for the player to use, it's printer friendly and encourages players to freely scribble in them.
The eBooks can also be used for the other play sets too! For example, players can choose an eBook of their choice and use it to play along the story telling game. Or they could use the eBooks to create strange combination animals. (More suggestions available in the Outside The Box Suggestion eBook).
I enjoyed designing and creating the eBooks, it all began with making miniature versions as the initial design. Then making the basic prototype and moving onto finalising details and adding messages to the players. I had a lot of fun making the eBooks, I now hope that players will enjoy the finished product.
March 11, 2011 by mandytang · Comments Off on Final Reflections – Mandy Tang
Creative Assistant
(6 Month Placement, Future Jobs Fund July 2010-January 2011)
It's time to reflect on the past 6 months as the Future Jobs Fund placement has now come to an end, it really went by quickly! Other than the placement being too short, I can only think of the benefits I have gained with Proboscis during my time here.
It has been a great experience to explore more about the creative arts, with plenty of opportunities to utilise my artistic skills in all of the different stages of a creative process and exercising my knowledge with people of different backgrounds and experiences of their own.
I am also really grateful to Giles and Alice for their patience and teaching me many things ranging from local area knowledge to introducing artistic influences and techniques in hope that it would inspire me throughout the creative process of each project. With their kindness and constant guidance, they've become more of a mentor to me than simply my employers.
I also thank the New Deal of the Mind, firstly for organising this opportunity and providing scheduled sessions – The Goals Training programme, offering support and providing information about job hunting.
During the past 6 months I have been involved in various projects which include the storyboard eBook for Tangled Threads, then moving onto a project inspired by the Love Outdoor Play campaign with a full play set now known as Outside The Box. Once in a while I have assisted in the City As Material project and my more recent work is creating visual interpretations for Public Goods and designing eBooks to accompany the play sets for Outside The Box.
Outside The Box was a huge learning curve for me, I learnt many valuable lessons during the creative process. Firstly, how to manage my work flow better. The project became so much larger than anticipated that I found myself struggling with managing the workload, as I had tried to do too many things at once. Then there were elements on the actual product that I had learnt more about, such as decision making for a colour palette and how simplicity can convey ideas just as well as detailed illustrations. I believe there will be much more to learn from Outside The Box, as it will be going through the testing stage soon. I am excited and nervous to see what happens and I just hope that children will like and enjoy playing with them.
The biggest achievement whilst working on these projects was adapting. I was able to transfer many of my skills to fit each creative process but it was learning to think from a different perspective and presenting them in a innovative way which was the main challenge. The work flow and thought process also differed from my original training as a concept artist for games, as much of the work would follow a design brief closely, but with Proboscis it was very open and it possessed very little constraints making the possibilities endless.
I believe with all these achievements and lessons learnt, it will influence my work in future projects – the way I may approach ideas, deciding the colour palette, considering other ways to communicate my ideas across to reach a wider audience and to create art work that many can enjoy and appreciate.
This isn't farewell! As I am very grateful for the opportunity to stay as part of the Proboscis team so I look forward to future projects and learning more about the creative arts, I'll be posting about my work so make sure to visit!
March 9, 2011 by moinahmed · Comments Off on Moin's Second impression
I have been here for over three months now and conversely, time seems to have flown past so quick. I will now describe the work I have been doing and knowledge that I have gained from working in Proboscis.
My last impression was focusing more towards the research of Proboscis's back end system and how the system is helping many organisations in UK and worldwide.
From the research, I have managed to understand that the Bookleteer system was used a lot internally and externally to create eBooks and Story Cubes to share experiences through this media. Having a system that generates a lot of traffic, it was important to make sure that the process of ordering prints or even to create eBooks/StoryCubes is easy for users.
Past and Present Work
There are some changes I have made since my last impression:
Some tweaks in bookleteer blog CSS design to improve page layout.
Adding a slideshow of images of some eBooks and StoryCubes to the bookleteer home page.
Creating an online price estimator for bookleteer's short run printing service allowing users to customise parameters (such as size, quantity and shipping destination) and receive an immediate estimate of the costs of printing ebooks or StoryCubes.
Improving the navigation menu of the main proboscis website to allow as many drop down options as required.
Testing the bookleteer API for bugs and reporting back to the chief developer.
Working on design improvements to the user interface in bookleteer for creating eBooks.
Future work
I have recently started working towards redesigning and developing the front end system for bookleteer ordering systems. We should be able to incorporate this system with Paypal's payment system to make the process a lot easier and faster for users. This should allow the invoicing to be made a lot easier than the current system.
We are also looking forward to re-designing the back cover of eBooks such that more spaces are available for users.
Knowledge and skills gained from working in Proboscis
So far I believe my knowledge of WordPress has increased dramatically as I can now work on the back end of WordPress where I believe I am confident enough to edit/add scripts to make the WordPress page more personal yet leave the CMS system unchanged.
My knowledge of CSS has also increased dramatically as I have now managed to understand the requirement for CSS in IE, which involves a lot of tweaking to make sure the pages display accurately.
Using these two solid skills, I have managed to design and create WordPress Portfolio of my own.
For further interest in the future, I want to create the admin side of the pricing estimator page, which will allow the admin to change the figures in database which will reflect towards the estimator and the final cost.
I look forward to working in Proboscis every day and enjoyed every moment of my time spent here.
March 8, 2011 by radhikapatel · Comments Off on Radhika Patel – Second Impressions
Radhika here, the not so new Marketing and Business Development Assistant. It's already been 4 months and here I am writing my second impression post… how time flies!
I last left off in the middle of the creation of the StoryCubes website, which has now been launched :). Having worked on the website and written numerous blog posts for promoting the StoryCubes, I have finally overcome my initial difficulty of blogging. This had led me to become a weekly 'pop-up' on the Bookleteer blog too, coming up with new and inspiring uses for Bookleteer. The part I enjoy the most, is actually bringing my ideas to life, by creating a mock up of each idea. It's great seeing my ideas on paper instead of an image in my mind, and for all to see!
Even though I'm the Marketing Assistant here at Proboscis, my favourite part so far has been the opportunity I have had to dabble in all the projects that are happening, from City as Material to Mandy's Outside the Box project (great fun!). Being able to be apart of a variety of projects has given me much more understanding about Proboscis, how they work and much more of an insight than I could have imagined.
Another bonus I have had working at Proboscis is putting my photography 'skills' into action! This has definitely been one of the highlights so far as I love being behind the camera and being taught by Alice or Giles on using the SLR and about lighting, is much more valuable than attending any class! I am very grateful I have had the opportunity to do this, as it's something I enjoy and want to continue doing. 🙂
The placement so far has given me a number of opportunities to learn new things, especially finally learning how to use Photoshop, with the help from my fellow placements.
I have continued to learn from both Alice and Giles about the arts and can expect an inspiring story to pop up any time of the day. I feel this has been one of my most valuable experiences here, as before I wasn't exposed to the arts industry and have been opened up to a whole new world if you like.
However, I am still trying to conquer the four flights of stairs every morning, but apart from the breathless moment I have once I get into the studio, I am enjoying every minute of my time here.
March 4, 2011 by hazemtagiuri · Comments Off on Final Reflections – Hazem Tagiuri
Creative Assistant
(6 Month Placement, Future Jobs Fund July 2010-January 2011)
Before starting my placement here, I had only vague notions of a career in writing, knowing I would inevitably employ my ability in some way, but entirely unsure what form this would take. I enjoyed scribbling poetry and other writing, usually as a result of my leisurely days, having decided not to attend university or embark on a meditated career path. These jots were the results of experiences I had in place of established life routes, and I never conceived they would shape my creative ambitions for the future.
Working at Proboscis has channeled my writing into a medium that lets it develop and influence others, rather than lurking in scrapbooks that never see the light of day. By regularly blogging – describing what's going on the studio and my own creative processes, as well as researching inspiring works and spreading the word – I'm honing my craft and developing a work ethic. More exciting however, by creating and taking part in projects that use my scrawls, such as the City As Material series, I'm producing original writing pieces that are slowly forming into a respectable body of work. Although mostly short poems, (albeit with common themes that allow them to be compiled and displayed in their own right) I'm looking towards short stories and longer pieces to spur my development further.
Having the opportunity to showcase my writing, and letting the environment and events experienced here inspire it in turn, has influenced what route it might take. I wouldn't rule out trying to publish an anthology, or at least submitting my work to publications – something I had only done once before, without reply. Even having a hand in a publication which displayed other people's work, would be of great reward – then again, I've been doing that here with City As Material, and barely noticing the ramifications. I don't think you comprehend the opportunities and possibilities available during a placement like this, until it is nearly finished, or asked to write an account of it. Perhaps that's just my skewed look at it – motivation has always been an issue and this is my first job in the creative sector. I know there are people who are industrious (and rightly so) when it comes to their creative work – endlessly writing, committing to multiple internships and gaining ladder-holds and experience – yet I'm only just easing into that groove.
I think therefore, placements such as these could definitely benefit from being longer. Approaching the end of the 6 months, after adapting to creative working and learning techniques, I was just settling in and at the peak of productivity. Thankfully, I am being kept on as a full team member, but if the placement had ended there, I fear I might have been at a loss – not able to showcase a portfolio of work which was created in these additional months, and perhaps having to resort to a non-creative job, where it would be extremely difficult on focus on and develop my writing.
On a more optimistic note, as a result of the placement here and the work I've been involved with, we're currently planning and scheduling new City As Material events for this year, as well as more Pitch Up & Publish workshops. I'm looking forward to sharing the techniques and experiences I've gained, with people who might now be in the position I was last year, and who are interested in using bookleteer and getting their work seen. Thus, it seems I might be able to take on a similar role that Proboscis and New Deal of The Mind have performed for me – undoubtedly rewarding, and a symbol of how placements such as these can positively influence people, who then hopefully inspire others.
Hazem Tagiuri, March 2011