December 18, 2010 by Giles Lane · Comments Off on November on diffusion.org.uk
A handy list of eBooks and StoryCubes published on diffusion.org.uk in November :
City As Material Underside eNotebook
The Tournament of Beasts by DodoLab
As It Comes eBook & StoryCubes by Alice Angus
City As Material : Skyline eNotebook
Ebb and Flow – a collaborative eBook produced by the participants of the City As Material : river event
City As Material : River eNotebook by Proboscis
December 16, 2010 by hazemtagiuri · Comments Off on Second Impressions – Hazem Tagiuri
Hello again. Since writing about my initial experiences of working at Proboscis, I've been working on various projects, primarily with bookleteer and the blog. Contributing regularly since Karen Martin sadly left us, I've been continuing to look at zine culture, and recently highlighting interesting uses of bookleteer in the Diffusion archive. Blogging several times a week has helped me develop a work ethic in regards to writing, something I was struggling with before joining Proboscis.
Giles and I also launched a new platform for collaborative publishing – our Pitch In & Publish: City As Material series of events. The fifth, and final, event "Sonic Geographies" was last Friday, having being held fortnightly since the 15th of October. Developing the format and planning the entire series was an exciting process, and having an integral role in the creation and running of it was a prestige. Being able to trace it's inspiration from my early work with zines (the idea born from one day zine-making events), to what we plan to accomplish with future Pitch In & Publish series, gives me confidence to be able to create new long term projects.
A definite highlight of my role is having the chance to sit in on creative meetings, listening to established figure's ideas whilst observing their ways of working, as well as giving input myself. The enthusiasm that results from open-minded thinking and the visualisation of possible concepts, is hard to match.
Several new team members have also joined us – Radhika, Christina and Moin. Their arrival has certainly brought a surge of activity into the studio, enabling us to work together on projects and gain new insights from other backgrounds.
Lastly, I have to thank Giles and Alice for giving me to opportunity to be here (particularly in this turbulent employment climate), as well as New Deal Of The Mind, whose work to find roles for young people in creative industries is invaluable.
December 16, 2010 by mandytang · 1 Comment
Outside The Box is a project inspired by the Love Outdoor Play campaign, which supports the idea of encouraging children to play outdoors. We brainstormed about possible games children could play and creating props to assist their gameplay using Diffusion eBooks and StoryCubes made with bookleteer.
The first idea was a visual game using the StoryCubes, which Karen had blogged a sneak peek of a few weeks back. It was a brain teaser type of game, where one image was spread across two squares – so one face of the cube had 4 halves of an image along each edge of the square. The aim was to match up the top and bottom half together. The puzzle only worked if there was nine squares, any less and it wouldn't have been challenging enough.
The original set had 4 themes, the first being domestic pets, the second insects and bugs, the third sea creatures and the fourth snakes.
After leaving this set out for members of Proboscis to try and solve, they thought it was humorous mismatching the animal halves together. They came up with many wild combinations such as a mer-dog (top half of a dog and lower half of a fish) which struck the idea of another way to play with this set of cubes – make the sound of the animal on the top half and move like the animal on the bottom half. Keeping this idea in mind, I redeveloped the set by adding different animals which make funny noises or move differently and as a result it made the puzzle easier for a younger age group because it resembled the card game Pairs.
The next set consists of a role playing game, encouraging children to use their imagination and interacting with each other if played in groups. With elements of exploration, this set was most fitting for the Love Outdoor Play campaign. There are six characters to choose from, each occupying one face on each cube with a mission. Just like the first set, this game used a total of nine cubes – meaning each character had a total of nine missions to accomplish. Characters for this set included spy, detective, super hero, storyteller, adventurer and scientist.
The last set is a story telling game, the set of cubes acts as a starting point in telling a story leaving children to fill in the gaps with their imagination. One cube decides the genre of the story, another cube decides the time setting and a third cube decides how the story will be told. Keeping the consistency of using nine cubes in one set, the remaining six cubes consists of words to which the player will use in their story.
At the moment these games are in prototype stage, where the final colour palette is to be decided and the finishing touches to be made and polished. Although I had hoped to have finished the prototypes sooner I guess working on 162 faces was a lot more  challenging than I thought (laughs). 120 of the faces were illustrated and the remaining 42 contained words, which the  Proboscis team kindly assisted with (thanks everyone!) Nonetheless, I have enjoyed the whole process and think that this project has given the opportunity for team work and I still feel that I have much to learn and look forward to learning more about the different methods used in deciding a colour palette for the final product.
December 15, 2010 by mandytang · Comments Off on Second Impressions – Mandy Tang
Wow, it's already time for me to write about my second impressions huh? If you're wondering, it's Mandy here! I started in July as a Creative Assistant for Proboscis, it's been five months already!! Where did all the time go?! (laughs)
It's been pretty busy during these five months, Giles and Alice have been cracking the whip to keep me busy working (T_T). Just kidding haha. They've been great fun, and most generous when offering advice and enlightening me with their knowledge, it always leaves me in awe with the amount of things they know.
Also, there has been more placements on board! Christina and Radhika are such lovely people, they both have a great sense of humour, easy to talk to and are always offering to help when it seems like I have too much going on (laughs). Oh and Moin; our programmer, joined just recently too! As for Haz… he's been picking on me since day one!! that aside, he offers me assistance and I've enjoyed his blog posts and look forward to his future posts. Thanks guys for your help and support!
During the past few months I have been working on various projects. The first being Tangled Threads, then my current project Outside The Box and offering assistance here and there with City As Material.
Throughout these projects I sincerely thank Giles and Alice for trusting me with creating work without any pressure and just allowing me to carry out the projects to the best of my ability whilst offering kind encouragements. I tend to get carried away with trying to perfect everything so I thank you both for your patience and apologise for the delays!
If you remember reading my first impressions, I mentioned the many different assets in the studio either tucked away or on display and wondering about the story behind them… well… I've joined in with my own clutter! I've made so many Story Cubes I can build a fortress! Soon I'll have enough to make a draw bridge to go with it (laughs).
It's been really fun so far and I've learnt a great deal from Giles and Alice. I'll do my best to fulfil my role and create work which others will enjoy! Have a great Christmas everyone!
December 14, 2010 by Giles Lane · 1 Comment
At the beginning this year I started planning how we could begin to introduce bookleteer into education and learning contexts and programmes – not just in formal settings such as schools, colleges and universities, but also in other spaces and places where learning takes place : museums, community centres, libraries, archives and grassroots groups.
We began this journey with a Pitch Up & Publish workshop in February co-hosted by former teacher, writer and digital evangelist at TeachersTV, Kati Rynne which was aimed at teachers and creative people who work in education settings. Among the participants who took part was Ruth from Cambridge Curiosity and Imagination who have ended up creating around a dozen eBooks for workshops and projects they've been running with people of all age groups. Others have also used bookleteer in their own projects and for creating teaching and learning outcomes – workbooks, notebooks, documentation and course materials – and not just in English, but Hindi and Arabic so far too.
Our own City As Material event series has also outlined a simple model to bring a group of people together to explore an idea, place or theme and then collaboratively produce eBooks (you can follow the development of the series over at diffusion.org.uk). In these events we've shared lots of local knowledge and experience within the group of participants, and found creative ways to share and explore themes of common interest with other people. Its very much in the informal/non-formal learning space (one of the participants was Fred Garnett, a former policy advisor at Becta who's written on and worked extensively in this area) and I think it suggests exciting ways in which hyper-local groups can come together to explore or pool knowledge and experience, capture and share it in a rapid and very easy way not only among themselves but with wider communities too.
More recently we've been joined by an Education Assistant on a 6-month placement whose role is to help extend and focus our efforts on working both in formal and informal learning. We've begun a collaboration with Soho Parish Primary School, where she'll be spending 1 day a week from January til Easter – helping both teachers and students use bookleteer to create tangible outcomes from curriculum based projects. We're also using this project to understand more about the specific needs of schools in using online platforms like bookleteer; potentially to build a separate schools version that suits the context of authoring and sharing by children and the need for oversight by staff around issues such as child protection.
bookleteer is about helping people make and share beautiful publications of their own – whether they handmake the results or choose the PPOD professional printing service. We want to help people find new and dynamic ways to record and share the ideas, stories, knowledge and experiences they have – learning and exchanging things of value as they go. bookleteer has enormous potential to enable people to make and share things of their own, books and storycubes; things which they can share with people all around the world, without the problem of shipping physical objects. Hand-written eBooks can be scanned in and made available online in the same way as 'born digital' ones and can also be turned into professionally printed books too.
We'd love to hear from other people in education and learning contexts who see the potential of using bookleteer in their own work and play, want to try it out and share their ideas, experiences and templates with others. We'd like to see bookleteer evolve into more than just a tool – into a community of practitioners creating and sharing across many languages, geographies, interests and outcomes. In the new year we'll be launching new functionality which will open it up even further. Watch this space.
December 13, 2010 by radhikapatel · Comments Off on Radhika Patel – 1st impressions post
Hey, Radhika here, Proboscis's new Marketing and Business Development Assistant. It has been 2 years since I graduated and I felt like landing a job in marketing which I craved so much, was not going to happen any time soon, until I came across Proboscis through the Future Jobs Fund placement. I applied to the role straight away, which I knew was perfect for me and when I got the call saying I had been offered the job, I was over the moon.
I have been at Proboscis just over a month now and really feel apart of the team. Giles and Alice are both welcoming as well as the other placements. As this is my first time working in the arts, which is proving to be an enjoyable experience, I have had the opportunity to learn about new and interesting topics. I find Alice and Giles to be really knowledgeable which is quite inspiring at times, as I have explored areas which I wouldn't have if I wasn't here.
Take the City as Material (Skyline) walk, which occur fortnightly, as an example. This walk has been my favourite so far as I simply love walking around a city (in any country) looking at the architecture. It made me look at London from a whole new perspective, as well as learning interesting facts throughout the day from Giles and the special guest speaker Simon.
I spent my first week getting to know Proboscis, their projects and how to use Bookleteer. Along with Christina, Proboscis's Education Assistant, we both created eBooks (shown below) using Bookleteer – 'Eye Make Up Tips' and 'My London.'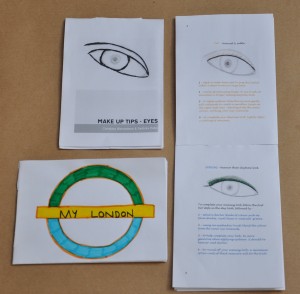 I am still getting the hang of assembling the eBooks, but I am getting quicker and better each time I put one together. 🙂
Currently, I am working on the new StoryCubes website (launching soon), writing posts for various uses of a StoryCube. I've never been a blogger of any sort, so when it came to writing posts I found it difficult to get my head around. However after some guidance from Giles and Alice, I've now got the hang of it and am excited to carry on and write more posts for you all to read and enjoy.
What I like most about working at Proboscis is being able to work on my own projects as well as working with the other placements, helping them with their projects and working as a team. We all get along really well and the atmosphere is really relaxed and laid back which makes working in the studio more fun!
This is just the beginning for my time at Proboscis and even though the four flights of stairs takes it out of me every morning, I am looking forward to see what my forthcoming days here will bring.
December 6, 2010 by Giles Lane · Comments Off on Mandy's guest post on NDotM blog
Mandy recently had a guest post published on New Deal of the Mind's blog where she discusses her experiences of the first few months and the GOALS programme which is offered as part of the placements run through NDotM.
December 6, 2010 by Giles Lane · Comments Off on welcoming another new placement
We're very happy to welcome Moin Ahmed to the Proboscis team on a six month placement funded through the FutureJobs Fund, in partnership with the London Borough of Islington.
Moin has joined us as a coder/web development assistant and will be working primarily on bookleteer.com as well as other online projects we have running. He recently completed a degree in Computer Science and Informations Systems at Goldsmiths College, University of London and has been volunteering for non-profits and working on his own projects since then.
December 3, 2010 by hazemtagiuri · Comments Off on With Dodolab in Oxford
Yesterday, Giles and myself took a trip to Oxford to meet Andrew and Lisa from Dodolab, who have just arrived in the UK, for an informal City As Material style wander. We thought it might be a great place to hold future Pitch In & Publish sessions, so we explored several of its museums as possible locations for inspiration.
First up, the Oxford University Museum of Natural History, (whose sign actually bears a Dodo) an amazing building hosting the skeletons of various beasts and stuffed creatures, and also containing the entrance the Pitt Rivers Museum. Dedicated to anthropology and world archeology, this extraordinary place is crammed with a huge array of exhibits; ancient handicrafts, shrunken heads, ornate weaponry, lining every inch. Lastly, the Ashmolean, with an extensive collection of western paintings.
Impromptu Pitch In & Publish sessions, perhaps causing some light mischief along the way with our partners in crime Dodolab, would be a great idea. The Pitt Rivers in particular would be perfect, perhaps a storytelling scenario where participants swap real and imagined tales about found objects and create their own eBooks chronicling them. We're looking forward to returning and having some more fun.
December 2, 2010 by aliceangus · 1 Comment
My time in Lancaster on As It Comes is drawing to a close this weekend with our final event this Saturday when we'll be hosting a stall at the Vintage and Handmade Market at Storey Gallery in Lancaster from 11am until 6pm. Instead of a financial exchange for one of my drawings (with a brew, mince pie and piece of cake), I'll be asking for your memories about independent shops. So bring me a memory and we will provide a drawing and some tasty refreshments. Directions are here.
At 1pm I'll also be doing an informal talk about the work and weather permitting we will walk down to the hangings in 18 New Street and talk about Lancaster's independent traders. You'll also be able to pick up the set of storycubes and the project publication.
This week we had Caroline Maclennan in the studio using bookleteer to create a download-print and make sketchbook of documentation of As It Comes. We've been lucky to have Caroline as a placement on the project and she has also been documenting its progress. You can download her book here: