September 3, 2009 by Giles Lane · Comments Off on introducing bookleteer.com


Proboscis is very excited to announce bookleteer.com – our forthcoming service for creating eBooks and StoryCubes which uses the latest version of the Diffusion Generator. We are planning a private beta test of the service in early October, with a public version launching in 2010.
Bookleteer will allow individuals and organisations to create personalised eBooks and StoryCubes under their own identity (the front covers of Bookleteer-made eBooks can contain a logo image) and with a cover image to make each publication more distinctive and recognisable. Bookleteer supports all 4 types of eBooks (classic/book ; portrait/landscape) as well as single and double-sided StoryCubes. It will additionally support eBooks created in many other languages and non-Roman alphabets (Hindi, Chinese, Greek, Russian etc) and will enable Right-to-Left eBooks to be created for Right-to-Left languages (Arabic, Urdu etc).

We'll be developing some pilot projects over the next 6 months to demonstrate Bookleteer's uses and capabilities, especially around its new API which will allow other websites and systems to call its services to generate eBooks and StoryCubes from external content and datasets.
We'll be posting regular progress updates on Twitter and on diffusion.org.uk.
June 30, 2009 by Giles Lane · Comments Off on Sutton Feast Week: exhibition & events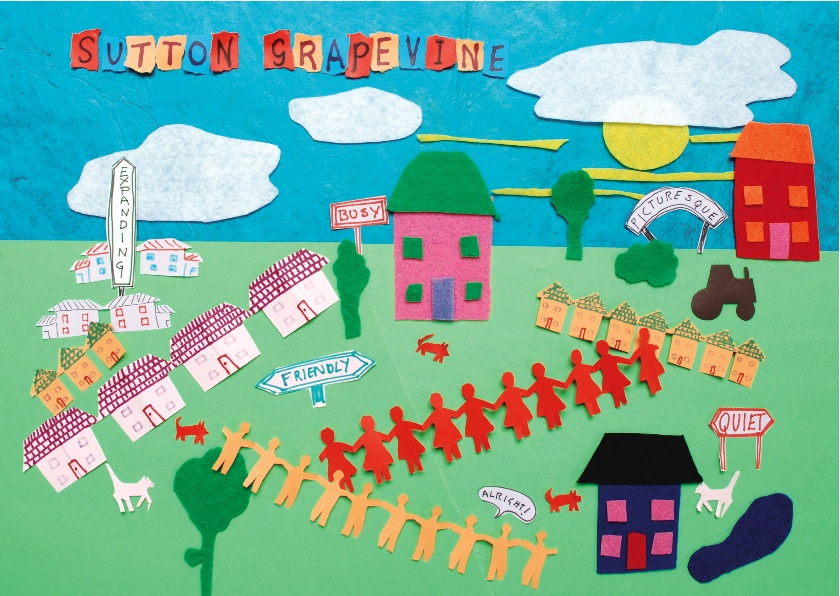 We are preparing to head off this week to Sutton-in-the-Isle to exhibit our work on Sutton Grapevine at the annual Sutton Feast. There will be a display in St Andrews Church from Wednesday to Sunday and over Friday and Saturday we will be joining various Feast Events to show people the Grapevine and hopefully inspire them to add their own stories. Having spent a week in Sutton in June we have gathered a huge range of stories and audio which are now being edited and podcast on the Grapevine. We've gathered stories through interviews and chance encounters, meetings, attending clubs and groups, visiting events, working with the youth group, organising a BBQ, exploring the local area by bike, foot and car, through an exhibit in the Babylon Gallery Ely and through the website.
This week we will be at
Wed 1st – Fri 3rd July, 7pm – 11pm St Andrews Church (during Beer Festival)
Fri 3rd July, 2pm – 5pm St Andrews Church (free)
Sat 4th July, 10am – 12pm Tithe Sale, St Andrews Church (free)
Sat 4th July, 12pm – 3pm FOSS Annual Summer Fete, Sutton Primary School (free)
Sun 5th July, from 7.15pm St Andrews Church (during Last Night of the Proms)
Come and join us for a day in the Fens.
June 4, 2009 by aliceangus · Comments Off on Sutton Grapevine
This week we are back in Sutton-in-the-Isle for Sutton Grapevine our  story gathering and sharing project commissioned by ADeC.
From 3rd – 9th of June we'll be roving around the village gathering and recording stories in many ways; from hanging out at the election, the community shop, the pub and the community spaces with a large village map, to visiting local clubs and individuals, to hosting a storytelling dinner with the residents of a street, to running workshops and going for walks. As the village continues to change through growth, movement and migration the initiative aims to let local people explore place and identity.
Alongside this we've integrated storytelling and news sharing (by email and with a WordPress blog);  sound recordings (via the free podbean and AudioBoo podcasting servicees and the low cost Gabcast telephone-to-MP3 podcasting service); photo sharing (via the Flickr group pool); social connections (via the Facebook Group) and news feeds (via Twitter). We will also be adding in some of our own inventions like StoryCubes and Diffusion eBooks to make tangible things that can be passed around, as well as the digital media.
Should you find yourself in the area please come and find us in Sutton to add a story to the Grapevine or  join in remotely.
We will be back during Sutton Feast Week from the 1st – 5th July with an exhibition and audio broadcasts at St Andrews Church and around the village.
See you in Sutton!

May 29, 2009 by Giles Lane · Comments Off on Sandwell Sense of Place
Proboscis has recently been invited to join a tender bid to Urban Living and Birmingham City Council for the Sandwell Sense of Place project. The other partners are Rob Annable and Mike Menzies of axis design architects (who are leading the bid); Michael Kohn and Chris of YouCanPlan and Nick Booth of Podnosh. The sense of place project aims to devise a toolkit and archive using a variety of media and techniques for local residents to articulate their sense of place in two areas of Sandwell near Birmingham in the 'Western Growth Corridor'. This sense of place and its archive will form a key input into the regeneration masterplanning process.
As part of our interview we created a special Diffusion eBook outlining the team's approach and illustrating some of our previous work.
March 2, 2009 by Giles Lane · 3 Comments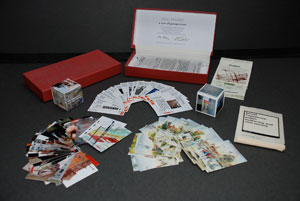 Proboscis is proud to announce the publication of A Case of Perspectives – a limited edition artists bookwork by Alice Angus and Giles Lane, created as part of Social Tapestries. The bookwork contains a series of designed as well as handmade artefacts inspired by and responding to our experiences in the Social Tapestries programme of projects. 63 Tapestry cards are organised into 3 groups – 21 Endless Landscapes, 21 project photos and 21 Urban Tapestries mobile phone interface screenshots – the reverse sides printed with sections from a map of Urban Tapestries threads and pockets. Also enclosed are 2 StoryCubes, 1 containing images upload by UT trial participants and the other representing 6 principles of public authoring. A copy of the Atlas of Enquiry and a handmade eBook presenting an overview of the Social Tapestries research programme complete the box.
Numbers 1-21 will be sold complete with an unframed original watercolour painting of one of the Endless Landscape panels by Alice Angus. Price – £200 + shipping. Please contact us for more details.
Numbers 22-190 are available to buy online price – £40 + shipping.
November 3, 2008 by Giles Lane · 1 Comment

In February 2008 Proboscis were resident with ICE (Information and Cultural Exchange) in Western Sydney, Australia. We collaborated with ICE and the British Council Australia to run a workshop and exchange labs over 3 weeks with a group of 15 creative practitioners from local communities. The project grew out of connections we made with ICE during the Coding Cultures project by d/Lux/MediaArts in Australia in 2007.
Through a series of intensive workshops, Proboscis explored approaches to creatively transforming cities and shared techniques with the Western Sydney artists, who in turn had the opportunity to develop projects. Members of the wider arts community participated in half-day Exchange Labs and a public symposium. Lattice addressed the ways culturally diverse communities engage with their environment and considered; what happens when people come to a city? What knowledge is lost, or gained? What are the impacts of emerging new identities on cities?
Team: Alice Angus, Giles Lane & Orlagh Woods
Participants: David Capra, Ali Kadhim, Sanez Fatouhi and Amin Palagni, Ben Hoh, Tiffany Lee-Shoy, Fatima Mawas, Ben Nitiva, Matt Huynh, Tak Tran and Tina Tran of Popperbox, Denis Asif Sado, Trey Thomas, Maria Tran, Todd Williams and Kasama Yamtree.
Partners: ICE (Information & Communication Exchange)
Funded by the British Council as part of the Council's Creative Cities East Asia initiative
with additional support from Foundation for Young Australians (Youth Digital Cultures Project) and support from the AMWU.
November 3, 2008 by Giles Lane · 3 Comments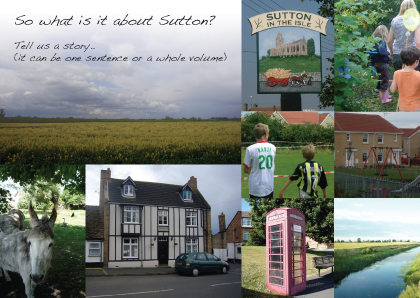 Sutton Grapevine explores issues of place and identity in and around the village of Sutton-in-the-Isle, Cambridgeshire, focusing on the unique context of Sutton, its location in the Fens, the rapid development of the village, it's rich history and the complex mix of it's multiple communities past, present and future.
It draws inspiration from storytelling's historical context: the telling and retelling of folktales as they travel between villages or continents, the sociable storytelling in the pub or around the living room fireside, the broadcasting of stories via radio and books. The project collects and shares stories with the local community through a series of events, online media and sociable listening experiences.
Sutton Grapevine proposes a kind of template for using hybrid online and offline experiences in rural communities where there is a lack of "permanently available shared cultural spaces". Spanning the technological and tangible  we aim to bridge virtual and physical spaces in compelling and innovative ways.
http://suttongrapevine.org
Follow suttongrapevine on Twitter
Team: Alice Angus, Dia Batal, Giles Lane, Karen Martin & Orlagh Woods.
Commissioned by ADeC.
Funded by Arts Council England East.
November 3, 2008 by Giles Lane · 1 Comment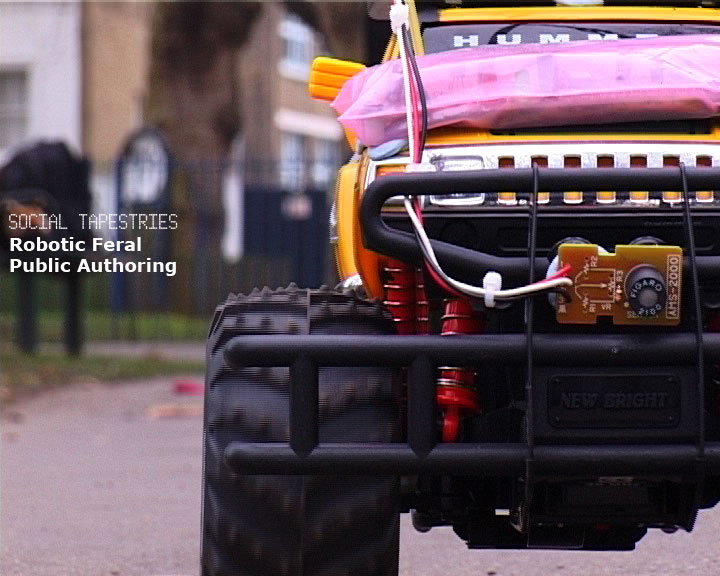 Robotic Feral Public Authoring was a collaboration between Proboscis, Birkbeck College's Pervasive Computing Lab and Natalie Jeremijenko. Combining Proboscis' Urban Tapestries public authoring platform with Natalie's Feral Robot concept (first commissioned by Proboscis for Private Reveries, Public Spaces) to create a pollution sensing and mapping tool for local communities to discover more about their environments and correlate it with other local knowledge.
Working with local residents and users of London Fields in Hackney we built a feral robot to sense air pollution in the park, uploading the data via Mesh WiFi to the Urban Tapestries platform where it could be seen mapped against local knowledge about the park shared by residents. Space Media Arts provided a base for a bodystorming workshop and access to a local mesh wifi network.
Team: Demetrios Airantzis, Alice Angus, Camilla Brueton, Dima Diall, Natalie Jeremijenko, Giles Lane, Karen Martin, George Papamarkos, George Roussos & Orlagh Woods.
Partners: Birkbeck College (University of London), Space Media Arts.
Funded by EPSRC (Engineering and Physical Sciences Research Council)
November 3, 2008 by Giles Lane · 1 Comment
A week long workshop exploring children's relationship to the environment with Year 4 students at Jenny Hammond Primary School in July 2006. Part of Social Tapestries research programme.
Activity Report (PDF 1.6Mb)
Team: Loren Chasse, Giles Lane & Orlagh Woods.
Partner: Jenny Hammond Primary School
November 3, 2008 by Giles Lane · Leave a Comment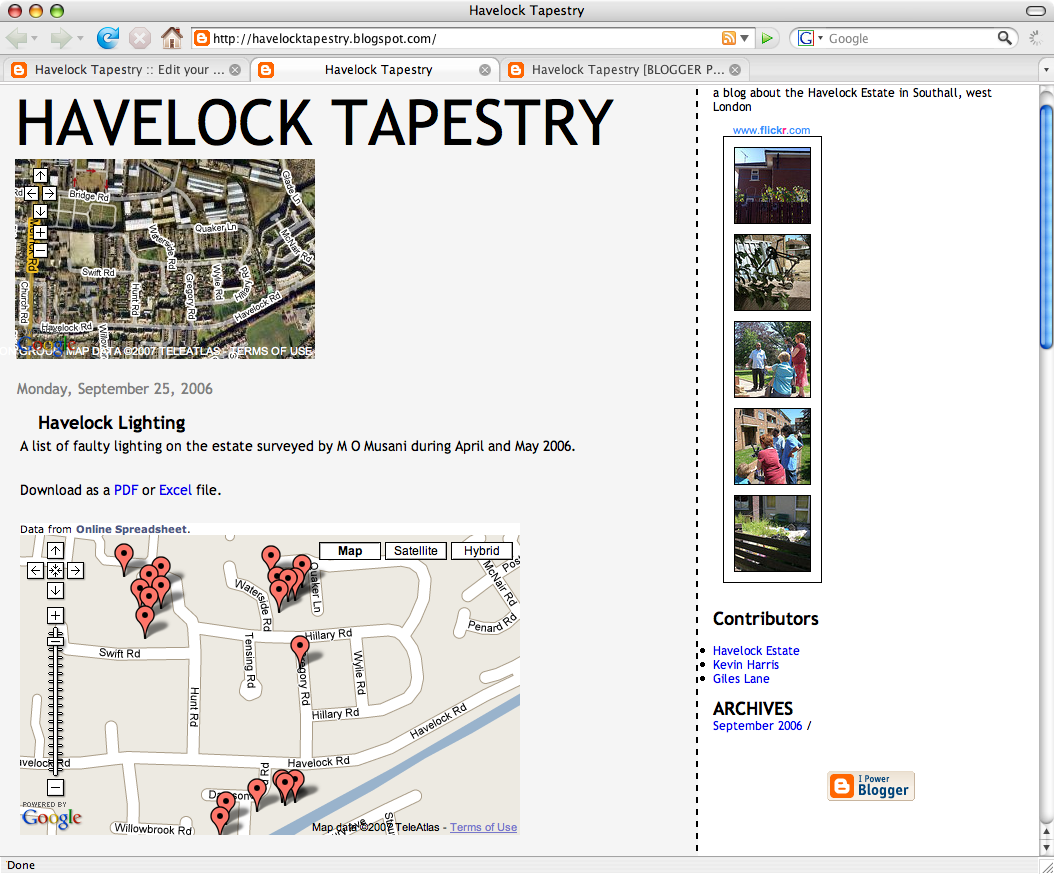 As part of our Social Tapestries research programme, Proboscis collaborated with Kevin Harris of Local Level and residents of the Havelock Estate in Southall, west London to explore how communication technologies (such as Urban Tapestries) and creative techniques (such as Bodystorming, StoryCubes & Diffusion eBooks) might enhance democratic engagement at local level by stimulating the habits of participation.
The project encountered significant issues in adoption and engagement due to complex and interwoven social, cultural, economic, linguistic, educational factors – and a key outcome was the ongoing evaluation of these barriers and how we tried to address them. The project's final report to the Ministry of Justice (April 2007) quickly became Proboscis' most downloaded publication ever.
Team: Camilla Brueton, Kevin Harris (Local Level), Giles Lane & Orlagh Woods
Partners: Bev Carter (Partners in Change); HIRO (Havelock Independent Residents Organisation)
Funded by the Ministry of Justice (Electoral Policy Division Innovation Award)
November 3, 2008 by Giles Lane · Leave a Comment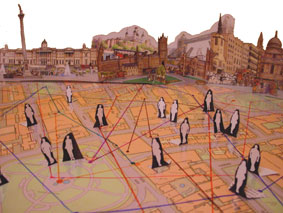 Social Tapestries (2004-08) was a five year research programme of projects that grew out of our original Urban Tapestries project. The focus of Social Tapestries was to create a series of experiments in public authoring in challenging environments and with local communities that could begin to reveal the potential for emerging mobile media in enabling change through the mapping and sharing of knowledge and experience in everyday settings. We developed projects with two social housing groups (a residents' committee and a short-life co-op), schools (a secondary near Hull and a primary in North London), residents/users of London Fields and people who lived and worked in Hoxton.
Team: Alice Angus, Camilla Brueton, Kevin Harris, Giles Lane, Karen Martin, Sarah Thelwall and Orlagh Woods.
Partners & Collaborators: Birkbeck College; London School of Economics; Jenny Hammond Primary School; HIRO (Havelock Independent Residents Organisation); St Marks Housing Co-op, Kingswood High; Getmapping.com;
Funded by Arts Council England, Ministry of Justice, Calouste Gulbenkian Foundation, EPSRC (Engineering and Physical Sciences Research Council)
November 3, 2008 by Giles Lane · Leave a Comment
Urban Tapestries (2002-04) was a ground-breaking project that investigated how the combination of geographic information systems (GIS) and mobile technologies (including ad-hoc WiFi) could enable people to map and share their knowledge and experience, stories and information – public authoring. The transdisciplinary team developing it wove together an action research process bridging programming, ethnography, visual arts, filmmaking, animation, product design, information architecture, concept design, rapid & paper prototyping and creative writing.
The project resulted in numerous events, publications, technologies as well as two public trials of the Urban Tapestries mobile platform for public authoring in December 2003 and June-July 2004.
Team: Alice Angus, Daniel Angus, John Paul Bichard, Katrina Jungnickel, Giles Lane, Rachel Murphy, Roger Silverstone, Zoe Sujon and Nick West.
Partners & Collaborators: London School of Economics, Hewlett-Packard Research Laboratories, Orange, Ordnance Survey, France Telecom R&D UK.
Funded by Department of Trade & Industry, Arts Council England, Fondation Daniel Langlois
September 23, 2008 by Giles Lane · Comments Off on Dislocate08 workshop & symposium
Proboscis devised a creative workshop on September 18th at ZAIM, Yokohama as part of the Dislocate08 festival. The workshop is the initial stage of our research for Sensory Threads, engaging artists, urbanists, designers, technologists, musicians and dancers in an active investigation into the sensorial patterns and rhythms to be found in our environment. The area around ZAIM in Yokohama became our research field as we sought out and evidenced the recurring, overlapping and intersecting sounds and movements that take place as we act in, and react to, our environment.
Sensory Threads is a work-in-progress to develop an instrument enabling a group of people to create a soundscape reflecting their collaborative experiences in the environment. For this interactive sensory experience, we are designing sensors for detecting environmental phenomena at the periphery of human perception as well as the movement and proximity of the wearers themselves. Possible targets for the sensors may be electro-magnetic radiation, hi/lo sound frequencies, heart rate etc). The sensors' datastreams will feed into generative audio software, creating a multi-layered and multi-dimensional soundscape feeding back the players' journey through their environment. Variations in the soundscape reflect changes in the wearers interactions with each other and the environment around them. We aim to premiere the work in 2009.
We also took part in the Dislocate symposium on September 20-21st, presenting our film Play to Invent and giving an overview of our work in public authoring, sensing, mapping and mobile technologies.
September 1, 2008 by Giles Lane · Comments Off on Perception Peterborough – Voices
Voices records hopes, aspirations and feelings about the city of local people we encountered during our anarchaeological research for Perception Peterborough. One of a series of 8 "Impressions" of the city of Peterborough in England. Part of the Perception Peterborough project which involves artists and consultants in working with local, national and international people to develop a compelling and exciting vision for the future of the city.
May 9, 2008 by Giles Lane · 1 Comment
Indigenous Public Authoring
A collaboration with Professor James Leach (UWA/CNRS) working with local people in Reite village, Rai Coast Papua New Guinea to co-design new shareable ways to record and share their local environmental and cultural knowledge.
Begun 2012 | Ongoing
Hidden Families
A collaboration with ISG at Royal Holloway University of London, Freya Stang, NEPACS and Action for Prisoners Families to document and share the experiences of families visiting relatives in prison.
Begun 2012 | Completed 2013
Visualise Lifestreams
An Art + Industry commission as part of Anglia Ruskin University's Visualise programme to work with Philips Research UK exploring new ways to engage people with biosensor data to promote wellbeing and healthy life choices.
Begun & Completed 2012
Pallion Ideas Exchange
A collaborative community co-design project in partnership with the Information Security Group at Royal Holloway University of London and Pallion Action Group in Sunderland to assist in creating a grassroots knowledge network.
Begun & Completed 2012
StoryWeir
A commission to create a site-specific artwork on Hive Beach, Dorset (on the "Jurassic Coast") as part of the Cultural Olympiad connecting human time with geological time.
Begun 2011 | Completed 2012
Fabric Design
Experiments with drawing and digital printing of fabrics.
Begun 2010 | Ongoing
Public Goods Lab
Our in-house R&D creative technology initiative.
Begun 2011 | Ongoing
Public Goods
Our new 5 year programme of projects focusing on making and sharing tangible representations of the intangible things we value most about the places and communities we belong to, such as stories, skills, games, songs, techniques, memories, local lore and experiential knowledge of local environment and ecology.
Begun 2011 | Ongoing
Agencies of Engagement
A collaborative research project with CARET & Crucible at the University of Cambridge investigating groupwork and collaborative practices in the university community to support software development of a collaboration platform.
Begun & Completed 2011
City As Material
A series of one day events in London combining urban exploration and collaborative publishing with bookleteer. 5 collaborative eBooks published and 4 eBooks commissioned from invited guests : Tim Wright, Ben Eastop, Simon Pope & Alexandra Deschamps-Sonsino
View the eBooks here
Begun & Completed 2010
Safe Planet
A commission to co-design and develop the artistic identity for a major global awareness campaign about Persistent Organic Pollutants for the United Nations Environment Programme.
Begun & Completed 2010
Graffito
Proboscis is a creative partner in the Graffito project, supported by the Horizons Digital Economy Research Institute, developing a collaborative drawing platform for smartphones and tablets.
Begun & Completed 2010
As It Comes
A commission from the Lancaster Chamber of Commerce to create a series of artistic works by Alice Angus about the independent traders of Lancaster and the culture of local trade.
Begun & Completed 2010
Birmingham Total Place
A commission for the Birmingham Total Place project to document the experiences of families receiving "Early Intervention" from social services and to communicate this in a novel way to policymakers and senior management.
Begun & Completed 2010
bookleteer
Our new free web service for creating Diffusion eBooks and StoryCubes.
Launched 2009 | Ongoing
With Our Ears to the Ground
A commission from Green Heart Partnership to engage with 4 different geographic communities in Hertfordshire and explore people's ideas about community.
Begun 2009 | Completed 2010
DodoLab
Proboscis is continuing our collaboration with DodoLab (a project supported by University of Waterloo and the Musagetes Foundation) first initiated at the 5th World Environmental Education Congress in Montreal, Canada May 10th-14th 2009.
Begun 2009 | Ongoing
Sensory Threads
Proboscis is developing a new mobile participatory sensing project with researchers from the Centre for Digital Music at Queen Mary University of London; Pervasive Computing Lab at Birkbeck College, Mixed Reality Lab at University of Nottingham; and the School of Management at University of Southampton.
Begun 2008 | Ongoing
Sutton Grapevine
A commission by ADeC (Arts Development East Cambridgeshire) to create a space where local residents of Sutton-in-the-isle near Ely, new and longstanding, can have the room to explore place and identity through creative activity.
Begun 2008 | Completed 2009
Being In Common
Being in Common invites people to expand and alter their understanding of 'common space' and is inspired by the close connection between the histories of enclosure, surveying and gunpowder that coincide in Gunpowder Park. A commission by Haring Woods Associates / Landscape+Arts Network Services at Gunpowder Park as part of the Art of Common Space programme.
Begun 2008 | Completed 2009
Perception Peterborough
Proboscis was commissioned (with strategic consultants Haring Woods Associates) to develop the creative vision for the growth for the City of Peterborough, an ambitious £1bn development plan over the next 15-20 years. Through an anarchaeological investigation of the city, its environment and inhabitants, Proboscis devised and facilitated a series of workshops and distributable works that contributed to a major regeneration strategy.
Begun & Completed 2008
Lattice::Sydney
Proboscis was invited by the British Council to design a framework for a series of collaborations and residencies with organisations in East Asia, as part of their Creative Cities programme. Lattice is a framework for Proboscis to work collaboratively with different partners in the region to engage local communities in developing their own tools and techniques for public authoring, anarchaeology and cultures of listening. The initial project Lattice:Sydney is hosted by ICE (Information & Cultural Exchange) in Western Sydney during 2008.
Begun 2007 | Completed 2008
Experiencing Democracy
A week long Social Tapestries workshop with Year 4 students at the Jenny Hammond Primary School in Waltham Forest investigating children's experiences of democracy and democratic behaviour. Developed and delivered with Loren Chasse.
Download the learning diary eBook (A4); final Group eBook (A4) and project report (A4)
Begun 2007 | Completed 2007
Snout
Snout was a Social Tapestries collaboration between inIVA, Proboscis and researchers from Birkbeck College exploring relationships between the body, community and the environment. It built on our previous collaboration on Feral Robots to investigate how data can be collected from environmental sensors as part of popular social and cultural activities. Two carnival costumes instrumented with environmental sensors were created and a mock carnival held in Shoreditch, east London in April 2007.
Begun 2006 | Completed 2007
Conversations and Connections
Proboscis collaborated on an 18 month Social Tapestries project with community development consultancy, Local Level and Havelock Independent Residents Organisation to explore how public authoring concepts and tools could be used by residents of a low income social housing neighbourhood (in Suthall, West London) to map and share local knowledge leading to an improvement in services from the local authority and housing agency. The project was funded through an Innovations grant from the Democratic Engagement branch of the Electoral Policy Division of the Ministry of Justice.
Download the Evaluation Report
Begun 2005 | Completed 2007
Everyday Archaeology
A week long Social Tapestries workshop with Year 4 students at the Jenny Hammond Primary School in Waltham Forest exploring the local environment and the children's relationship to it. Developed and delivered with Loren Chasse.
Download the Activity & Impact Report
Begun 2006 | Completed 2006
Robotic Feral Public Authoring
A Social Tapestries collaboration with Birkbeck College and Natalie Jeremijenko to adapt toy robots with GPS positioning, environmental sensors and wireless data upload to Urban Tapestries. The prototypes were built for and tested in London Fields with the help of local people, and presented publicly at the Science Museum London.
Download the Cultural Snapshot
Begun 2005 | Completed 2006
Topographies and Tales
Topographies & Tales is about the relationship between people, language, identity and place, revealing small local stories against the larger picture of how our concept of space and environment is shaped by "belonging" and "nationhood", and how boundaries, barriers and borders come to be formed. Proboscis collaborated with and supported residencies in the UK for two artists to create new works with us – Joyce Majiski (Canada) & Loren Chasse (USA).
Begun 2004 | Completed 2007
Social Tapestries
Social Tapestries was a research programme developing experimental uses of public authoring to demonstrate the social and cultural benefits of local knowledge sharing enabled by new mobile technologies. These playful and challenging experiments built upon the Urban Tapestries framework and software platform developed by Proboscis and its partners. Through collaborations and partnerships with other civil society organisations we addressed education, social housing, community arts and local government. Projects include: Experiencing Democracy, Snout, Conversations and Connections, Everyday Archaeology, St Marks and Robotic Feral Public Authoring.
Begun 2004 | Completed 2008
Navigating History
A collaboration with curator Deborah Smith commissioning 11 artists' projects in local libraries and local history collections in the South East region of England. This unique project built on the Topologies research and created dynamic new relationships between local people, the artworks and the collections.
Begun 2003 | Completed 2005
Urban Tapestries
Proboscis created and developed this groundbreaking project exploring mobile technologies, mapping and public authoring  in partnership with the London School of Economics, Hewlett Packard Research Labs and Orange with Ordnance Survey and France Telecom R&D. The initial prototype (for PDA and WiFi) had a public trial in London in December 2003, the second prototype (for Symbian mbile phone and GPRS) was given a field trial in June 2004.
Download the Report: Public Authoring, Space & Mobility
Begun 2002 | Completed 2004
StoryCubes
StoryCubes are a tactile thinking and storytelling tool for exploring relationships and narratives. Each face of the cube can illustrate or describe an idea, a thing or an action, placed together it is possible to build up multiple narratives or explore the relationships between them in a novel three-dimensional way. StoryCubes are part of the Diffusion Shareables concept and can be created using the Diffusion Generator, as well as purchased as packs for creative projects, brainstorming and workshops. Proboscis also offers a personalised StoryCube printing service.
Begun 2002 | Ongoing
Landscape and Identity; Language and Territory
Liquid Geography questioned and explored contemporary perceptions of geography, territory and landscape, at a point in time when understandings of place and space are being redefined. The initial strand of this research was Landscape & Identity; Language & Territory, a collaboration between Proboscis, MEDIA@LSE and inIVA. Two Creative Labs will be held on March 22nd and June 14th 2002 exploring how new technologies can be used in innovative ways to transform our knowledge of other societies and cultures and act as enabling tools providing a catalyst for the development of new ideas. A series of DIFFUSION eBooks were commissioned as pilots for future experiments in knowledge creation and dissemination.
Begun 2001 | Completed 2002
Sonic Geographies
Sonic Geographies takes sound as the entry point for excavating and mapping urban experience and invisible infrastructures of the city. A series of experiments and sketches were developed that operated as maps and journeys but also as highly personal renderings of sonic experience – sounds of the personal world in conversation with sounds of the city.
Begun 2002 | Completed 2003
Private Reveries, Public Spaces
Proboscis commissioned 14 proposals from leading artists and designers addressing the theme of converging media technologies (internet, radio, interactive television, wireless telecommunications etc) and their social and cultural impact on the shifting relationship between private and public spaces. Three of the proposals were selected by a panel of judges to be developed into 'conceptual prototypes' for presentation to the public, peers, academia and industry as online demonstrations and at an event at the London School of Economics on June 25th 2002.
Begun 2001 | Completed 2002
Peer2Peer
Peer2Peer was an informal network of people interested in developing collaborations and practical solutions for potential partnerships across the arts, industry and academia. The Network consists of individual artists and designers and people from academia, industry, public funding agencies, private foundations and government. Proboscis initiated the network and hosted a number of meetings and events in partnership with the LSE, RCA, Iniva and others.
Begun 2001 | Completed 2003
SoMa – Social Matrices
In 1999/2000 Proboscis began to re-orient itself as a creative studio with a strong emphasis on research. Over the next 18 months we developed close partnerships with Professor Roger Silverstone at the London School of Economics and the School of Communications at the Royal College of Art. Our collaborative research programme, SoMa was launched in April 2001 as a 'think tank for culture' – a think, make and do environment for transdisciplinary collaborations.
Begun 2001 | Ongoing
Mapping Perception
A collaboration between Giles Lane, curator and producer, Andrew Kötting, the acclaimed director of This Filthy Earth,Gallivant and Smart Alek, and Mark Lythgoe, neurophysiologist at the Institute of Child Health, London.
The project looked at the perceptions of impaired brain function to further understand the mind and body interaction and our relationship with its abnormality. It made visible connections between scientific and artistic explorations of the human condition, probing the thin membrane between the able and the disabled.
Begun 1998 | Completed 2002.
Diffusion
Diffusion is a downloadable hybrid digital/material book format, developed by Proboscis in 1999/2000. Since the publication of the first series of Diffusion eBooks, Performance Notations, in September 2000, Proboscis has continued to use the format for commissioning new creative publications, as well as adapting and developing the format for uses in other fields and projects. The design schematics were first published in 2002, and since 2003 Proboscis has been developing the Diffusion Generator – an online application allowing people without design skills to publish Diffusion eBooks of their own.
Begun 1999 | Ongoing
Topologies
Topologies was a research and feasibility study to investigate creating an initiative which could challenge existing definitions of public art. By commissioning and disseminating public artworks through the UK Public Library system, and using visual, aural and tactile media to investigate and represent abstract spaces and concepts, the works would form part of a wider attempt to broaden the audience for contemporary conceptual artwork. Topologies aimed to change both the context and the way in which people encounter art, aiming to introduce concepts of process-based art practices (as distinct from object-based works) to diverse and new audiences, and move the experience of encountering public (or conceptual) art away from a 'viewer' experience to that of a user.
The Research Report is available to download as a PDF file here.
Begun 1999 | Completed 2000
COIL journal of the moving image
Proboscis' founding project, COIL was a 10 issue experimental publication that explored the practice of, and commissioned, artists film, moving image and new media works between 1995 and 2000. Over 140 artists, writers and others were published in the journal.
Begun 1994 | Completed 2000
February 5, 2008 by Giles Lane · Comments Off on Art & Cartography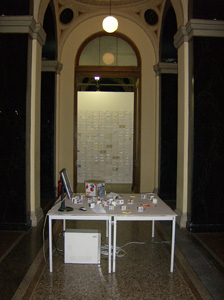 Proboscis was invited to take part in the Art & Cartography symposium exhibition, zoom and scale, at the Academy of Fine Arts and Kunsthalle Wien project space, Vienna in January 2008. We exhibited a set of 27 StoryCubes exploring the Social Tapestries research programme, a set of 8 StoryCubes reflecting our creative practices and process and two films, Social Tapestries and Play to Invent.
May 28, 2007 by Giles Lane · Comments Off on Conversations & Connections Report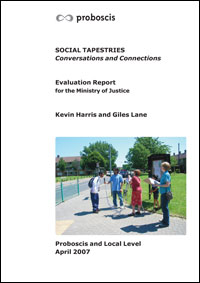 Social Tapestries: Conversations and Connections (May 2007)
Download PDF 3.3Mb
Order a Hard Copy
April 30, 2007 by karenmartin · Comments Off on Shared Encounters Workshop
'Shared Encounters' was a workshop which took place at CHI 07 in San Jose, California. CHI is the annual conference on Human Factors in Computing Systems and this one-day workshop brought together researchers from academia and industry to explore how mobile technologies might support shared encounters in urban environments. Karen Martin and Giles Lane submitted a position paper describing Proboscis' Conversations and Connections project and the challenges and opportunities faced by projects which make use of, and develop, new technologies but have primarily social goals. 
You can read our paper here: Making Glue (PDF 150Kb)
This is the workshop abstract:
Our everyday lives are characterised by encounters, some are fleeting and ephemeral and others are more enduring and meaningful exchanges. Shared encounters are the glue of social networks and have a socializing effect in terms of mutual understanding, empathy, respect and thus tolerance towards others. The quality and characteristics of such encounters are affected by the setting, or situation in which they occur. In a world shaped by communication technologies, non-place-based networks often coexist alongside to the traditional local face-to-face social networks. As these multiple and distinct on and off-line communities tend to carry out their activities in more and more distinct and sophisticated spaces, a lack of coherency and fragmentation emerges in the sense of a shared space of community. Open public space with its streets, parks and squares plays an important role in providing space for shared encounters among and between these coexisting networks. Mobile and ubiquitous technologies enable social encounters located in public space, albeit not confined to fixed settings, whilst also offering sharing of experiences from non-place based networks. We will look at how to create or support the conditions for meaningful and persisting shared encounters. In particular we propose to explore how technologies can be appropriated for shared interactions that can occur spontaneously and playfully and in doing so re-inhabit and connect place-based social networks.
http://www.mediacityproject.com/shared-encounters/description.php
November 20, 2006 by Giles Lane · 5 Comments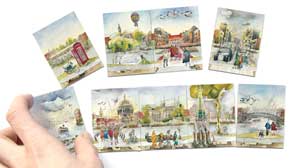 The Endless Landscape, polyorama or myriorama (meaning 'many views') was a popular 18th and 19th century storytelling game also known as a tableau polyoptique. It consists a series of paintings of fragments of a panorama that can be arranged in billions of combinations to form a continuous landscape for creating stories – each card extending, adding to or changing the narrative. A neverending journey of imaginary landscapes.
Proboscis' first Endless Landscape, by Alice Angus, depicts 21 fragments of a panorama based on London and was part of Social Tapestries – a 5 year project about mapping and sharing knowledge, storytelling and public authoring using cutting edge mobile and internet technologies and revisiting traditional paper based methods. The flow of ideas from Social Tapestries has increasingly emphasised the importance of storytelling and narrative as a living, everyday process that underpins how people co-create and inhabit culture and society. Part fact and part fiction, the Endless Landscape alters geography and connects events across the timeline of history. Its panoramas are littered with improbable landscapes, curiosities, ghostly evocations, historical anomalies and architectural conundrums.



Set of 18 Magnets – Price £25.00 – Buy Online
November 1, 2006 by Giles Lane · Comments Off on Social Tapestries

Social Tapestries from Proboscis on Vimeo.
A playful investigation of social impacts of knowledge mapping and sharing through the Social Tapestries experiments. Devised by Alice Angus & Giles Lane. Directed and animated by Alice Angus (November 2006).
October 15, 2006 by Giles Lane · Comments Off on ST – St Marks Coop Report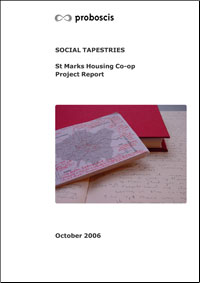 St Marks Housing Coop Report (October 2006)
October 15, 2006 by Giles Lane · 1 Comment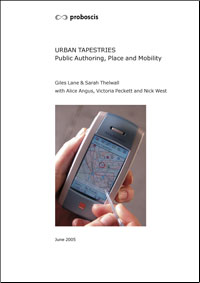 Urban Tapestries: Public Authoring, Place & Mobility (October 2006)
September 15, 2006 by Giles Lane · Comments Off on Everyday Archaeology Report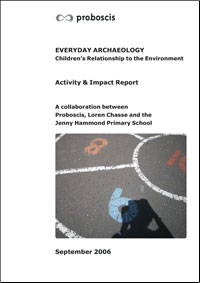 Social Tapestries Everyday Archaeology Report (September 2006)
June 15, 2006 by Giles Lane · Comments Off on Public Authoring, Education and Learning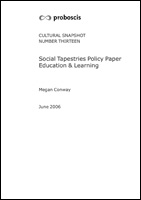 Cultural Snaphots No.13 June 2006
Social Tapestries Policy Paper : Public Authoring, Education & Learning by Megan Conway
February 15, 2005 by Giles Lane · Comments Off on Experimental Ethnography
Urban Tapestries: Experimental Ethnography, Technological Identities and Place (February 2005)    
An LSE Electronic Working Paper by Roger Silverstone and Zoetanya Sujon