June 30, 2009 by Giles Lane · Comments Off on Sutton Feast Week: exhibition & events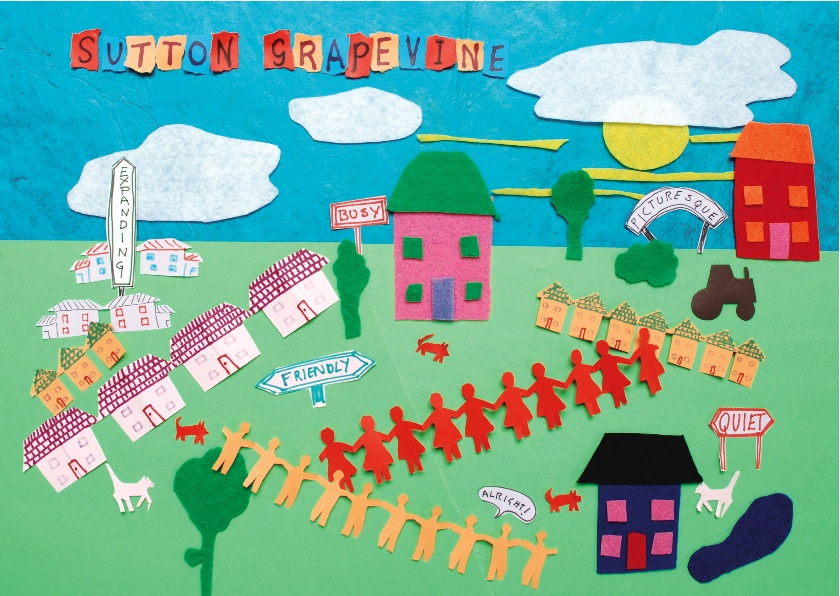 We are preparing to head off this week to Sutton-in-the-Isle to exhibit our work on Sutton Grapevine at the annual Sutton Feast. There will be a display in St Andrews Church from Wednesday to Sunday and over Friday and Saturday we will be joining various Feast Events to show people the Grapevine and hopefully inspire them to add their own stories. Having spent a week in Sutton in June we have gathered a huge range of stories and audio which are now being edited and podcast on the Grapevine. We've gathered stories through interviews and chance encounters, meetings, attending clubs and groups, visiting events, working with the youth group, organising a BBQ, exploring the local area by bike, foot and car, through an exhibit in the Babylon Gallery Ely and through the website.
This week we will be at
Wed 1st – Fri 3rd July, 7pm – 11pm St Andrews Church (during Beer Festival)
Fri 3rd July, 2pm – 5pm St Andrews Church (free)
Sat 4th July, 10am – 12pm Tithe Sale, St Andrews Church (free)
Sat 4th July, 12pm – 3pm FOSS Annual Summer Fete, Sutton Primary School (free)
Sun 5th July, from 7.15pm St Andrews Church (during Last Night of the Proms)
Come and join us for a day in the Fens.
June 25, 2009 by Giles Lane · Comments Off on 15 years old
Sometime in late June 1994 (the exact date now escapes me) the original partnership that founded Proboscis formally came into existence. Initially we were just a name and a bank account (Proboscis was eventually incorporated as a non-profit distributing company in November 1996) set up to publish COIL journal of the moving image, but even from those early days we had the seed of an idea that Proboscis could become a creative vehicle for all kinds of experiments and projects.
About a year ago we mapped most (if not all) of our relationships with partners, collaborators, supporters, funders, investors and sponsors. This image (below) gives a good indication of just how Proboscis developed a transdiscplinary and cross-sector creative practice over 14 years. Since last year we've added even more partners and funders: including Queen Mary (University of London); Mixed Reality Lab (University of Nottingham);  University of Southampton; Haring Woods Associates; and the Technology Strategy Board among others. And we are looking forward to working with a whole new set of partners and collaborators in the year to come and beyond that for another 15 years or longer.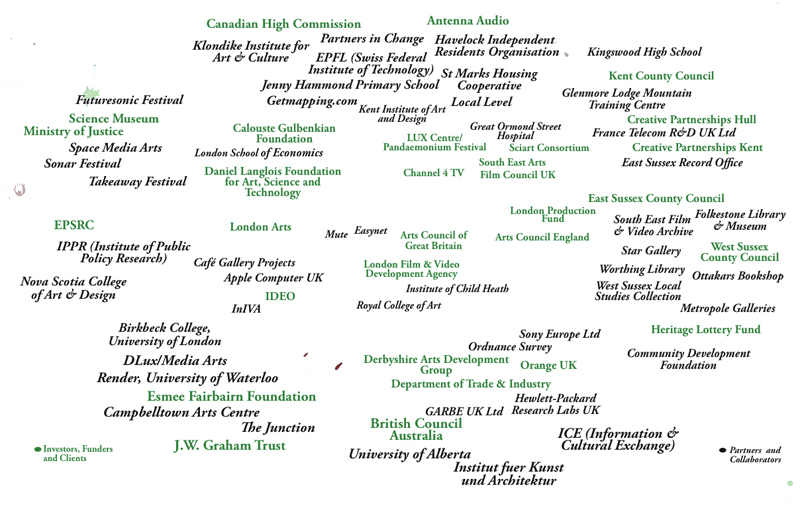 June 16, 2009 by Giles Lane · Comments Off on June 2009 newsletter
NOW & UPCOMING
New Website & Twitter
Proboscis is pleased to announce that we have a new website where we will be posting much more regular updates on projects as well as our creative process. We will continue sending occasional email newsletters, but in future we recommend bookmarking the news page or subscribing to the RSS feed.
http://proboscis.org.uk/news/
http://proboscis.org.uk/feed/rss/
http://twitter.com/proboscisstudio
Sutton Grapevine
Proboscis has been working this spring and summer in Sutton-in-the-Isle on Sutton Grapevine, a story sharing project which will be shown at Sutton Feast Week from the 1st – 5th July at St Andrews Church and around the village. We've been exploring various different on and offline processes around local storytelling. We roved around the village gathering and recording stories – both past, present and future; hanging out at the community shop, visiting local clubs and individuals, hosting a storytelling barbecue and a workshop with young people.
http://suttongrapevine.org
http://twitter.com/suttongrapevine
Sensory Threads : demo at Dana Centre 23/06/09 & National Physical Lab 02/07/09
We will be giving the first public demo of our Sensory Threads prototype at the Dana Centre on Tuesday June 23rd. The event, Surface Tension, is free to attend (no booking required). Sensory Threads is a new experiment in mobile participatory sensing and sonification – making imperceptible things in our environments tangible and tactile.
http://proboscis.org.uk/1207/dana-centre-demo/
We will also be demoing ST at the National Physical Laboratory on Tuesday July 2nd as part of the Wireless Sensing Showcase 2009:
http://www.wisig.org/showcase2009
Artemov, Mobilefest and Arteleku
Proboscis has been invited to participate in several festivals and workshops this year – from Mobilefest in Sao Paolo (Brasil) and at the 'Your Map is Not My Map' workshop at Arteleku, San Sebastian (Spain) in September, to the Artemov festival in Belo Horizonte (Brasil) in November.
http://www.mobilefest.org
http://www.artemov.net
http://www.arteleku.net
~~~~~~~~~~~~~~~~~~~~~~~~~
RECENT ACTIVITIES
New Cultural Snapshot: Cultivating Research
Sarah Thelwall's Troubadour Study for the Creator Research Cluster, "Cultivating Research : articulating value in arts and academic collaborations" is now available to download:
http://proboscis.org.uk/1245/cultural-snapshot-16/
Jump In Workshop, The Rookery, London
Proboscis, Sarah Thelwall and Tim Jon (Solar Associates) hosted a one day workshop with about 20 participants from small arts organisations exploring possible routes to, and reasons for, acquiring Independent Research Organisation status. The workshop was the final activity of the Creator Research Cluster (funded by the EPSRC as part of the Digital Economy programme), of which Proboscis was a founder member
http://proboscis.org.uk/1005/jump-in-workshop/
Being in Common : Catalogue of Ideas
Proboscis has published a special artists bookwork to accompany our Being in Common commission for Gunpowder Park. The catalogue, a deck of cards, is a playful exploration of 'common space' drawing together fragments and ideas from across the project, to be played with, read individually or assembled into narratives and stories making unexpected connections and perspectives. The catalogue is available to buy for £10 (inc. shipping) from our online shop.
http://proboscis.org.uk/987/catalogue-of-ideas/
StoryCube prices 25% lower than 2008
StoryCube packs are now an average 25% lower than in 2008 – making them an even more delectable a tool for workshops and storytelling projects:
http://proboscis.org.uk/store.html#storycubes
Diffusion Generator – update on progress
As part of our Technology Strategy Board Feasibility Study, we have completely re-engineered the Diffusion Generator. Thanks to our development team (technical advisor Stefan Kueppers and coders Simon Whiteside & Yasir Assam) the new Generator supports offline content creation; landscape as well as portrait eBooks; both long and short edge version of the Diffusion eBook binding; double and single sided StoryCubes; multiple languages (including many non-Roman alphabets); right-to-left languages (Arabic etc); and can accept CSS-styled XHTML as content. We are building a new website to access it this summer and hope to invite individuals and organisations to test it out as the year progresses. Please contact us for more details.
http://diffusion.org.uk/?page_id=4
Paralelo, Sao Paulo, Brasil
Proboscis took part in the Paralelo event hosted by the British Council Brasil, MIS-Museum of Image and Sound and Centro Cultural de Sao Paulo. We helped with the event facilitation, running two social mapping workshops and designing a special Paralelo Diffusion eNotebook for participants to capture and share ideas, reflections and information.
http://paralelo.wikidot.com/
New Diffusion Titles
Dope smuggling, LSD, organised crime & the law in 1960s London by Stewart Home – http://diffusion.org.uk/?p=1205
The 36 Stratagems by anonymous – http://diffusion.org.uk/?p=1192
Would be Disciplined by Tony White – http://diffusion.org.uk/?p=1178
iStreetLab by mongrelStreet – http://diffusion.org.uk/?p=1148
Dodolab StoryCube by Giles Lane – http://diffusion.org.uk/?p=1118
Hard Hearted Hannah: Classics from Nowhere by Cartoon de Salvo – http://diffusion.org.uk/?p=1104
Hard Hearted Hannah: the world of the Strange and Bizarre by Cartoon de Salvo – http://diffusion.org.uk/?p=1107
On The Death Of Julia Callan-Thompson by Stewart Home – http://diffusion.org.uk/?p=1083
H2O by Alejandra Canales, Anne Ransquin and Juan F. Salazar – http://diffusion.org.uk/?p=1070
The Anatomy of the Horse by George Stubbs – http://diffusion.org.uk/?p=1062
Measure Once, Cut Twice : a case study of Snout by Frederik Lesage – http://diffusion.org.uk/?p=1054
Bourriaud's 'Altermodern' – an eclectic mix of bullshit and bad taste by Stewart Home – http://diffusion.org.uk/?p=1049
Tweetomes : some epithets on practices of pithy exchange by Giles Lane – http://diffusion.org.uk/?p=1025
The minimal compact by Adam Greenfield – http://diffusion.org.uk/?p=1012
The Tongue Conceals Time by Shae Davidson – http://diffusion.org.uk/?p=1000
Click This? MySpace & the Pornography of Corporately Controlled Virtual Life by Stewart Home – http://diffusion.org.uk/?p=993
June 12, 2009 by Giles Lane · Comments Off on StoryCubes new prices 2009
Our 2009 prices for StoryCube packs are on average 25% lower than in 2008.
Buy packs online from our store.
For UK customers
StoryPack (inc p+p & VAT)
A – 8 StoryCubes & sticker sheets – £ 5.99
B – 27 StoryCubes & sticker sheets – £ 19.99
C – 64 StoryCubes & sticker sheets – £ 43.99
D – 125 StoryCubes & sticker sheets – £ 74.99
E – 40 StoryCubes & sticker sheets – £ 27.99 (education/classroom pack)
European Union/European Economic Area
StoryPack (inc p+p & VAT)
A – 8 StoryCubes & sticker sheets – £ 7.99
B – 27 StoryCubes & sticker sheets – £ 22.49
C – 64 StoryCubes & sticker sheets – £ 45.99
D – 125 StoryCubes & sticker sheets – £ 78.49
E – 40 StoryCubes & sticker sheets – £ 29.99 (education/classroom pack)
Rest of the World
StoryPack (inc airmail p+p)
A – 8 StoryCubes & sticker sheets – £ 9.99
B – 27 StoryCubes & sticker sheets – £ 24.99
C – 64 StoryCubes & sticker sheets – £ 46.99
D – 125 StoryCubes & sticker sheets – £ 84.99
E – 40 StoryCubes & sticker sheets – £ 30.99 (education/classroom pack)
June 9, 2009 by Giles Lane · Comments Off on Niharika Hariharan Internship Experience 2009
Internship at Proboscis, July 2008 to March 2009
I  am a visual communication designer. I graduated from The Srishti School of Art, Design and Technology, Bangalore in 2006.  I am currently completing my masters in 'Creative Practice for Narrative Environments' at Central Saint Martins London.
As a part of my study at Central Saint Martins, I interned at Proboscis from July 2008 to March 2009.  Working with Proboscis has enabled me to gain a global-local exposure and an insight into the art and design scenario in London.
As a design student, I have had the opportunity to participate in a variety of multi-disciplinary projects and intend to pursue this approach to my work. Proboscis is an open space that employs such an approach and collaborates with a range of professionals outside the field of design.
Working as part of an organization that deals with a range of projects from artistic performances to technological mapping, has opened up different avenues of thought, processes and understanding for me as a creative practitioner.
Being a close knit and well established organization, Proboscis has enabled me to directly participate and gain first hand experience of their diverse work systems.
Proboscis has enabled me to interact with other practitioners of design, allowing me to acquire knowledge of the art and design industry in London through the experience of others.
At Proboscis I was given the opportunity to actively participate in workshops and client meetings (Perception Peterborough workshop and Being in Common) which has provided me with invaluable experience.
During my internship I worked chiefly on two projects, Perception Peterborough and Being in Common.
I was involved in the research and production which gave me the opportunity to work and interact with fellow professionals from the industry. I also gained first-hand experience in developing interesting and innovative research methodologies and documentation techniques. This provided me with the confidence to see a project through all its stages right from its inception to final production. I also gained experience in working with a wide range of mediums.  For the Perception Peterborough project I worked with moving images and for the Being in Common project we constructed art pieces for installation in Gunpowder Park.
Although, my internship at Proboscis was significant in all respects,  two aspects deserve specific mention.
Firstly, the artist versus designer debate. What is art and what is design? How are they related? What are the boundaries that define the two practices? Proboscis is an art organization and their work shifts between design- problem solving narratives to artistic explorations. As a design student over the years my process had slowly become devoid of artistic empathy. Being at Proboscis I have learned to incorporate 'Art' into my work again.
During summer 2008 I worked on Perception Peterborough, a project aimed at creating 'impressions' of what the city might evolve to become in the following 15-20 years. My approach here was driven by raising issues and providing possible design based solutions. Proboscis viewed the 'impressions' more 'artistically'. They aimed at creating images and narratives that would inspire and evoke thought from the audience. This was an important realization for me, as I had been addressing the briefs from a solution driven perspective. Working with artists enabled me to work with more fluid and experimental concepts.
Proboscis has also given me an insight into London and its people. Through the course of many lunches and tea conversations, I have learnt about the English lifestyle, history, landmarks in London (some that I had walked past unknowingly!). I have had the opportunity to travel out of London, to Peterborough as well as Enfield (Gunpowder Park) and allowing me to learn about experiences and daily lives of people living outside the cosmopolitan city.
I am keen on developing my work in the arena of education in the future. Through my conversations with Giles who is a visiting tutor at Goldsmiths' College Design Department, I have gained valuable knowledge in this regard.
My work with Proboscis has enabled me to observe how a studio functions at a systems level, which will be undoubtedly be useful in my career.
Finally, as a multi-disciplinary designer, I have always been interested in being part of spaces that allow participation through different processes. Proboscis allows for involvement and contribution to various aspects of a project which may not necessarily be related to one's specialization. This allows for a larger learning spectrum in a variety of fields related and non-related to art and design.
I feel, from the above, that my internship and learning at Proboscis will be a valuable starting point for my future projects, goals, and growth as an artist and a designer, in the years to come.
Niharika Hariharan
MA Creative Practice for Narrative Environments, Central Saint Martins, June, 2009
June 5, 2009 by Giles Lane · Comments Off on Cultural Snapshots
A series of essays, polemics and manifestos designed to provoke comment and debate on the contexts in which Proboscis works.
Proboscis accepts proposals for contributions for the series from practitioners and theorists working in fields allied to Proboscis' areas of activity. Please contact us to propose a submission.
ISSN: 1475-8474 | Free | PDF format
Cultural Snapshots are resourced by Proboscis as part of our core artistic activity – we welcome any donations to help us continue commissioning new titles and providing the texts free of charge to all. To make a secure donation by credit card / Paypal (no account necessary), please click the button below:
No. 16 – Sarah Thelwall : Cultivating Research
No. 15 – Alice Angus : Landscapes in Dialogue 
No. 14 – Sarah Thelwall : Capitalising Creativity 
No. 13 – Megan Conway : Public Authoring, Education & Learning 
No. 12 – Kevin Harris : Common Knowledge 
No. 11 – Giles Lane et al : Public Authoring & Feral Robotics 
No. 10 – Nick West : The Spatial and Social on your Mobile 
No. 9 – Giles Lane : Social Tapestries 
No. 8 – Katrina Jungnickel : Sensing the City 
No. 7 – Matt Locke : Shaggy Dog Stories 
No. 6 – Giles Lane : An Economy of Scarcity 
No. 5 – Alice Angus : Near Real Time 
No. 4 – Roger Silverstone : Private Reveries and Public Spaces 
No. 3 – Giles Lane : Enterprising Culture 
No. 2 – Caroline Smith : Fear are easily rationalised in the attic 
No. 1 – Giles Lane : A New Cultural Revolution
June 5, 2009 by Giles Lane · 1 Comment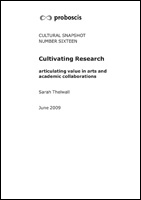 Cultural Snapshots No. 16 June 2009
Cultivating Research : articulating value in arts and academic collaborations by Sarah Thelwall
June 5, 2009 by Giles Lane · Comments Off on Professional Development Commissions
As part of our internships programme we are initiating a new series of commissions for recent graduates – of vocational courses as well as higher education. The commissions are designed to offer an exciting opportunity for emerging practitioners to work alongside the Proboscis team on a modest project of their own, but where it is not possible or practical for them to complete an internship in the studio. We anticipate offering four commissions a year, two of which will be open submission with one deadline per year (date tbc).
More details will be posted in the summer.
June 4, 2009 by aliceangus · Comments Off on Sutton Grapevine
This week we are back in Sutton-in-the-Isle for Sutton Grapevine our  story gathering and sharing project commissioned by ADeC.
From 3rd – 9th of June we'll be roving around the village gathering and recording stories in many ways; from hanging out at the election, the community shop, the pub and the community spaces with a large village map, to visiting local clubs and individuals, to hosting a storytelling dinner with the residents of a street, to running workshops and going for walks. As the village continues to change through growth, movement and migration the initiative aims to let local people explore place and identity.
Alongside this we've integrated storytelling and news sharing (by email and with a WordPress blog);  sound recordings (via the free podbean and AudioBoo podcasting servicees and the low cost Gabcast telephone-to-MP3 podcasting service); photo sharing (via the Flickr group pool); social connections (via the Facebook Group) and news feeds (via Twitter). We will also be adding in some of our own inventions like StoryCubes and Diffusion eBooks to make tangible things that can be passed around, as well as the digital media.
Should you find yourself in the area please come and find us in Sutton to add a story to the Grapevine or  join in remotely.
We will be back during Sutton Feast Week from the 1st – 5th July with an exhibition and audio broadcasts at St Andrews Church and around the village.
See you in Sutton!
June 3, 2009 by Giles Lane · 1 Comment

Sensory Threads will get its first public demo at the London Science Museum's Dana Centre on June 23rd 2009 as part of the Surface Tension event. We will be demonstrating the prototype Wearable Sensors and the Rumbler and inviting participants to test out the system during the day. The event is free and no booking is required.
We will also be showing the prototype at the National Physical Laboratory on July 2nd 2009 as part of WISIG2009, the Wireless Sensing Showcase of the Sensors and Instrumentation KTN.
Below are some photos from a recent test at our studio and in the surrounding streets of Clerkenwell.

June 2, 2009 by Giles Lane · Comments Off on Carmen Vela Maldonado, Internship Experience 2008
Internship Experience at Proboscis, January to June 2008
I heard about Proboscis while the research stage of an information design project at college. I was looking for interesting approaches into social and communication studies, and I noticed them as a group specially involved into different social areas and communities. At that point I didn't get to understand much of what I was reading about their projects, but their singular way of working, variety of approaches and concepts made me really interested to know about that "small" group of people with lots of work done. At that stage, trying to classify Proboscis was hard to me and I assumed for most of the people who first get in touch with them. They work across disciplines, with high social involvement and lots of collaborative practice. They have a non-commercial look at design and communication and a tactile and playful way to look at either complex concepts or at everyday life. After being with them, working, collaborating, talking, drawing… Is still not easy to classify Proboscis, but I feel I understand them better, not only their work but also the way they have to look at the world surrounding. The environment in the studio is anything but tense or awkward, is an open space and a place for talking, discussing and listening new thoughts, connections or ideas.
During my time as an intern I used to work from two to four days a week, during a period of about four months. My main intention when I applied for it was to get a first contact with a studio in the city, to get confidence in my work while applying my skills and learn. Learn as much as I could from people who could talk and think about my general areas of interest. At Proboscis they were clear about their expectations and incoming projects in which I could get involved and that made the experience for fruitful.
My tasks there were from image making to lay-out, photo editing, illustrations or printing experiments.
I would encourage prospective interns to feel comfortable for developing work into the assigned projects and feel confident to present to the group, as they are really open and appreciate suggestions, ideas and experimentation. And it builds that unique atmosphere in the studio of a high collaborative way of working, where everyone and every project feed the others creating a whole range of interesting connections.
Some of the best outcomes from my internship time were the conversations with the team and the opportunity to experiment into personal interests in a non-stressful environment. I learn about ideas, meanings, connections, process or methodologies.
My experience with Proboscis is a journey that went from being a non enough confident student of graphic design to feel as someone taking part of a group in a interesting and rewarding environment, feeling able to understand and learn from daily work activities. Currently I work some times as freelancer with them involved in different projects, and it is a pleasure to keep that walk next to them.
Carmen Vela Maldonado, June 2009