April 1, 2011 by hazemtagiuri · 6 Comments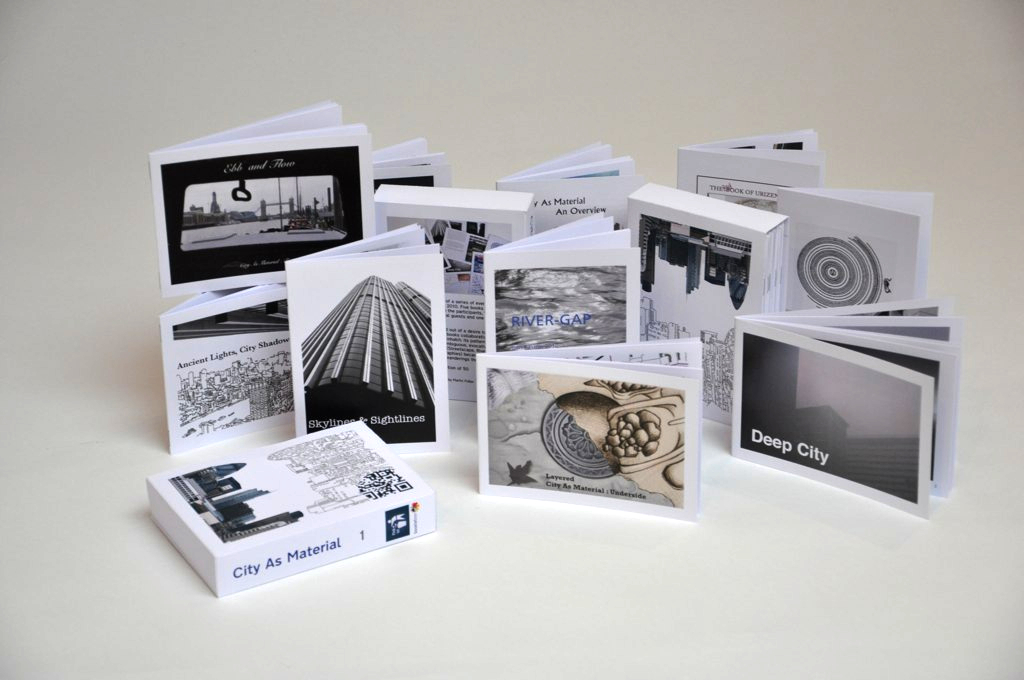 "Trundling along our everyday routes through the city, our minds often consumed by thoughts of work and daydreams, our surroundings become all too familiar; a grid which we traverse on set rails, eyes downcast, something purely to be suffered until we reach our destination.
Surrender to the city's own pace – immobile and immemorial – delve into dark corners and gaze upwards at spires; abandon the city as a stale platform for living, and seize it as material to inspire. Through shared excursions and experiences, playfully exploring our city, we come together to create. Open to all with no set ambitions, join us to collaboratively produce publications which showcase and investigate the city we inhabit."
The City As Material set contains the 10 books commissioned and produced as part of last Autumn's City As Material series of urban explorations and collaborative bookmaking. Printed using bookleteer's Short Run Printing Service, the set is limited to 50 slipcase-bound, individually numbered copies. It includes:
City As Material: An Overview

An Unbooklet of Disappropriation
Ebb and Flow
Ancient Lights, City Shadows
Layered
Sonic Geographies
The 2nd Book of Urizen by Tim Wright
River – Gap by Ben Eastop
Skylines & Sightlines by Simon Pope
Deep City by Alexandra Deschamps-Sonsino
*** Buy A Set Here ***
View the series on Diffusion.
March 28, 2011 by Giles Lane · 2 Comments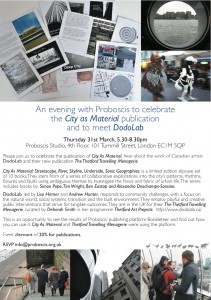 This Thursday 31st March 2011 we're hosting an evening at our studio in Clerkenwell to launch our first limited edition slipcase set of books published and printed using bookleteer's Short Run Printing Service. The set in question contains the 10 books commissioned and produced as part of last Autumn's City As Material series of urban explorations and collaborative bookmaking.
We will also have a special guest, Andrew Hunter of DodoLab who'll be introducing their recent project The Thetford Travelling Menagerie, which was staged last week in Thetford, Norfolk.
If you'd like to come please email us info at proboscis.org.uk – we'll have drinks as well as offering a 20% discount off all publications. Or sign up on the Facebook event page.
March 15, 2011 by mandytang · 1 Comment
(Drum rolls) Ladies and Gentlemen, I proudly present the finished eBooks!
The eBooks are part of Outside The Box and were created to accompany the play sets, they act as props to help stimulate game play.
I've created a total of six eBooks that fit with the role playing set, each eBook corresponds to the six roles available. Once roles have been assigned, players can take their eBooks with them to carry out missions. They can use it to take notes, draw maps, sketch images or even stick things into, they can do whatever they like with these eBooks that will assist their game experience.
But what's inside you ask? (sniggers). Each book is themed to each role, not just on the cover, but the inside pages too. All pages inside are hand drawn with blank spaces for the player to use, it's printer friendly and encourages players to freely scribble in them.
The eBooks can also be used for the other play sets too! For example, players can choose an eBook of their choice and use it to play along the story telling game. Or they could use the eBooks to create strange combination animals. (More suggestions available in the Outside The Box Suggestion eBook).
I enjoyed designing and creating the eBooks, it all began with making miniature versions as the initial design. Then making the basic prototype and moving onto finalising details and adding messages to the players. I had a lot of fun making the eBooks, I now hope that players will enjoy the finished product.
March 8, 2011 by radhikapatel · Comments Off on Radhika Patel – Second Impressions
Radhika here, the not so new Marketing and Business Development Assistant. It's already been 4 months and here I am writing my second impression post… how time flies!
I last left off in the middle of the creation of the StoryCubes website, which has now been launched :). Having worked on the website and written numerous blog posts for promoting the StoryCubes, I have finally overcome my initial difficulty of blogging. This had led me to become a weekly 'pop-up' on the Bookleteer blog too, coming up with new and inspiring uses for Bookleteer. The part I enjoy the most, is actually bringing my ideas to life, by creating a mock up of each idea. It's great seeing my ideas on paper instead of an image in my mind, and for all to see!
Even though I'm the Marketing Assistant here at Proboscis, my favourite part so far has been the opportunity I have had to dabble in all the projects that are happening, from City as Material to Mandy's Outside the Box project (great fun!). Being able to be apart of a variety of projects has given me much more understanding about Proboscis, how they work and much more of an insight than I could have imagined.
Another bonus I have had working at Proboscis is putting my photography 'skills' into action! This has definitely been one of the highlights so far as I love being behind the camera and being taught by Alice or Giles on using the SLR and about lighting, is much more valuable than attending any class! I am very grateful I have had the opportunity to do this, as it's something I enjoy and want to continue doing. 🙂
The placement so far has given me a number of opportunities to learn new things, especially finally learning how to use Photoshop, with the help from my fellow placements.
I have continued to learn from both Alice and Giles about the arts and can expect an inspiring story to pop up any time of the day. I feel this has been one of my most valuable experiences here, as before I wasn't exposed to the arts industry and have been opened up to a whole new world if you like.
However, I am still trying to conquer the four flights of stairs every morning, but apart from the breathless moment I have once I get into the studio, I am enjoying every minute of my time here.
March 4, 2011 by hazemtagiuri · Comments Off on Final Reflections – Hazem Tagiuri
Creative Assistant
(6 Month Placement, Future Jobs Fund July 2010-January 2011)
Before starting my placement here, I had only vague notions of a career in writing, knowing I would inevitably employ my ability in some way, but entirely unsure what form this would take. I enjoyed scribbling poetry and other writing, usually as a result of my leisurely days, having decided not to attend university or embark on a meditated career path. These jots were the results of experiences I had in place of established life routes, and I never conceived they would shape my creative ambitions for the future.
Working at Proboscis has channeled my writing into a medium that lets it develop and influence others, rather than lurking in scrapbooks that never see the light of day. By regularly blogging – describing what's going on the studio and my own creative processes, as well as researching inspiring works and spreading the word – I'm honing my craft and developing a work ethic. More exciting however, by creating and taking part in projects that use my scrawls, such as the City As Material series, I'm producing original writing pieces that are slowly forming into a respectable body of work. Although mostly short poems, (albeit with common themes that allow them to be compiled and displayed in their own right) I'm looking towards short stories and longer pieces to spur my development further.
Having the opportunity to showcase my writing, and letting the environment and events experienced here inspire it in turn, has influenced what route it might take. I wouldn't rule out trying to publish an anthology, or at least submitting my work to publications – something I had only done once before, without reply. Even having a hand in a publication which displayed other people's work, would be of great reward – then again, I've been doing that here with City As Material, and barely noticing the ramifications. I don't think you comprehend the opportunities and possibilities available during a placement like this, until it is nearly finished, or asked to write an account of it. Perhaps that's just my skewed look at it – motivation has always been an issue and this is my first job in the creative sector. I know there are people who are industrious (and rightly so) when it comes to their creative work – endlessly writing, committing to multiple internships and gaining ladder-holds and experience – yet I'm only just easing into that groove.
I think therefore, placements such as these could definitely benefit from being longer. Approaching the end of the 6 months, after adapting to creative working and learning techniques, I was just settling in and at the peak of productivity. Thankfully, I am being kept on as a full team member, but if the placement had ended there, I fear I might have been at a loss – not able to showcase a portfolio of work which was created in these additional months, and perhaps having to resort to a non-creative job, where it would be extremely difficult on focus on and develop my writing.
On a more optimistic note, as a result of the placement here and the work I've been involved with, we're currently planning and scheduling new City As Material events for this year, as well as more Pitch Up & Publish workshops. I'm looking forward to sharing the techniques and experiences I've gained, with people who might now be in the position I was last year, and who are interested in using bookleteer and getting their work seen. Thus, it seems I might be able to take on a similar role that Proboscis and New Deal of The Mind have performed for me – undoubtedly rewarding, and a symbol of how placements such as these can positively influence people, who then hopefully inspire others.
Hazem Tagiuri, March 2011
December 16, 2010 by hazemtagiuri · Comments Off on Second Impressions – Hazem Tagiuri
Hello again. Since writing about my initial experiences of working at Proboscis, I've been working on various projects, primarily with bookleteer and the blog. Contributing regularly since Karen Martin sadly left us, I've been continuing to look at zine culture, and recently highlighting interesting uses of bookleteer in the Diffusion archive. Blogging several times a week has helped me develop a work ethic in regards to writing, something I was struggling with before joining Proboscis.
Giles and I also launched a new platform for collaborative publishing – our Pitch In & Publish: City As Material series of events. The fifth, and final, event "Sonic Geographies" was last Friday, having being held fortnightly since the 15th of October. Developing the format and planning the entire series was an exciting process, and having an integral role in the creation and running of it was a prestige. Being able to trace it's inspiration from my early work with zines (the idea born from one day zine-making events), to what we plan to accomplish with future Pitch In & Publish series, gives me confidence to be able to create new long term projects.
A definite highlight of my role is having the chance to sit in on creative meetings, listening to established figure's ideas whilst observing their ways of working, as well as giving input myself. The enthusiasm that results from open-minded thinking and the visualisation of possible concepts, is hard to match.
Several new team members have also joined us – Radhika, Christina and Moin. Their arrival has certainly brought a surge of activity into the studio, enabling us to work together on projects and gain new insights from other backgrounds.
Lastly, I have to thank Giles and Alice for giving me to opportunity to be here (particularly in this turbulent employment climate), as well as New Deal Of The Mind, whose work to find roles for young people in creative industries is invaluable.
December 14, 2010 by Giles Lane · 1 Comment
At the beginning this year I started planning how we could begin to introduce bookleteer into education and learning contexts and programmes – not just in formal settings such as schools, colleges and universities, but also in other spaces and places where learning takes place : museums, community centres, libraries, archives and grassroots groups.
We began this journey with a Pitch Up & Publish workshop in February co-hosted by former teacher, writer and digital evangelist at TeachersTV, Kati Rynne which was aimed at teachers and creative people who work in education settings. Among the participants who took part was Ruth from Cambridge Curiosity and Imagination who have ended up creating around a dozen eBooks for workshops and projects they've been running with people of all age groups. Others have also used bookleteer in their own projects and for creating teaching and learning outcomes – workbooks, notebooks, documentation and course materials – and not just in English, but Hindi and Arabic so far too.
Our own City As Material event series has also outlined a simple model to bring a group of people together to explore an idea, place or theme and then collaboratively produce eBooks (you can follow the development of the series over at diffusion.org.uk). In these events we've shared lots of local knowledge and experience within the group of participants, and found creative ways to share and explore themes of common interest with other people. Its very much in the informal/non-formal learning space (one of the participants was Fred Garnett, a former policy advisor at Becta who's written on and worked extensively in this area) and I think it suggests exciting ways in which hyper-local groups can come together to explore or pool knowledge and experience, capture and share it in a rapid and very easy way not only among themselves but with wider communities too.
More recently we've been joined by Education Assistant, Christina Wanambwa, on a 6-month placement whose role is to help extend and focus our efforts on working both in formal and informal learning. We've begun a collaboration with Soho Parish Primary School, where she'll be spending 1 day a week from January til Easter – helping both teachers and students use bookleteer to create tangible outcomes from curriculum based projects. We're also using this project to understand more about the specific needs of schools in using online platforms like bookleteer; potentially to build a separate schools version that suits the context of authoring and sharing by children and the need for oversight by staff around issues such as child protection.
Christina's also begun a research and outreach project visiting other kinds of learning environments to see how bookleteer could be weaved into their existing education programmes to add value and fun. She'll be publishing an eBook of ideas relating to each place she visits over the coming months, as well as posting about her research on the bookleteer blog. Her first post discusses a recent visit to the Museum of Childhood (download the eBook).
bookleteer is about helping people make and share beautiful publications of their own – whether they handmake the results or choose the PPOD professional printing service. We want to help people find new and dynamic ways to record and share the ideas, stories, knowledge and experiences they have – learning and exchanging things of value as they go. bookleteer has enormous potential to enable people to make and share things of their own, books and storycubes; things which they can share with people all around the world, without the problem of shipping physical objects. Hand-written eBooks can be scanned in and made available online in the same way as 'born digital' ones and can also be turned into professionally printed books too.
We'd love to hear from other people in education and learning contexts who see the potential of using bookleteer in their own work and play, want to try it out and share their ideas, experiences and templates with others. We'd like to see bookleteer evolve into more than just a tool – into a community of practitioners creating and sharing across many languages, geographies, interests and outcomes. In the new year we'll be launching new functionality which will open it up even further. Watch this space.
December 3, 2010 by hazemtagiuri · Comments Off on With Dodolab in Oxford
Yesterday, Giles and myself took a trip to Oxford to meet Andrew and Lisa from Dodolab, who have just arrived in the UK, for an informal City As Material style wander. We thought it might be a great place to hold future Pitch In & Publish sessions, so we explored several of its museums as possible locations for inspiration.
First up, the Oxford University Museum of Natural History, (whose sign actually bears a Dodo) an amazing building hosting the skeletons of various beasts and stuffed creatures, and also containing the entrance the Pitt Rivers Museum. Dedicated to anthropology and world archeology, this extraordinary place is crammed with a huge array of exhibits; ancient handicrafts, shrunken heads, ornate weaponry, lining every inch. Lastly, the Ashmolean, with an extensive collection of western paintings.
Impromptu Pitch In & Publish sessions, perhaps causing some light mischief along the way with our partners in crime Dodolab, would be a great idea. The Pitt Rivers in particular would be perfect, perhaps a storytelling scenario where participants swap real and imagined tales about found objects and create their own eBooks chronicling them. We're looking forward to returning and having some more fun.
September 20, 2010 by mandytang · 2 Comments
Tangled Threads consists of a storyboard in the form of a Diffusion eBook, that reflects upon the different projects and aspects to which Proboscis has delved into. You can download a copy of the eBook here: http://diffusion.org.uk/?p=2171
My task was to create a storyboard using only the text Karen had scripted. With her words I had to create a series of fast sketches within a short time frame, jotting down the first visual that came to mind. It was later decided that the finished storyboard was to be presented in the form of an eBook, as a counterpart for a new Proboscis film that will be presented as part of a Leonardo/MIT mobile digital exhibition curated by Jeremy Hight.
This was my first time creating a full scale storyboard, but it was also my first time adjusting it to an eBook format. It encouraged me to use different panels and discard frames which can be reduced to one panel. I am also glad it became an eBook because it would have been a real shame if others could not see the impressive text Karen had written.
The most challenging part of this project was the initial sketches: being asked to do fast speed sketching within a time limit. This method made me stay focused and avoid swaying off into different artistic directions and just sketching the first thing that came to mind, then only further developing that idea. Although this method sounds like rushing, the results were pretty interesting!
Overall, it was a great challenging project which allowed me to experiment with a different technique to spark my imagination and creativity. It gave me a chance to use some of my own knowledge about storyboarding and panelling, and Alice had given me a lot of freedom with the concepts. It was also a great opportunity to practice artistic techniques and being aware of areas that may need more improvements.
Here are a few samples from the eBook and initial sketches, the first stage as I mentioned earlier was creating the quick rough sketches of what popped up in my mind. Then I condensed frames to a set of panels on a single page, with this it is scanned in and cleaned up. The final stage was digitally painting the images and resizing them according to the Bookleteer guidelines.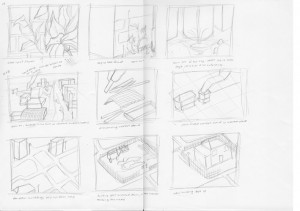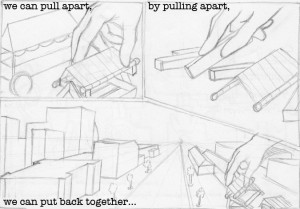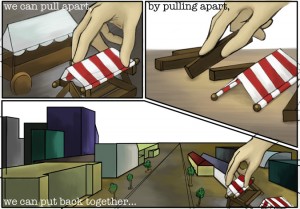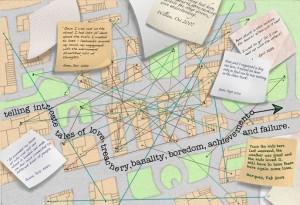 August 6, 2010 by aliceangus · 1 Comment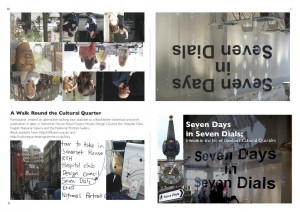 August 4, 2010 by hazemtagiuri · 1 Comment
Hello, Haz here. I've been asked by Giles and Alice to write about my first impressions of Proboscis and my experience of working here as a Creative Assistant for the last fortnight, under the Future Job Funds placement scheme. I was fortunate enough to get a placement just as the scheme was ending, and it's a welcome opportunity after an otherwise unproductive year for me, an opportunity where creativity is a crucial part of my role, and something to be celebrated, rather than suppressed, as in previous job experiences.
As would be the case for many other young people in Future Job Fund placements like this, I have no prior education or experience in the arts, only a recreational passion. Any initial trepidation has been eased by the focus on existing strengths and interests (for me, literary) and a comfortable, relaxed environment to get familiar with Bookleteer, by creating eBooks and StoryCubes of my own. The studio, and the surrounding architecture of Clerkenwell, with its rich history, is inspiring. This was the basis for my first StoryCube, a simple photocube of historic buildings. Simple, because my initial idea, a 3D model of Smithfield market made using multiple StoryCubes, was a tad too ambitious for my first attempt, alas.
My eBook was a very slight portfolio of poems, which led me to start thinking about how Bookleteer could be a useful tool when creating zines (small circulation publications) and inspiring people to create their own through its simplicity. I'll be exploring this during my time at Proboscis and sharing any interesting ideas and creations I've found from the zine scene on the Bookleteer blog, hopefully even attending some zine fair's with a on-site Bookleteer workshop and writing about the experience.
June 24, 2010 by aliceangus · 3 Comments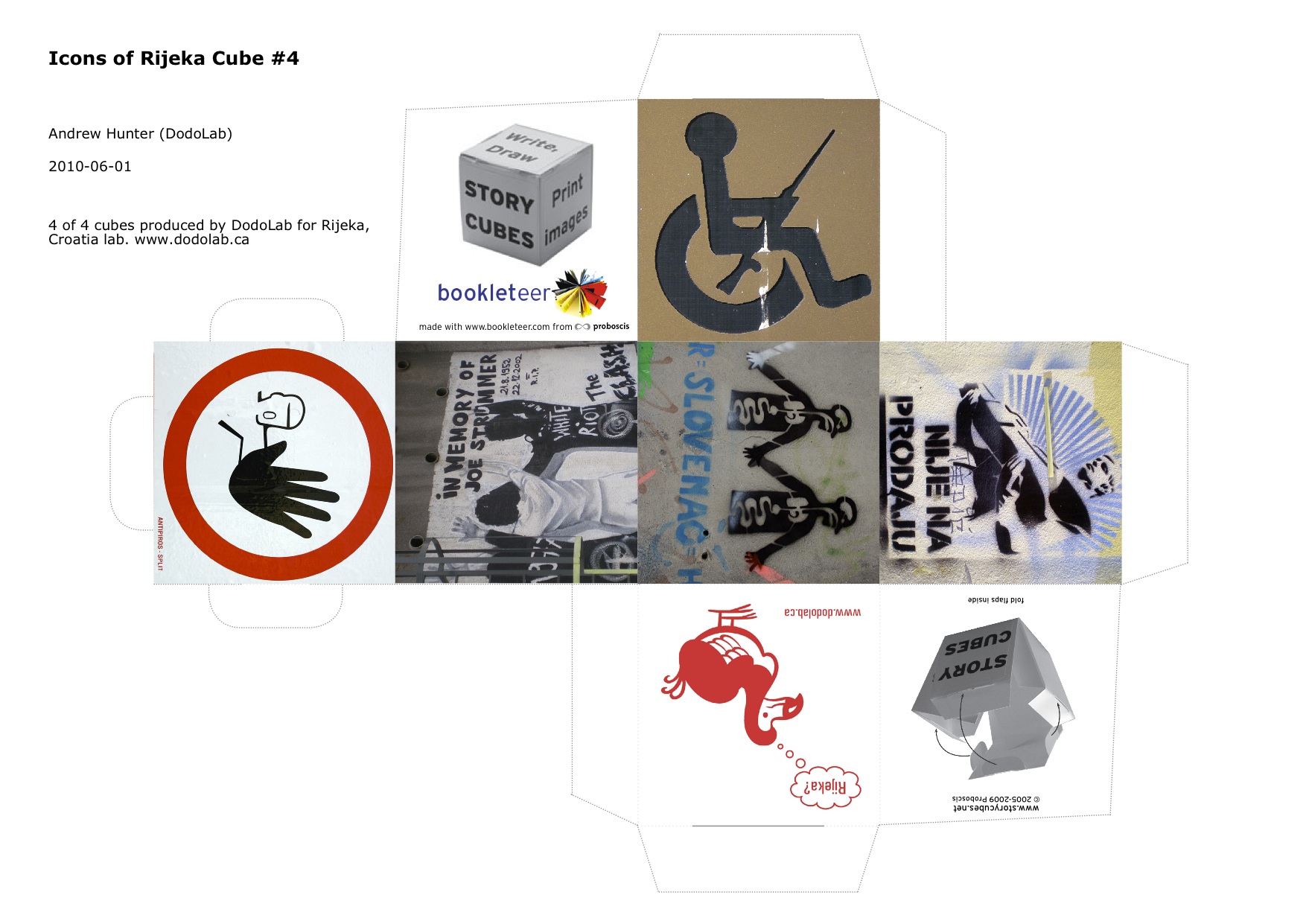 Proboscis is collaborating in a series of labs, artworks and interventions with artist/curator Andrew Hunter of DodoLab. So far, DodoLabs have been run at the World Environmental Education Congress in Montreal (May 09); Confederation Centre, Prince Edward Island (Aug 09) the Guelph Jazz Festival (Sept 09), Rijeka, Croatia (June 2010). More labs and workshops are planned for  2010, including in the UK. DodoLab is supported by the Musagetes Foundation and the School of Architecture, University of Waterloo, Canada.
A continuing element of the collaboration centers on using bookleteer to create artists books, documentation, workbooks, storycubes and other publications about DodoLab and its activities which you can see and download them here. DodoLab was the founding member of the bookleteer alpha club.
DodoLab is a dynamic and experimental project exploring issues of  resilience in places undergoing change and urban regeneration. The lab creates performances, artworks, interventions, events and education projects through an engagement with sites and communities. They use communication and social tools (such as posters, tagging, personal media devices, puppet figures and outdoor cafes) that are ubiquitous in the city.
DodoLab Montreal, Canada
The first DodoLab was held in Montréal in May 2009 at the 5th World Environmental Education Congress – a creative intervention in the exhibition hall and out and about in Montréal itself. Proboscis and the DodoLab team created a series of projects engaging the congress delegates in questioning concepts of sustainability. Giles Lane devised and a facilitated a social mapping and StoryCube activity engaging several hundred delegates in exploring their interconnections and ideas on sustainability and resilience.
DodoLab PEI, Charlottetown, Canada
DodoLab PEI is was hosted by the Confederation Centre Art Gallery and explored  green space in the city, notably the Experimental Farm which is due to be redeveloped. Proboscis took part in creating and distributed seedbombs at the local Farmer's Market, designing books, and undertaking research into the Experimental Farm Station for our new work, In Good Heart, (by Alice Angus), which considered the shift from rural to urban and the perception of 'farm'. In Good Heart was exhibited as part of the show Dig Up My Heart: Artistic Practice in the Field curated by Shauna McCabe at the Confederation Centre Gallery in summer 2010.
DodoLab Riejka, Croatia
Alice Angus joined DodoLab in Reijka in June 2010 to research a new video installation and series of works on paper about Rijeka Market and its many traders. Dodolab are working in Rijeka in 2010 with the city and local groups to explore perceptions of Rijeka, collaboratively examining ideas about the city and its future with a particular emphasis on the role of young people.
Background
Proboscis collaboration with Dodolab grows our work with RENDER, Andrew Hunters previous project. Our past collaborative projects have included At the Water's Edge, a new work specifically for the atrium of the University of Waterloo School of Architecture in Cambridge exploring the social, cultural and natural histories of the Grand River; Anarchaeology and The Accidental Menagerie.
Follow Proboscis' collaboration with DodoLab here
May 27, 2010 by Giles Lane · Comments Off on Bookleteer at Art of Digital London
Yesterday Giles presented bookleteer and the Diffusion eBook & StoryCube formats at the Art of Digital London Salon, "Publishing – The Digital Word and the Arts'. The event (held at the Free Word Centre) was organised and chaired by Simon Worthington of OpenMute, with Caroline Heron and was aimed at Arts Council England RFOs (Regular Funded Organisations) interested in developing digital publishing strategies.
We presented bookleteer alongside Chris Meade of if:book, Ben Terrett of Newspaperclub, Stefan Tobler of And Other Stories as well as Simon himself presenting OpenMute's Progressive Publishing Service concept. As part of OpenMute's research they have created a wiki page exploring many digital publishing projects and services.
May 20, 2010 by Giles Lane · Comments Off on May Newsletter
Welcome to our latest newsletter, its been about 6 months since our last one so this is a catch up across a range of projects and activities.
NOW & UPCOMING
New Features & Publish & Print On Demand with bookleteer
We've been busy improving http://bookleteer.com over the past few months, adding new features and services :
– New Sizes : create larger eBooks & StoryCubes from A3/Ledger sheets
– New Designs : create your own customised front covers
– Publish & Print On Demand : an affordable service allowing users to order professionally printed and bound versions of their eBooks in short runs (from 50 copies or more). eBooks are digitally printed on high-quality 100% recycled papers as A6 or A5 saddle-stitched books. StoryCubes (min order 250 cubes)
Find out more here: http://bookleteer.com/blog/ppod
more bookleteer test accounts available
We're making more test accounts available for people who'd like to create their own Diffusion eBooks and StoryCubes, and test out our PPOD service. Email us at bookleteer@proboscis.org.uk to request an invitation.
Pitch Up & Publish Events
Proboscis has been collaborating with Artists & Makers to run PU&P events as part of the Empty Shops Network Tour in Shoreham-by-Sea, Carlisle & Coventry during March. We've also run several PU&P events at our studio in London, for illustrators/cartoonists and for teachers/educationalists, with more in the pipeline over the next few months. May sees us begin a new collaboration with The Drawing Shed (tds) to introduce bookleteer to residents in Waltham Forest as part of their Be Creative Be Well project.
Follow us on Twitter for updates: http://twitter.com/bookleteer
or check the bookleteer blog: http://bookleteer.com/blog
bookleteer virtual residencies
James Bridle and Simon Pope are our first two 'virtual residents' for bookleteer – exploring the API as a creative way of automatically generating ebooks and StoryCubes from their own projects and sites. James has already created some 'Bookcubes' from his Bkkeepr project, whilst Simon is working on a StoryCube walking/cairn building project. We look forward to some more experiments emerging throughout the year.
http://bookleteer.com/blog/tag/residency/
Landscapes in Dialogue on Tour
A set of Alice Angus' works on paper are off on tour to the northern Canadian arctic towns of Inuvik, Churchill and Yellowknife as part of a touring show during the the 25 year anniversary of Ivvavik National Park.
http://proboscis.org.uk/1551/landscapes-in-dialogue/
In Good Heart on Exhibition
A new series of Alice Angus' works on paper from her In Good Heart project are being exhibited as part of the group show Dig Up My Heart: Artistic Practice in the Field curated by Shauna McCabe at the Confederation Centre Gallery, Charlottetown, PEI Canada. In Good Heart began during Proboscis' collaboration with DodoLab in Charlottetown in August 2009, focusing on the Experimental Farm there, and has continued as an ongoing investigation into the perception of 'farm' through conversations, interviews, historical and folklore research.
http://proboscis.org.uk/1649/in-good-heart/
Empty Shops Drawing Commission
Alice Angus has been working on commission from http://artistsandmakers.com to draw some the places that the Empty Shops Network is visiting including Granville Arcade in Brixton, Coventry Market and later this year Worthing seafront.
http://proboscis.org.uk/tag/emptyshops/
Professional Development Commissions
Our first two commissions have been completed and the results published on our website. Niharika Hariharan and Holly Clarke were each commissioned to develop small projects that connect with our work and themes. Niharika created an education workshop which she delivered in a  secondary school in Delhi, India; Holly researched into 'neighbourhood radio' using web streaming and low-power broadcasting.
http://proboscis.org.uk/tag/professional-development-commissions/
RECENT ACTIVITY
Sensory Threads at CHI, Atlanta USA
Proboscis collaborators, Nick Bryan-Kins (Centre for Digital Music, Queen Mary University of London) and Joe Marshall (Mixed Reality Lab, University of Nottingham) demonstrated the latest version of Sensory Threads at the CHI conference in Atlanta, USA in April 2010.
http://proboscis.org.uk/tag/sensory-threads/
Birmingham Total Place
Proboscis was commissioned to create some illustrated storycubes for Birmingham Total Place summit  about the Early Intervention Project being undertaken as part of the Total Place Initiative. We made the cubes in response to our conversations with people about the ups and downs of accessing local services and support for their children and families.
http://proboscis.org.uk/tag/total-place/
With Our Ears To The Ground
We have recently completed our publication for With Our Ears to the Ground; a project commissioned by Green Heart Partnership and Hertfordshire County Council to explore peoples' ideas about community and notions of community cohesion.
http://proboscis.org.uk/1516/with-our-ears-to-the-ground-book/
NEW DIFFUSION EBOOKS & STORYCUBES
A Sort of Autobiography by Warren Craghead http://diffusion.org.uk/?p=1977
Cemetery Litmus Test by Andrew Hunter http://diffusion.org.uk/?p=1999
iPhone App Sketchbook by Proboscis http://diffusion.org.uk/?p=1996
Rijeka Site StoryCubes by Lisa Hirmer http://diffusion.org.uk/?p=1969
Travelling through Layers by Proboscis http://diffusion.org.uk/?p=1962
Coventry Market: public spaces, meeting places by Alice Angus http://diffusion.org.uk/?p=1959
Icons of Rijeka StoryCubes by Andrew Hunter http://diffusion.org.uk/?p=1935
Family eBooks by Karine Dorset http://diffusion.org.uk/?cat=9
Icons of Rijeka by Andrew Hunter http://diffusion.org.uk/?p=1913
Coventry Empty Shop by Dan Thompson http://diffusion.org.uk/?p=1897
eBook Observer by Frederik Lesage http://diffusion.org.uk/?p=1892
Carlisle Empty Shop by Dan Thompson http://diffusion.org.uk/?p=1880
Landscapes In Dialogue: reflections by Alice Angus http://diffusion.org.uk/?p=1865
Cummerbundery Volume 1: The Collected Tweets of Brandon Cummerbund by Russ Bravo http://diffusion.org.uk/?p=1870
Granville Arcade: empty spaces and meeting places by Alice Angus http://diffusion.org.uk/?p=1857
StoryCubes by Karine Dorset http://diffusion.org.uk/?p=1851
Shoreham-by-Sea Empty Shop by Dan Thompson http://diffusion.org.uk/?p=1847
Canto: a collection of wishes Book 1; Whitehorse, Yukon Canada by Joyce Majiski http://diffusion.org.uk/?p=1843
Welcome to the Imagination Age by Rita J. King http://diffusion.org.uk/?p=1830
Empty Shops Workbook by Dan Thompson http://diffusion.org.uk/?p=1825
Birmingham Total Place StoryCubes by Proboscis http://diffusion.org.uk/?p=1798
Modern Romance StoryCube by We Are Words & Pictures http://diffusion.org.uk/?p=1795
A Short Film About War by Lisa LeFeuvre http://diffusion.org.uk/?p=1785
Carnet du Bibliexplorateur par J. Thomas Maillioux http://diffusion.org.uk/?p=1773
With Our Ears to the Ground by Proboscis http://diffusion.org.uk/?p=1758
A History of Municipal Housing by Owen Hatherley http://diffusion.org.uk/?p=1751
8 Ideas for using bookleteer in schools by Kati Rynne http://diffusion.org.uk/?p=1745
I Feel Different by LACE http://diffusion.org.uk/?p=1730
State of the Union by Robert Ransick http://diffusion.org.uk/?p=1722
Waiting For Crisis by William Davies http://diffusion.org.uk/?p=1713
Expeditions in Paper Science + Unguided by Matthew Sheret http://diffusion.org.uk/?p=1700
City As Material Student Project eBooks http://diffusion.org.uk/?p=1693
Creative Methodologies for the Creative Industries by Lorraine Warren & Ted Fuller http://diffusion.org.uk/?p=1679
Articulating Futures Workshop eNotebooks by Niharika Hariharan http://diffusion.org.uk/?p=1668
Trail Song by Julie Myers http://diffusion.org.uk/?p=1642
Blakewalk 3 by Tim Wright http://diffusion.org.uk/?p=1639
From an outer suburban life by Linda Carroli http://diffusion.org.uk/?p=1628
Belo Horizonte Anarchaeology by Giles Lane http://diffusion.org.uk/?p=1615
all made with http://bookleteer.com !
April 21, 2010 by Giles Lane · Comments Off on Publish & Print on Demand with bookleteer
We are very excited that bookleteer now offers a service for users to order their eBooks professionally printed and bound as A6 saddle-stitched books on high-quality 100% recycled paper in short runs of 50 copies or more. StoryCubes can also be printed on die-cut card in runs of 200 cubes or more.
We are making more test accounts available for people wanting to create their own eBooks and StoryCubes and try out the PPOD service – email us at bookleteer@proboscis.org.uk to receive an invite.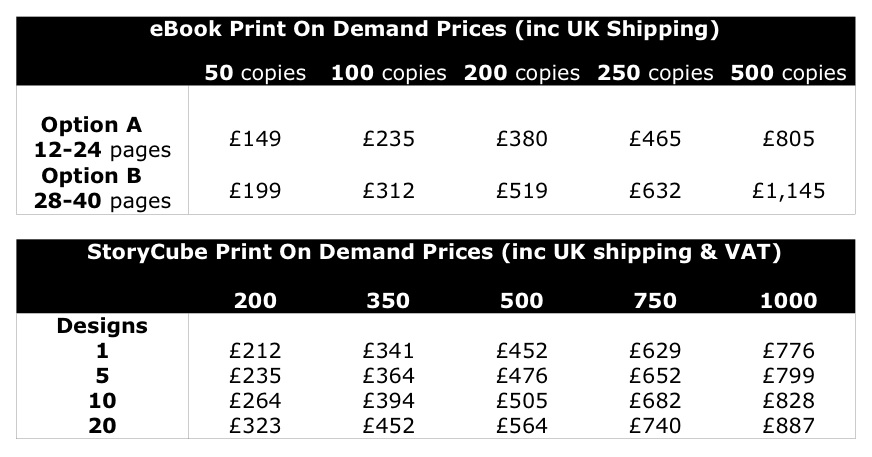 March 17, 2010 by Giles Lane · Comments Off on Empty Shops Pitch Up & Publish
Proboscis is collaborating with Dan Thompson of artistsandmakers.com to run a series of bookleteer Pitch Up & Publish events alongside his Empty Shops Network Tour. Last week we were in Shoreham-by-Sea, Sussex and this week (Friday 19th March) we'll be in Carlisle, Cumbria, with future visits planned for Coventry and Margate.
Join us to get an intro to creating your own eBooks and StoryCubes with bookleteer. Follow bookleteer on twitter or the bookleteer blog for more information.
Browse eBooks and StoryCubes made with bookleteer.com
November 2, 2009 by Giles Lane · Comments Off on October Newsletter
NOW & UPCOMING
bookleteer.com
Our new web app for creating Diffusion eBooks and StoryCubes was deployed at the end of September and is now in an 'alpha' testing phase. A number of people have been invited to help us test the fledgling service and put it through its paces in preparation for a wider public 'beta' test next year. Follow our progress on twitter and on the bookleteer blog, or alternatively take part in one of our 'Pitch Up & Publish' sessions where you'll get a free bookleteer test account and help to learn how to make eBooks and StoryCubes.
http://bookleteer.com | http://bookleteer.com/blog | http://twitter.com/bookleteer
bookleter alpha club
Proboscis has launched a supporters' club offering advance access during the 'alpha' phase (up to 5 user accounts, access to APIs, pitch up & publish workshops & a Proboscis artists' bookwork). Funds raised will go towards development of the bookleteer public beta which we hope to launch in Spring 2010. Alpha Club members will be honoured on the site as founder sponsors, and membership will be exclusive to those who join during the alpha phase. We're excited that our first two members are DodoLab and Architecture Centre Network.
http://bookleteer.com/blog/2009/10/alpha-club/ | http://bookleteer.com/blog/alpha-club/
arte.mov and Mobilefest, Brazil
Proboscis will be showing a new installation piece as part of the Mobilefest Festival, in Sao Paulo at MIC November 11-17.
http://www.mobilefest.org
Giles Lane will be presenting at the arte.mov festival symposium in Belo Horizonte on November 13th as well as devising a creative project about the city during his stay.
Giles will also be participating in arte.mov's symposium in Salvador de Bahia on the 17-19th November.
http://www.artemov.net
With Our Ears To The Ground
Proboscis has been commissioned by Green Heart Partnership with Hertfordshire County Council to explore peoples ideas about community. The project focuses on four very different types of community in order to get a broad range of opinions across the county: in Watford, Stevenage, rural North Hertfordshire and the commuter areas of Broxbourne. It focuses on finding out the reasons why people get on with each other and feel part of the community and is about developing a better understanding of our communities in order to help Hertfordshire County Council and its partners to plan their work supporting communities over the next few years.
http://withourearstotheground.wordpress.com | http://twitter.com/ears2theground
City As Material Course
Giles Lane is leading a course for students from Vassar College, New York State, USA who are on an international study program in London. It is a co-creative course for students to explore the city, investigate how other artists and creative people have used it as an artistic medium, and devise their own personal creative interventions.
http://proboscis.org.uk/1369/city-as-material/
~~~~~~~~~~~~~~~~~~~~~~~~~
RECENT ACTIVITIES
lift @ home's Hands on Barcelona's Informational Membrane
Giles was an invited speaker at the Citilab workshop in Barcelona, Spain, October 24:
http://proboscis.org.uk/1431/liftlab-barcelona/
At the Water's Edge: Grand River Sketches
Alice Angus' large format work of drawings and video was installed in Render's main exhibition space in Waterloo, Canada September 23rd to October 30th. It was accompanied by screenings of Alice's film Topographies & Tales, made with Joyce Majiski.
http://render.uwaterloo.ca/2009/09/
Arteleku's My Map Is Not Your Map
Giles was an invited speaker at the workshop in Donostia-San Sebastian, Spain, September 23-25:
http://proboscis.org.uk/1396/arteleku-my-map-is-not-your-map/
DodoLab PEI, Charlottetown, Canada
Proboscis took part in another DodoLab in August, this time in the province of Prince Edward Island, in Canada'a Atlantic Maritimes. There we helped create and distribute seedbombs at the local Farmer's Market, design eBooks for questionnaires, research into the Experimental Farm Station and worked on some large-scale drawings.
http://proboscis.org.uk/1357/dodolab-pei/
New Diffusion Titles
The Postcard Places Project by Lisa Hirmer with Laura Knap http://diffusion.org.uk/?p=1602>
In the Shadow of Senate House by Hatherley, McNeile, Downing & Leslie http://diffusion.org.uk/?p=1575
The Rustification of Henry Thomas Brown by Andrew Thomas Hunter http://diffusion.org.uk/?p=1562
DodoLab Wants to Know: What Are The Signs of a Creative City? http://diffusion.org.uk/?p=1352
DodoLab Wants to Know: About Green Space by Lisa Hirmer http://diffusion.org.uk/?p=1347
An A-Z of The Ting: Theatre of Mistakes by Marie-Anne Mancio http://diffusion.org.uk/?p=1327
Ethnographic Notebooks, British Museum Melanesia Project http://diffusion.org.uk/?p=1301
Dodolab Wants To Know http://diffusion.org.uk/?p=1295
The Lunar House 'Re-enactment' by Tony White http://diffusion.org.uk/?p=1292
Estado de presencia por Cristina Luna http://diffusion.org.uk/?p=1281
The Octuplet: Story of Our Lives by Babette Wagenvoort http://diffusion.org.uk/?p=1245
Le Corbeau / The Raven by Edgar Allan Poe tr. Stéphane Mallarmé http://diffusion.org.uk/?p=1238
More Diffusion Shareable Notebooks http://diffusion.org.uk/?p=1227
Blakewalking by Tim Wright http://diffusion.org.uk/?p=1223
Sutton Grapevine: Youth Group Storyboard by Alice Angus & Orlagh Woods http://diffusion.org.uk/?p=1217
October 21, 2009 by Giles Lane · Comments Off on Pitch Up & Publish 1 Slideshow
The first event was a fun evening and everyone who attended created at least 1 eBook each, with the exception of Matthew who managed to create two lovely examples. Thanks to everyone who came (Christopher, Fred, Kati, Matthew & Sara), and the team (Karen, John & Stefan).
The next Pitch Up & Publish will be on Thursday 5th November 2009 at our studio in Clerkenwell.
October 21, 2009 by Giles Lane · Comments Off on bookleteer alpha club
As part of our thinking into new business and revenue models for our own projects and practices, we've come up with a different approach for supporting the next stage development of bookleteer to relying on grants.
To progress bookleteer to a public 'beta' version in early 2010 – we're looking for friends and supporters (initially organisations but also individuals) to join bookleteer's Alpha Club. The club is an alternative support/fundraising concept, aimed at partners, friends, colleagues and sponsors who share in our ethos of 'public authoring', providing public access to tools of creation, production and distribution and who, as members of the Alpha Club, would like to be at the core of the emerging bookleteer community. For a modest, one-off contribution we hope Alpha Club members will help us raise our target of around £25k for the next critical phase of bookleteer's development.
Membership of the Alpha Club will be exclusive to those who join during the 'alpha' stage of bookleteer's development, establishing a founder group of friends, supporters and sponsors.
Benefits include:
Up to 5 bookleteer accounts per member & technical support;
access to the bookleteer APIs to experiment with;
a private pitch up & publish style training session at our studio
a free copy of Proboscis' bookwork, Social Tapestries: A Case of Perspectives (RRP £40)
Inclusion (if desired) on the Alpha Club's 'Roll of Honour' webpage
If you'd like to support bookleteer and become an Alpha Club member, please contact us at bookleteer (at) proboscis.org.uk or donate now via Paypal:
September 21, 2009 by Giles Lane · Comments Off on bookleteer – Pitch Up & Publish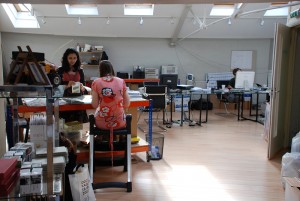 Starting in October we will be running regular informal evening workshops for people to literally pitch up and publish using bookleteer.com. Initially these will be held at our Clerkenwell Studio for up to 15 participants – all you need is a laptop and some content (text /photos/ drawings etc) you'd like to create and share as eBooks or StoryCubes (shareables). We will provide free user accounts to bookleteer and guide you through the steps of preparing and generating your shareables to share online, via email or as physical publications. Once created you can publish them on your own website or, if appropriate, we can publish them on Diffusion.
Update: The first workshop will be held on October 15th 2009 between 6.30-9pm at the Proboscis Studio.
To reserve a place please email us at diffusion (at) proboscis.org.uk Participants will be asked to make small donation to cover materials (paper/printing ink etc) and refreshments (beer).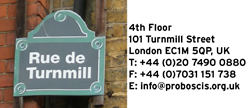 September 3, 2009 by Giles Lane · Comments Off on introducing bookleteer.com

Proboscis is very excited to announce bookleteer.com – our forthcoming service for creating eBooks and StoryCubes which uses the latest version of the Diffusion Generator. We are planning a private beta test of the service in early October, with a public version launching in 2010.
Bookleteer will allow individuals and organisations to create personalised eBooks and StoryCubes under their own identity (the front covers of Bookleteer-made eBooks can contain a logo image) and with a cover image to make each publication more distinctive and recognisable. Bookleteer supports all 4 types of eBooks (classic/book ; portrait/landscape) as well as single and double-sided StoryCubes. It will additionally support eBooks created in many other languages and non-Roman alphabets (Hindi, Chinese, Greek, Russian etc) and will enable Right-to-Left eBooks to be created for Right-to-Left languages (Arabic, Urdu etc).
We'll be developing some pilot projects over the next 6 months to demonstrate Bookleteer's uses and capabilities, especially around its new API which will allow other websites and systems to call its services to generate eBooks and StoryCubes from external content and datasets.
We'll be posting regular progress updates on Twitter and on diffusion.org.uk.